Whoever it was that nominated me for the Asia-Pacific Blog Awards, thank you!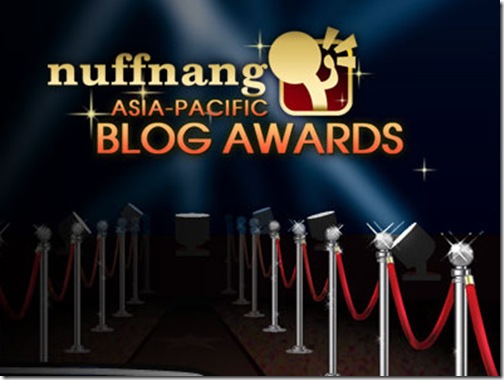 kennysia.com was accepted as one of the finalists for the prestigious awards to be held in two weeks time in Singapore.
With that, this blog now joins such luminaries as Budiey (MY), BeautifulNara (MY), CowboyCaleb (SG) and Girl With A Satchel (AU) in the running for Best Entertainment Blog; together with BeautifulNara (again), Down To Earth (AU), Jehzeel Laurente (PH) and Xiaxue (SG) for Most Influential Blog.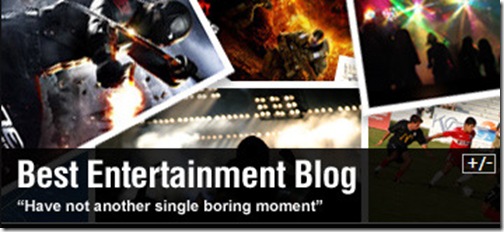 The casting of votes officially closed yesterday, so actually, it's a bit too late to ask you to vote for kennysia.com. I didn't mean to post this late deliberately. By right, this entry should have been up many weeks ago.
But it was not.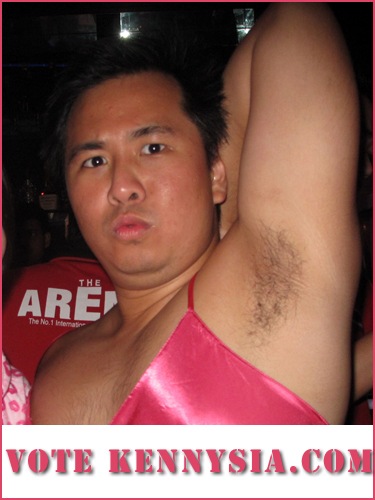 By right, I probably should also have been more pro-active in campaigning, as many other nominees had, hanging my face on the wall, going around pushing people to vote for me and stuff.
But I did not.

By right, I also should have titled this post "Krrunching My Away To Uniquely Singapore", as a way to appease the two sponsors for the event, Pringles potato chips and the Singapore Tourism Board, without which this awards would never have happened.
But I shall not.
Was it because I don't care about the awards? No, of course I do.
Anyone can smack together some HTML code and call it a "so-and-so" awards show. But it takes an agency like Nuffnang with 5 branches in 4 countries to be able to organize one that has some level of pedigree associated with it.
Was it because I do not want to win? Heck no, of course I would love to. Throughout my 5 years blogging, kennysia.com had never won any blog awards, except for one.
It was 5 years ago when Project Petaling Street was the de facto blogging community of Malaysia. kennysia.com won the Blog of the Year after some nomination and voting by peers. That was the only time PPS held an award before it was taken over by some religious nutcase.
My "trophy" was a T-shirt, which I never worn, but instead kept in my cupboard till this day.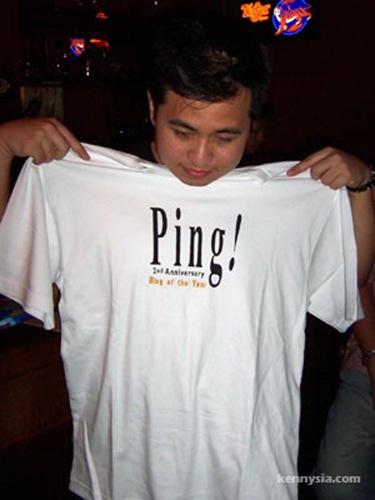 So yes, I am over the top over being selected as a finalist. However, I did not campaign, nor did I do anything to appease the sponsors.
Instead I decided to do away with the glitz, the glamour and even the hint of commercialism that's associated with the blog awards, so that I can write this entry, straight up from the heart.
And I want to say with all sincerity – thank you.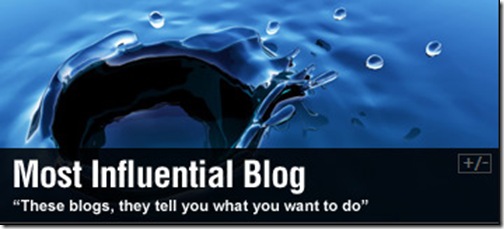 I know my nomination, in particular, for the Most Influential Blog was frowned upon by some other bloggers. Some figured since I have enjoyed my share of the limelight, the lesser-known blogs were not given a chance to shine.
The fact of the matter is – I never claim myself to be the "top blogger" nor the "most influential blogger" in Malaysia, let alone Asia Pacific.
The "top blogger" in Malaysia is ex-Prime Minister Tun Dr Mahathir. The "most influential blogger" in Malaysia is perhaps ex-ISA detainee Raja Petra. Kenny Sia is nothing close to being as influential as those two.
Of course, those are controversial socio-political bloggers. In the category of personal or lifestyle blog, yeah, while I do enjoy some success both in terms of popularity and commercially, it does not mean that I do not help propell relatively unknown blogs into prominence.
That was one of the reasons I created "Short Talk". That's the small subsection of text you see above before my normal blog entry. The reason behind its creation is so that I can promote other bloggers in my "Blog Plug of the Day", or charities in my "Karma Point Collection" or just link to anything I find interesting on the web.
For the sake of creating a healthy blogging community, I think it's important that we keep linking to each other.
It's important that bloggers with high traffic do their part in promoting good-quality lesser-known bloggers, even when they are not obligated to. Popular bloggers become popular only because they were supported by others in the blogging community back in their heydays. Now that they have enjoyed success, I reckon it is only right to give back to the community.
In any case, while the top-most influential blogger ain't me, I'd like to think that at least I have played my part in promoting a healthy blogging community and a positive blogging culture within Malaysia.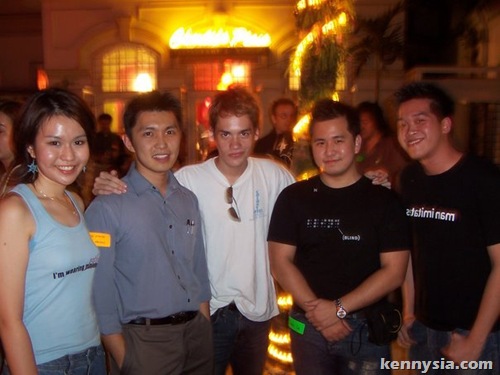 As I spend less time on blogging and more time concentrating on running my new business, that's the kinda impact I hope I had left in the Malaysian blogging community. 🙂
*~*~*~*~*~*~*~*~*~*
Because I've been too busy to blog a proper entry, I'm gonna leave you with two more of my episodes from Jojo Struys's Project Alpha.
This episode, I shared with Jojo about the people that inspire me.
I spoke about my so-called love life (or rather, the lack thereof).
Everyone, meet Ericka.
AD: I went to pick you up today, at our usual spot – the supermarket. But my lady, I can't help but to, notice you, noticing me (just like that Akon song).
Somehow, you looked a little bit different. First of all, why is there a cow on your face? My dear Dutch Lady, you look prettier now, and one thing I'm glad of, is that after so many years, you still taste the same.