Last Saturday must have been one of the craziest Saturdays I've had in a while.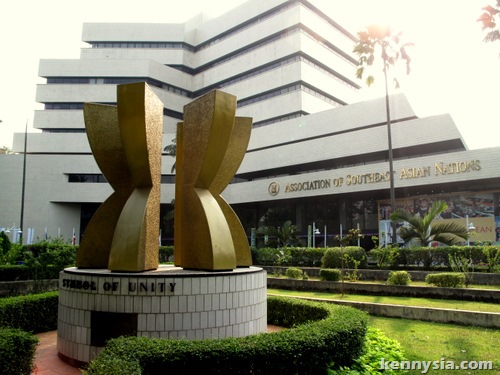 Surprisingly, it didn't even involve a single drip alcohol.
Few people may know about this, but 42 years ago Malaysia, Singapore, Indonesia, Philippines and Thailand got together and said, "Yo man, whassup? We be startin' a GANG yo!"
And thus ASEAN was born.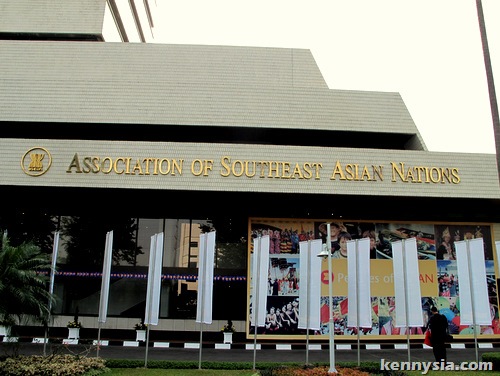 From that day onwards, every 8th August was designated ASEAN Day.
The head honcho of ASEAN is this Thai guy named Dr Surin.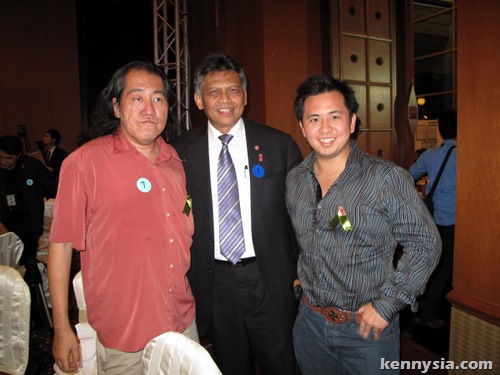 He's that important-looking one in the middle.
This year, he decided to take the ASEAN Day celebrations to new heights. He meant that literally.
Dr Surin wanted to take his team of diplomats to visit several capital cities on ASEAN Day, so he enlisted the help of Tony Fernandes, who gave him this fully sick blinged up ride for a day.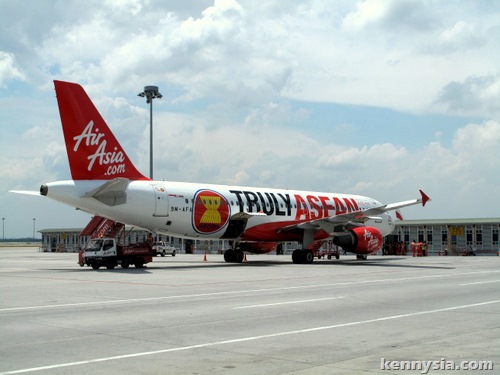 Diplomats appear in the news all the time, but I always wondered what they actually do. Apart from acting important and diplomatic all the time.
Lucky I was invited to the ASEAN Day celebration as a guest of AirAsia.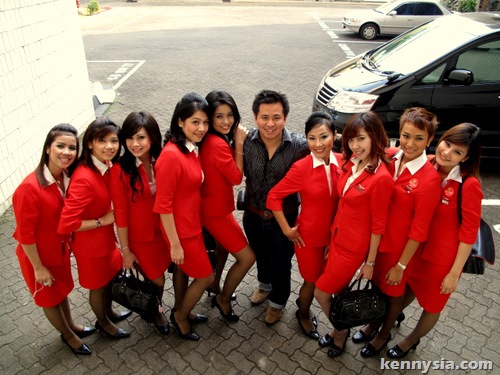 Because I got my own cabin crew for a day. Hot damn.
Wish I could have them everyday.
From then on, I followed Dr Surin and had a glimpse into his life as a diplomat.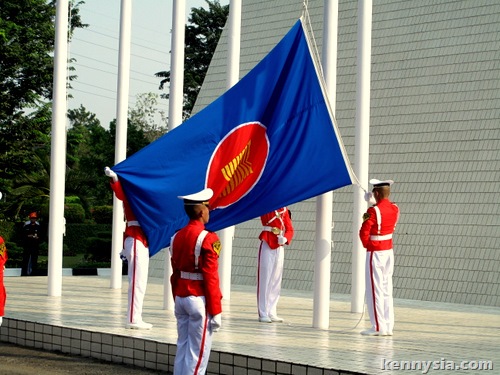 I flew into Jakarta from Kuching the night before, and the group of us started our celebrations very early in the morning at the ASEAN headquarters.
The flag was raised and the song was sung. Immediately, we were scooted off to the airport where our chartered flight was already waiting for us.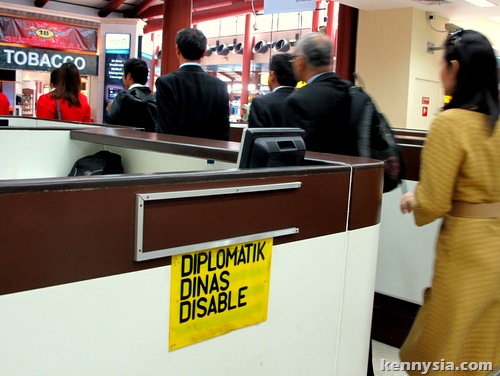 It was the first time I've ever crossed the immigration counter using the express lane reserved for diplomats. Makes me feel important. Makes me feel bad also for 'cos I'm not a very diplomatic person.
From Jakarta, our flight scooted off to Kuala Lumpur, where the AirAsia boss was on hand to welcome us.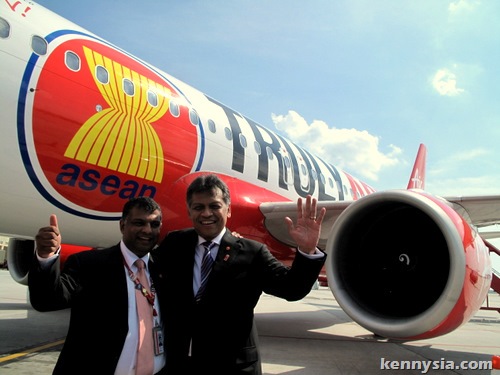 This is a photo of me and a very distracted Tony Fernandes.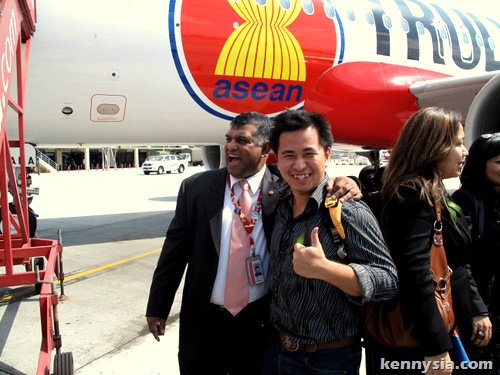 He was probably laughing at someone telling a stupid MAS joke.
It was awesome meeting Tony Fernandes again though. We talked about the airport situation, and I also told him about my 'secret project'. He was very supportive of it, even invited me over to the AirAsia Academy to see how they do it.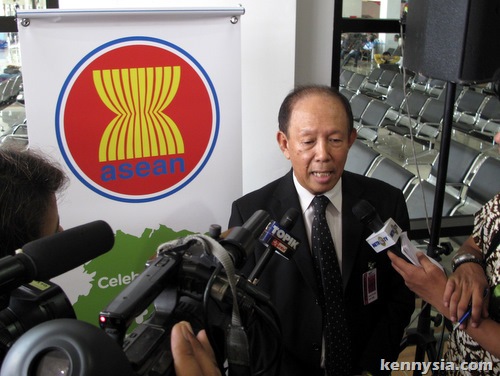 Our former deputy prime minister (no, not Anwar. The other one) was nice enough to receive us at the airport.
This is Tony playing his toy with Tun Musa Hitam.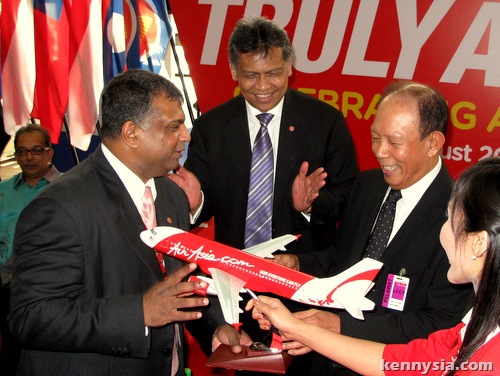 Tony Fernandes: "Wheeeee eeekk ekk chkkkk chkkk TRANSFORMERS!"
Musa Hitam: "Piang piang piang! You lose! HEE HEE HEE!"
After lunch at the LCCT, we hopped on the plane once again.
This time, we're off to Bangkok to visit someone very very VERY important. Someone so important that we had to travel to meet him in this Ah Beng zhng-ed up bus.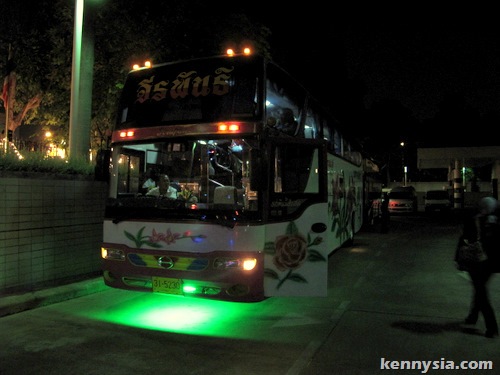 Dun pway pway ok got green light somemore.
So who's this very important person that we're meeting in Bangkok?
The Prime Minister of Thailand.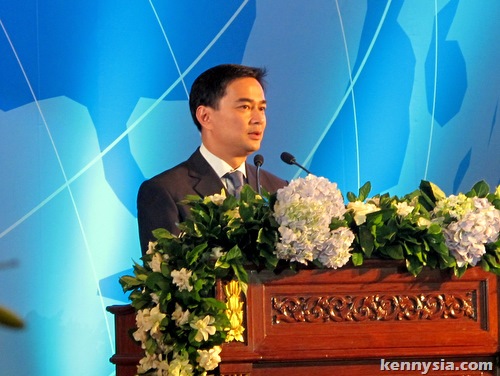 Yes, yes, I KNOW what you girls thinking. All the females at my table were thinking the same thing as well.
Calm down lah. I know he's young and good-looking and all that. But he's the freaking Prime Minister of Thailand ok? Not some MTV VJ.
Please behave yourselves.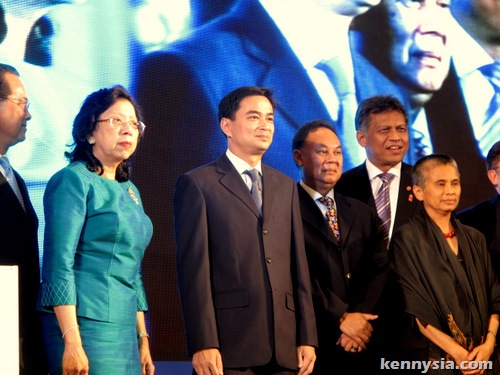 Even I have to admit the Thai Prime Minister is so damn cool. Looking at him, I wonder why my own country's Prime Minister cannot be as cool.
Off the top of my head, here are three reasons why the Thai PM Abhisit is cooler than our Malaysian PM Najib.
1. Abhisit sounds like Absinthe. Najib sounds like Nazi.
2. Abhisit has no gray hair. Najib has totally no hair.
3. Abhisit led angry people to protest and overthrow his previous government. Najib overthrew Perak and made people so angry they protested.
It was only appropriate that he received a portrait of himself in honour of his participation in ASEAN Day.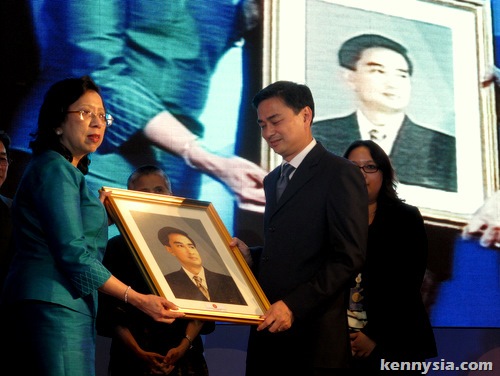 Check out that portrait of him posing so yau-yeng.
I wonder where he's gonna hang it. If it were me, I'll put it up in my bathroom so that every morning when I wake up, I can go, "Yo Abhisit. You looking too daaaaamn good, man!"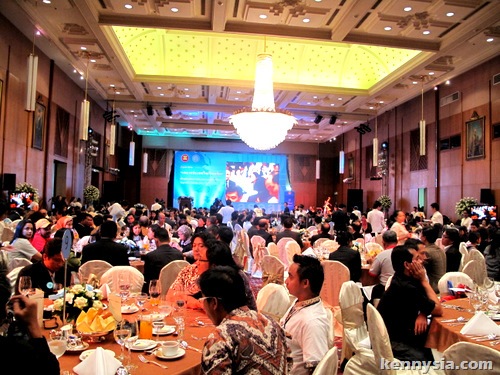 Throughout this whole entire journey, I realised one thing about being a diplomat.
As a diplomat, you must be able to eat lot. And I do mean A LOT.
My entire journey, they've just been feeding us like crazy. We had breakfast in Jakarta, lunch in KL, dinner in Bangkok.
It started at our hotel in Jakarta, where I had a full Indonesian breakfast. I thought we might have a long day ahead, so silly me whent and stuffed my face at the buffet tables.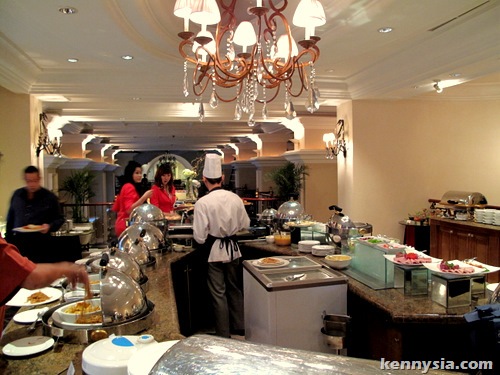 Big mistake.
Barely ten minutes later, we were at the ASEAN Headquarters. God forbid diplomats get thirsty. More 'refreshments' were served.
When we took it to the skies, AirAsia thought those diplomats might get hungry during the 2 hour flight.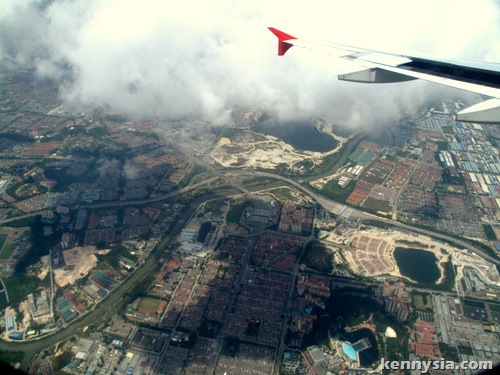 Solution: Free in-flight food for everyone!
We touched down at the LCCT airport in KL.
What did we saw? A whole suite of Malaysian food sitting there waiting for us.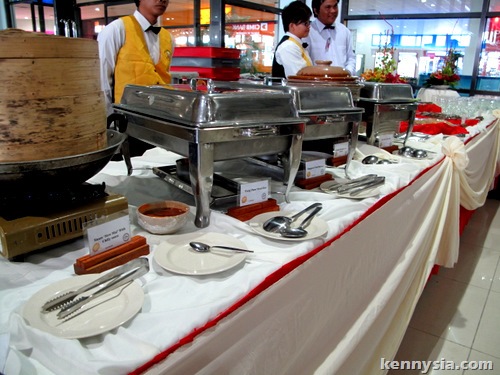 Straight after lunch, we got back in the plane. This time, to Bangkok.
Tony Fernandes was afraid we might hungry, so he ordered the crew to bring out more food.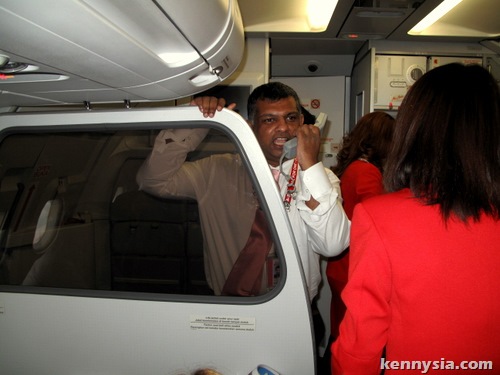 Tony Fernandes: "FOOD. FOOD! MOVE IT MOVE IT NOW!"
By this time, we were so bloody freaking full that we couldn't even walk. When we landed, we had to ROLL ourselves out of the plane to meet the Thai Prime Minister.
Of course, as PM of the country, he ain't gonna let his guests go back hungry. So?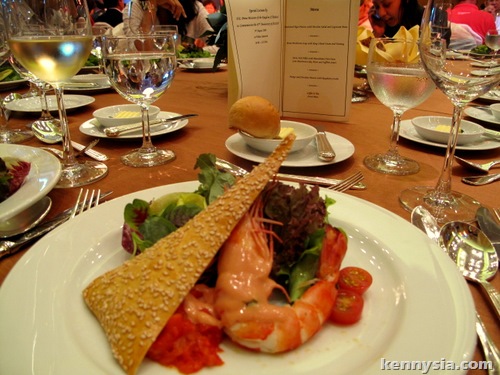 Plates after plates of prawns! And fish! And dessert!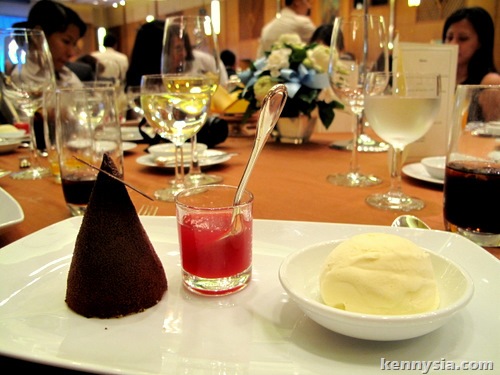 Instead of three meals a day, we got seven.
Life sure is good being foreign diplomat.
To top it off, the final dish was a piece of dark chocolate with gold leaf on top.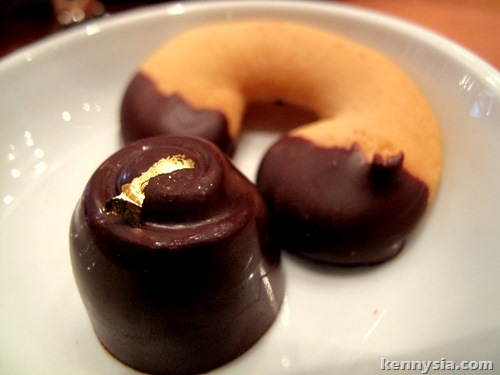 Damn. At the rate this is going, ASEAN should be renamed Association of Super EAting Nutcases.
Music of the week: Lost Without Your Love by Amy Pearson.
It's clear from the title that this is one of those lovey-dovey emo songs. You know, the kind that only lovey-dovey couples or emo singles like me will like.