I always envy those living in other cities who always get to go to really cool Halloween costume parties.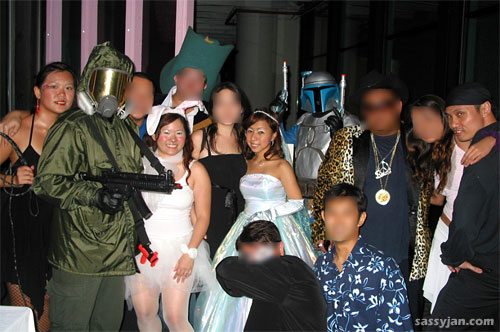 Kuching is hardly the place to celebrate Halloween. The past few times I spent Halloween in Kuching, we'll hold a party in a pub somewhere, and then we'll have three people turning up dressed as ghouls and draculas, and the rest will come wearing normal going-out clothes. So boring!
I don't know what is it in Kuching's river, but I think people here just aren't generally interested in dressing themselves up in stupid costumes and dance like an idiot. Even Miri has a better party scene than Kuching.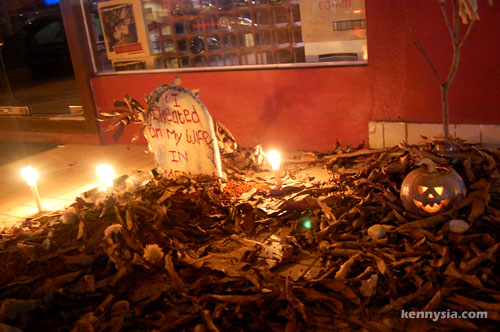 But Mojo last week held a Halloween party and it was surprisingly fun.
Gerald totally pimped out his pub.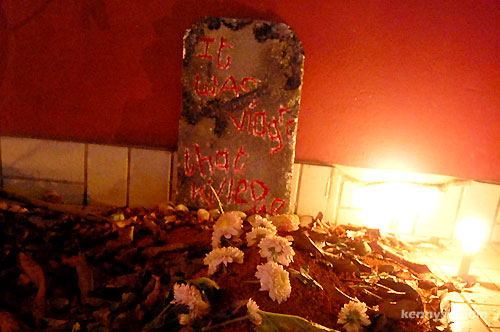 He even built a graveyard outside the pub. For dead pubbers.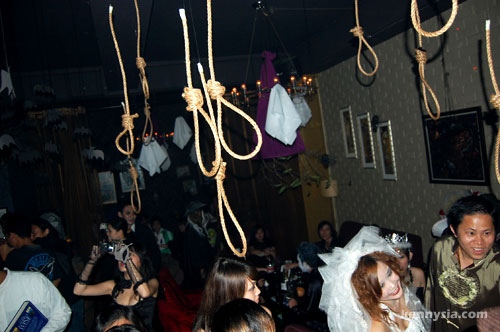 Then there were nooses hanging from the ceiling.
The fun part about any good Halloween party is always the costumes. It is the only time in the year that guys can dressed like fools and girls can dressed like complete sluts and no one can say anything about it.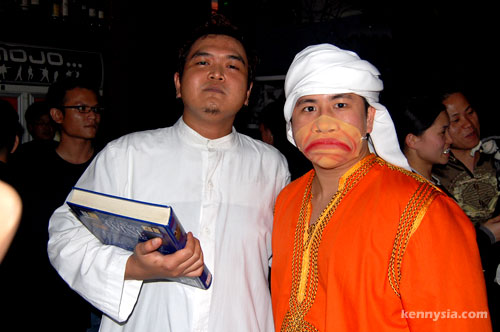 I was dressed as a member of the Taliban.
And yes, that's a priest standing next to me. Check out what he was holding.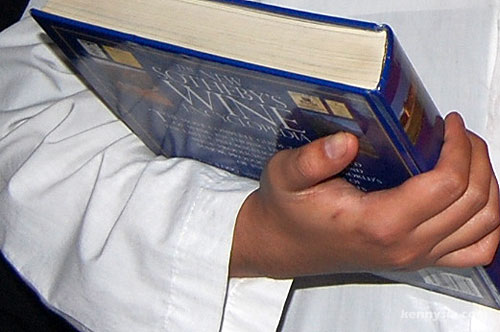 The New Sotheby's WINE ENCYCLOPEDIA?! What the hell, right?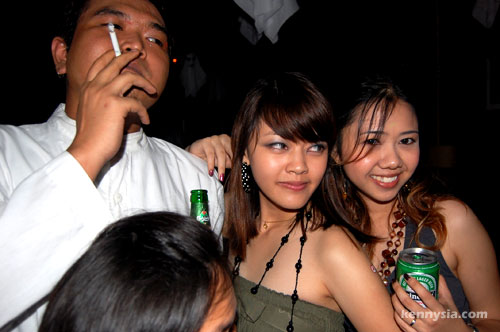 Moments later the 'Priest' was seen smoking a cigarette with one hand, holding a Carlsberg on the other, taking a photo with some babes. Bad priest!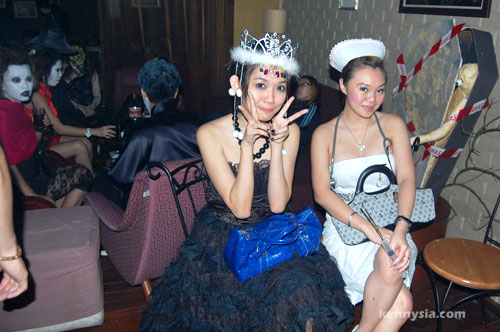 I like this picture. Not because there were two hot chicks (well yeah). But how often do you take a photo, only to realise there was an open casket in the background on the right, and a dead person sipping on Coca-Cola on the left.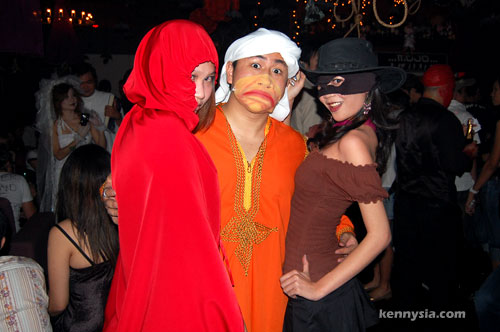 With Little Red Riding Hood and sexy Zorro.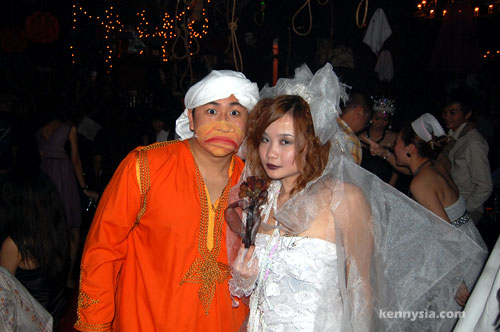 Cynthia the coprse bride. Doesn't look very "coprse-y" to me.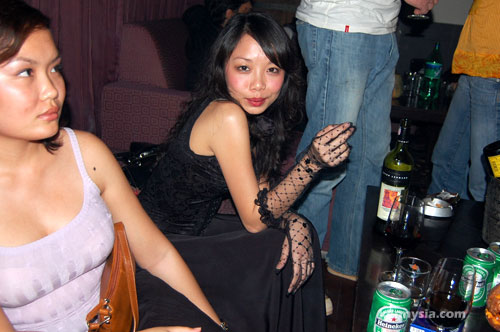 Annette the French courtesan.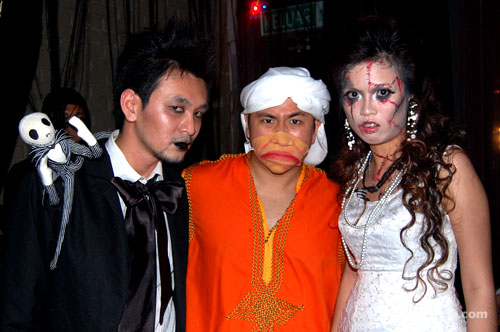 With Jack Skellington and Chucky's Bride.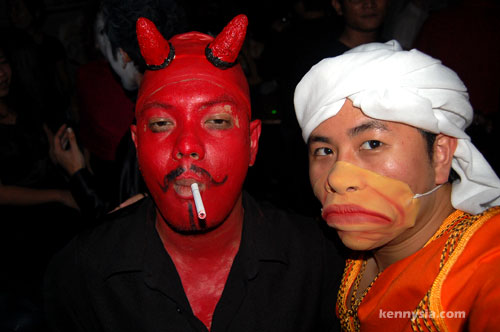 The bartender from Hell.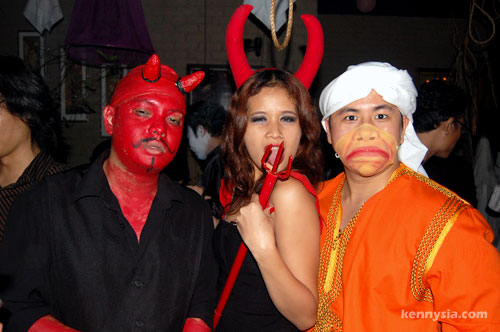 And the vampy bartendress.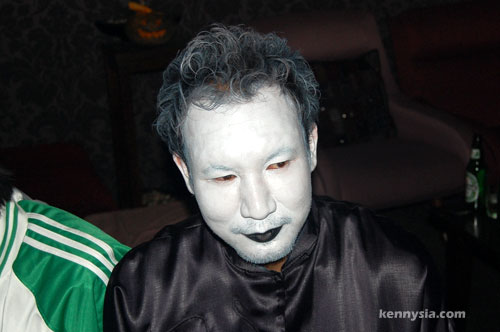 Ismail dunked a whole bucket of ICI Dulux on his face.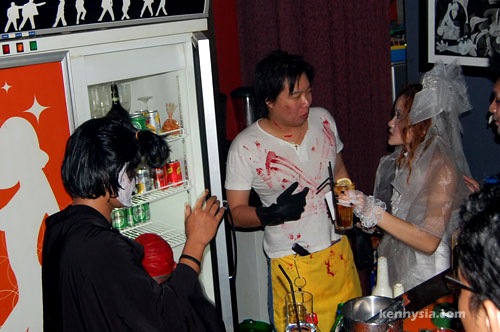 The last thing you expect seeing at the bar is a bride arguing with a bloodied butcher, and a ghost stepping in to try to stop a fight.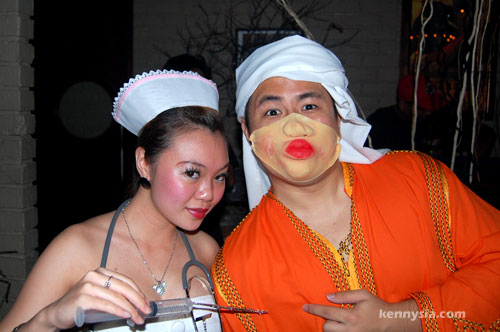 Some time during the night, I went and visited a nurse changed my face mask to become a sex-changed Taliban prostitute.
There were a few among the crowd who dressed up really well during the night.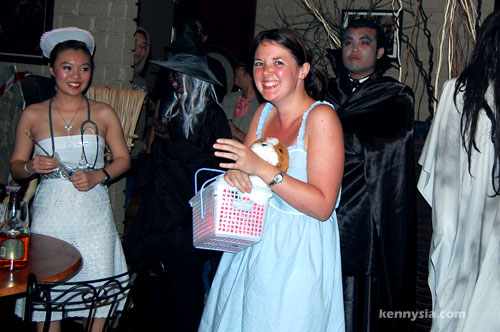 There was this Irish girl that came dressed as Dorothy from the Wizard of Oz.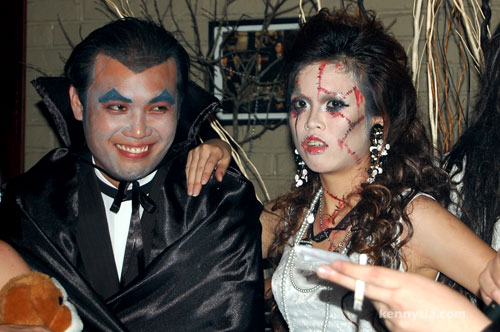 Bryan Nicholas had the full count dracula costume on. Fake teeth, cape and all. He won the prize as the best dressed of the night.
After seeing Bryan, I kinda regret not coming as a vampire.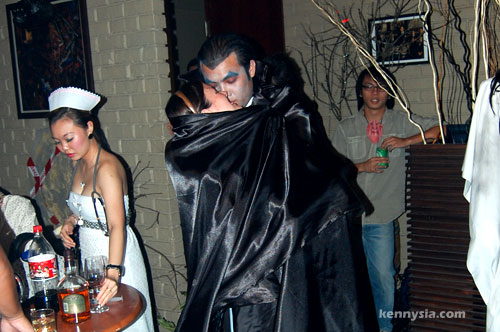 You get to suck on chicks' necks.
The best part is, they couldn't say anything because it's all part of an act. 😉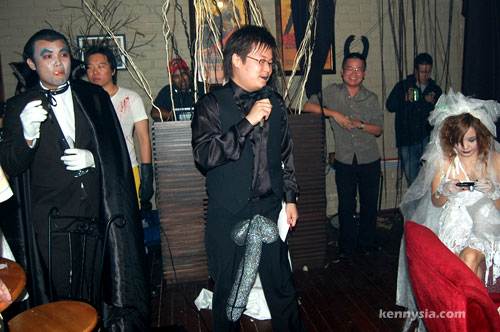 This is Gerald, walking around the pub with his 24-inch schlong hanging out, like he owns the place.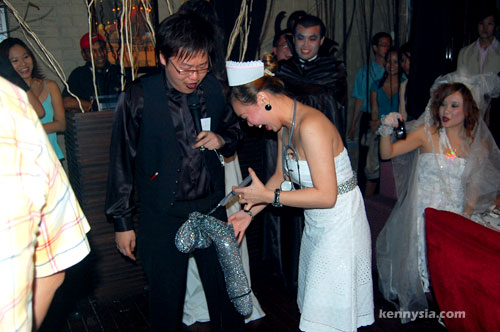 Luckily, a nurse was available on site. An emergency was called and the nurse arrivd immediately to administer an injection on Gerald's freak sausage.
Too bad it was a weekday and I had to leave Mojo early to get to work the next morning. But I was pleasantly surprised to see that this year, at least one place in Kuching seemed to have all the ingredients of a great Halloween party.
There were scary decorations, free drinks for those who dressed up, and the Kuching folks were sporting enough to come in their best costumes. How I just wish there's a place where we can hire or purchase ready-made costumes.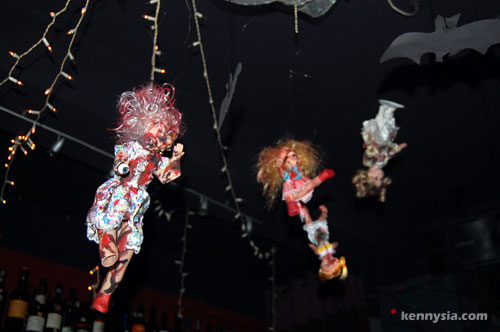 Happy (belated) Halloween everybody!

Blog Plug of The Day: simplicitacious. She's someone I met during the Rainforest fest in Kuching earlier this year.
I tell ya, this chick is a catch and a half. Not only is she smart, sexy and single, she's also one of the friendliest person I've met. No wonder they casted her as one of the eligible bachelorettes in Cornettos Love Perhaps.