A little bird told me that Guang Liang was in town this past Sunday for a concert showcase.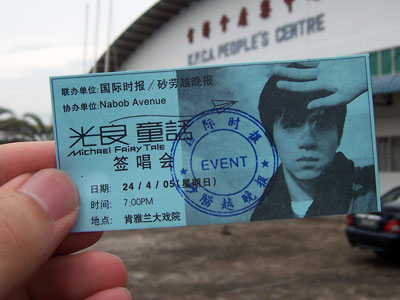 Now I know what you're thinking.
"OMG Kenny, you went to see Guang Liang? What's wrong with you?! HE'S SO GAYYYY!!!11"
Yalah yalah I know lah.
I agree Guang Liang is a bit of a poofter with nothing but a skinny-ass and a high-pitch voice. But of course… I wouldn't say anything bad about him because when I was a teenager and some girl I liked broke my heart, I would listen to his songs and cry myself to sleep.
*cough* You didn't hear that from me.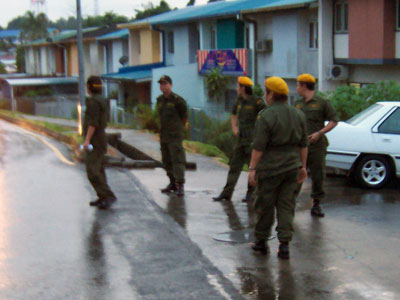 For those unfamiliar with this Malaysian music artist, Guang Liang aka Michael Wong was once one-half of a very successful duo called 'Guang Liang Ping Guan' (Michael+Victor). Before they split, 'Guang Liang Ping Guan' produced some of the best Mandarin ballads at the time. In fact I loved them so much I owned every single one of their albums. Its too bad that after they decided to go solo, the quality of their songs just seems to go down, down and down. Kinda like Hugh Hefner without viagra really.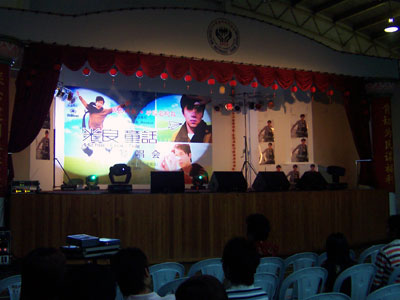 Whatever their reason for splitting was, I hope its not because they think they're gonna earn TWICE as much money by producing TWICE as many albums separately. Honestly, their solo albums so far were nothing to shout about as I still find myself listening to their old albums.
That said, Guang Liang is still arguably the more successful of the original duo. I don't know what happened to Ping Guan's singing but it just wasn't good enough. Besides, Ping Guan sounded like Penguin and you wouldn't buy an album from a penguin would you?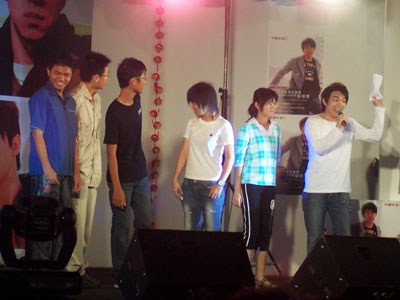 Anyway after experiencing the disaster that was the David Tao Kuching Showcase last month, I didn't have my hopes up. I was expecting loads of boring pre-show games, listening to the host repeatedly reminding us to buy the CDs, then the star coming out to sing two songs max, sign some autographs to make us happy then go home to sleep with his stuffed toys.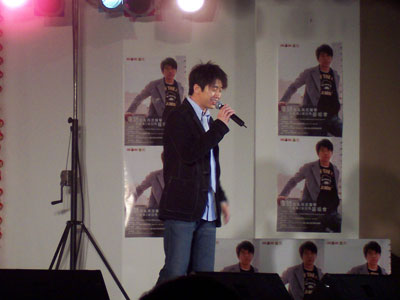 The showcase was held in a multi-purpose hall fit for 3,000 people in Kenyalang Park. The area closest to the stage was cordoned off for reporters and big-balled VIPs. I could see that the VIP area was quite poorly managed because there were no guest list, no special tags or whatever. Anyone lugging a big heavy camera could pretend to be a reporter and sneaked in easily.
Note to self: Next time, get a digital SLR camera and wear a khaki vest. 🙂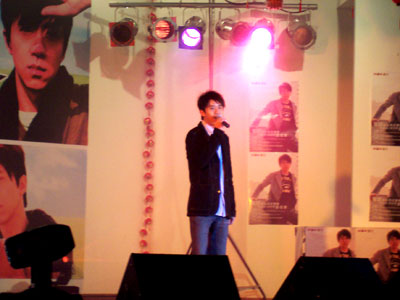 After some excruciatingly long and horrijible pre-show program, which included the host trying to get the crowd to sing-a-long to Guang Liang's songs, the man boy himself finally graced the stage at around 8:00pm – about an hour after the scheduled start. His first number was 'Ji de wo ai ni', an up-tempo song designed to get the sleepy crowd all fired up. Of course that's not needed because the hundreds of screaming schoolgirls effectively 'gerengteed' that I lose my hearing next morning.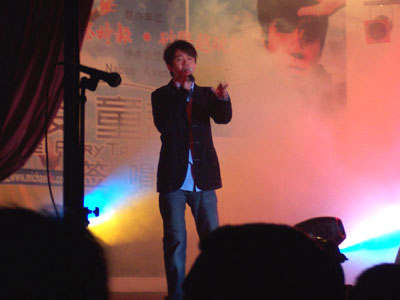 I didn't go crazy over Guang Liang of course. It might've been different if you ask me eight years ago when I would listen to his songs every single day. But alas… its just too bad so sad that Guang Liang and I met at the right place, at the wrong time. Sorry mate but you came eight years too late.
Now I know how those girls at the Backstreet Boys concert last month must be feeling.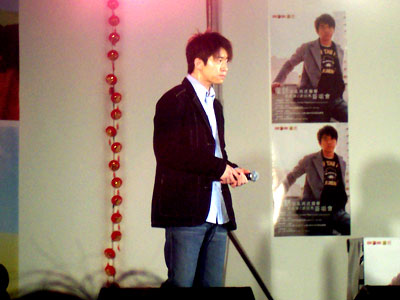 Guang Liang is very much an average joe who haven't yet grown into some pretentious mega-bitch superstar. Despite him possessing the dancing skills of a cupboard, I reckon Guang Liang handled the stage really well. He engaged the audience's mood and really took time to explain the meaning behind each songs he wrote.
And that's the thing I like about artists who write their own songs. Normally I'd just buy albums and listen to it because of the melody. But having the artist himself explaining why he wrote a particular song somehow brings to it a different depth, a different dimension. Next time I hear it on the radio, I wouldn't think of the song the same way again.
'Tien Tang' (Heaven) for example, is a song that came to mind when he heard the news of Leslie Cheung's suicide.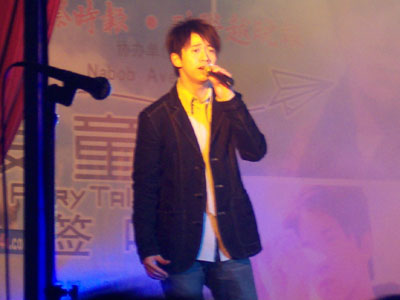 Three songs and a mini-game later, I thought that Guang Liang would be more than ready to wrap the show up. After all, David Tao stopped after a miserable grand total of two songs.
But of course, Guang Liang is different. He went on to perform 'Shou Ji Liu Yan' (Messages on the mobile phone) and 'Yi Dian Guang Yi Dian Liang (errr.. A bit of light, a bit of light?). Throughout the evening, he threw posters into the crowd. At one point, he even left the stage to shake hands with the audience.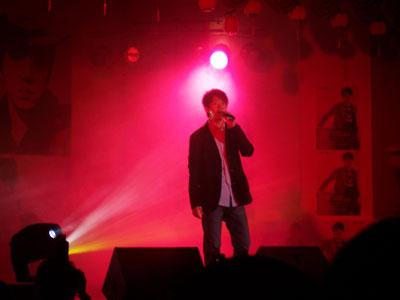 The last number of the evening was 'Tong Hua' (Fairy tale) – a staple among Chinese radio stations here and a favourite among those poor heartbroken souls out there who recently broke up with their boyfriends/girlfriends. Heh. Definitely one of the best sappy tearjerking break-up songs out there, isn't it? 🙂
I was really looking forward to listening to him performing that song live… but the Kuching crowd spoilt it by singing along loudly like some drunk uncles at a karaoke competition. GAH!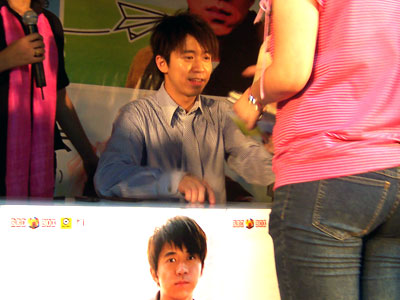 Guang Liang ended the evening signing autographs – which was effectively a scribble-handshake-NEXTTT affair. I didn't get an album and I wasn't enthusiastic about lining up for an hour just to get his autograph. So I pretended to be a reporter and went on stage among other 'real' reporters just to snap some close-up photos of him. 😉
All in all, it was a good night out. Guang Liang performed six songs in total and went out of his way to interact with the audience. Nice to see that fame didn't go through Guang Liang's head and that he still acknowledged his fans properly.
Its quite sad that eventhough some celebrities *cough*David Tao*cough* produce great songs and all that, they unfortunately also have the tendency stay away from fans like a plague.
Please lah, your fans are the people who support you. These are the people who waited 1 hour in a stadium packed like sardines for you, went through so much just to see you and yet you merely performed two songs and left? Why is it that when people asked you for a photo and you CLEARLY know you had time for it, but yet you blatantly refused to acknowledge it? Take one photo very jialat one ha?
That's the thing, I can't stand these prima donnas. Honestly speaking, without the fans buying your albums you are absolutely nothing. At least give them some face, can?