I was actually thinking whether or not to publish this entry. I wanted to put it here for the sake of documenting my life, but the comment-whore in me was scoffing at myself. After all, what can be so interesting about visiting a graveyard?
In the end, I concluded that documenting events in my life is more important than producing exciting entries and gathering comments anyway, hence the reason to this post. Btw, this is not meant to be a humourous post. I love it when people recommend kennysia.com to others citing that I'm funny, but most of the time I'm just a normal 20-something who wants to write about his life, and his enormous balls. So if you find this entry funny, man you must be crazy! Go watch some Si Qian Jin video or something!
Despite the fact that Ching Ming is something almost every Malaysian-Chinese observe every year, it is still a refreshing experience for me to witness the customs and practices my extended family follow. This is my first visit to the cemetery in eight years. It is also the first time I visited my late grandmother's burial place since she passed away in 2001. I was still in Australia when that happened and I regret I wasn't able to be by her side during her last days. I wasn't even able to attend her funeral.
All these happened two weeks ago so its kinda old news. But what the heck.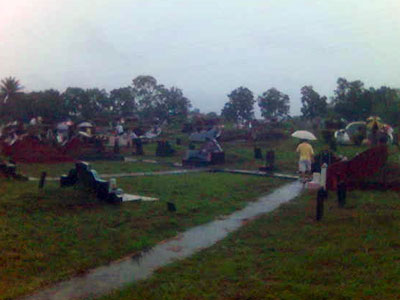 Like most people we woke up at 6am in the morning to beat the crowd. Turned out that we didn't even need to do that because it was raining damn hard in Kuching that morning and the crowd was scarce. My mother stayed at home to look after my father and my sister hadn't return to Kuching yet, so it was just me and my brother joining our extended family to pay respects to our late grandparents. I didn't bring my digicam along as I think its rude to snap photos of the cemetery, but I had my camera phone anyway. 🙂 Most photos are deliberately cropped/blurred for privacy reasons.
Oh and I still have to reiterate to people who knows me in real life, PLEASE do not mention this website to any of my family members or anyone else in Kuching who knows me personally. They are sensitive about this sort of things, so please keep whatever you read to yourself so I can write more stupid things about myself. Deal?
So we headed over to our grandparents' tomb which was re-decorated since I last remembered. The cemetery is surprisingly clean and mosquito-free, which is good because I had recurring nightmares of me as mosquito-breakfast from when I was a fat 14-year-old.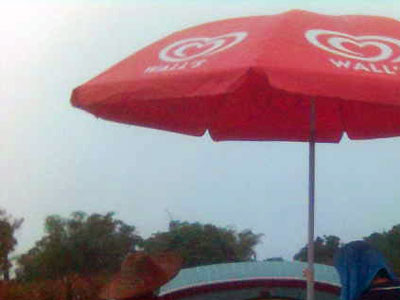 We propped up a bright red ice-cream umbrella over the tomb. It looked odd. Too bad I didn't get any request from people asking to suck my ice-cream.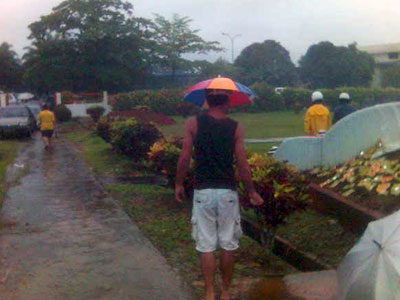 There's a guy with a small umbrella attached on his head. I thought it was kinda cute. I wonder if he's gonna fly away Mary-Poppins style if the wind blew harder.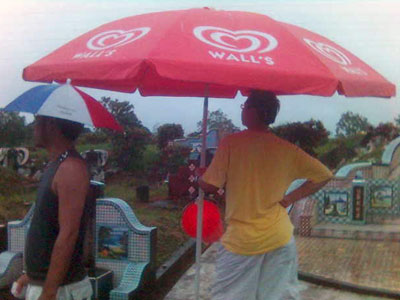 Mr Umbrella-Head looked kinda cool. I knew I have a bigger umbrella than him, but I felt like closing the little umbrella on his head and carry him around like a regular umbrella.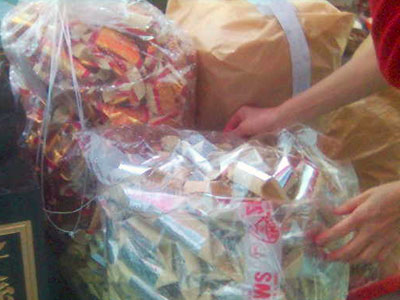 These are yuan baos, or rather paper notes folded into the shape of gold ingots used in ancient China that my aunts have prepared. I remember when I was young and my grandmother was alive, my siblings and I would join her and fold bags and bags of these paper notes for our grandfather. Its a somewhat sad yet sobering thought that we are now doing it for our grandfather and her as well.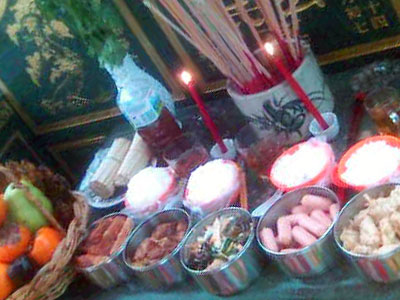 These are offerings, which are mostly vegetarian dishes since that's what my grandmother ate when she's alive. There's also two bunches of small sticks next to the fruit basket if you noticed. Those are skins off the bamboo stems.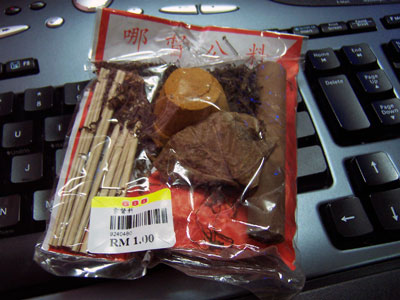 Here's a closer look at the pack.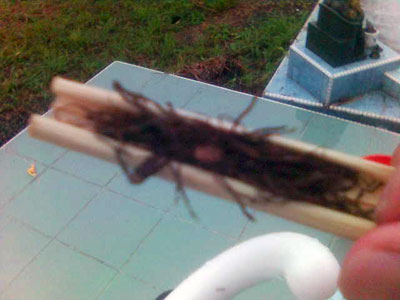 You put some tobacco leaves (I think) onto the bamboo skin, roll it up and smoke it like a normal cigarette. My uncle called it Lo Ko Hoon, which he described as the cheapest form of cigarette.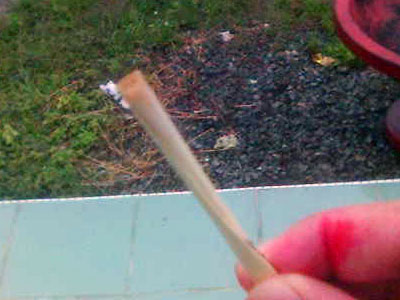 Its the first time I see this sort of thing. My uncle bought it because apparently that was what my grandfather smoked when he was alive. My aunt shared stories about how she used to sneak these cigarettes for my grandfather even when he was lying on his death bed.
My grandfather passed away when I was 1 years old so I hardly get to know him. All I know was that my grandparents married when the Japanese ruled Borneo during World War II. My family was very very very very very poor until when my father started his business. Looking at that RM1.00 pack of "cigarettes" is a sobering thought how lucky I am I got to study overseas.
While we were chatting amiably about our late grandparents, a family not far from us were doing something interesting…




Nice tent! Too bad the rain stopped soon after they put up the tent! HAHAHAAHAAAA!!! One hour worth of effort… GONE!
Heh, I think they came on the wrong show lah. They should be playing Survivor.
Anyway, when we figured its about time to leave, my uncle did this special ritual involving two coins. He kneeled in front of the tomb and threw two coins. Its a game of probability: two tails meant my late grandparents were not satiated yet, two heads meant they're smiling on us, and a head and a tail meant that they were full and we may start packing and leave. I thought it was an interesting custom.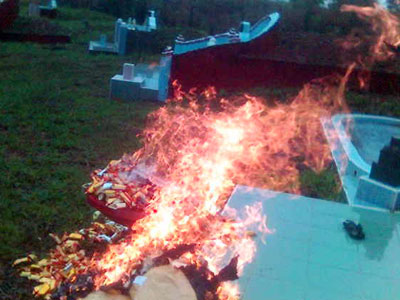 We left the cemetery in a big way by burning all those yuan baos and other unfolded paper notes. I've seen others burning all sorts of funny things like cardboard beer cans and houses, but we weren't into those kinda things. So we packed and left and had lunch together and that was that.
I think Ching Ming is great tradition to observe. I never realised its importance until today. I guess the best part is that we shared stories about our late grandparents, reminiscing the good ol' times and how life is better for us now because of them.
Somehow talking about grandparents made me feel that a part of them in my heart still lives. 🙂