Delaney's is a homely little Irish pub and restaurant tucked at the back of Federal Hotel, KL.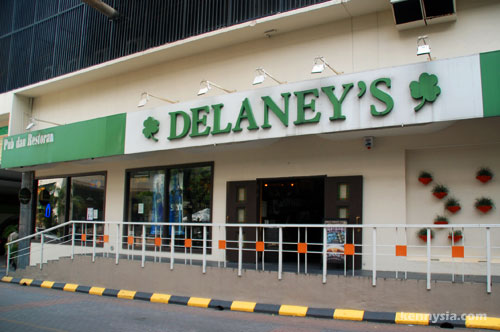 It's a welcoming escape from the maddening chaos from Low Yat Plaza opposite, which is great especially after you've endured endless assault from various credit card sales teams bombarding you with "Siryouwantcreditcardornot?Nowgotnoannualfeeandgotfreegiftforyousir!sir!?SIR?!"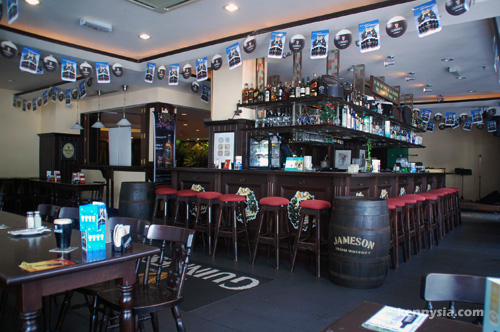 The first time I came to Delaney's was earlier this year. I was gonna get myself a Sony PS3 from Low Yat, but after balking at the RM1,600 price tag I thought money could be better spent on food than ridding the world of aliens and terrorists.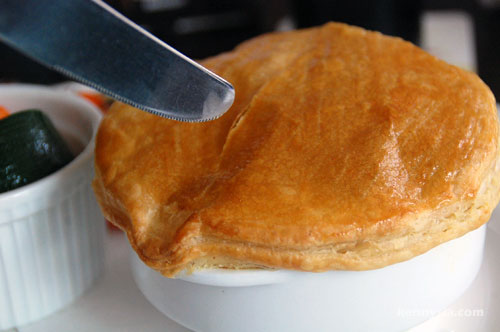 That time I had the Beef & Guinness Pie (RM25) which I was told is the signature dish of the restaurant.
I remembered it was so damn good I promised myself I have to go back there again. The puff pastry had the right degree of crisp and fluff, and the succulent gravy contained a good amount of mushrooms, onions and beef chunks. It was awesome.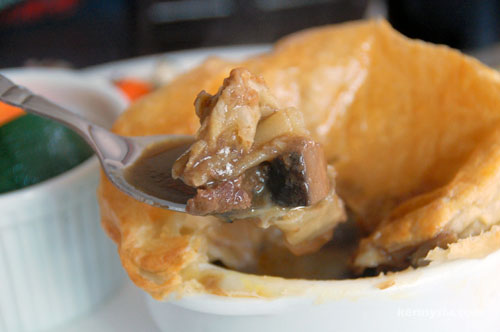 Encouraged by my initial experience there, I went to Delaney's again last weekend for lunch with a friend I was meeting. He initially suggested going for roast duck at Jalan Alor formerly known as Jalan Kejora formerly known as Jalan Alor. But I managed to convince him to go for a proper restaurant instead.
This time round, Delaney's was running a little promotion as we were given a separate Christmas menu in addition to the original one.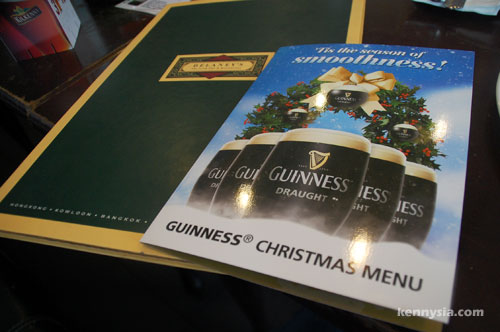 The Christmas menu was similar to the one we had from the Guinness Gastranomic Workshop I attended earlier. The Kakuni Style Braised Chicken, Fresh Herb Risotto & Guinness Poached Osyter in particular sounded familiar. 😉
Each main course comes with a free pint of Guinness Draught too, which is a pretty good deal considering a pint of the premium black beer usually costs around RM15.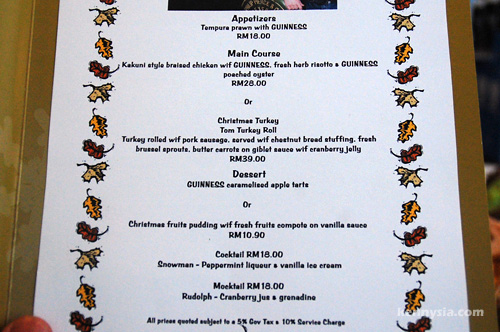 So I went for the classic Thanksgiving meal of a Tom Turkey Roll (RM39) from the Christmas menu while my friend took the Oysters Baked in Puff Pastry (RM38) which was not from the Christmas menu, but still came with the free pint of Guinness Draught nonetheless.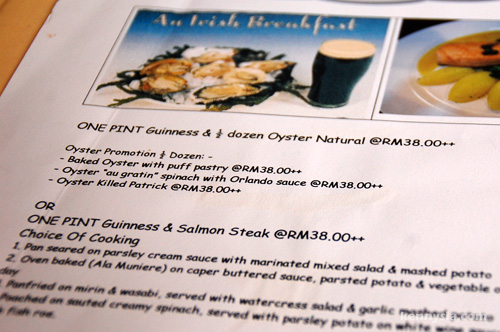 To be honest, we were kinda shocked when the oysters came.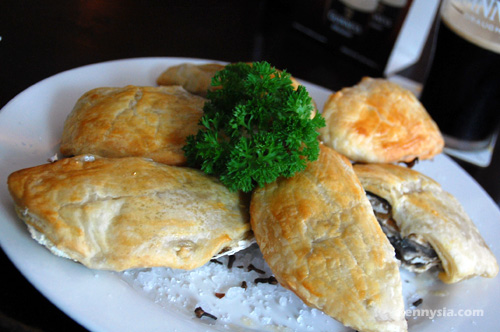 Somehow I thought they were trying to bluff us with the oysters by putting a couple of rocks on a plate. Then secretly laugh their backsides off when our teeth fell out as we try to bite it.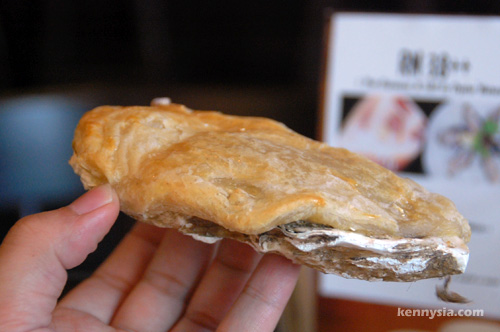 One thing for sure, the puff pastry oysters did taste better than they look. I won't say I'm in love with it, but they're not bad.
I'm an oyster lover (literally and err… figuratively speaking) and yet I've never seen them done in pastry format, so it's something different for once.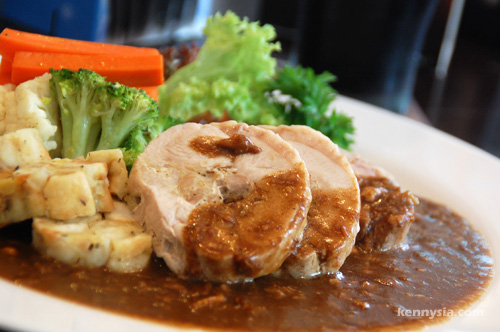 Luckily, my turkey roll came slightly better presented than the oysters. There are three slices of turkey roll, each came with a bit of pork sausage in the centre and served with generous amount of giblet gravy. The steamed vegies and the soft fluffy chestnut bread stuffings accompany the dish.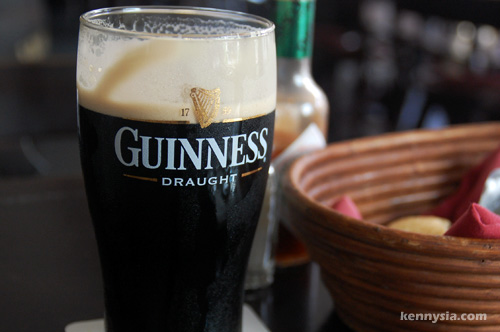 The gravy is what made the dish work. From what I understand, it is made from the "spare parts" of the turkey. Although most people will find the saltiness a bit overpowering, it tastes fantastic when you wash it down with a pint of creamy smooth Guinness Draught poured straight from the bar. The roasty bitterness of the beer goes down surprisingly well with the savoury bite of the turkey roll. So very satisfying!
After all the Irish goodness, I couldn't leave without trying something sweet. So I ordered from the Christmas menu a mocktail called "Rudolph" (RM18).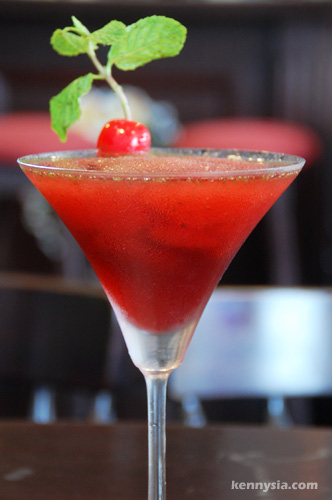 It's a concoction of cranberry juice and grenadine. And girls will love this drink.
Personally, I had no clue how girly it is until it came bright red in a fancy cocktail glass. Got cherry on top some more.
It's too much of a girly drink for me, so don't order this if you don't want your manhood to shrink by two inches. Like mine has.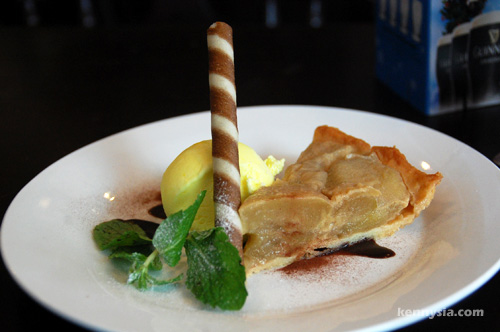 Instead, opt for the caramelised apple tart. It came with a scoop of sweet corn ice-cream and a chocolate wafer stick, and is a great Irish way to finish off a hearty meal.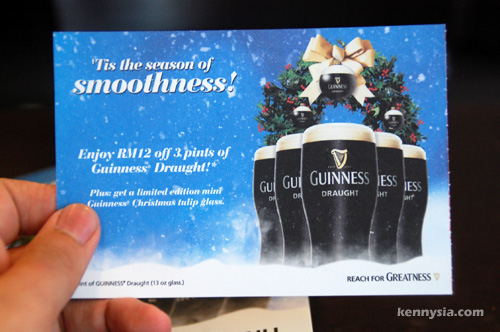 When when we asked our bill, the waiter asked us to fill out the form and gave us this voucher in return.
We get a RM12 discount and a free limited-edition miniature glass if we order 3 pints of the black beer on our next visit to Delaney's. Nice!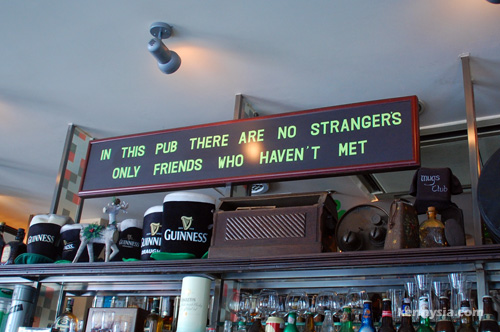 Delaney's is a charmingly rustic Irish pub catering towards tourists and the working class who needs a place to dine and unwind while they catch their favourite sports on the big screen. The prices are reasonable, the service is swift and the food is fantastic. I was not let down both times that I was there.
Come here for the relaxing and unpretentious ambience, and say hello to the big bearded bartender who'll give you a genuine smile and a thumbs up everytime you yell out for him.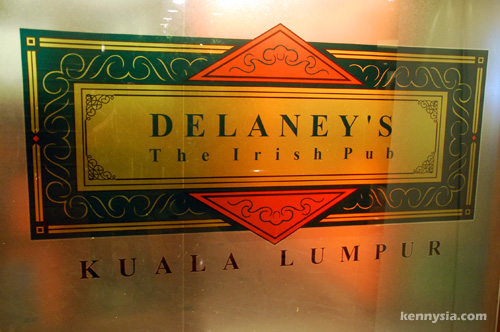 Delaney's can be found at the rear entrance of the Federal Hotel KL at 35 Jalan Bukit Bintang, and is open daily from 12 noon till 1am.

Karma Point Collection: Christmas is in the air, but for the 20,000 children living in the Payatas dumpsite in Philippines, all they can smell is garbage-tainted air.
Veteran blogger TV Smith was at Payatas recently when he took these photos of how bad the poverty situation is over there. Have a look, and if it motivates you to wanna help break their vicious cycle of poverty, click here.