(Disclosure: I was commissioned for this write-up, but I paid for the food myself and the following are my honest and independently written review of their menu.)
In the interest of helping Malaysia curb the obesity epidemic, this will be the final food review I'm doing for Emmanuel Stroobant's Christmas menu.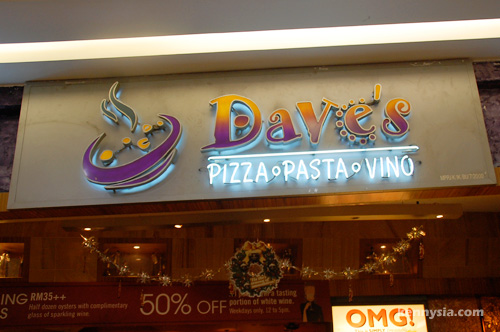 Dave's Pizza Pasta Vino is one of the hidden treasures of 1Utama. So hidden in fact that despite going to 1Utama so often, I never even knew it existed.
1Utama to me has always been just The New Wing. I searched high and low for this restaurant, only to realise that it is actually located at The Old Wing, on the ground floor right opposite Burger King and TGI Friday's.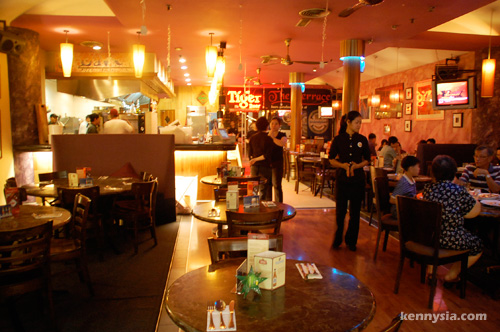 The restaurant didn't impress me at first.
Upon entering, I was immediately reminded of other similar informal Italian restaurants like Chili's or Italiannies. Not that there's anything wrong with it. But the dimmed lights, cluttered walls, and comfy cushions just seems a bit too common place.
There's a decent crowd of regulars at the restaurant, but it wasn't exactly packed too brim. The ambience was still casual and comfortable.
So comfortable in fact, that they even provided us with a baby pillow.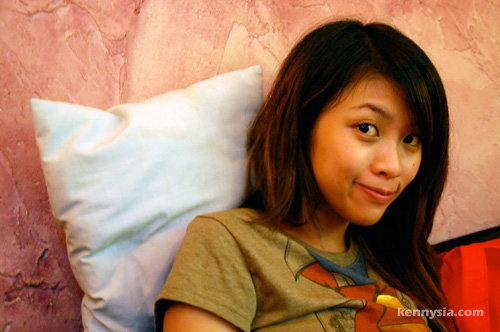 Maybe some kid accidentally left behind her pillow also. I dunno.
In any case, I sat on it too long and so err… it kinda smells like my butt now.
Unlike Chili's or Italiannies though, the food at Dave's is very non-halal, which means pig lovers can go hog wild at all the porky galore goodness.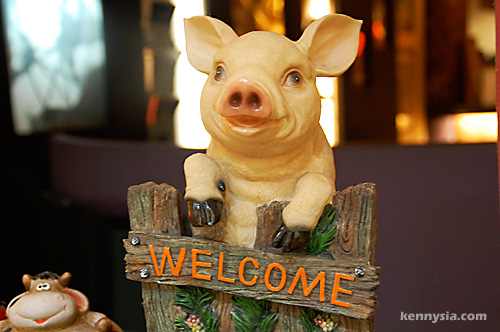 From a business standpoint, it seems quite silly at first that Dave's would wanna make their restaurant non-halal. It's a huge revenue sacrifice when you alienate about 60% of the Malaysian population. Why the heck would anyone wanna do that?
But as soon as I sunk my teeth into the pan-fried pork belly shaving (RM18), immediately I understood why Dave's decided to go against convention and squeal OINK!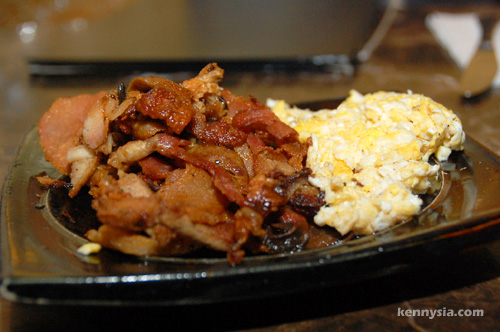 Damn. That was one downright sinfully delicious pork belly!
This is one dish you really gotta try to believe! The texture is great and the aroma even better. The crispy bacon soaked in dripping oil is so tasty that it completely blew me away.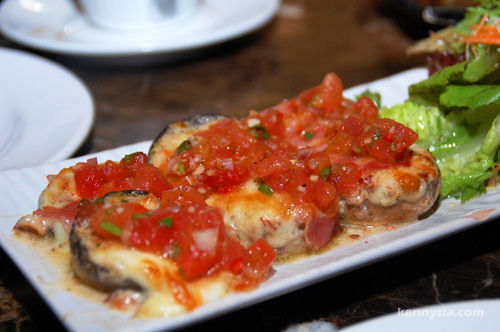 Just as awesome were the button mushrooms stuffed with bacon, cream and mozzarella cheese (RM18.50).
As a true meatlover, I wasn't expecting much out of this predominantly vegie dish. But as soon as I put it in my mouth, my eyes immediately lit up.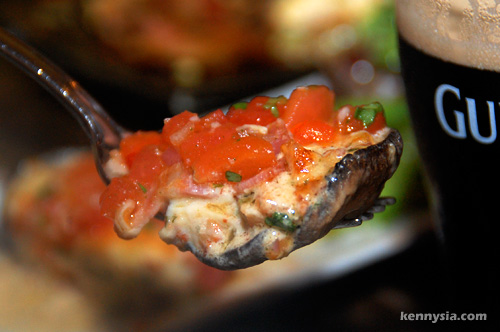 What a fantastic delight. Words do not do justice the orgasmic delight when the overflowing juices of the stuffed mushrooms bukkaked and filled up inside your mouth. These are the best mushrooms I've ever had in years!
Two entrees and already we were impressed.
We can't go to a restaurant with "Pizza" in its name without at least sampling their pizzas, so we got a large pork salami pizza (RM38) to share.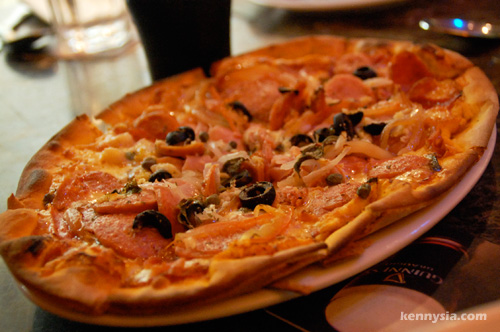 I know this is starting to get old, but…
This pizza kicked ass.
This pizza kicked Pizza Hut's ass. Multiple times over.
This pizza kicked Pizza Hut's ass so bad, the customers eating at Pizza Hut could taste Dave's foot on their pizza toppings.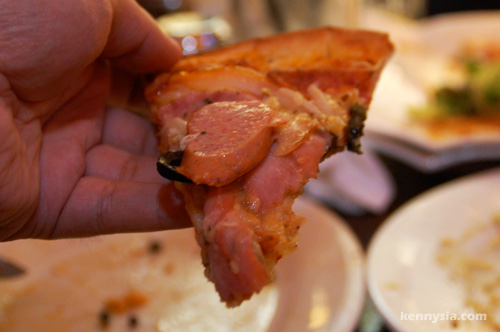 In short, this pizza totally kicked ass.
What I like the most about the pizza is the taste of slightly-burnt cheese on the crispy crust outside. Very yummy! Other than the restaurants in 5-star hotels, not too often have I seen gourmet pizzas done to that perfection.
The only thing I hate about the salami pizza is the ba jiao (star anise, I think) they added to the pizza topping. Who the heck put ba jiao on pizzas man? Please, leave that foul-tasting herb in bakuteh, and not on my pizzas.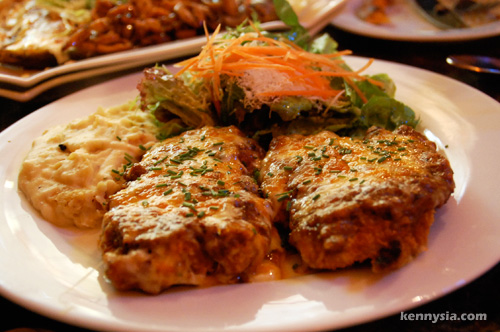 Three hits in a row and we wondered when Dave's would go wrong. Unfortunately, they did with the chicken parmegiana (RM40).
There was chicken, cheese and mashed potatoes, but ultimately there was nothing out of the ordinary. It was the only dish we didn't actually finish.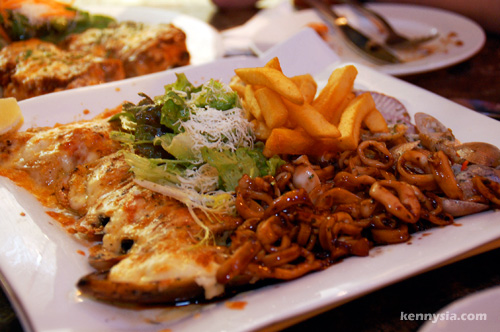 The mixed seafood platter (RM41) we had was above average though. For RM41, we got an assortment of prawns, mussels, fish, calamari and clams all baked with cheese and served over truffle sauce.
Quite a sweet deal for indecisive people like us who can't make up their mind.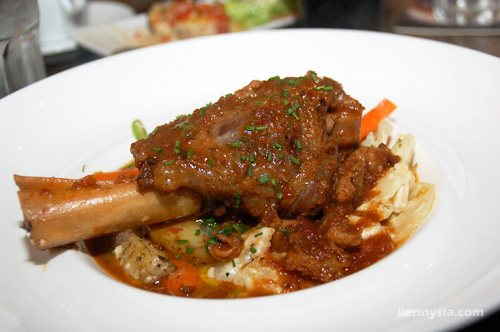 But the best deal in the house has gotta be the Guinness lamb shank (RM41).
For RM41, I got a humungous portion of a lamb shank and, like every other main course item on the Guinness Christmas menu, comes a free pint of Guinness Draught on the house.
The beer costs about RM20 at Dave's, so essentially I'm only paying 21 bucks the lamb shank.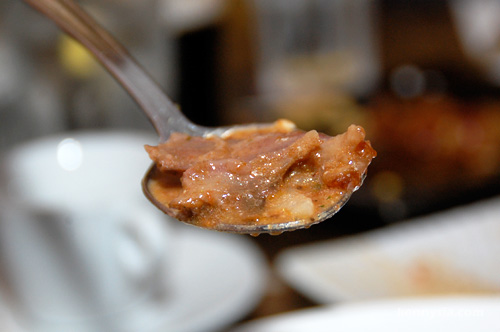 Nowhere in KL, Kuching or some say Batam can you get a lamb shank at a restaurant for just 21 bucks.
And it's pretty good lamb shank too!
The Guinness tenderized the meat so well it falls off the bone and melts in my mouth. When accompanied with mashed potato on sweet stout-enhanced gravy, the end result was a lamb shank so flavoursome I can't wait to wash down with a pint of cold black beer. It was such a satisfying dish.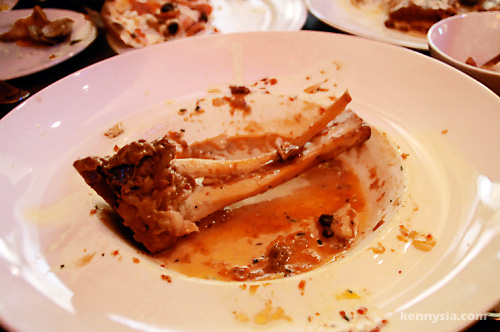 One thing I must also commend on was the service at Dave's. It was most definitely a good 4 and half out of 5 stars.
Service was prompt without being hectic, friendly without being pushy, attentive without being annoying. If you ask the waiters any basic question, they know their stuff. The best part is that it's easy to get their attention because they are always nearby.
It was very unlike my experience in other restaurants, where the waiters always seems too busy talking to each other, or too lazy to move around as if they were acting in a movie called "The Day The Waiters Stood Still."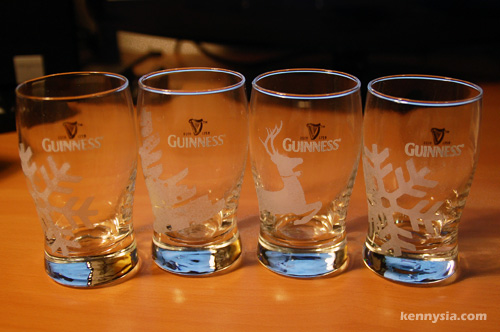 I know I sound like some fanboy raving through this review, but there is no false advertising here! If you like places like Chili's, TGI Friday's or Italiannies, you'll love Dave's at 1Utama. The food is good and the prices even better.
The only false advertising you're gonna get is in their Kid's Menu.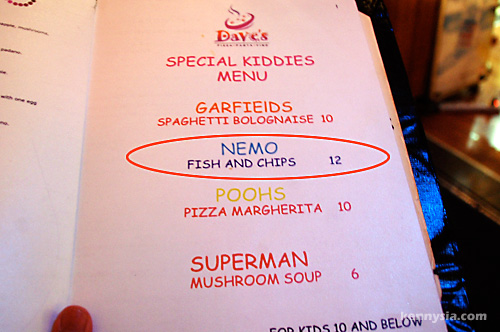 Nemo as Fish & Chips? Damn, that's cruel!

Seriously though, I say the Guinness Christmas menu promotion is one of those things too good to miss out own. It only runs till 31st December and only at selected outlets around Klang Valley. They are really worth trying. If you're wary, I have already given my verdict on which dish to order and which ones to avoid at Delaney's, Jarrod & Rawlins @ Ampwalk Mall, Michelangelo's @ Solaris and Dave's. KY have also written reviews for Cafe Chulo, Ronnie Q, Gypsy Wine & Bar, SevenAteNine and The Magnificent Fish & Chips.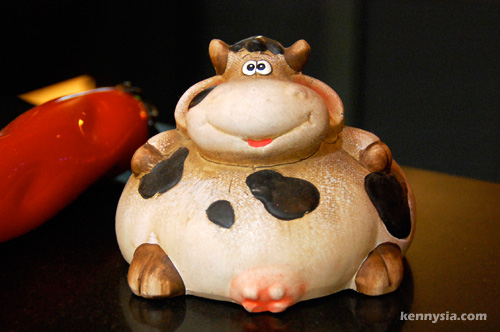 Anyway opportunities like these don't come very often, where you get to sample dishes created by a celebrity chef at prices so reasonable, especially when you take into account the free beer they throw in with every main course. 🙂

Went to Hanoi last year and enjoyed the trip immensely. I am in Saigon, South Vietnam now. Though it isn't as pretty as the north, the food here definitely kicked serious ass.