I didn't like Jakarta at all when I first touched down at their airport.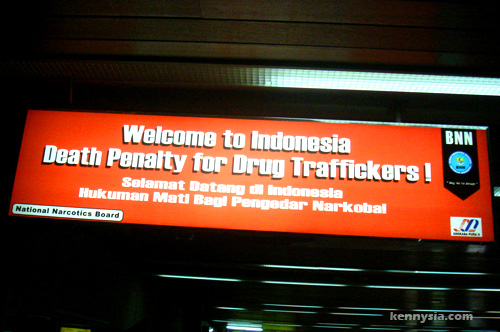 My flight was delayed; the immigration officer was giving me trouble; and to top it off, I waited nearly 2 hours for a taxi at the airport. There were virtually no taxis operating that day because of a flash flood happening in Jakarta city.
Those opportunistic taxi touts were cheating me by charging double the normal rates. They kept saying "Mai jiet! Mai jiet!" (traffic jam)
The only form of entertainment I got at the airport is the very funny Official Jakarta Shopping Guide brochure.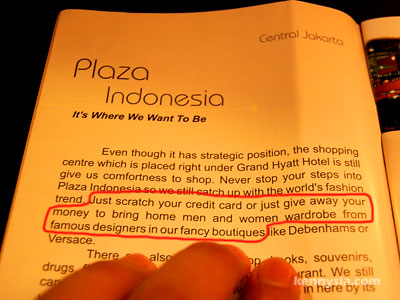 It is Indonesian Engrish at its best.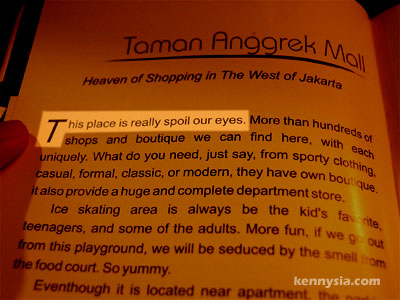 Dunno whether to laugh or cry at whoever was paid to write this.
"This place is really spoil our eyes!"
*~*~*~*~*~*~*~*~*~*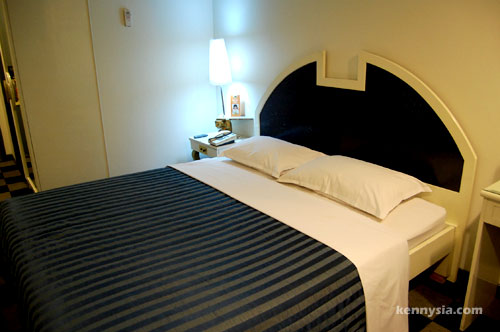 I stayed at the pretty reasonably-priced Ibis Acardia Hotel in the Jalan Jaksa area. Jakarta is a huge old city so choosing a hotel location that is central to everywhere could save me a lotta money.
First thing I did in Jakarta? Walk straight outta my hotel for some yummy Indonesian street food!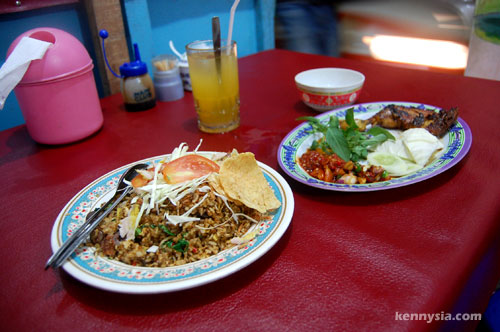 This is Nasi Goreng Ayam Spesial (special chicken fried rice) next to plate of Ayam Bakar (chargrilled chicken). I'm not a fan of fried rice, but I must admit, those Indonesian fried rice kicks our Malaysian version's arse anytime.
Nothing says "Welcome to Indonesia" better than a good dose deliciously unhygenic streetside food. It is so unhygenic, they wash their plates simply by dunking them into a bucket of brownish water repeatedly. Guess that adds to the flavour.
No wonder I fell sick lah.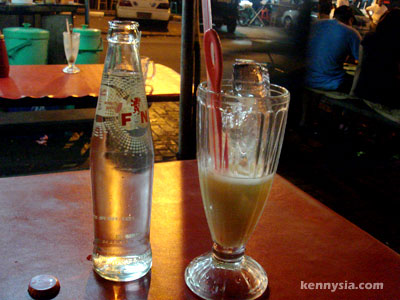 This is Soda Susu (milk soda). Apart from having a really fun name to pronounce, it is also a damn addictive drink.
Essentially just soda mixed with condensed milk, it's so simple I wonder why Malaysia hasn't caught up with it over here. I must have like 10 cups of those in Jakarta alone.
Dining by the streetside of Jakarta is a damn interesting experience. The presence of young buskers who roam around asking money adds colour to the scene. I'm not talking about kids who walk around with a stupid guitar asking for money.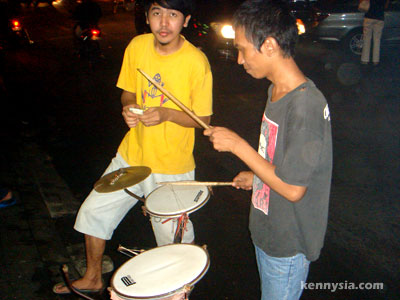 These kids are so organised and passionate, they even had a portable drum set going around with them!
*~*~*~*~*~*~*~*~*~*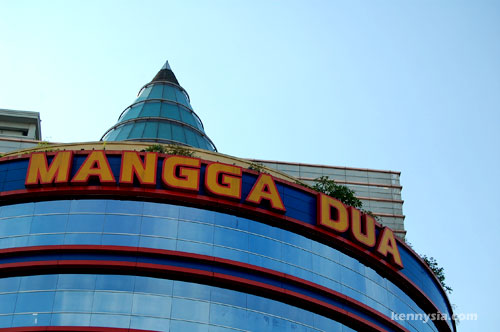 One thing I appreciate about Jakarta is their large shopping malls that could rival KL and Singapore's best at anytime.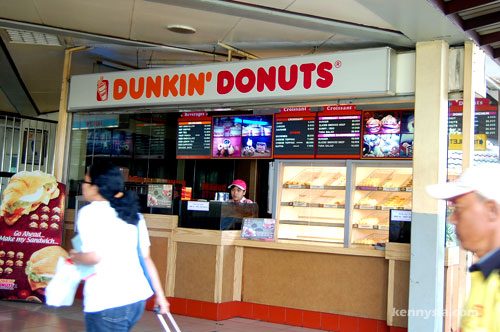 Jakarta is doughnut city.
There are doughnut shops inside shopping malls. Along the streets. Inside train stations. Airports. And virtually behind every little nook and corner of Jakarta.
I don't think there's another Asian city so donut-crazy before. Homer Simpson would have been proud to move to Jakarta.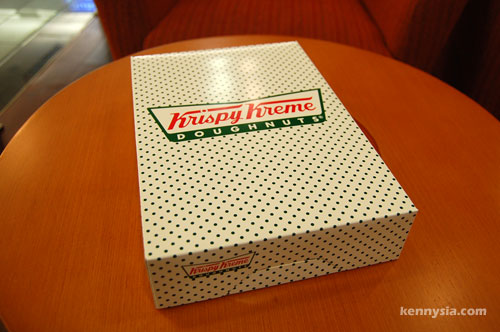 I've heard a lot of good things about Krispy Kreme Doughnuts. I've heard that they are so good that people don't even call them "Krispy Kreme" anymore.
They call them "KRISPY KREMEEEEEEEEEEEEE!!!!!!!!!!!!!!!!!!!!!!"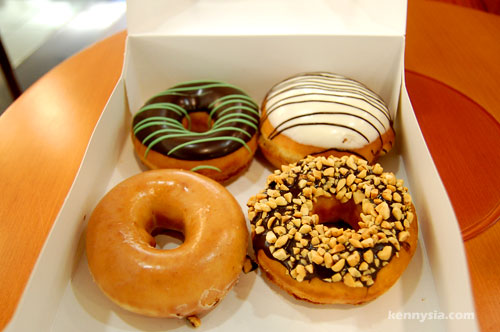 Jakarta is the only city in the whole of South-East Asia to have a Krispy Kreme Doughnuts chain. But the only thing KL and Singapore have are crappy Funkin' Dunkin' Donuts. Why ah?
I wasted no time and order a half-dozen of Krispy Kreme Doughnuts. With anticipation, I took my first bite into an original glazed doughnut and…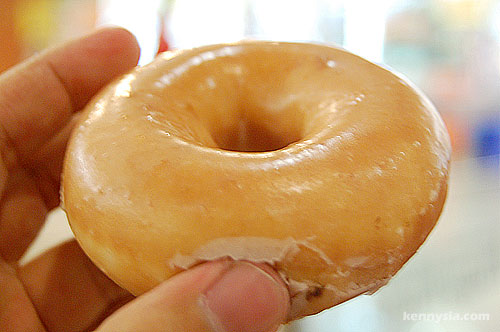 OMG IT WAS SO FABULOUSLY GOOD!
My whole life flashed before me and suddenly everything slowed down to a crawl. This is what I've been missing in my whole life!
No wonder people raved about them so much. The trip to a Krispy Kreme store is worth the air tickets to Jakarta alone.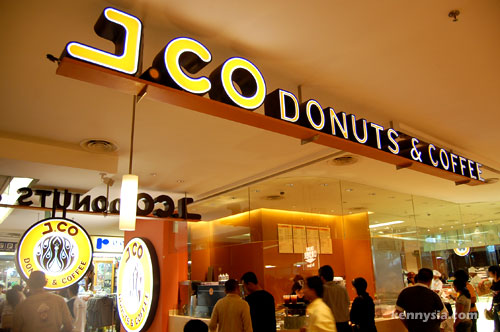 Almost equally as good as Krispy Kreme is a local homegrown doughnut chain store J.Co
I thought I was kiasu enough to bring 4 boxes of Krispy Kreme on my flight back home to my loved ones.
Then I saw one couple carrying almost 20 BOXES of J.Co donuts! Even more kiasu!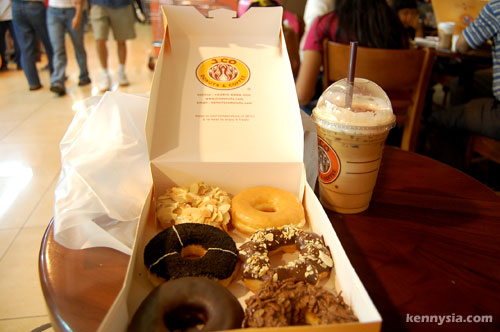 But having tasted the offerings from both chains, I still prefer the taste of Krispy Kreme's doughnuts lah.
What I like about J.Co's doughnuts is that they have a lot more varieties of flavour, such as green tea and the deliciously crunchy chocolate doughnut.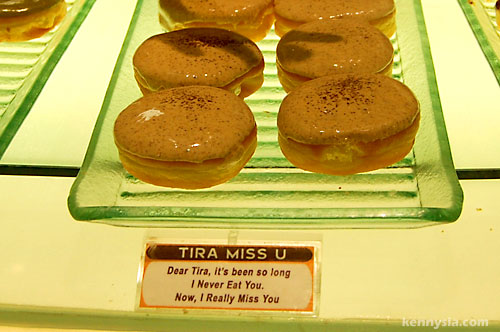 Gotta love their quirky sense of humour too.
*~*~*~*~*~*~*~*~*~*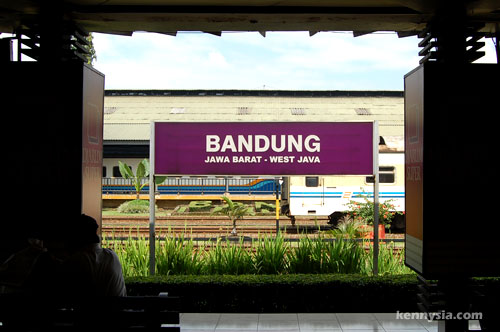 Bandung is a small town 3 hours by train from Jakarta and it is a great place to shop.
The main mode of public transport here is the angkot.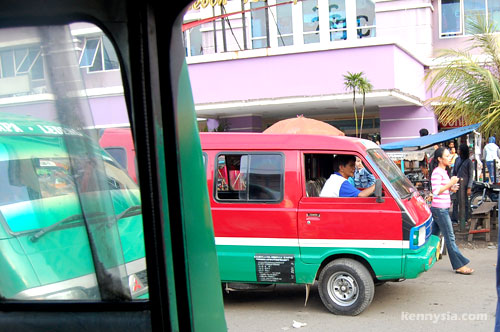 It's basically a Toyota Econovan modified into a minibus. The fare to any destination along the angkot's route is filthy cheap at a flat 2,000 rupiah (RM0.80) only.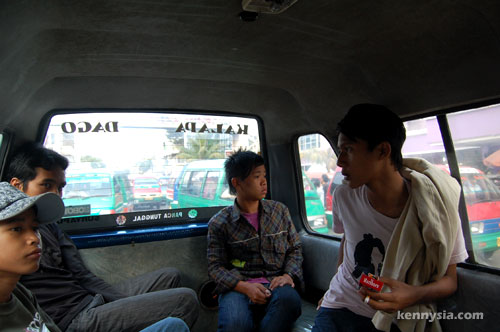 It's easy to tell the driver when to stop. All you gotta do is shout out "kiri! kiri!". In English, that means "to the left! to the left!".
Someone like Beyonce is really gonna have a lot of trouble travelling around in Bandung.
*~*~*~*~*~*~*~*~*~*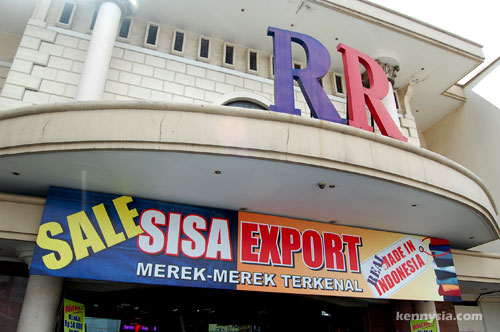 Most people think of shopping holidays, and they immediately think Hong Kong, or Taiwan, or Singapore, or KL. Not many of us ever really thought of Bandung as a great shopping destination.
I'm telling you, you are really missing out. Bandung is the best kept shopping secret of South East Asia.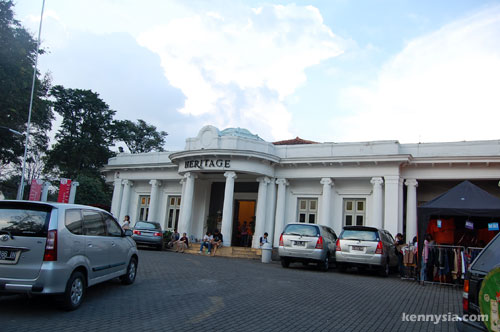 Jalan Riau in Bandung has one huge row of factory outlet stores selling designer clothing at ridiculously discounted prices. Authentic Burberry jeans at RM35, anyone? How about a sexy Bebe top for the ladies at just RM42?
Another great product to buy here in Bandung are the brownies. I bought some back home for my family and they absolutely love it.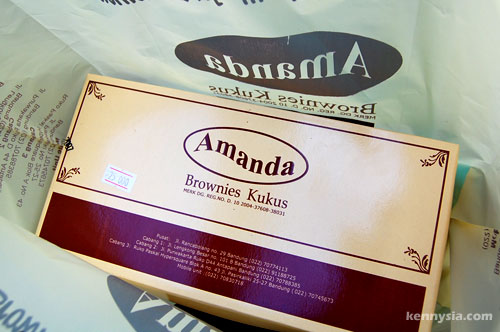 Anybody wanna taste my Brownies Kukus?
*~*~*~*~*~*~*~*~*~*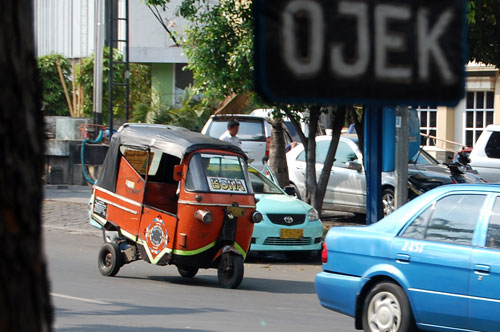 The transportation options around the Jakarta is an eye-opener alright. Aside from the usual buses and taxis, you also have the choice of travelling on motorcycles. Helmets optional.
Otherwise, you can ride on one of these lean mean orange machines known as the Ojek Bajaj.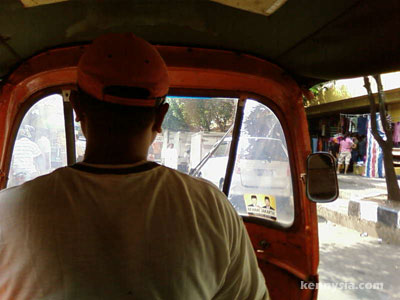 At less than RM2 for a 5-minute journey, it's a real bargain.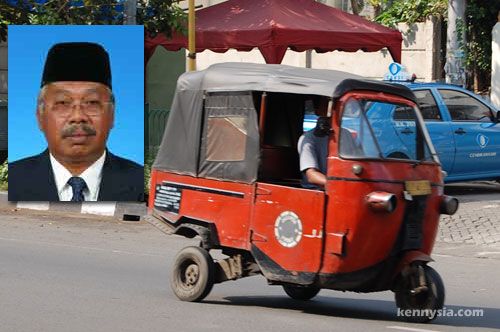 I can't help it. But those Bajajs actually reminded me a lot of our sexist bocor Jasin MP.
Slow. Loud. And very, very ugly.
*~*~*~*~*~*~*~*~*~*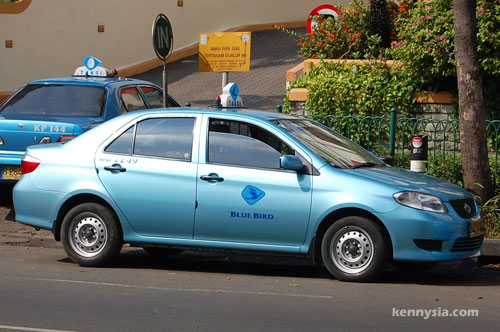 Travelling by taxis in Indonesia can be quite risky. At the advice of kennysia.com readers, I was told only to travel in those blue "Blue Bird" taxis in Jakarta.
Terrible name. If this were in Kuching, no chance in hell is a taxi called "Blue Bird" is ever gonna last long.
I mean seriously, not a lot of Kuching folks would feel comfortable sitting in some Lam Jiao taxi right!?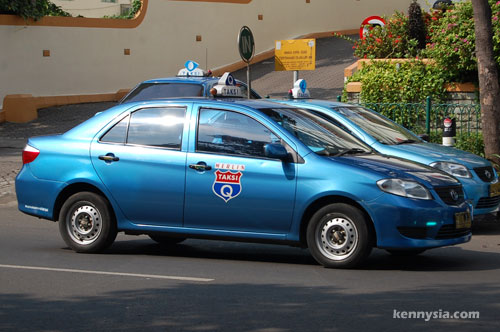 "Blue Bird" may be a horrible name for a taxi, but they are the only one with a good safety record around here.
They are so good that some of their competitors had even painted their vehicles blue to confuse people.
Yea, nowadays you can even get pirated Lam Jiao taxis.
*~*~*~*~*~*~*~*~*~*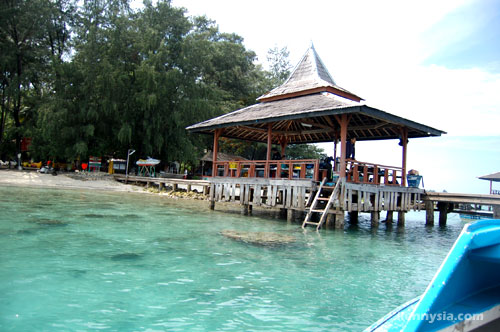 I really enjoyed scuba diving at North Jakarta's Thousand Islands.
The place. Not the salad sauce.
The water is so clear here you could see millions of fish swimming right by the dock.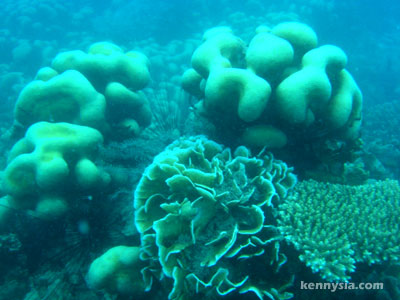 Saw some weird-looking corals too.
*~*~*~*~*~*~*~*~*~*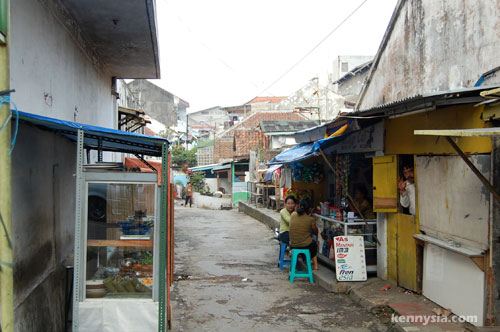 A lot of people in Jakarta live in extreme poverty. Some of these people are so poor they don't even have a shelter over their head.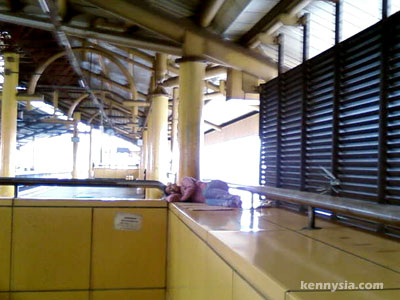 To them, their bed is the cold hard floor. Even more amazing is that people around them thinks sleeping in public places is a seemingly normal thing to do.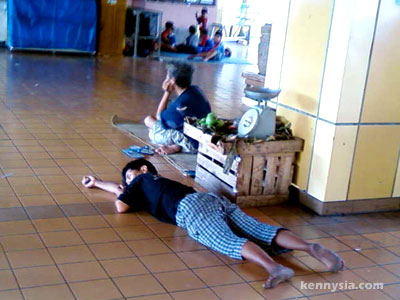 Unlike in Malaysia, homeless people aren't just sleeping around in train stations or park benches. They fall asleep just about everywhere in the big city. And there are so many of them.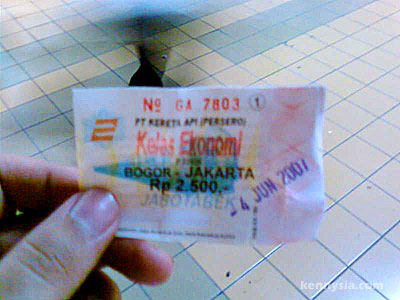 I had a taste of poverty when I took an economy train from a town called Bogor back to Jakarta. I realised that in Jakarta, their definition of "Economy" is no where close to Malaysia Airline's definition of "Economy".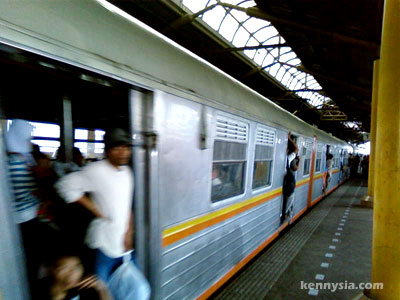 The economy train I took was so bad and run-down that it didn't even have a functioning air-conditioner. Every few minutes salesmen shuffles their way through the crowded train, selling everything from fruits and drinks to toys and lightbulbs.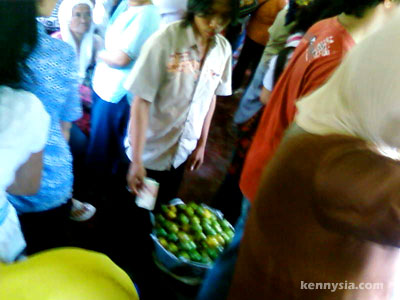 The most amazing thing was that the train doors were left open deliberately, while the train was running at full speed.
Some may say doing so is a safety hazard. Some may say this is a complete disregard of human life, but people here actually appreciate it. They like it 'cos they can enjoy free "natural air-conditioning" by hanging off the train's sidebars.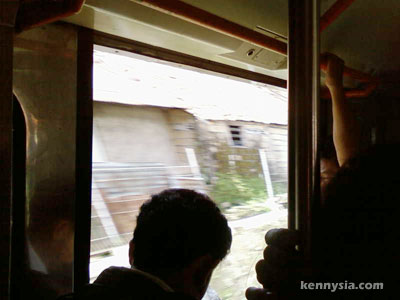 It was truly a sight to behold. During rush hours, you could even see young men sitting on the rooftop. Like it's a perfectly normal place to sit during a train ride.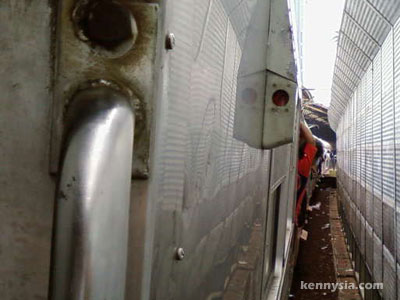 KL's train may be slow and inefficient, but having gotten used to air-conditioned transports in Malaysia and Singapore, I was really quite amazed that there are trains in such a bad condition in Indonesia.
One train I saw was so old, it still had the words "Osaka to Fukuoka" printed on the side.
*~*~*~*~*~*~*~*~*~*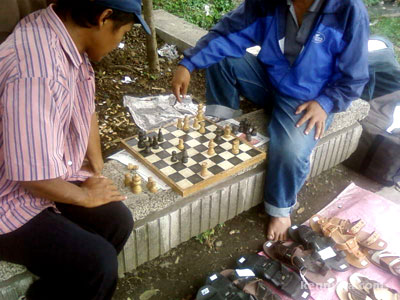 Chess is a favourite pass time among the street vendors in Jakarta.
You could challenge them for a game, but it'll cost you 1,000 Rupiah (RM0.38)
*~*~*~*~*~*~*~*~*~*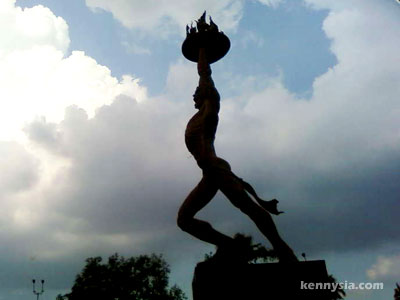 Jakarta is a city with many statues and monuments. Like every great leader, Indonesia's first President Sukarno enjoys building a lot of those bloody things to commemorate his legacy.
The most famous of all is its national landmark – Monas.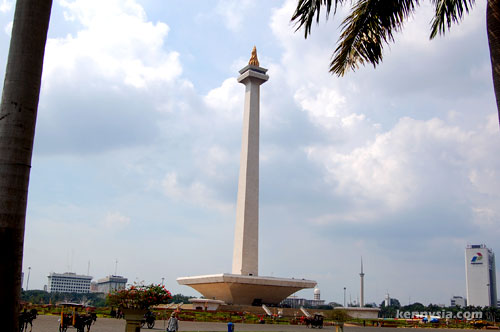 This 137m tall structure was commissioned by President Sukarno when he was at the height of his power, but too bad the fella was overthrown before he could finished it. As a result, the Monas was also affectionately known as Sukarno's Last Erection.
Why do great country leaders always build huge, phallic symbols during their reign? To show off their manhood?
Of course, Sukarno wasn't the only country leader who erected a big giant penis-like structure for his people. Not wanting to be outdone by our neighbour, Malaysia too, had a great leader who erected something even bigger.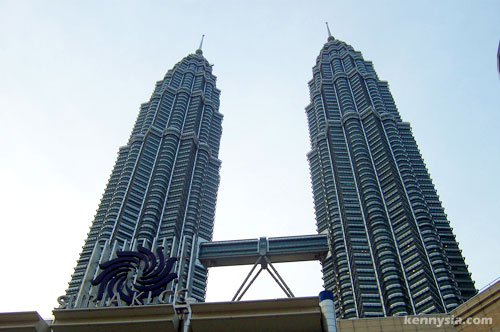 Gotta wonder the hidden meaning behind that structure eh? 😉

I'll be at the Nuffnang Gathering in Penang on the 23rd June.
It'll be the day before I have to run 42km, so be nice to me yea?