Legend has it that many years ago, Hou Yi the Archer became separated from his wife Chang Er the Moonwalker after she swallowed a magical pill that made her float to the moon. Four thousand years later today, sad heartless people like us still celebrate their long distance relationship by eating mooncakes.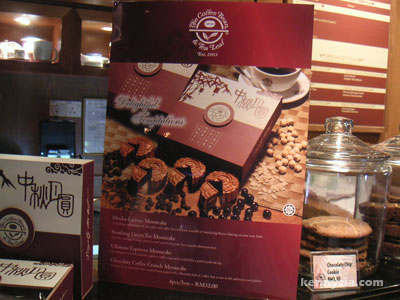 I cannot help but to be intrigued by Coffee Bean & Tea Leaf's signature range of mooncakes, featuring specially-made mooncakes with ingredients like espresso, green tea and such.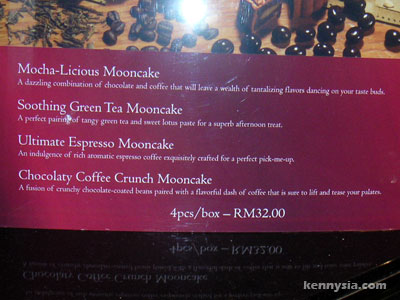 I happen to pass by the one and only Coffee Bean outlet in Kuching on my way to work every morning that eventually I succumbed to temptations and bought myself a box to try out.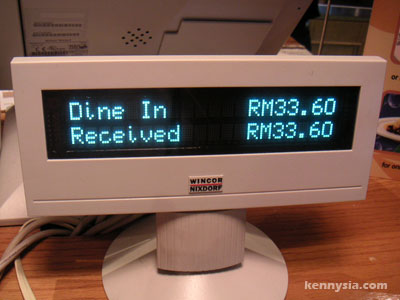 Don't be fooled by the advertising material stating that it costs only RM32 because RM33.60 is its actual price. I hate it when I prepared the exact change at the counter only to be told I was RM1.60 short because their prices are subject to compulsary 5% govt tax. Dammit, how difficult is it to incorporate the tax DIRECTLY into your menu prices? Not everyone can do differential calculus in their head to calculate how much money a mooncake costs after tax, ya know?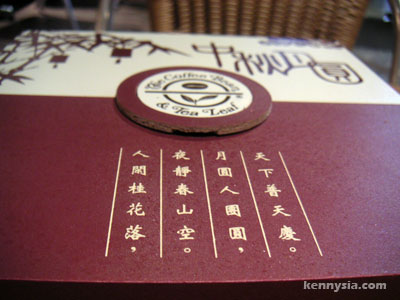 That said, I quite like the packaging of the mooncake. The box is made of wood and it locks into place beautifully by a mechanism featuring the Coffee Bean & Tea Leaf's logo. The inscription in front is some lame Chinese poetry on flowers falling and how round the moon is.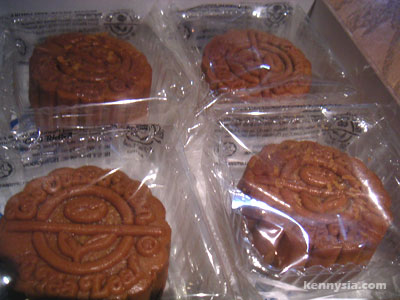 Here are the mooncakes, chilled and sealed to 'gerengtee' freshness. The refrigeration had a side effect of making them hard and flaky, instead of soft and chewy like it should be.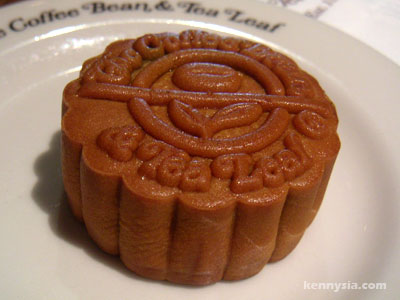 Unfortunately, the mooncakes are disappointingly small. Each piece is only about 75g which makes it about 1/3 the size of your average garden-variety mooncakes.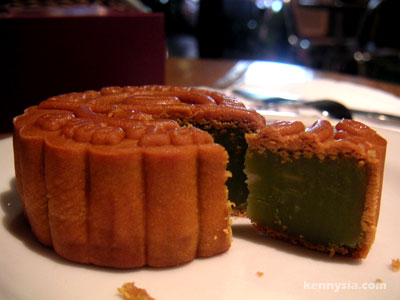 I picked the 'Soothing Green Tea Mooncake' first and took a bite off it. Its looks pretty but the taste is nothing to shout about. The aroma of green tea is there but it was too subtle to detect. Definitely too sweet for my liking.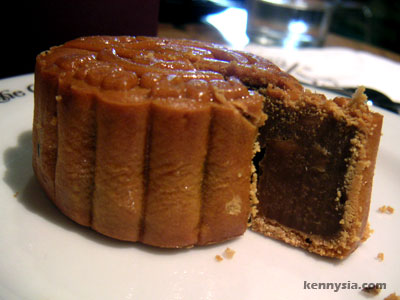 This is the 'Mochalicious Mooncake' and its my first ever taste of a coffee-based mooncake. The whole thing, including its crust, is made with mocha flavouring. Like the green tea variety, the effect was too subtle and the excessive sugar unfortunately somewhat spoiled its flavour.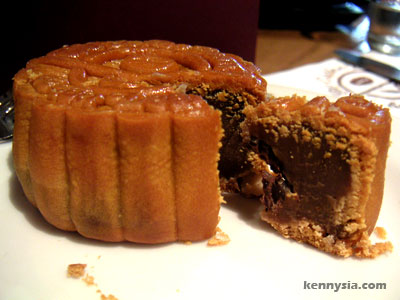 Next up, the 'Chocolaty Coffee Crunch Mooncake'. I noticed I hit a hard spot when I sliced the mooncake. Turns out that Coffee Bean had put real whole coffee beans in this one for its crunchy effect. I like it. It starts out with sweet chocolate paste slowly followed by nice aromatic coffee aftertaste to round out the effect. The result was fantastic!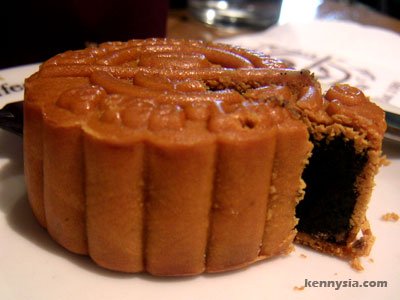 Now here's my favourite – the 'Ultimate Espresso Mooncake'! This must be the weirdest mooncake I've ever had. Imagine them taking whole espresso beans and blend it into a paste for their mooncake. Its something like that, bitter and all. I took a bite off it and the caffeine effect was like WHOA!
A lot of people probably wouldn't like this variety, but like drinking macchiato without sugar, eating an espresso mooncake is an acquired taste. Personally, I love it.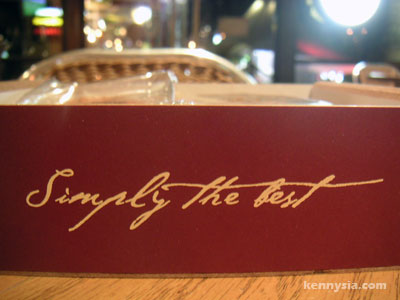 Coffee Bean & Tea Leaf's mooncakes are a nice deviation from boring red bean and lotus seed paste mooncakes. Despite it being so expensive, I say its still worth a try if you're on a lookout for something different this Mid-Autumn Festival. Mooncakes are notoriously high in lard and sugar so just remember not to overdose on them lah.
Otherwise if you eat too much mooncake, your face will also become round like mooncake.

Anything that can go wrong, will go wrong. Thanks, Murphy.
A server failure today brought our project to a virtual standstill. Since we couldn't do anything till an authorised techie comes in ,for the first time in 2 weeks I actually left work at the normal time of 5:30pm. The bad news is, my team and I are gonna have to stay back till freakin' 1am over the next 3 days to catch up on lost hours. 🙁