You know, as much as I like Singapore and its people, there are things about the city state that I find annoying. Like how anal some MRT officials are.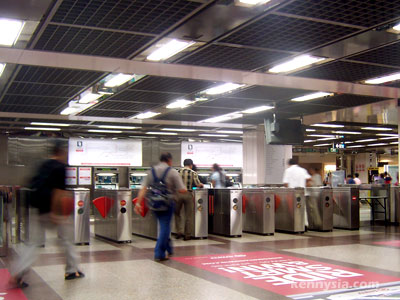 See, I've been travelling a lot lately, and when I travel, I take a lot of photos.
I don't usually get into trouble for doing that. While I tend to push my limits a little, I do have my own set of principles when it comes to photography. If people were to get upset at me if I took photos of them without permission, I can understand. What I don't understand is why people would get upset at me for taking photos of something as innocuous as an empty MRT station.
What happened was this.
It was early Sunday morning. I was just about to get back to my hotel after pretty much partying my whole Saturday night away, which included hanging out with the former Miss Malaysia and having cold milk poured onto me by the Incredible Hulk.
The City Hall MRT station at 6am in the morning was hauntingly quiet, a huge contrast to the way it was during peak hours.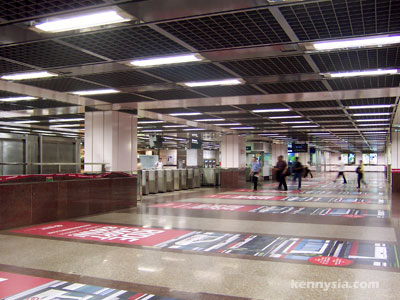 I found the scene strangely beautiful, so I primed my camera and took two shots at the almost empty MRT station.
Just as I finished my second shot, a middle-aged SMRT officer sauntered out from his booth with a pissed-off look on his face and slowly walked towards me, cowboy style.
SMRTO: What are you doing?
Kenny: Taking photos?
SMRTO: Why are you taking photos here?
Kenny: For artistic reasons.
SMRTO: You cannot take pictures in here!
Kenny: Oh ok. Sorry I didn't realise that.
SMRTO: You have to delete the photos.
Kenny: Err… no, I'm not deleting my photos.
SMRTO: No… you have to delete them or I will have to take action.
Kenny: Well, there's no signage around the place saying I cannot take photos in here, so I'm not deleting them. And it's just two photos anyway.
SMRTO: We don't put it on the signage, but it is against the regulation to take photos in here.
Kenny: Alright then, may I see the regulation?
SMRTO: Do you want me to call the police?
Kenny: No, I'm asking you to show me the regulation saying I can't take photos in here.
SMRTO: We don't have the regulation book in here. Our regulations you can find on our website.
Kenny: Don't you have a hard copy of it?
SMRTO: No, there's so many of them so we cannot list out every single thing in our book.
Kenny: Do you have Internet access?
SMRTO: No, sorry you cannot go into our booth!
Kenny: Then I'm keeping my photos.
SMRTO: If you want to do that, I have no choice but to call the police now.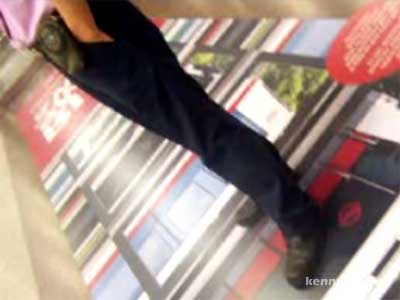 With that, the SMRT Officer pulled out this big ass walkie talkie from his belt and paged someone, presumably not the police but his tai kor. As he stood aside, hundreds of thoughts went through my head simulteanously.
Kenny Kenny Kenny, what have you done? All these trouble just for those two pathetic photos? What if the police came for you? What if you went to jail for this? What if they locked you away with all hardcore rape criminals? What if those criminals got desperate and decided to poke your backside deep deep?
Your bright future ahead of you, gone, just like that.
Imagine if I went to jail. I'm gonna sit beside my cellmate and asked him "Hey buddy, what are you here for?"
"I killed me wife" he'd reply with a grunt. "And what are you here for?"
What am I gonna say?
"Oh uhh… I took some photos at the MRT station?"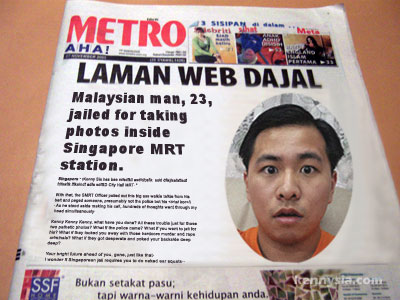 Anyway, a few moments later the officer got off his walkie talkie. His superior (or the phantom "police force" or whoever it was that he's paging) obviously thought he's damn bo liao to bring this up and basically told him to sod off and play with his Barbie, because when he came back the horns had disappeared from his head and his voice had turned helluva lot softer.
SMRTO: I still advise you not to take any photos inside the MRT station.
Kenny: Look, you still haven't answered my question. And all I'm asking for is a question. Not a threat, not a challenge, but a question. "May I see the regulation saying I cannot take photos in the MRT station?"
SMRTO: No… that's why I said our regulation is on the website.
Kenny: I don't have Internet access right now. And you have no hardcopy of the regulations, you cannot show me the regulations on screen. In other words, if myself or anyone else want to take photos in the MRT station you can do nothing about it because you cannot show them that it's against the regulations.
SMRTO: That's why I told you. The regulation is like whatever law in the country, there's so many law, you don't expect the government to put up everything you know?
Kenny: In other words, I assume the regulation do not exist and I get to keep whatever photos that I took.
SMRTO: Can you just show it to me? Fine, let's say I find that it's nothing then OK.
Kenny: Alright I'll show you the photos but I refuse to delete it unless you show me the regulation.
Listen to part of the conversation (WMA, 1m56s, 297KB)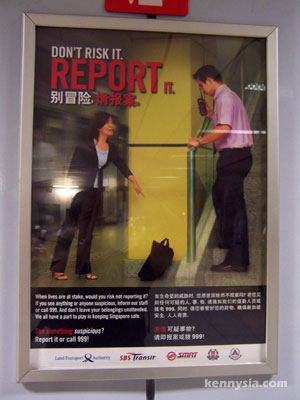 So I showed him the two bloody photos I took that started this whole brouhaha. Only then did I convince him that I'm no terrorist and I don't plan to use the photos to plan where to hide my bombs.
When I flew back to Kuching that night, the first thing I did was logged on to the SMRT website to check if their mysterious anti-photography regulation exists. Even up till this day, I find nothing of that sort.
Thinking back, it's kinda stupid to argue with the authority over two useless photos. But hey, I don't like to be told what I cannot do and I guess the deadly combination of alcohol and fatigue has made me bolder that morning.
Somehow, I'm just glad I wasn't sent to jail for taking photos. Would be interesting though. I wonder if Singaporean police also make detainees do naked ear squats like in Malaysia?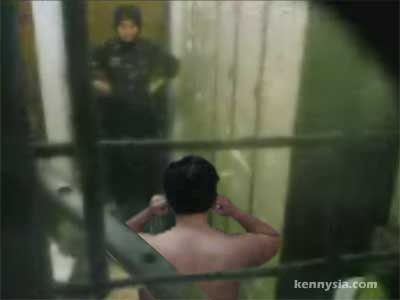 Dear Sondra, may you rest in peace. I had the privilege of meeting you briefly at the Bloggercon. My only regret is not knowing you better.