All men are created equal, but not all lukams are built the same.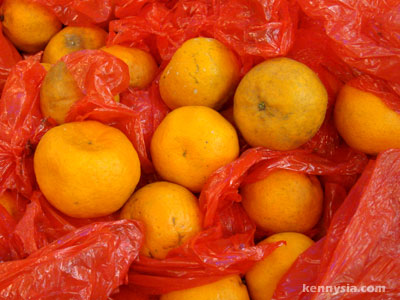 First, there's your average garden-variety nothing-too-special lukams.
And then there's Super Lukams.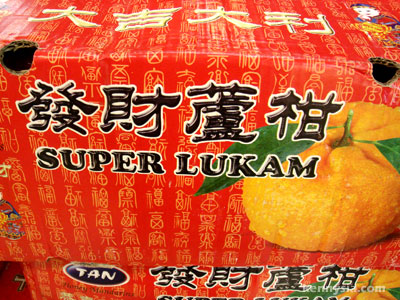 SUPER LUKAMS leh! Don't pway pway. Zhng my lukams!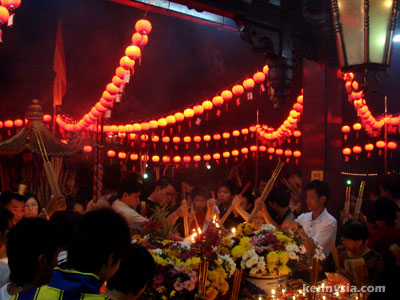 Chinese New Year this time round for me was celebrated unlike previous years. This is the first CNY I 'celebrated' without my father.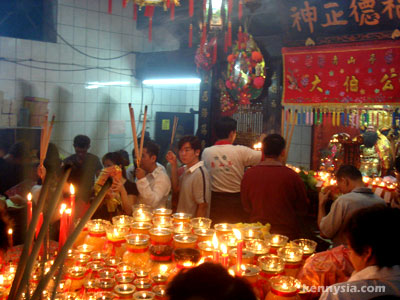 My other family members had all gone on holidays overseas. I myself didn't save up enough for an overseas trip, so I'm kinda left in Kuching alone. Not that I'm complaining though. I have real fantastic friends and relatives to ensure there's never a dull and lonely moment for me. 🙂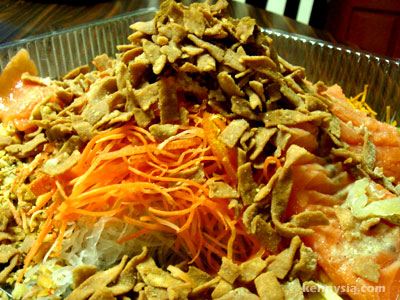 Chu Xi (CNY eve) was spent having a reunion dinner and doing the lao sheng at my eldest aunt's place. Thank God for cousins. In the absence of mom and sis, they're the closest thing I can have to a family.
Later that evening, I joined Alwyn and Tim watching spectacular civilian-sponsored fireworks at a 'white house' on a hilltop near Kuching City Centre.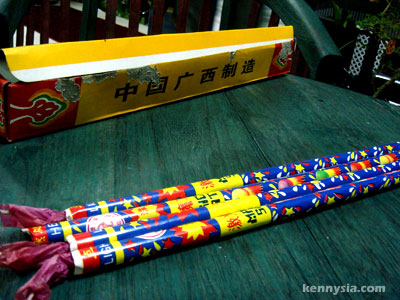 Malaysia, like many other countries, outlawed fireworks years ago. But somehow these fireworks were able to swim from China over the ocean and into Kuching. These aren't your average RM5 fireworks that goes "Peeeewwww- poot!" and then disappear just like that.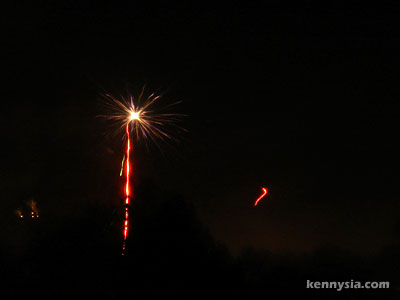 These are the serious bad-ass kinds that go
"Peeeewwwww-la-la-la-BOM!!!"
And the whole sky exploded into tiny little fragments.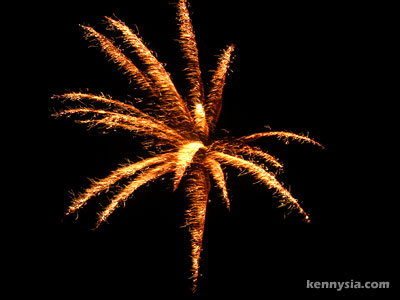 They usually only reserve these for special occasions like the New Year's Eves. Except this was BETTER than New Year's Eve. Those ones lasted for a measly 5-minutes and was concentrated in one location only.
It was special last night in Kuching. Near midnight, THOUSANDS of these 'civilian-sponsored' fireworks were released from backyards of ordinary Kuching people into the skies. From where we were standing, we got a good 360 degree aerial view of the entire city spectacularly lit up in fireworks.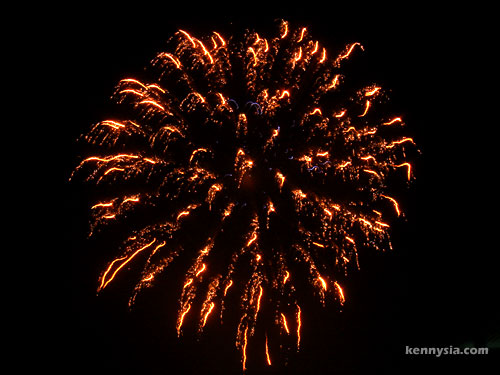 It was truly a sight to behold. The fireworks went on, and on, and on, for a good one hour. It was SO GOOD it's like having an hour-long orgasm.
Happy Chinese New Year, boys and girls. It's the year of the dawg, yo!

Dear sis, aunties and uncles living overseas: Just because you're not here doesn't mean you're spared. 🙂 Quick, send me an e-angpow!