Lookie what I got!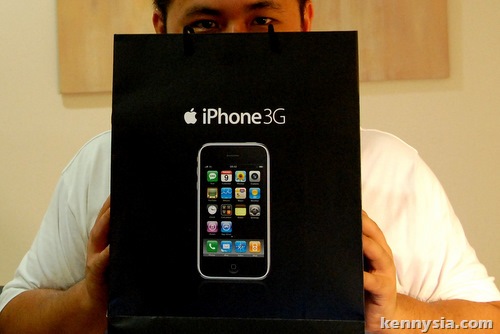 I am a proud owner of a brand new 16GB Apple iPhone 3G.
It's mine. ALL MINE!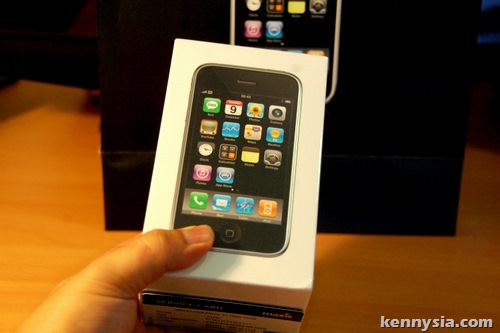 It may have been eight months late, but the hype still lives.
It's a joke how ridiculously crazy Apple fanbois are over the release of the iPhone. It beggars belief how people overseas would queue up and camp overnight outside stores, just to be among the firsts to own this phone. But there is good reason for people's madness over this phone.
If the chaotic scene at the KL Convention Centre over the last weekend was any indication, then this must be the most desired gadget in Malaysia since like… forever. Case in point, when's the last time you see a telco company hiring out an entire convention centre just to sell one phone?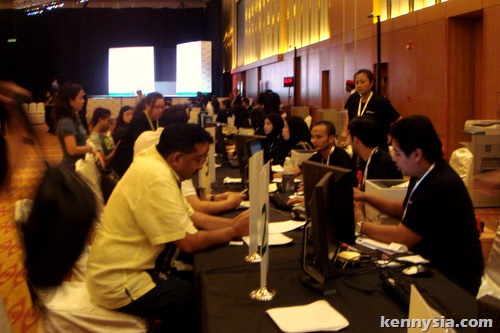 Hype aside, this is no doubt the most revolutionary phone ever released in the past one year.
As soon as Maxis they announced the official release of the King of Phones in Malaysia, I was onto it. Picked up my phone from the Maxis outlet earlier this week, and after using it for a couple of days, all I can say is: I am not disappointed.
This is quite honestly the best phone I have ever used, bar none.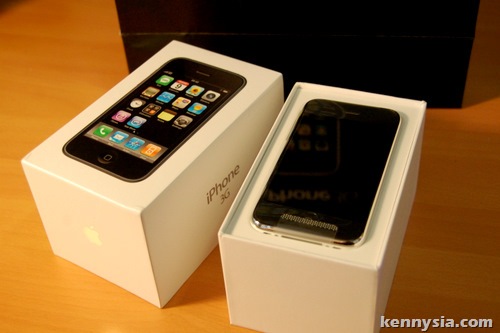 Make no mistake about it. Everything about the iPhone exudes sheer sex appeal.
The iPhone is so sexy that bringing my brand new phone home is like inviting a sexy lady into my bedroom.
And opening the box is like undressing her.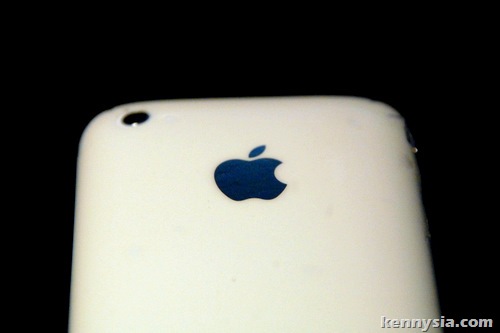 As I slowly peeled off each layer of her (plastic) cover with trembling fingers, I can't help but to notice what a fine-looking beauty she is.
Her skin is white, smooth and glossy. Her curves are in all the right places and perky buttons all hidden away waiting to for me to push. Oh, and did I mention what a real pleasure she is to hold?
I carefully picked her up and laid her gently across on table. Then, like a sexy lady in my bedroom that she is, I proceed to insert my hard object into her hole.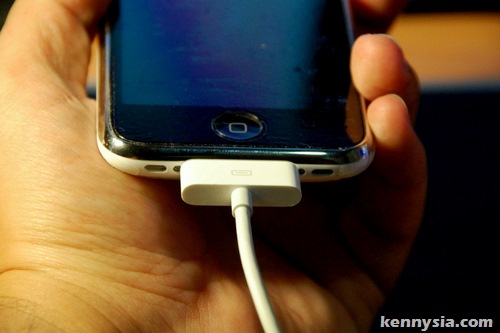 In this case, it's my USB cable.
The iPhone I got from Maxis was already up-to-date with the latest 2.2 software, so there is no need to perform any software update.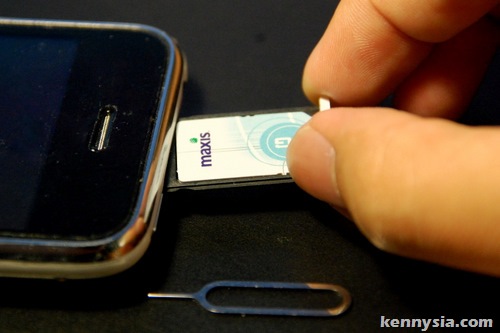 Activation was quick and painless, and iTunes was also quick to import all my Contacts and Calendar from Microsoft Outlook over to my iPhone.
Within minutes, my iPhone is ready to be used. A few more clicks and my music, podcasts and photos all loaded up steady.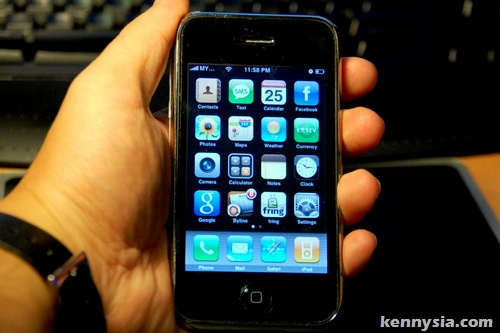 I am not one easy consumer to please. On the contrary, I am one extremely demanding phone user.
Never is it enough that my phone can just call or text. I use my device to surf the internet on the go, check my emails, watch movies on the plane, organize my appointments, give directions to hopeless KL taxi drivers using GPS. On top of it all, I want my phone to sync to my PC so all my calendars and contact list stay as one, united.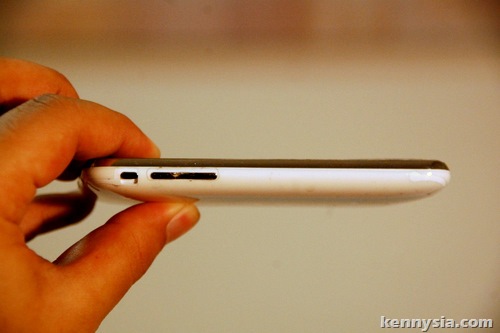 For a hungry power user like me, the unfortunate fact is that there are very few phones on the market that are able to match up to my expectation and lifestyle. The Nokia N95 and HTC Touch Diamond came close, but still they left a lot of room for improvement.
And then I got the Apple iPhone, which does all of the above and then some.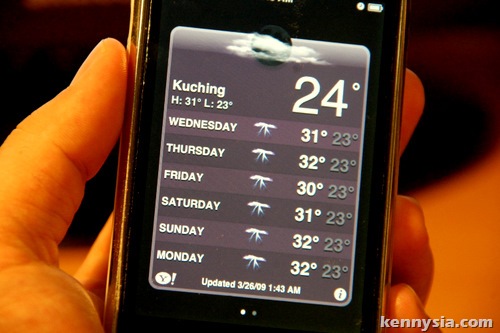 Like telling me how crap the weather is gonna be over the next few days.
There's no need to go into detail how dead simple and intuitive the software is because that is already well-documented. The basic functionalities are all there, but then you can add more features using "iPhone Apps".
On the iTunes Store tons of Apps, both free and paid, that lets you do everything from reading blogs offline.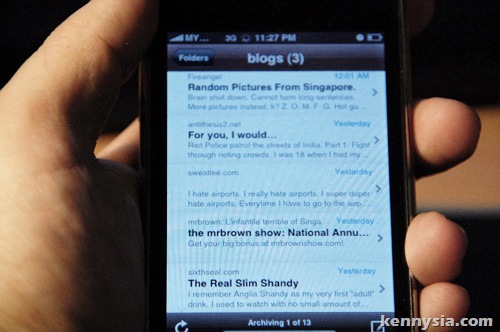 To chatting on MSN.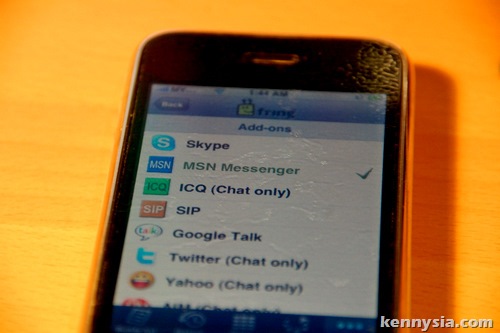 To identifying the song on the radio.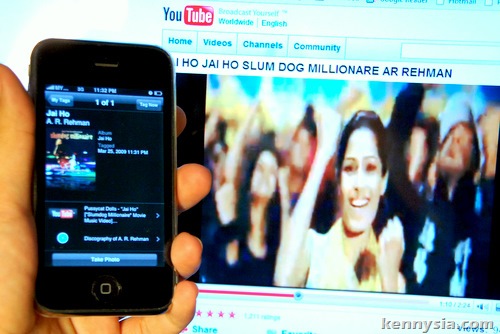 To stalking people on Facebook.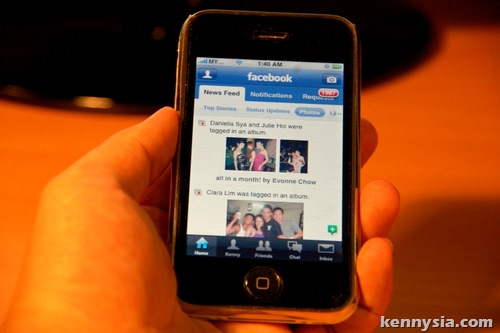 To keeping track of stocks and foreign currencies.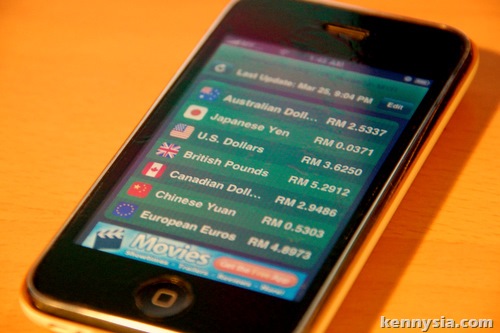 To picking up chicks in Japanese.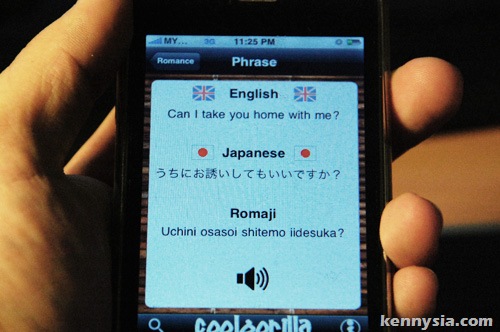 That's something I'm gonna *ahem* find especially useful when I head to Tokyo next week. 😉
I must say I'm impressed with the touch screen interface on the iPhone. It is easily by far the best I have ever used. With Windows Mobile devices, their touch screens are crap because they're so expensive and yet so difficult to use.
After using the iPhone for a week now, I ain't missing not having  physical keypads at all. Most people won't have a problem with it.
Unless of course if you're one of those chicks with fake nails so long it's classified as a weapon.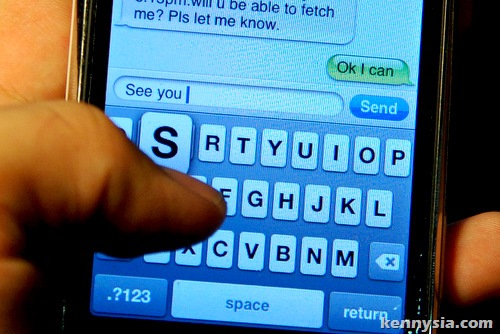 It's hard not to like this gadget at all.
Every month, rival companies churn out "iPhone killers" one unit after another. But it has been two years since Apple's first foray into the phone industry and none of its competitors has managed to come even close to what the iPhone can do.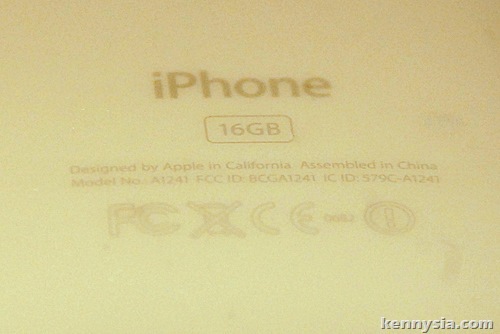 Sure, the first generation iPhone was crap and overrated. But not the iPhone
3G.
Sure, some features like MMS and copy-and-paste should've been on there from the get-go. But year after year, Apple has been adding improvements and releasing new versions of its software. How many other phone manufacturers do the same?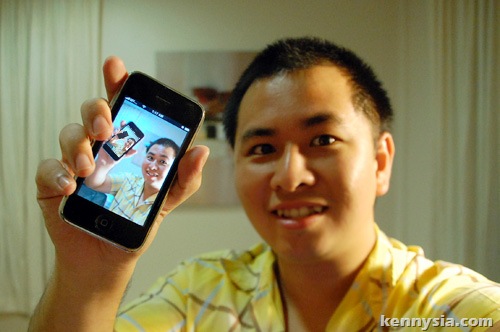 Apple did not just create a phone. They created a revolution.
It truly lives up to it's status as the most versatile, feature-rich and user-friendly phones ever made. With version 3.0 of the software coming out later this year (again, free for iPhone 3G users), no doubt the Apple iPhone is gonna continue cementing its position as the King of Phones.
There is absolutely no reason for me not to love this phone.
There is however, just one last thing I need to do.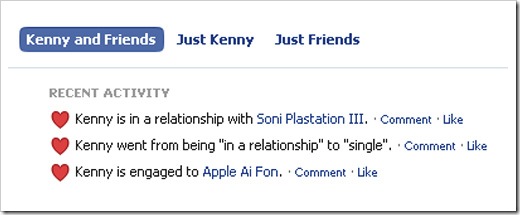 I am sorry Soni, it is over.
It's not you it's me.
For some strange reasons, Youtube suspended my account and deleted all my videos in it. All four years worth. There's no way to get it back. They didn't even warn me or anything.
My crime? For uploading the video of the Manchester United vs Liverpool match I attended, which they claimed was copyrighted.
Apparently Man United lost was so bad, Youtube decides nobody should be allowed to see that match.