Because I decide it's finally time to upgrade my computer, I'm putting up my old machine for sale now at Mudah.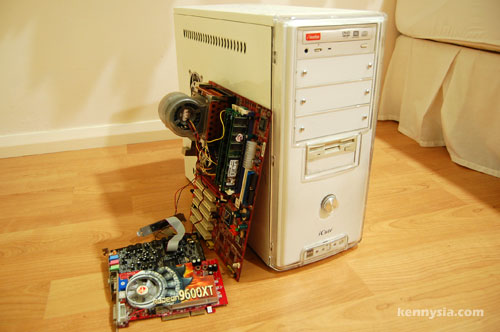 For sale: Intel Pentium 4 2.8GHz computer system
Comes mounted on a 865PE motherboard, boosted with a ridiculous 3GB worth of RAM, CoolerMaster CPU fan, 80GB hard drive, 52x CD rewriter, Antec 350W power supply, Creative Audigy soundcard and a solid ATI Radeon 9600XT graphic card.
This computer system has nostalgic value towards me because it is the computer I bought with my first paycheck of my first job.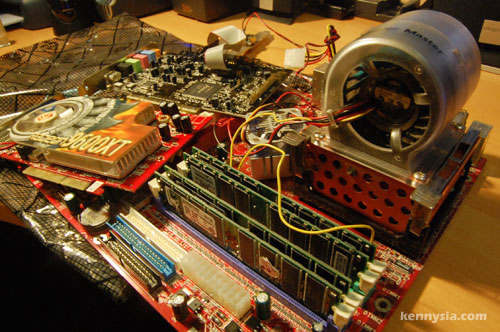 Back then, it was considered pretty high end. Though 5 years old now, it is still works perfectly fine by today's standards.
The only reason I wanna upgrade my computer is to run the latest 3D games at full speed. But if all you play is The Sims 2, DotA and Counterstrike then this system should be more than enough for the job.
5 years ago, I put together this system for close to RM3,000.
All I'm asking for now is RM750.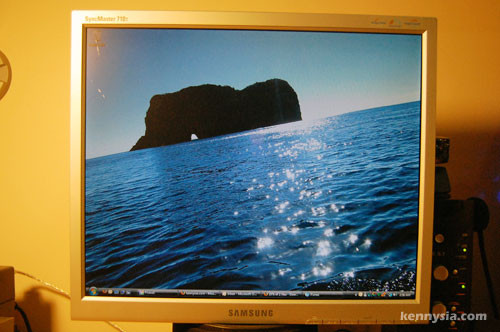 For sale: Samsung 17″ LCD Monitor
3 years old. This is the same screen I stare at since the day I started blogging.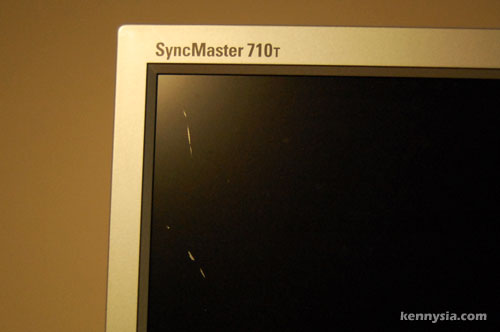 Because I'm such a clumsy donkey, I accidentally left two gashes into it on the day I decided to put it up on Mudah for sale.
Original price was RM1,000.
Now selling at RM450 RM350 because of that stupid gash left by the stupid owner.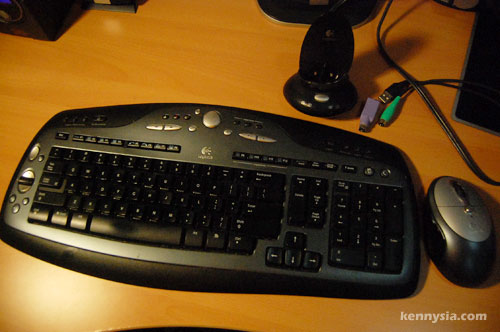 For sale: Logitech LX300 Cordless Keyboard & Mouse Set
3 years old. I blog for long hours, so it's important that I go for only the most comfortable keyboard and mouse set. Comes with a rechargeable cradle for the mouse.
The keyboard originally to came with a wrist pad, but it fell off one day when I got too excited watching Paris Hilton watching online videos.
Asking price: RM100.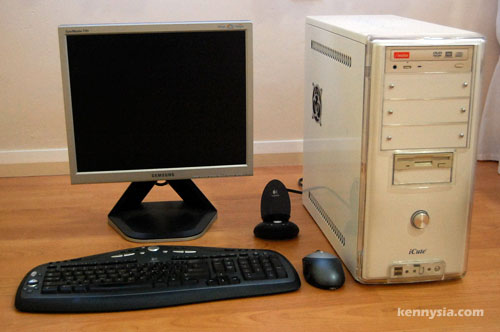 Interested?
I'm happy to sell the whole set for RM1,100, payable in cash and in person.
For practical reasons, this set of machine is only for sale to anyone in Kuching because it's ridiculous to send a whole set of computer through the mailbox. If you wanna know more details, the specs and all are in my Mudah listing.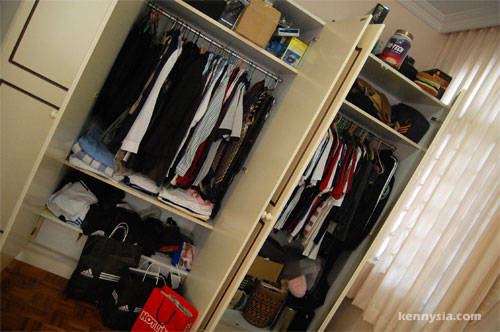 Anyway, I think I'll be putting up more of my used belongings for sale over time to clear up the clutter in my room.
Mudah is fantastic. They have been quite aggressive in their online marketing lately, placing their ads all over the Internet. I've been checking out their website ever since they started advertising on kennysia.com, and now I'm hooked.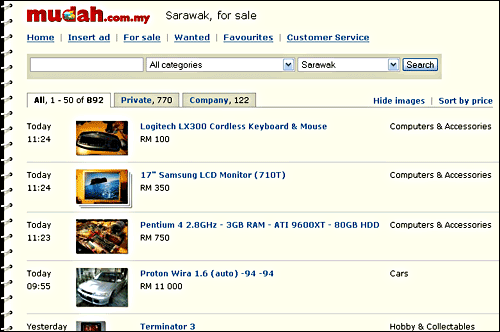 The whole thing works like a dumbed-down, simplier version of eBay.
The problem with eBay is that most sellers are located around the Klang Valley. For someone like me who lives in East Malaysia, it becomes darn impractical and expensive to buy and sell these goods online when you take into account how to deliver your products.
No one wanna pay ridiculously expensive shipping charges, wait 2 weeks for the package to arrive, only to realise that it is never gonna arrive because somehow Pos Malaysia managed to screwed up.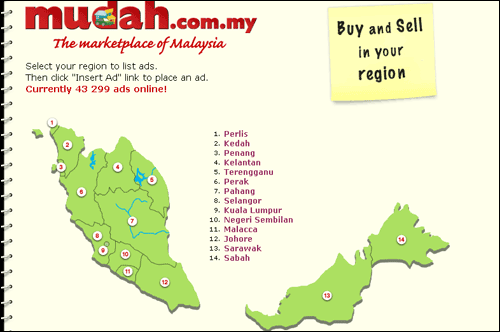 The listings are grouped together according which part of Malaysia the seller is at, so that the buyer can meet up with the seller to complete the transaction.
This works especially well for things that cannot be sent through the mail.
Stuff like massage chairs.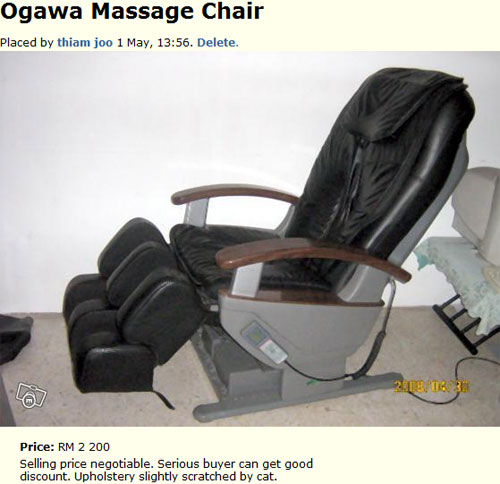 Cars.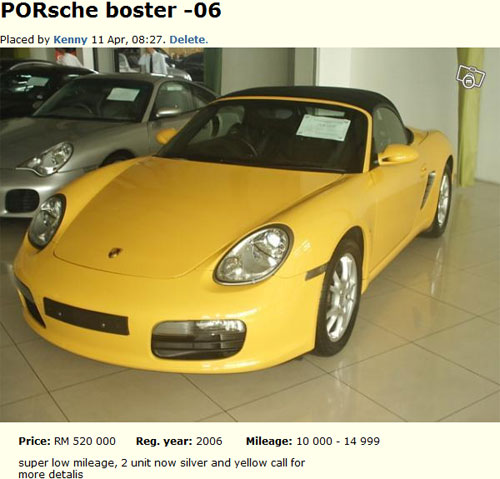 Houses.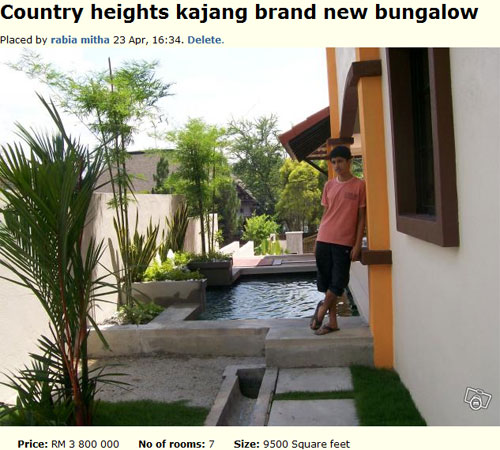 Hamsters.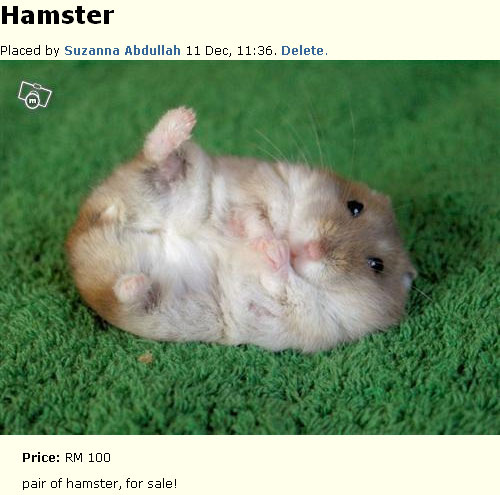 And cows.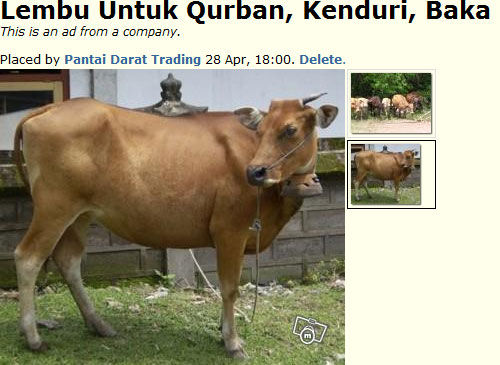 Like, how are you gonna send a cow through the mail?

Due to overwhelming demand from non-Malaysian kennysia.com readers wanting to join the 'Eat A Chip Like Kenny Sia' contest, Mister Potato has kindly extended an invitation to all non-Malaysians to participate as well. The funniest and most creative Malaysian entry will still win a trip for 2 to Bangkok with me, but the best non-Malaysian will now stand a chance to win a brand new LG 3G Phone courtesy of Mister Potato
What's more? The deadline of this contest is now extended to 11.59pm on the 15 June!
Join the contest HERE.