If you go the your local supermarket these days, you might notice something a lil different.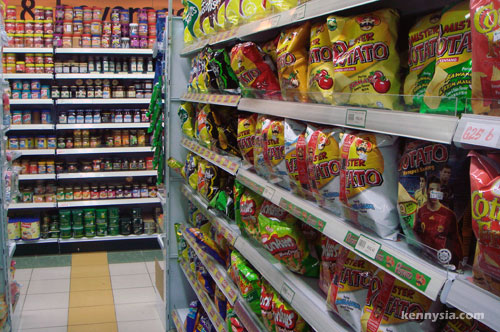 No, it's not that just prices of everything seems to have gone up since the 40% petrol price hike.
It's the fact that Mister Potato has gone from looking like this.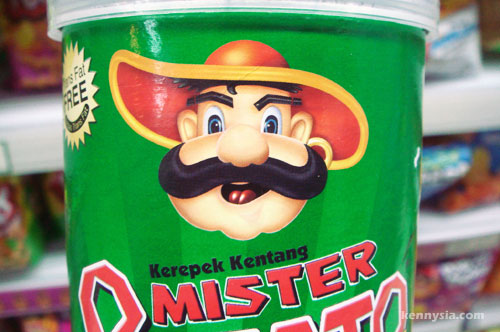 To now looking like this.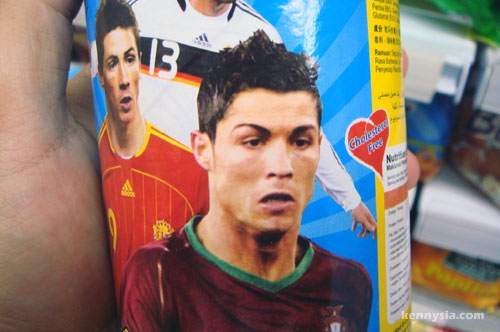 Yes, seems like Mister Potato has decided to abandon his potato farm in Mexico, shave off his moustache, put on his jersey and start a new career as a professional football player.
Gotta say though, without his moustache, Mister Potato bears an uncanny resemblance to Portugese winger Cristiano Ronaldo.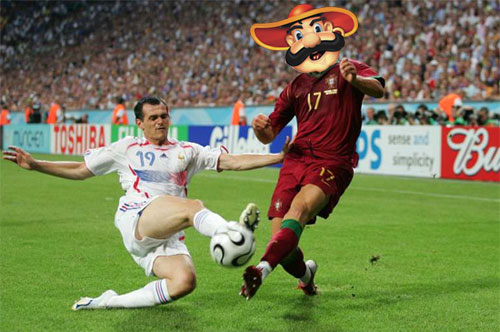 Heh heh heh. Of course that's not exactly true lah.
That's the new promotional packaging in conjunction with a massive campaign that the snack food co is running.
And I do mean MASSIVE.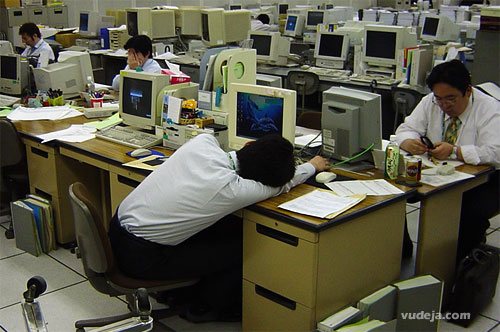 To celebrate the downfall of office productivity due to football-crazy Malaysians staying up till 5am every night to watch the Euro 2008 live, Mister Potato has unveiled their football-themed packaging as an homage to our love for all things football.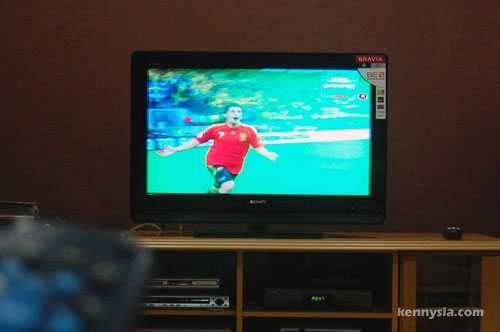 However, the boffins at Mister Potato has taken it a step further.
In addition to the new limited edition packaging, Mister Potato is giving you guys a shot at an opportunity of a lifetime: To watch a football match LIVE in arguably the most famous football stadium of all time.

We're talking the Theatre of Dreams.
Home of the Red Devils.
Stomping ground of Manchester United.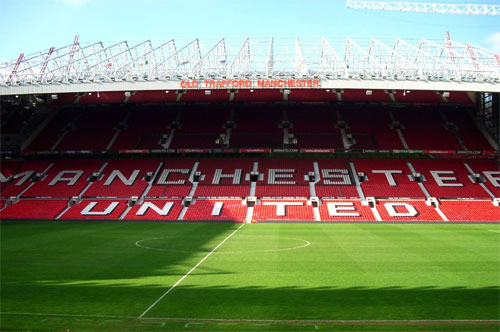 The Old Trafford in Manchester, England!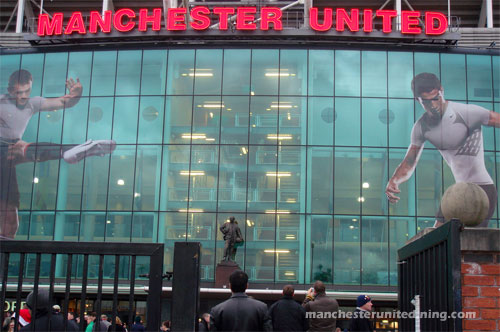 It is not just going to be that one or two lucky buggers that will be going on this all-expense paid trip to Manchester, England.
No, not even ten. Not even twenty.
Mister Potato is going to send THIRTY lucky buggers hopping on that plane to Manchester, England!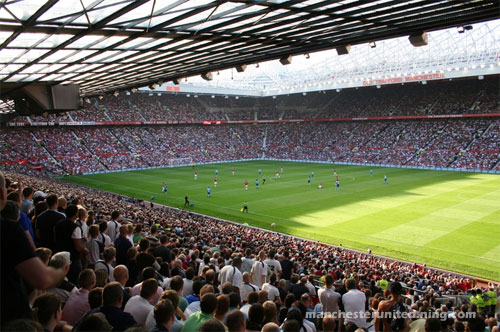 This is no joke. This is a true golden opportunity of a lifetime.
Each seat is worth at least RM15,000 and includes flights, accomodation, match tickets and an exclusive tour of stadium and museum.
What's the catch, you say?
Well, what you gotta do is become the most gung-go Mister Potato wrapper collector in Malaysia.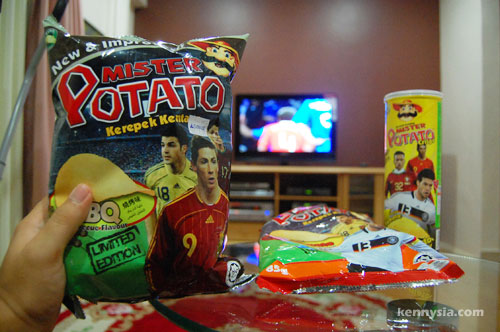 The limited edition canister seal is worth 3 points, the large packet is worth 2 points and the small packet is worth 1 point each.
Become the Top 30 Football Point collector and you'll be guaranteed a seat on that plane to Manchester United's home stadium. Get into the Top 3 and you'll win RM5,000 spending money.
Easy?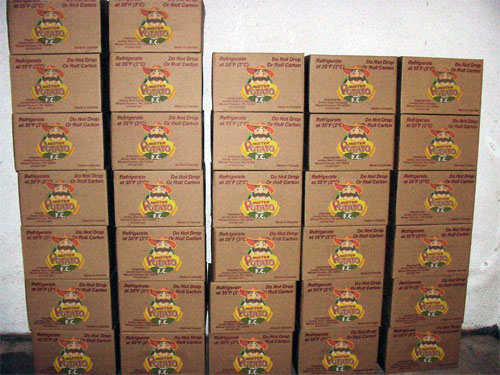 Not quite.
Considering how kiasu Malaysians are now becoming, this is by no means a simple feat.
One thing for sure, you'll be competing with people who have no qualms spending RM10,000 on Mister Potato products as "investment" just to win that RM15,000 trip to Old Trafford.
If you don't have that sum of money lying around, how else are you gonna win?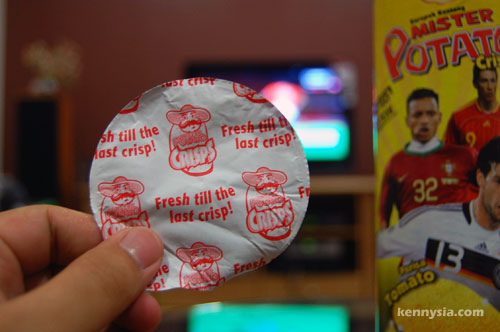 The trick is to collect as many of those Mister Potato packets and canister seals WITHOUT spending too much of your own money.
So what can you do?
Take it from me. Here are THREE tips for you, that'll assure you'll reserve at least one seat among the thirty for that all expense paid trip to Old Trafford.

Tip #1: Kidnap Mister Potato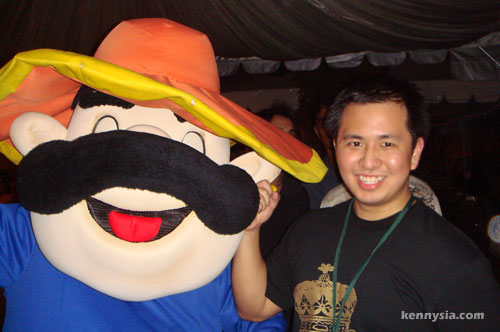 Kidnapping the big-headed mascot of Mister Potato is like almost kidnapping the President of USA. It's dirty, it's risky, it's evil. Yes.
But if you can achieve that, then surely you can get them to give you whatever you want.
Including all the Mister Potato wrappers you want from their printing factory.

Tip #2: Intercept the postages at Mister Potato HQ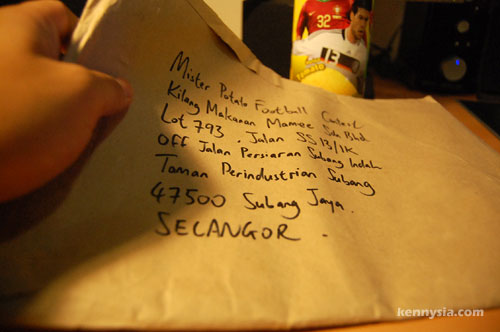 Because all contest entry forms must eventually go to the Mister Potato HQ in Subang Jaya, we just intercept the postages before they reach the person in charge.
That's the idea of Pik Yen, Michelle, Jayce, Nick and Sheng Li, who collectively devised an ingenious strategy to disguise themselves as the official security guards in order to steal the wrappers from other contestants.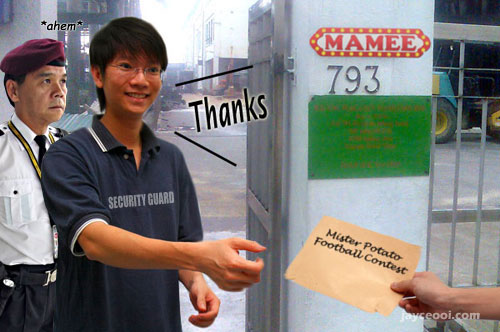 They gotta work on the a better diguise though.

Unfortunately, those two suggestions are borderline legal. And kennysia.com shall not take any responsibility if you get into trouble with the law.
However, the next tip is not only effective, it is also perfectly legal. 😉
Tip #3 is…

Tip #3: Become Good Friends With Cindy's Dad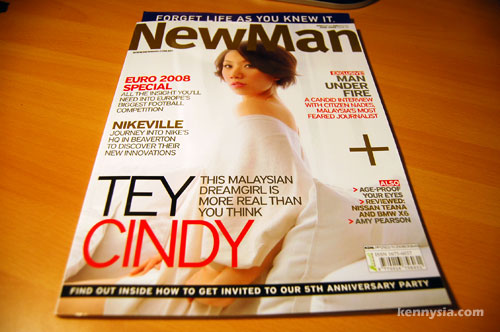 If Mr Tey can spend thousand of ringgit in SMS votes to help his daughter win Malaysian Dreamgirl, surely it's no problems for him to buy you one whole TON of them Mister Potato wrappers right?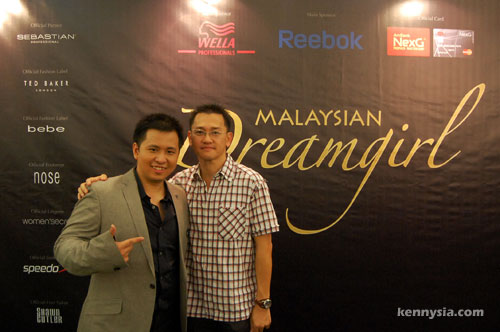 RIGHT?

Is there anyone reading this own or operated a fitness centre before?
Please pop me an e-mail at im@kennysia.com. I'll buy you coffee and we need to talk. 🙂