This is one of my favourite movie scenes in Tarantino's Pulp Fiction.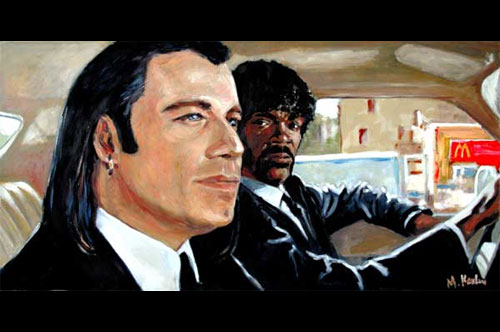 John Travolta's character asked Samuel L Jackson.
Travolta: You know what they call a Quarter Pounder with Cheese in Paris?
Jackson: They don't call it a Quarter Pounder with Cheese?!
Travolta: No man, they got the metric system. They wouldn't know what the f— a Quarter Pounder is.
Jackson:Then what do they call it?
Travolta: Royale with Cheese.
Jackson: Royale with Cheese! Hahaha! What do they call a Big Mac?
Travolta: A Big Mac's a Big Mac, but they call it Le Big Mac.
Jackson: Hahaha! What do they call a Whopper?
Travolta: Dunno man. Didn't go into Burger King.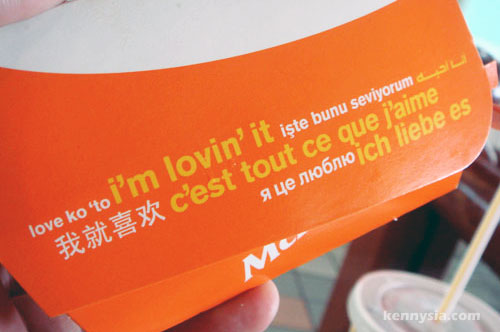 McDonald's is the ultimate symbol of globalisation taking place. In virtually every country in every single part of the world, you are more likely to find a McDonald's outlet than a Malaysian embassy.
I travel a lot, and I make it a point to go to a McDonald's restaurant in every foreign country I visit. It's always fun to spot the subtle differences in their restaurant menus.
The thing I like most about McDonald's is that whilst their traditional menu is pretty much the same worldwide, they usually have special menu items to cater for different tastes in the different countries.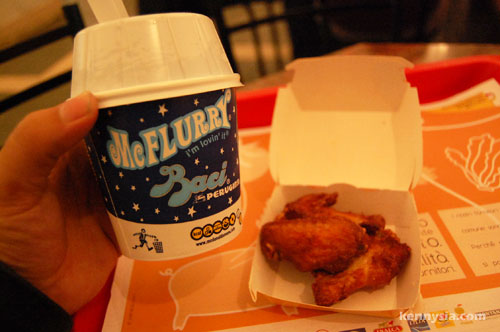 Like here in Italy, there's a McFlurry made with Baci chocolates.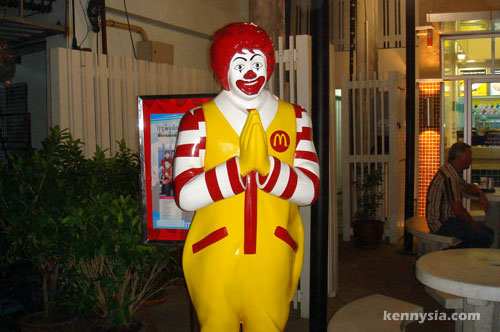 In Thailand, they have the Samurai Pork Burger (basically pork burger in teriyaki sauce).
In South Korea, you can get a Bulgogi Burger.
In India, there's even something called a McSurprise Burger.
What's in it? I don't know. It's a surprise. If I tell you then it wouldn't be a surprise.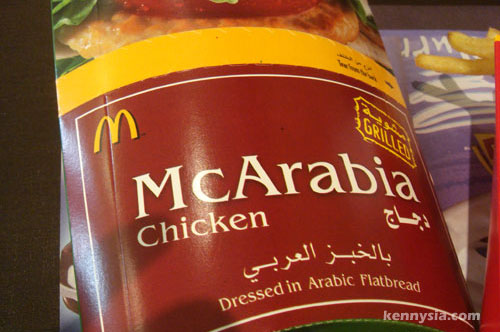 When I visited Egypt last year, I laughed my backside off when I found out their grilled chicken foldover is called McArabia.
In New Zealand, they have the Kiwi Burger that is not actually made of kiwi bird meat.
And if you ever go to the Phillipines, you can try out their McSpaghetti.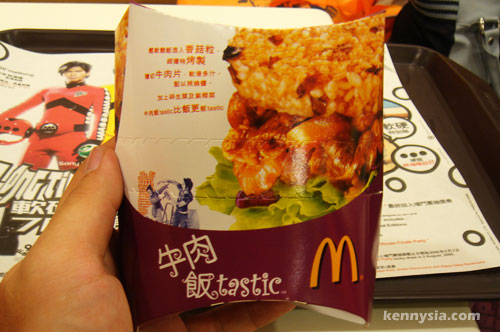 And how could I possibly resist my all-time favourite McDonald's menu item, the Fan-tastic Rice Burger, which was sadly only available for a short time in Hong Kong and Singapore.
It's this really delicious burger that uses rice patties in place of buns, and in between them are some shredded beef or chicken that oozes with yummy gravy. I still dream of that taste in my mouth after having tried them 2 years ago.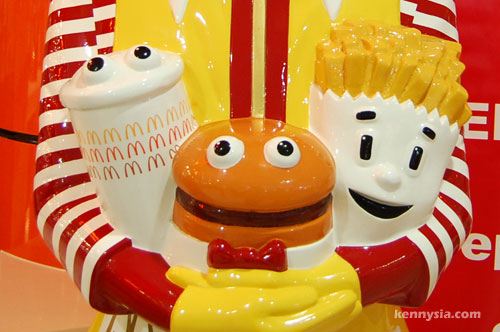 In Malaysia, the variations in our McDonald's menu is quite admirable. Not many other places in the world offer Bubur Ayam McD or Ayam Goreng McD as standards on their McMenu.
You can NEVER get porridge or fried chicken at a McDonald's in Australia. It's just too weird to picture Ronald McDonald holding onto a piece of fried chicken.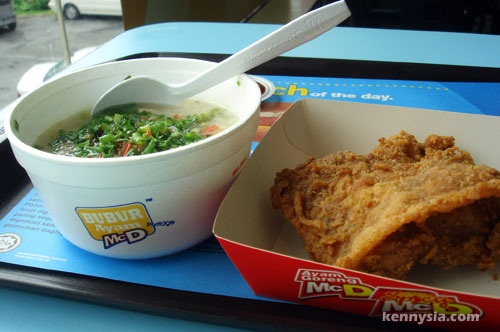 I remember back when McD's opened their first outlet in Kuching, and this was before they have Ayam Goreng McD on their menu. I brought my mom along and for the life of her, she just could not understand why a fast food restaurant does not serve fried chicken.
To her, that's about as inexplicable as a kopitiam NOT serving coffee.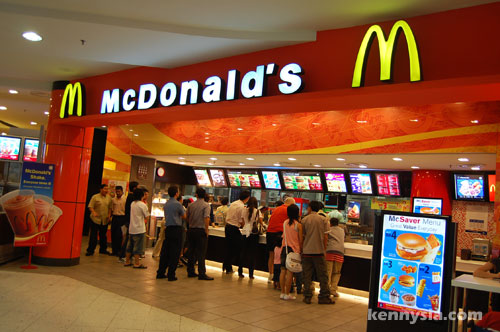 I haven't been to a local McD's in ages. But having visited so many of their outlets all over the world, I must say I'm impressed with how well our outlets measure up.
Nowadays you can chill out and even watch late night football at some McD's outlets.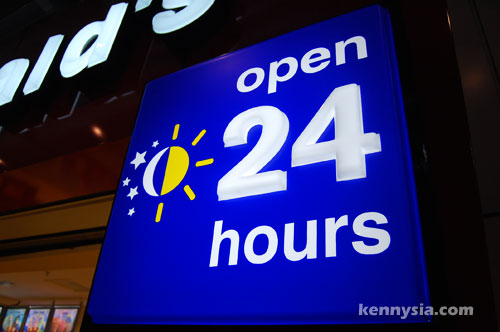 Many of their more popular outlets have gone 24 hours. Some even have a 24-hour drive-thru service.
And if you're really lazy, there's even McDelivery 24 hours available at certain locations.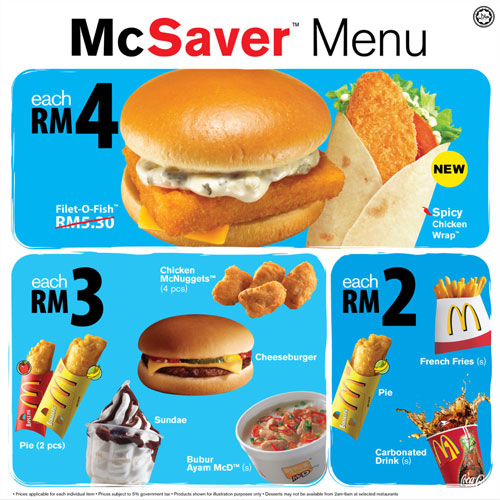 I popped by McDonald's at Sunway Pyramid recently and I noticed they now offer this McSaver menu everyday promotion.
Looks like the guys at the golden arches are getting generous, slashing prices off their best-selling items to help us save on the costs of living. As if McD's aren't cheap enough already.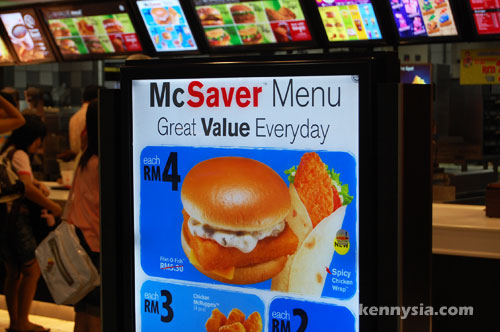 The prices may be slightly dearer in Sabah and Sarawak, but there's a good variety of great deals on the McSaver menu.
Cheap snacks like French Fries, Drinks and Apple or Banana Pies are only RM2 each. And if you add a ringgit more, you can get items like the Cheese Burger, Bubur Ayam McD, Nuggets, 2 Pies or even the Sundae at just RM3.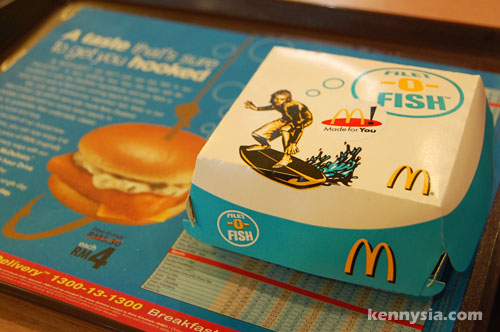 Then there's the new Spicy Chicken Wrap, which is something unique only to McD's in Malaysia. Can't find it anywhere else, and now it's only RM4.
The best deal from the menu? Most definitely it's the Filet-O-Fish.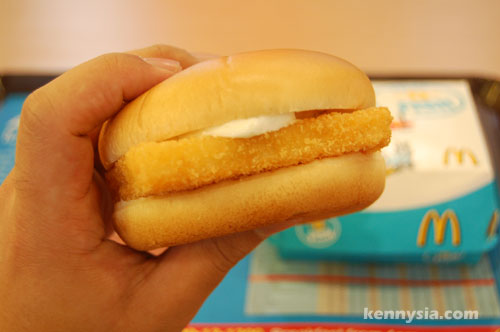 The Filet-O-Fish at McDonald's is possibly one of the best around. Breaded fish patty on half a slice of cheese, topped lightly with tartar sauce and served between soft fluffy steamed buns. If there's a better implementation of fish burgers around then I have yet to try them.
These buggers (no pun intended) usually sell for RM5.30, but now it's going for just RM4 each.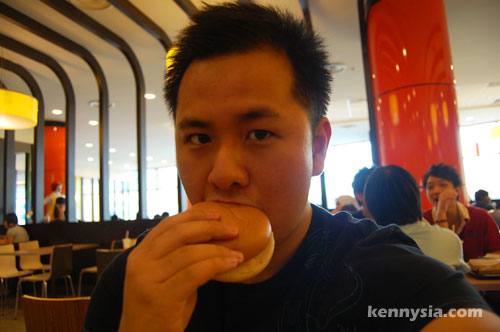 Gotta be lovin' it. 🙂

You know you've grown old reached a certain stage of maturity in life when most of the stuff you purchased during your holidays are not for yourself, but gifts for others.