There's this stall at the flea market at The Curve, KL selling relatively cheap and beautiful art paintings.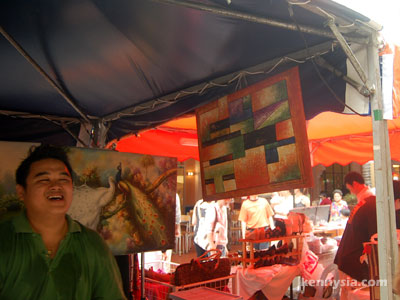 I was there a couple of days ago and I bought two art pieces to decorate my otherwise dull and boring bedroom walls. But when I finally got back to Kuching, I showed my purchases to my mom, who unsurprisingly was rather unimpressed.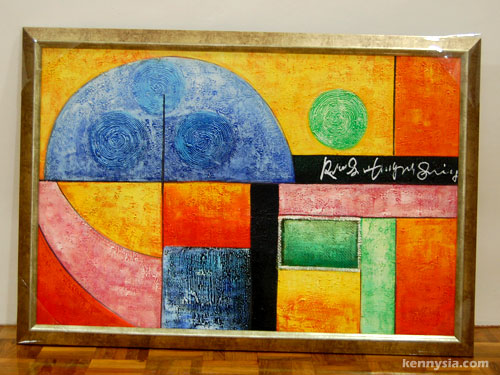 My mom is a Traditional Asian Mom who doesn't know how to appreciate abstract art.
When she saw the paintings, our conversation went a little like this.
Kenny: "Look mom, I bought these paintings from KL. Nice or not?"
Mom: "What is it? Can't see anything leh."
Kenny: "It's abstract art. Abstract art is liddat one, mom."
Mom: "How much is it?" (Note: Traditional Asian Moms must know exactly how much every single one of their children's purchases are. It's in their genes.)
Kenny: "Don't want to say lah."
Mom: "How much?"
Kenny: "Don't need to know lah."
Mom: "…"
Kenny: "RM300…"
Mom: Cb>"HAR?!!!??!!?"
Kenny: "… plus another RM200 for the framing."
Mom: "FIVE HUNDRED RINGGIT!?!?!?!!?!?!"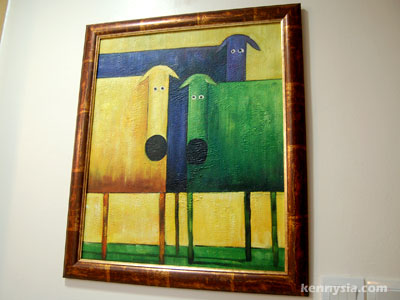 Kenny: "For two paintings!"
Mom: "YOU SPENT FIVE HUNDRED RM ON THOSE UGLY PICTURES!!!!!"
Kenny: "It's nice what!"
Mom: "JAYDEN ANYHOW DRAW ALSO LOOK BETTER THAN THAT!!!!"

For the record, Jayden is my mother's grandson and my three-year-old nephew. The last time I saw Jayden draw something, it looked a little like this.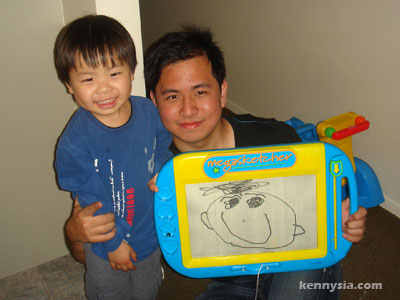 Yes, my mother said this "masterpiece" is better than the RM500 paintings I bought from KL.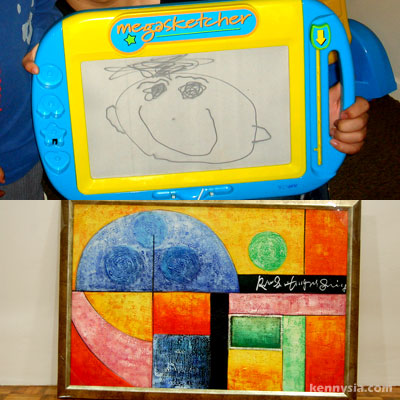 Don't you just love Traditional Asian Moms?

Quote of the day: "Lately, there's a lot of new cafes in Kuching to go drinking. 1 glass of drink there can buy 7 glasses of Teh-C-Peng! Amazingly, eventhough it's so expensive, those cafes are still filled up night after night.
Kuching people must be very very thirsty."
— Shyang, from his comic book Kuching Life: I Have A Dream.