As we approach Malaysia's other National Day on the 16th September, may I draw your attention to this online poll published on The Star Online's Merdeka website.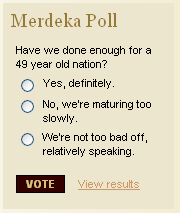 Not sure about everyone else, but personally I would pick the third choice. I am too young to live through all 49 years of Malaysia's independance, but one thing I'm sure of is that our country has seen PLENTY of positive changes throughout the past 24 years of my existence.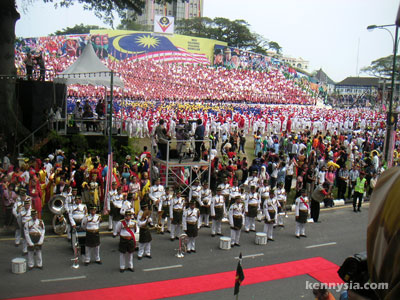 Of course, we're not as wealthy as Singapore or as well-developed as Hong Kong. But hey, despite a few mishaps I think our Prime Minster Abdullah Badawi has been doing a pretty good job thus far. And you know what? We may be slow but I reckon we'll get there, eventually.
Imagine my shock when I clicked on the results and saw this.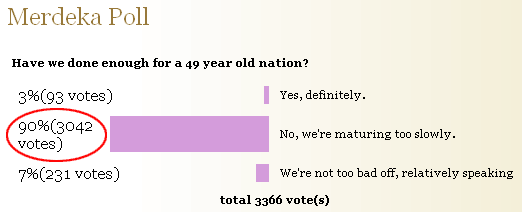 Get this. 90% of those polled said we as a nation are maturing too slowly. NINETY FREAKING PERCENT!
That's almost unanimous! If it's 40%, I can probably accept. If it's 70% I'll be damn surprised, but I still won't get a heart attack. But man, we're talking 90% here. 90% of the people here are not happy with the speed of our development.
That means out of ten Malaysians, NINE of them thinks we're progressing far too slowly. That is sad. That is something very, very discouraging to hear.
Are the ones happy with our progress so far do not have access to the Internet?
Are these the same ninety percent who voted our ruling party into government?
What exactly is going on?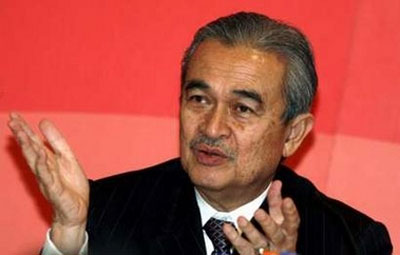 I was thinking and thinking, wondering why so many people have so little confidence in the development of our country, but I just could not find an answer.
Then I thought, someone must be rigging this thing.
Someone malicious out there must be sitting in front of his computer, clicking "No, we're maturing too slowly" MULTIPLE TIMES just to sabotage the results of the online survey. I reckon that someone must be doing it because he wanted to make the present administration look bad. And he's doing it to make Abdullah Badawi look like a lousy Prime Minister.
Whaddya know? A big bird from Kubang Pasu sent me this pic that seems to explain everything.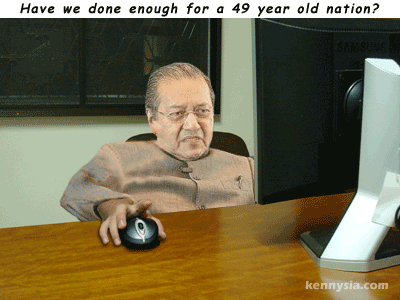 I KNEW IT, DR M!

Blog Plug of the Day: Melicacy. Holy cow, I wanna be her photographer.