As wrong as this sound, I just had the best Merdeka Day celebration in Melbourne.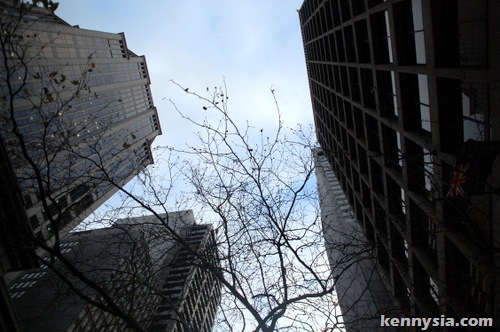 It all started when a friend of mine Ash, who is doing very well as a club DJ in Melbourne, e-mailed me and asked if I would like to emcee the Merdeka Day party he's organizing over there.
At first, I was confused why he would want to fly me all the way to Australia just to do literally 5 minutes of talking and 10 seconds of counting down. But since he's gonna pick up the bill and I hadn't got plans for the long weekend, I thought why not.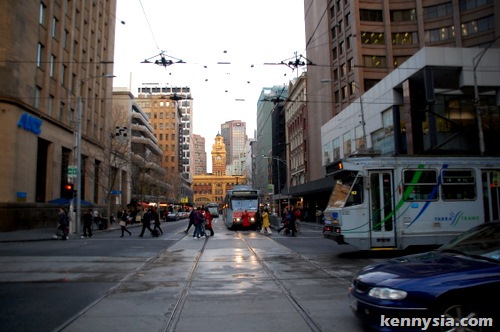 I grew up on the other side of the country in Perth, Western Australia, but Melbourne always hold a special place in my heart. During my days as a student activist, many times I travelled alone to Melbourne to attend union meetings and such.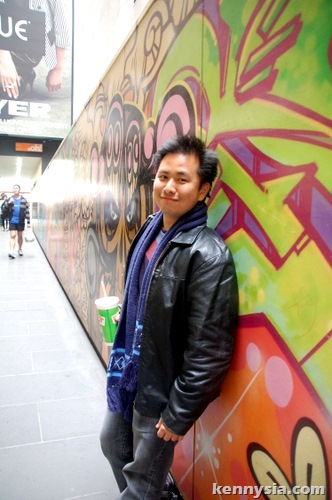 It was then that I learnt how to study maps, source cheap hotels and travel on an arse-tight student budget. I familiarized myself with Melbourne inside out. Those travel-planning skills I developed come in handy later in life when I finally earned enough to fly around and see the world on my own.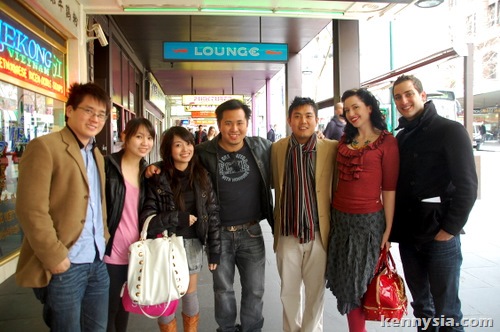 Coincidentally, quite a number of people I know were in Melbourne over the same weekend.
Ming, Tim and Audrey were all down to meet up with their team from Nuffnang Australia, and I also caught up with Pierre over hot chocolate at the newly-launched Lindt Cafe.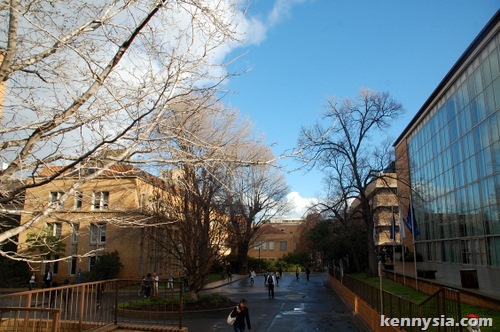 Heck, I even managed to re-live my student days by sneaking into Melbourne University and attending a Finance lecture for fun.
I was so nostalgic that I took a photo of the lecturer. But I don't think he was too impressed.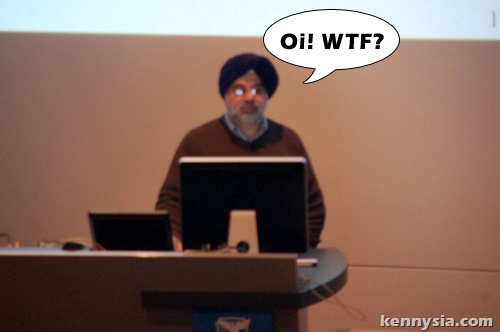 Of course, the real reason I flew to Melbourne was because of the Merdeka party organized by Malaysians for Malaysians over there.
I was bloody hell nervous because:
1) I have never emceed an event before IN MY ENTIRE LIFE.
2) Would the crowd even respond to me?
3) WTF. I don't even have the looks appropriate enough to advertise for a club event.
Seriously! The way they promoted my appearance, it's as if my name was Paris Hilton.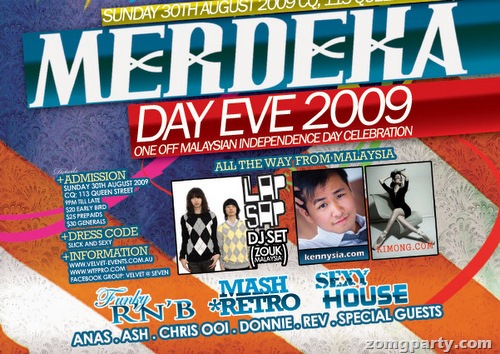 I cringed when I saw my face on the poster alongside LapSap – two trendsetting DJs from Zouk KL and Kim Ong – a forever poised and talented speaker in her own right.
Talking rubbish on my blog is easy. On the mic I am absolutely hopeless. What should I say to hype up the crowd? There's nothing else I could think of apart from the usual "Are you ready? I can't hear you! I SAID. ARE. YOU. READY!?"
And that is just so lame and World Wrestling Entertainment.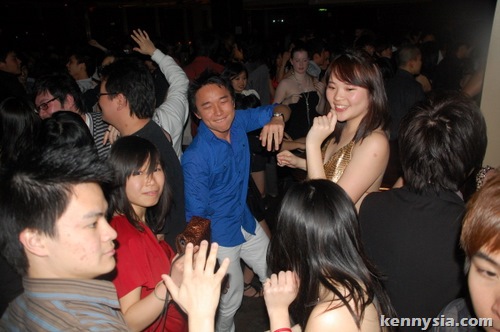 Crowd started pouring in as soon as the doors opened. By 11pm, the two whole floors of CQ Bar were already filled to the brim by 1,500 crazy revelling Malaysians.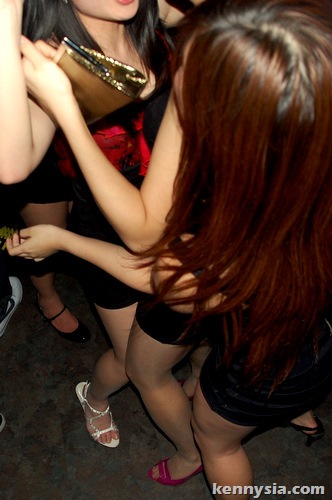 The crowd who attended that night was impressive. The evening in Melbourne beats any clubbing night in KL a hundred times over. Everyone was well-dressed, everyone was within the same age group and the gender proportion was so well-balanced.
No case of batangs more than lubangs over here.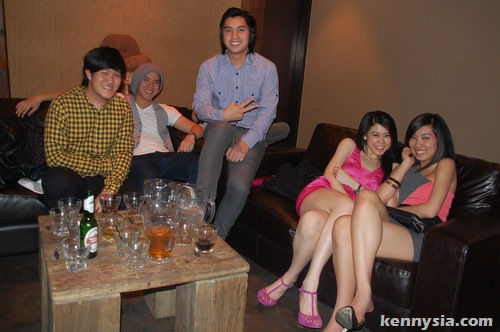 Another thing I was pleasantly surprised was the amount of kennysia.com readers who attended the event. Had absolutely no idea I have THAT many readers in Melbourne!
Thank you to everybody that night who took the effort to take photos with me, stop and talk to me or buy me drinks. I was very, very humbled.
The highlight of the night was no doubt, the countdown to 31st August.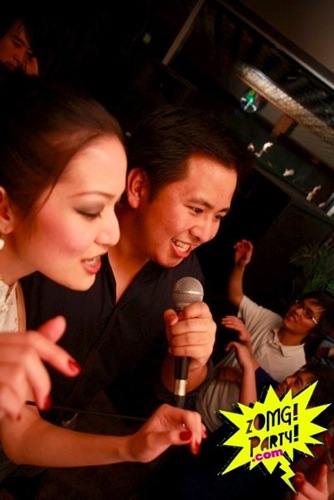 Kim: All the sexy ladies in the house make some noise!
Crowd: WOOOO!!!
Kenny: All the Malaysians in the house say "Yeah!"
Crowd: YEAHHHH!!!
It was electric.
The adrenaline rush I got when all 1,500 people cheered at the same time was just incredible. Together, we counted down to zero, chanted "Merdeka" three times a la Tunku Abdul Rahman 1957, then sang Negaraku so loud that my voice turned hoarse.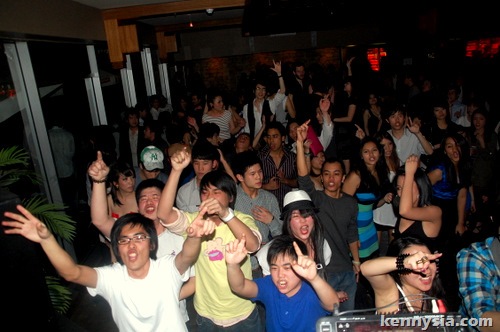 That 5 minutes on stage was quite simply, one of the best moments I had in blogging. There is no other way to describe it.
DJs LapSap and Kim felt exactly the same way. Those Malaysians in Melbourne were some of the most insane ones they had ever performed in front of. Many of those who attended thought it was even better than any Merdeka events held in Malaysia. Haha!
One thing for sure.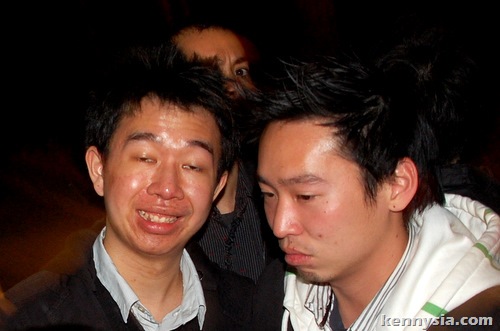 Not many people got home sober that night.
The Ramadhan buffet at Borneo Convention Centre, Kuching is pretty good.