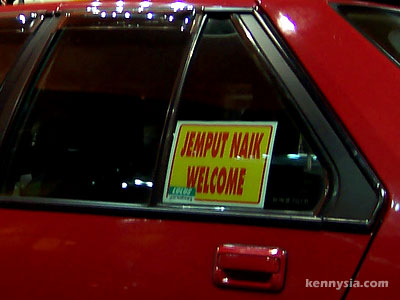 Kuala Lumpur is probably the only city I know that has the word "Welcome" proudly displayed on their taxis, when in actual fact what they REALLY meant was...
"Welcome. Except when you want to go to Bangsar during peak hours, then you're not welcome."
or
"Welcome. Sure, I'll drive you from Kelana Jaya LRT Station to One Utama. And you're welcome to pay me an extra RM2 for that service. Meanwhile, I'll pretend to ignore that bright yellow shuttle bus right in front of my taxi that's gonna take you to your destination FOR FREE."
or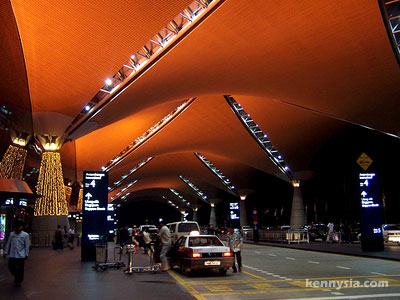 "Welcome. Here at KL International Airport, our taxi drivers make you feel very welcome by loitering around the arrival hall, and making kissing sounds at you to draw your attention."
or
"Welcome. I'm a taxi driver and I don't know where Sheraton Hotel is despite the fact that it's a major international hotel located right smack in the center of the city. No worries though, you're still welcome onboard while I drive around the block pretending to know where it is, until I finally succumbed to my taxi driver ego and asked for directions."
or
"Welcome. You're welcome to load your own luggage into my car boot YOURSELF while I sit my lazy ass in the car not lifting a finger."
or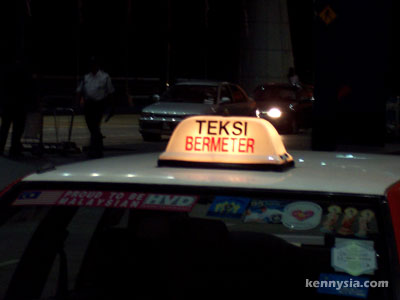 "Welcome. Our taxis say 'Bermeter' (meter in use), but you are more than welcome to ignore that."
or
"Welcome. Wait... what? You want to go to some ulu out-of-town suburb? Sorry, not welcome!"
or
"Welcome. I'm a multi-lingual taxi driver, and you are welcome to hear me swear, in 5 different languages, at that fucking pukima who just cut into my lane."
Next time you take a taxi in our nation's capital, be prepared to feel very, very welcome.