This is a very old entry from my trip to KL once upon a time in a land far, far away.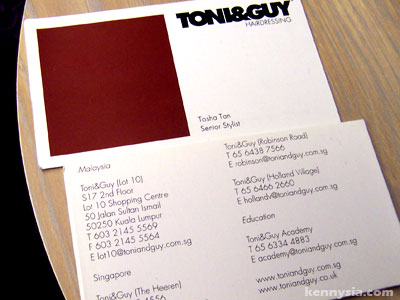 Toni&Guy is a London-based hairdressing chain with salons scattered all over the world. Their Malaysian franchise is located on the second floor of the hip-n-chic Lot 10 shopping center, right in the heart of Kuala Lumpur's famous Bukit Bintang shopping district.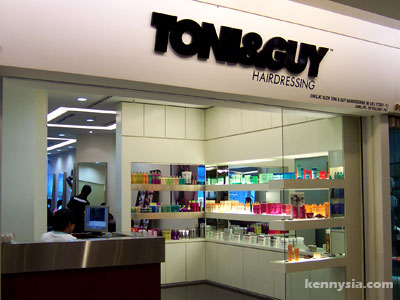 I was about to meet a whole bunch of strangers at the PPS 2nd Anniversary Bash later that day and I desperately needed a haircut. There's gonna be girls and media presence at the event, so a man's gotta look his best ya know?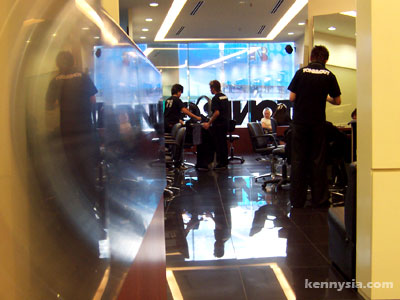 Toni&Guy's interior design is modern-looking but it isn't particularly glamourous. The floor space is kinda small. There's probably around 6-7 seats available, but only 2 actual hairstylists were working. On display at the shopfront are various products from TIGI Bedhead and L'Oreal. Because they're worth it. :)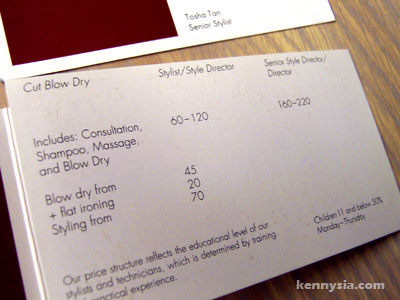 I was quoted a price of RM60 - RM120 for a regular stylist, and RM160 - RM220 for a senior stylist. But since no regular stylists are available I was able to get a senior stylist to do my hair for the price of a regular one.
Here's a shot of me before my haircut.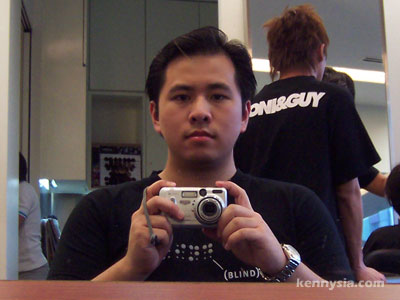 I entered the shop around 6:30pm. I was told a typical hair-cut-and-wash usually takes around 45 minutes, so by my estimation I should have enough time to travel from Bukit Bintang to Dataran Mederka to attend the PPS Bash at 7:30pm.
The seat was made of faux leather so its nice and comfy albeit a little warm. I was offered a choice of drinks and I asked for iced-water.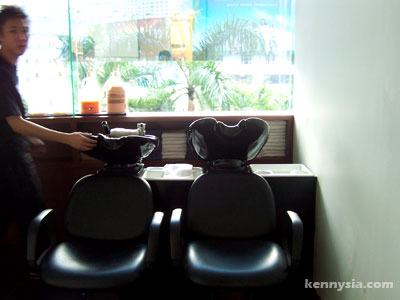 It didn't take long for one of their junior hairstylists to lead me to the back for some shampoo and massage action. I was secretly hoping its a girl who's gonna do that for me, but kanasai lah - its a guy. I wanted to request for a girl, but even the girl looks like a guy.
In the end, no difference also lah. I accepted my fate loh.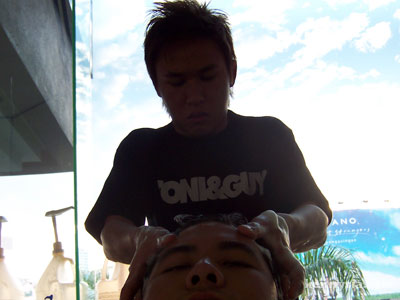 I rate massages at hair salons into three grades.
(A) "Good."
(B) "Average."
(C) "Oi, your first day at work ah?!"
For a premium hair salon, its unfortunate I have to rate Toni&Guy a 'C' in the massage department. The massage was a total joke.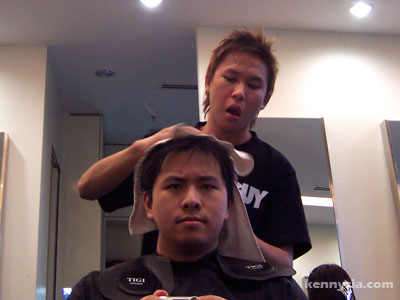 It was weak, unenergetic and ended way too prematurely. Perhaps its because I'm used to ones lasting more than 20 minutes. But man, I say that guy probably lasted 5 minutes max. It felt as if the only reason he went at me was because its his job, not because he really wanted to do it. The whole thing is a wham-bam-thank-you-ma'am affair. I wasn't even properly satisfied. I was so disappointed I couldn't have more.
Yes, I'm still talking about the head massage lah!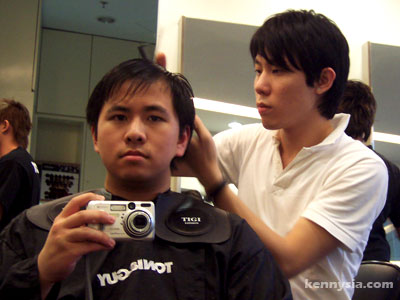 This is my senior hair-stylist for the day, Tosha Tan. This is actually the first time I hear the name Tosha (sounds like short for 'Toshiba'). The guy who did my hair at Alan Salon was called McPhee.
What is it with hairstylists and unusual English names? Whatever happened to John, or Michael?
Anyway, I was asked how I'd like to have my hair done. I wanted him to come up with a suitable hairstyle for me so I answered "Do whatever you want. Be creative."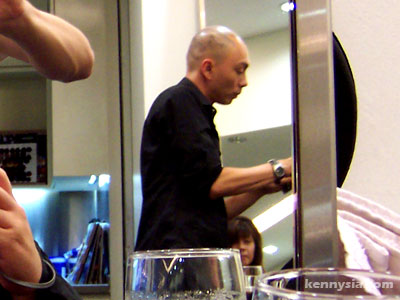 Tosha was servicing another patron in the salon at the same time, so he had to switch between my head and her head every now and then.
Overall, I think Tosha came across as someone who knows his shit right down to its texture and colour. He is very patient and he definitely has an eye for detail. My only small complaint is that he's... just.... way.... too..... slllooooowwwwwwww.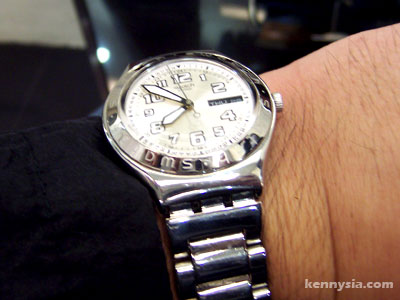 I was already late for the PPS Bash, but the guy was only halfway done. I didn't want to rush him of course. Remember, rushing your hairstylist is always a bad idea.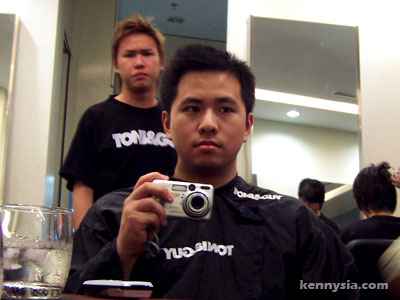 The junior hairstylist emerged again to lead me to the back for another round of shampoo and a half-arsed massage.
Look at his face you also know he wasn't too happy about having to perform twice in one night. Poor dude.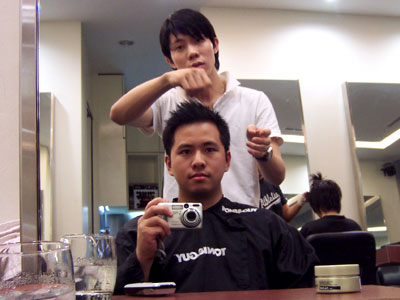 Tosha finished the job by applying clay on my head for that spiky matte effect. He used L'Oreal A-Head Clay, which costs around RM50 for a small 50ml tub. Expensive stuff right there.
It feels good to see my hair standing proud and erect. Too bad it goes limp very quickly everytime I sweat underneath this hot and humid Malaysian weather.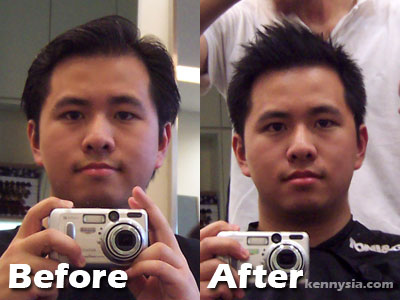 I left Toni&Guy VERY late for my appointment, TOTALLY unsatisified with the massage, and a MASSIVE RM100 poorer. That was definitely the most expensive haircut I've ever had in my entire life, but I think its worth it. After all, I did leave with a head I can be proud of.
Its expensive, but I actually like this hairdo a lot better than the one I had at Alan Salon. Maybe I'm just not a fringe person.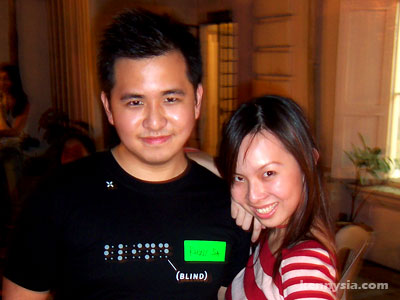 So what do you think? (My hair lah, not FireAngel, ok? I know she's so bloody hot and everybody wants her, but too bad I cannot link her. I accept bribes though.)