As part of his contribution to the Singaporean National Day, patriotic mr brown started this meme called "One Singapore Minute".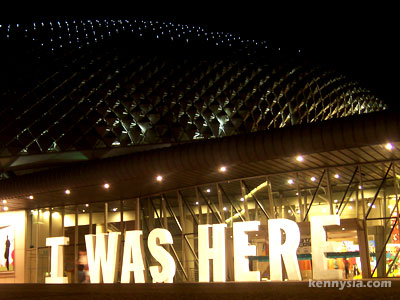 He's asking his fellow countrymen to take a series of photos within a minute to show what their country means to them. All the photos are then collected and displayed here.
Since our National Day is also just around the corner, I wanted to start a "One Malaysian Minute" meme too. But thanks to the haze, I think all the photos from our KL bloggers are gonna turn like this. Regardless, I contributed towards the "One Singapore Minute" meme. I know I'm not Singaporean and all that lah. Then again, Singapore's LianHeZaoBao newspaper also said I'm Singaporean liaw, so I think I must be one.


Here's my photo set, taken at the New Asia Bar on the 70th floor of the Swissotel Stamford from my last trip to the city state. I have to confess - these shots were not taken under one minute. It should have been that way, but that tulan bartender took ten bloody minutes just to get my drink ready. My One Singapore Minute became my Ten Delayed Minutes.

Singapore Sling on top of Singapore City itself. Doesn't get any more Singaporean than that. :)
Speaking of the lion city, what's with almost every Singaporean I know heading over to Kuala Lumpur these few days? Why go KL? Got haze lah, go KL do shit? Come to Kuching lah.

The haze situation in KL is getting so bad even the garblement is declaring a state of emergency. The problem is, other than closing down all their offices, nobody seems to know what else to do under a state of emergency. The only thing the people there were told to do is this.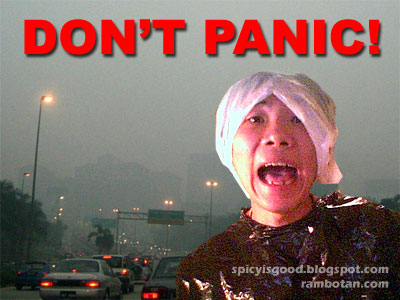 Everyone is waiting for the thick white smoke blanketing the nation's capital to clear up and disappear. So the garblement and residents in KL are all praying for a miracle, praying for the wind, praying for the heavy rain to fall...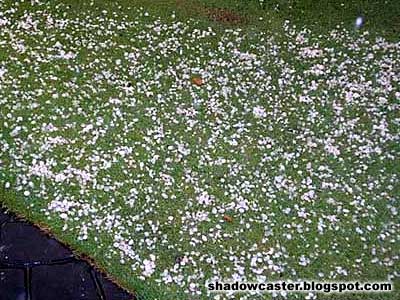 KANINA IT RAINED ICE INSTEAD! They must have prayed a little too hard liaw. Poor bastards.
Times like these, it feels so darn good to live in Kuching.