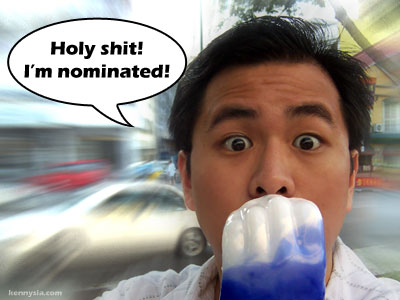 Guess what? I'm shortlisted as a finalist in the Project Petaling Street (PPS) Blog Awards! In two out of three prestigious categories no less!
This could mean one of two things. Either I'm one bloody good blogger. Or people in the Malaysian blogging community have finally gone crazy liaw.
But in all seriousness, I'm very flattered. Although I have my serious side from time to time, what I write here are usually very light-hearted and perhaps even 'infantile' in nature. There are 'mature' bloggers out there (both in terms of their content and their age) who fully deserves to be awarded Blog of the Year. I know I'm not one of them.
Many people believe that Jeff Ooi deserves the Blog of the Year award, but yet he's not one of the finalists. Well of course not. That man is obviously eyeing his Freedom Blog Awards. He's not gonna take this PPS bullshit!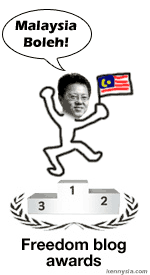 In any case, I'm very surprised and I'm very flattered. Judging by the silly things I write, I never regard myself as one of the best bloggers Malaysia has to offer. It makes my balls grow bigger knowing that there are people who do, and I sincerely thank you for that.
If I win these awards, somebody should buy me a new pair of underwear.
Blog of the Year


Ping of the Year

Only Malaysian bloggers registered with Project Petaling Street can vote though. Singaporean readers can show their support by hanging a big kennysia.com banner across Woodlands Checkpoint. Or you can just tell me you love me when I hijack attend the Singapore Bloggers Conference on the 16th July.
But anyway, I won't ask you to vote for me, because Kenneth Chiew will. :)