There's this two questionaire thingies going on in the blogging community right now. One is the 'If I Could Be' meme, and the other is the 'Musical Baton'. I got both of them handed to me and I'll answer them soon.
I have nothing against memes. Memes are fun. I admit its interesting reading some of the replies bloggers have to those questions.
Yet at the same time I see frightening similarities these questionaires have with, all of things, forwarded e-mails. Suddenly, I have this genuine fear that soon… the blogosphere will be taken over by stupid people.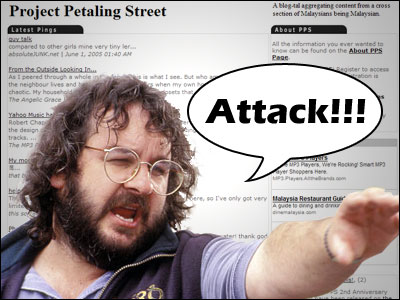 Ever since their very early incarnation in the forwarded e-mail days, people who send chain letters and good luck charms and surveys and questionaires have been annoying the heck out of me.
I'm not talking about spam. Spam is another issue entirely. I'm talking about forwarded e-mails sent by PEOPLE YOU KNOW.
These are people who are so retarded to type a sincere e-mail, they rely on forwarded mails to 'communicate' with you. After a while I actually forgotten that one of these people used to be my primary schoolmates because now I think of her as 'that girl who always forward useless e-mails'.
Its the same thing all the time.
A) Your generic "I love you, life is beautiful" type of bullshit. Then they ask you to make a wish and if you forward it your wish will come true. But if you delete it THEY CURSE YOU TO HELL.


B) Forward this e-mail to your innocent friends and one very boh-liao millionaire will give you a lot of money for absolutely no reason at all. Because you're worth it! 🙂
C) Some poor kid is dying of some horrible disease and some Mahatma Gandhi will donate money if you forward this mail to 500 people. If you delete it you have no heart. Never mind the fact that IT IS IMPOSSIBLE TO TRACK HOW MANY OF THESE E-MAIL MESSAGES WERE SENT!
Gah! What the fuck is wrong with these people!?
Sometimes I wonder how these e-mail forwarders think with so much shit clogged up in their brains. Or maybe they just get an orgasm everytime they hit the "Forward Mail" button.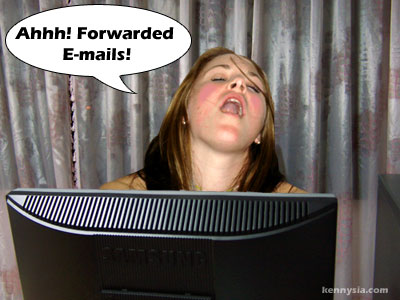 Thank god for the invention of junk mail filters because now, anything that starts with "FWD:" in the subject line goes straight to my recycling bin.
Luckily for most of us, things quieten down eventually and I'm starting to get less meaningless forwarded e-mails now. But just when I thought I have my peace and all these is finally over, Friendster and its Bulletin Board come waltzing in and HELL STARTS ALL OVER AGAIN.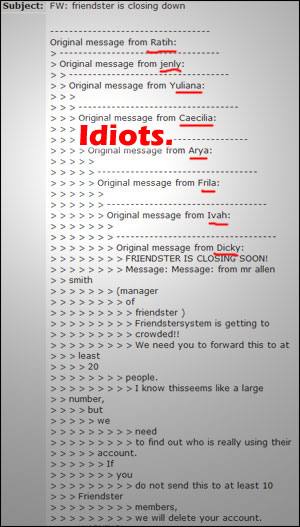 Like, duh. Can you believe that there are people out there who CANNOT deduce that the message was a hoax based on its crappy English and lack of professionalism? I can't either, considering some of the people who sent me these messages are bloody University graduates.
The sad thing is, the population of morons is only going to increase exponentially.
Chain letters started from paper-and-ink. They have since migrated to forwarded e-mails, and then to Friendster. The only reason for their proliferation is because these dimwits kept hitting the forward button and spreading them. I think its only natural that these chain letters invade the blogosphere next.
As a matter of fact I'm gonna lay down a bold prediction.
"kennysia.com predicts PROPHESIES that soon there will be chain letters on blogs. And that these chain letters will be spread around by stupid people like herpes."
Here's an example.

PLEASE POST THIS ON YOUR BLOG SO THIS LITTLE BOY CAN LIVE. YOUR ENTRY WILL BE TRACKED AND A CHEQUE WILL BE MADE BASED ON THE FINAL COUNT!!!
Dear All:
This is the request of a special little boy who will soon leave this world because he has no arms, no legs, no head and no testicles. By you showing this to as many people as possible, you can give him and his family a little glimmer of hope. That's because on every blog that this is posted on, the White House will donate USD1 towards his treatment. If this is posted on more than 100 blogs, George W Bush will donate both his testicles to this little boy!
On a side note, my balls will also expand knowing that you actually listened to me… but you don't need to know that.
Just think. Instead of that little boy, it could be you one day. Post this on your blog. Its not even your money, just your time!!!
IF YOU DO NOT DO THIS YOU HAVE NO HEART!
Dr. Kenny Sia
Professor
Center of Research into Human Stupidity
University of Uranus
Remember, you've seen it first on kennysia.com!