I'm not sure how many people read this article from ChannelNewsAsia.com. Trust me, I tried to keep a straight face reading it, but I failed miserably.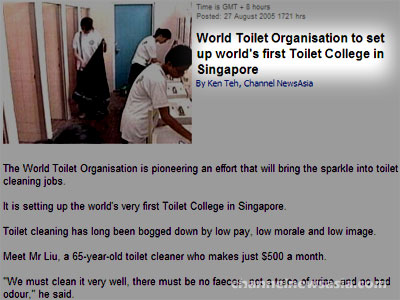 I thought I've seen everything, but a toilet college!? Incredulous!
Heck, I didn't know there's even a World Toilet Organisation based in Singapore until I read that article. But make no mistake about it, funny as it is, the World Toilet Organisation (WTO) is a legitimate organisation that aims to promote hygiene and sanitation in public toilets. They even got their own website at worldtoilet.org!
I clicked on their website and saw this.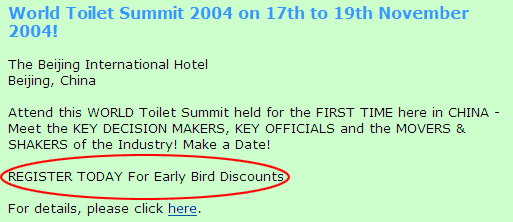 EARLY BIRD DISCOUNT! My Big Bird laughed so hard it fell off. Almost.
Anyway, you gotta pity the World Trade Organisation for sharing the three-letter acronym as the World Toilet Organisation. Imagine what the families of their employees are gonna have to put up with.
Mrs Lim: "Ehhhh… hello Mrs Yee! How are you doing today?"
Mrs Yee: "I'm fine! How's your husband har? He found a job already or not?"
Mrs Lim: "Yah! He's now working for the WTO!"
Mrs Yee: "Wah! WTO! World Trade Organisation ah?!"
Mrs Lim: "No lah… World Toilet Organisation. :("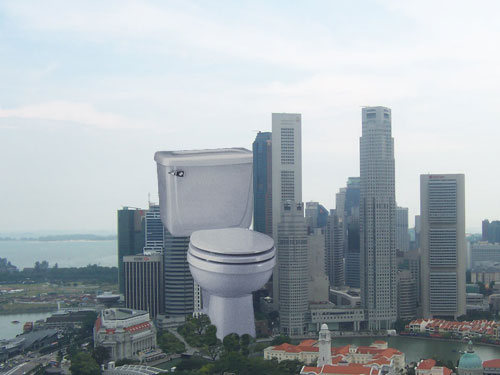 I think there's gonna be weirder conversations when the World Toilet College (WTC) gets up and running.
Jimmy: "Hi guys!"
David: "Eh Jimmy, long time no see!"
Ah Leong: "Yah man, I heard you went to Australia. What you studying there, man?"
Jimmy: "I'm at Melbourne University. Majoring in Computer Engineering."
David: "I'm doing my Bachelor of Laws at NUS right now. Majoring in Property Law."
Ah Leong: "WAH!"
Jimmy: "Where you studying now, Ah Leong?"
Ah Leong: "Oh… I'm studying at World Toilet College. Majoring in Advanced Shit Management."
I think things are gonna get real interesting.
Well, there is a lot of speculation what the World Toilet College is gonna be like, but nobody seem to have any specific details. No one knows who the lecturers are, what the facilities are like, and so on.
Now, thanks to very reliable inside sources (ok lah, it was just the cleaning lady at my office), I managed to get my hot little hands on some never-before-seen, exclusive, top-secret photos from inside the World Toilet College.
Remember, you've seen it first on kennysia.com. 😉
Here's what the inside of their world-class state-of-the-art lecture theatre looks like.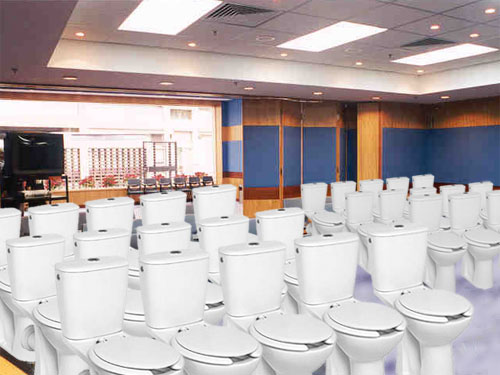 The graduation ceremony.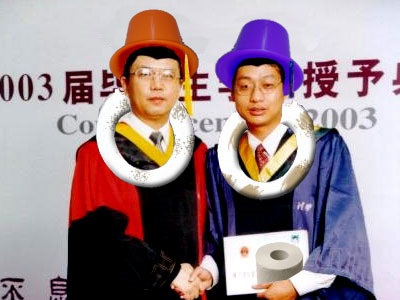 To save on costs, the certificates are printed on toilet paper in "special brown" colour.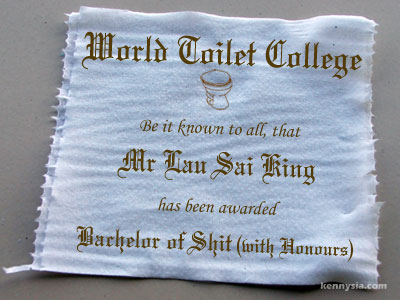 I'm sure enrolment numbers will jump wildly as soon as the World Toilet College begins operation.