I just witnessed a horrific car accident earlier today. I am still in distraught.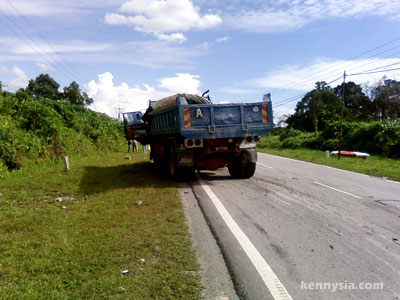 Potentially disturbing images ahead
*~*~*~* Public Service Announcement *~*~*~*
Please note that kennysia.com has received permission from the involved's direct family to publish the photos of the car accident on this website.
kennysia.com wishes to advise anyone reading this entry that not everyone may wish to have these photos published as such. If you encounter a potentially fatal car accident in the future, please always ensure that the victims are safe first and foremost.
*~*~*~* Public Service Announcement *~*~*~*
It was along the Batu Kawa-Matang Road. The driver of a Honda had tried to overtake the vehicle in front of her. She didn't succeed, and was met with a head-on collision with a cargo truck instead.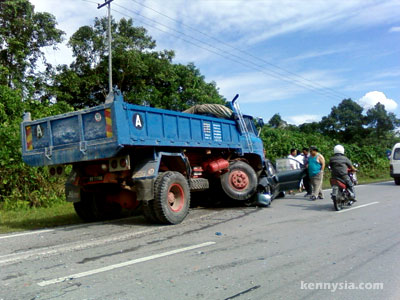 When I was driving past the scene, all I noticed was a bystander shouting for help. He couldn't get a phone signal in the new area so I offered to help by calling the emergency number.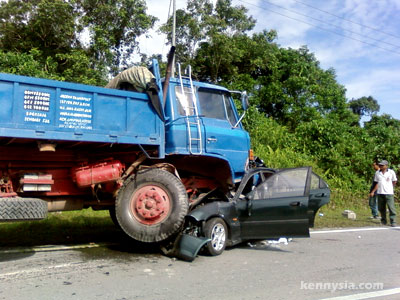 I had received First Aid training before, but when I was put into a situation like this, I honestly do not know how to react.
For a long time I stood there in shock and distress, not knowing what to do except run around asking for help.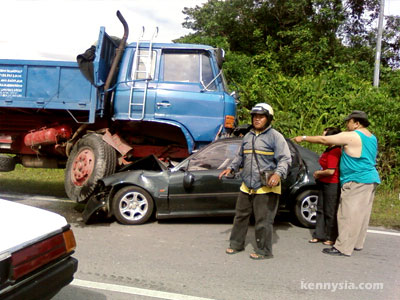 More volunteers had arrived. A man was calm enough to open the car door to check on the conditions of the passengers.
I looked inside and took a glimpse of the driver. She was a young lady around my age, still in her seat belt, body slouching to the side, eyes half opened. Lifeless.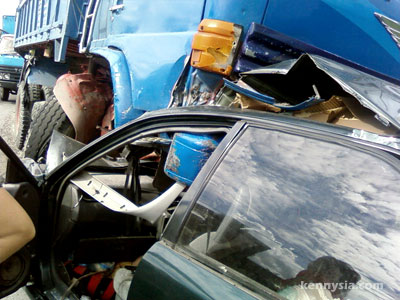 The spoiler of the lorry had gone right through the windscreen and smashed into the headrest of her seat. She couldn't have survived.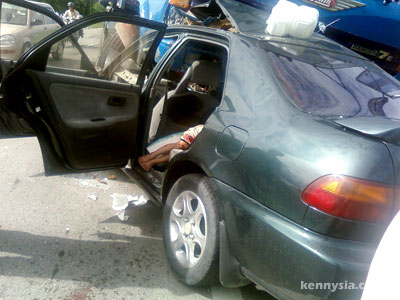 Then I saw that there were children inside the car. Young kids, no bigger than my own nephew and nieces. Their bodies, covered in blood, sprawling over the car seats of the car.
My heart sank.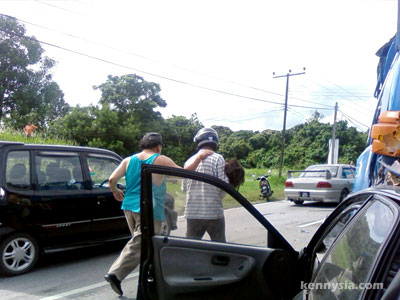 We noticed a young girl still breathing. Immediately, one of the volunteers carried her out of the car and rushed her to the hospital.
I don't know what happened to her eventually. The newspaper report said that she survived but suffered serious head injuries.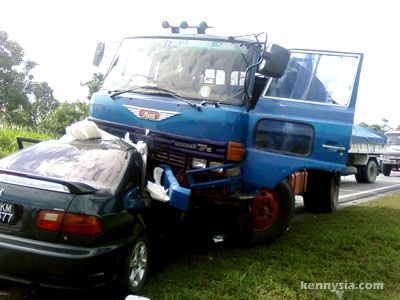 If anyone reading this website knows the family of the unfortunate souls who perished in this incident, please drop me an e-mail.
I may not know you, but I apologise because I was there at the time of the incident and I do not know what else there is to do. If you know the condition of the little girl in hospital, please tell me. And if there is anything at all that I can do to help, financial or otherwise, please let me know.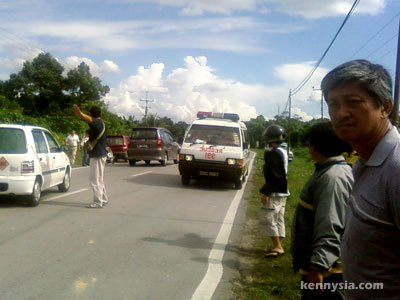 I am sorry.