My travel schedule has been absolutely crazy this past week.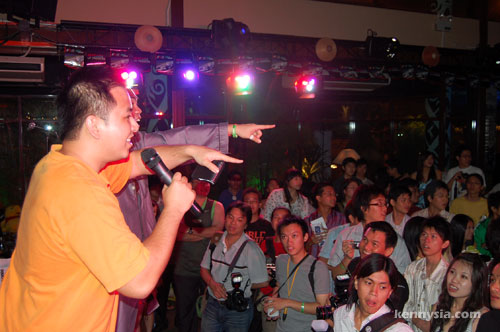 No thanks to my perfectly planned schedule being disrupted by the elections, my two weeks worth of commitments were all pushed back and lumped into one single weekend.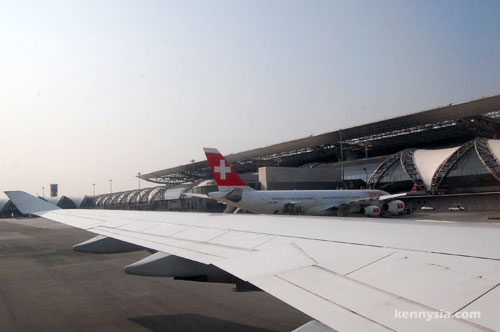 Some people say they envy my life.
Well my friend, you DO NOT want to live my kinda life. Especially not when it involves jumping on 5 different flights to attend 4 different events in 3 different cities. It's way too hectic.
The way I look at it, hopping on an aeroplane is a bit like having sex.
It was exciting the first few times you do it. But after a while, it just feels so bland and normal.
(Disclaimer: This statement in no way implies that Kenny Sia is getting any. Kenny Sia is still a virgin. Just like Chua Soi Lek.)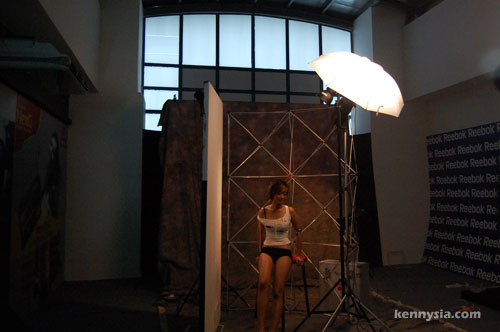 Last Wednesday, I took a 7am flight out from Kuching to KL for the filming of Malaysian Dreamgirl.
The girls were getting their photoshoots done for Women's Secrets lingerie and I was there to work the show.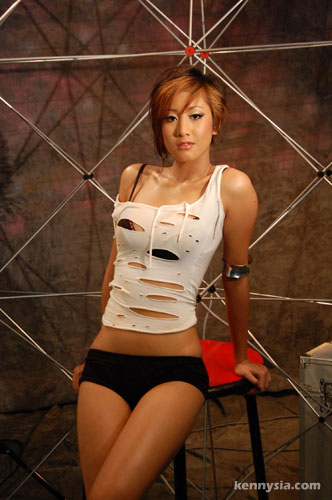 Under normal circumstances, watching twelve girls modelling in their bras and panties is supposed to be a very exciting thing.
Yeah, of course I was excited at first. Which guy wouldn't? It's not everyday a guy gets to witness a lingerie photoshoot right?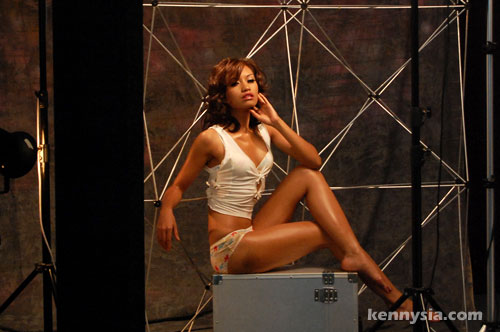 Problem is, we started filming at 3pm and didn't finish until 4am the next day. That's 13 hours of work to sit through (and we ended up using only 8 minutes of my footage). Not to mention I didn't get much sleep the night before because I caught an early morning flight.
By the end of it all, I was so NUMB and TIRED I did not even get a kick out of looking at hot chicks in skimpy clothes anymore.
It was scary, ok?
Seriously, I was beginning to worry if my disinterest in women was caused by me being too tired, or if I was turning gay.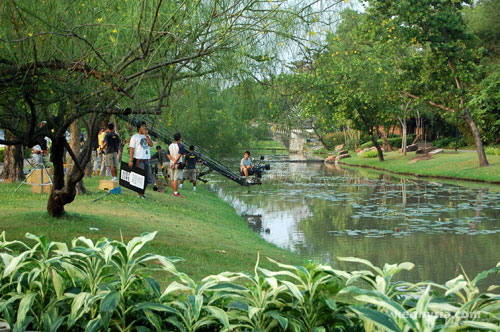 The following day, I was flown to Bangkok to do a TV commercial.
It's for a Malaysian snack food company. And no, it does not involve me grabbing a transvestite's boobie.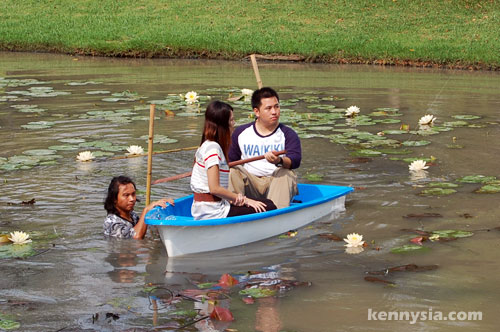 It was fun because it was my first time acting in front of the cameras. The thing is, I had no idea it would take so long just to film a 30 second commercial. We took 12 hours in total, starting early at 6am and finishing at 6pm just to get the whole thing right. It was hard work and I was just one of the supporting casts, not the main guy.
The reason why it was filmed in Thailand is because the Thais are known for making superbly hilarious commercials. Funny Thai commercials are all over Youtube.
This one is no exception.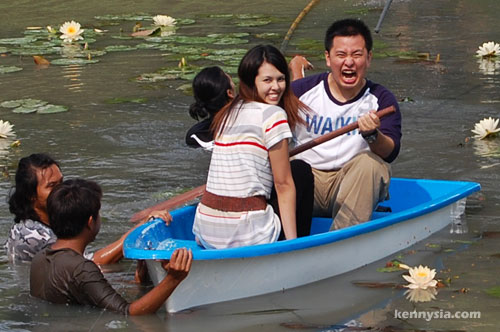 I wish I could tell you more, but I couldn't. It was a very interesting experience for me and a real eye-opener working with the Thais. If I'm not mistaken, I might possibly be the first Malaysian blogger (who's not a trained actor nor a model) to be asked to appear in a big-budgeted TV commercial.
Suffice to say, you will see the commercial here FIRST before it hits the TV screens once it's completed.
The advertiser who hired me has told me that, and the premiere of this TV commercial will happen on kennysia.com. 🙂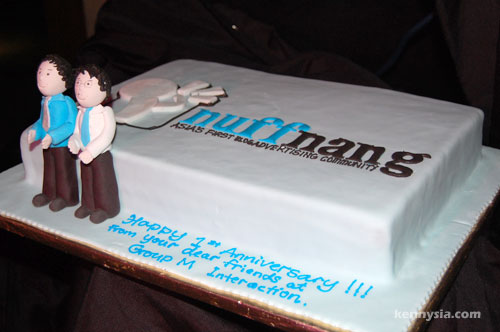 I wished I could enjoy Bangkok more but unfortunately I had to cut it short.
I told Timothy I wouldn't miss Nuffnang's first year anniversary party for anything and I kept my word.
Saturday night, I flew from Bangkok back to KL and immediately rushed straight to Borneo Baruk Club where the event was held.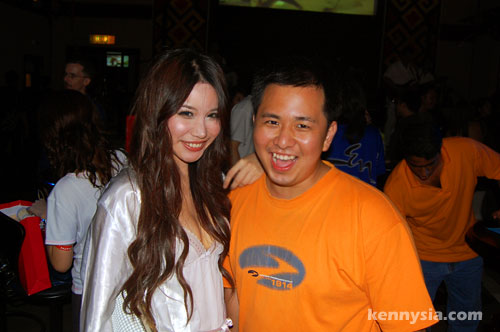 Because of my flight, I arrived late and came in only when the event was starting to draw to a close. Nonetheless, it was nice to meet up with so many Malaysian and Singaporean bloggers, and everyone had a really good time.
A few people noticed already that I looked tired, and that's true. Fact is, I hadn't been eating or sleeping right for the past few days.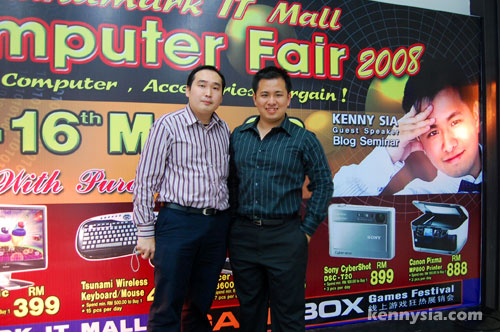 That night, I myself didn't sleep until 3am. And then I had to wake up at 5:30am to catch another early morning flight.
This time, I flew from KL to Johor Bahru to deliver a blog seminar at the Landmark IT Mall Computer Fair. With barely 3 hours of sleep, the kids attending my seminar must've wondered why the organisers had invited a zombie to talk about blogs.
In the evening on the same day, I flew back to Kuching.
When I finally reached home that night, I was already tired as a hamster.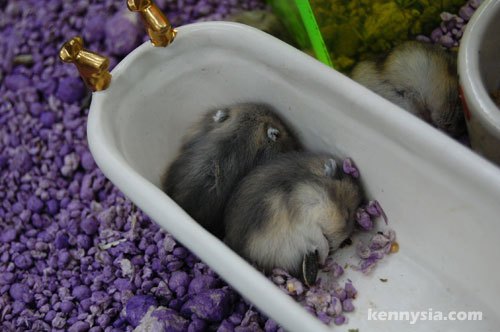 So really, a typical week in the life of Kenny Sia is too fast, too furious, and honestly not that easy to handle. A lot of sacrifices has got to be made, particularly on my social life. If there's any consolation, at least I am getting paid for most of these side projects. It is a lot of stress, but at least it is fun and it is something different.
I just really need to take a break though. So I'll be away tomorrow for the rest of March to escape, recharge my batteries and hopefully think of new ideas to pump back into kennysia.com. Ironically, that would involve stepping on the plane again to go to a foreign land.
I need to do that, else I'd really go crazy.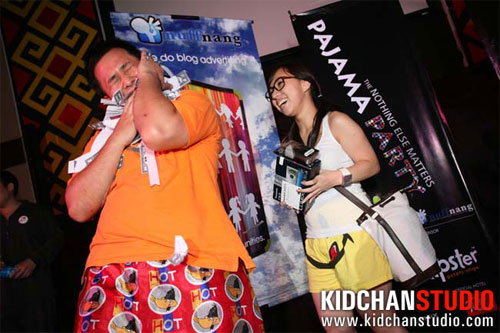 Don't worry, I'll be back.

While I'm physically away taking a break for the next 2 weeks, kennysia.com will also be taking a (mostly) commercial break for the next 2 weeks as well.
Advertorials are what keep this website financially logical to run. Despite the marketing undertones, I'm still the one writing them in my own words and with my own style. So please, support the people that supports kennysia.com 🙂