Unlike Hollywood, us simple Kuching folks don't get a lot of movie premieres over here.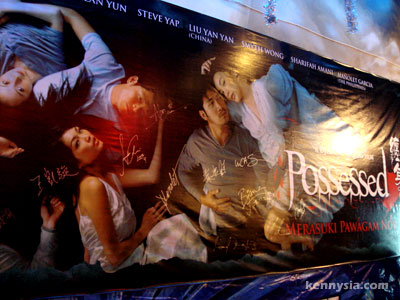 When it comes to hosting red-carpeted movie gala events, Kuching is probably the least considered venue among filmmakers. We don't have a lot here to attract stars and celebrities. In fact, we are so insignificant that people always think Kuching is part of Sabah.
But just last week, our humble little town was transformed into Tinseltown as the cast and crew of the movie The Possessed descended here and made their presence felt in our backyard.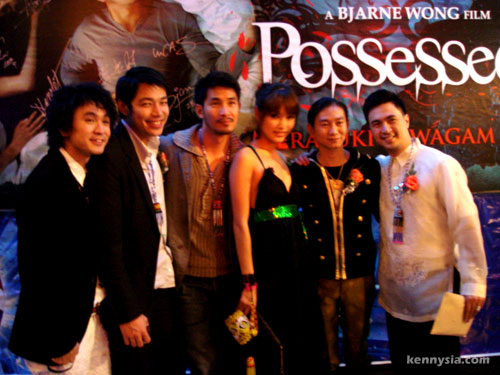 If it weren't for Bjarne Wong, people are probably still gonna think that Kuching is located inside Sabah.
Bjarne is a Kuching-born film director who made the movie "The Possessed". It is Bjarne's second movie after "The Legend of the Red Curse" which was widely considered a disastrous cinematic flop.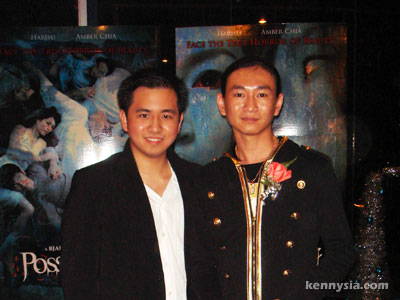 I actually watched "Legend of the Red Curse" together with the Bjarne, Linus Chung and Mei Ling* at Bjarne's house in his bedroom that one fateful night.
Four grown men in one bedroom must be every gay man's fantasy. But don't worry ladies, my anal virginity has escaped the experience unscathed.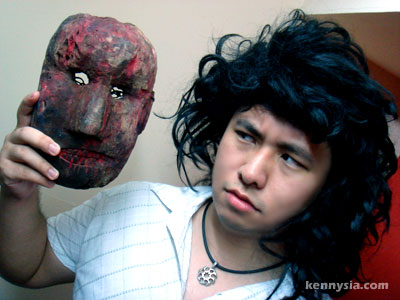 The first movie "Legend of the Red Curse" was one of those movies that is so bad, it's good. It's so bad it even had people sending death threats to the director. That is alright, because it was not just Bjarne but everyone's first attempt at directing a feature-length movie.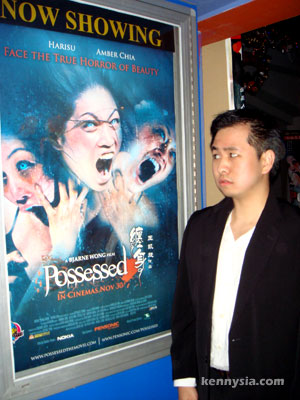 Knowing how bad the first movie was, I didn't have much expectations walking into the cinema for his second piece of work. So it came as a surprise that I actually… enjoyed it.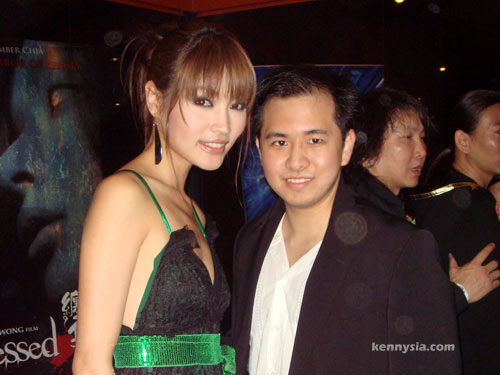 The Possessed stars my longtime sweetheart Amber Chia. It is a "horror flick" featuring actors from in and out of Malaysia, and is filmed entirely in Kuching. I used the term "horror flick" loosely here because as I found out later, the movie actually isn't really that scary at all.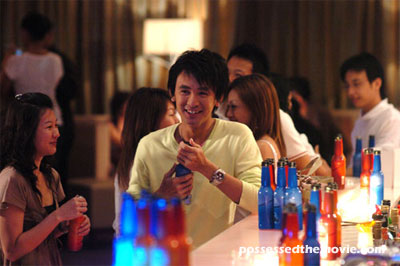 Sure, glaringly obvious plot holes are all over the place and the quality of acting left a lot to be desired. But watching the director putting Kuching onto the silver screen is a surreal feeling. Our humble little city was shot beautifully. Next time I pass by those places that appeared in the movie, can feel their status different already.
For a Kuching boy like me, it is a lot of fun guessing where each scene was shot. When friends we hang out with regularly suddenly appeared on the big screen as keh-leh-feh (supporting cast) speaking Cantonese, everyone bursted out laughing.

Of course, it is a unfair to compare The Possessed with other big-budgeted Hollywood horror movies such as The Sixth Sense, The Village and The Spongebob Squarepants Movie.
After all, our movie-making resources and budget here is very limited.
So limited in fact that in the fight scenes, you can see the actors fighting so carefully to make sure that they don't break any of the furniture around.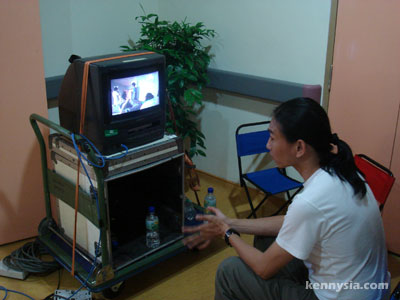 Another major MAJOR gripe I have with the movie is that all the dialogue is in Cantonese. I suspect that this decision has more to do with the marketability of the movie overseas rather than staying true to the roots of the de facto Kuching dialect. Not a lot of mainland Chinese or Hong Kong movie goers would be interested to watch the movie if it's Hokkien right?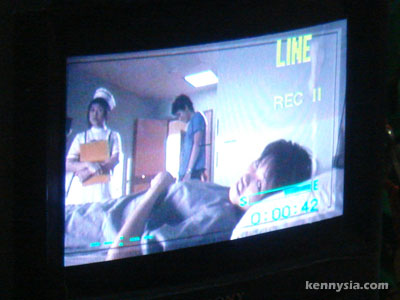 On the good side, Amber Chia's acting has improved tremendously since we last saw her. The most memorable scene undoubtedly was watching Amber getting possessed by the demon.
At first, it looks like she's trying to scratch an annoying pimple her back as she awkwardly bends here and there. Then she puts herself upside down and spins around like she's doing ballet with her head.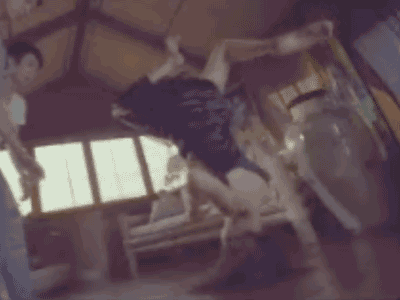 Damn, that girl should be in Doha training our gymnasts for the 15th Asian Games.
Apart from seasoned actress Sharifah Amani, another cast member whose acting stands out from the rest is Filipino architect Manolet Garcia.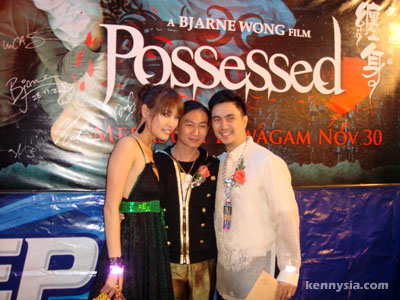 The Filipino plays a psycho who's obsessed with Amber Chia's character. There's one hilarious scene in the movie where he was drooling over Amber's photos on the wall, one hand touching her photos disgustingly, the other hand was reaching down to… almost touching his you-know-what.
Jojo was laughing so much in the cinema we thought she was possessed.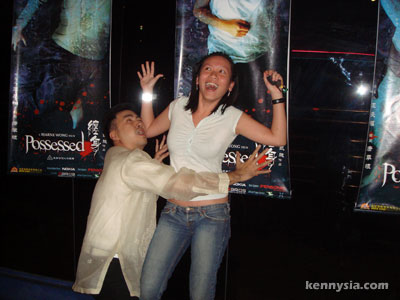 I reckon Bjarne might have better luck finding his niche making comedies instead of horror flicks.
Overall, I say the movie is very much worth watching, especially if you're from Kuching and you'd like to see how your hometown was projected onto the big screen. For the rest, it's best to watch this movie without too much expectations. It's not to say that "The Possessed" is bad. It is just a lot better than most plotless B-grade Korean horror flicks.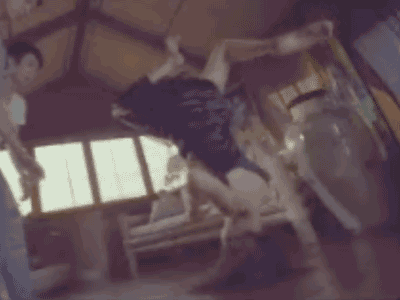 Best of all, you get to see Amber Chia doing ballet on her head.

Have you ever seen a doppelganger?
I have seen one. miss-lashes and miss-dowager look so similar to each other it's kinda freaky.