It was almost like a fairy tale.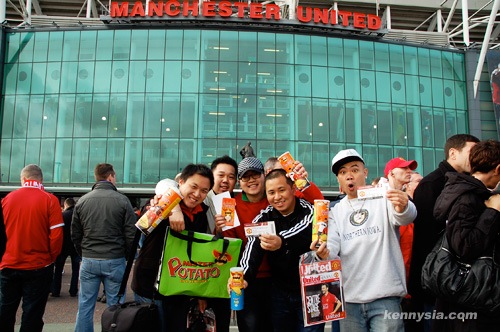 On the 14th March, 35 Malaysians on the invitation of Mister Potato braved rain and high seas to travel half way across the globe to Manchester, England.
Our destination: Old Trafford Stadium – the stomping ground of the Red Devils, the mecca of Manchester United fans, The Theatre of Dreams.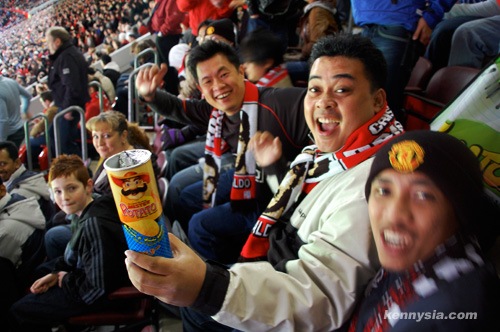 It was not just any ordinary football match we were watching.
Experts say that this was the most crucial match in this season's Barclay's Premier League. Tickets to this match were so hard to come by that there were people hanging outside the stadium offering up to 200 pounds (RM 1,050) to buy a ticket that normally costs 40 pounds (RM 210).
After all, this match was an iconic event in the great rivalry between two of England's biggest football clubs, Manchester United vs Liverpool.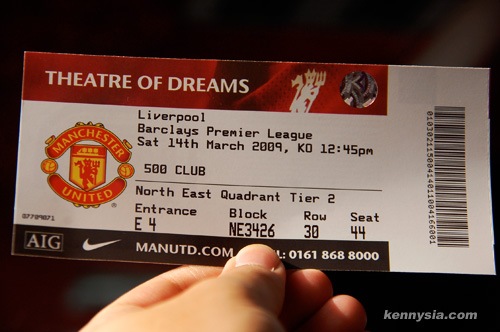 Not everyday a football fan get to witness such a big match live at Old Trafford Stadium. For many of us, it was a dream come true. And this next chapter in Manchester United and Liverpool's heated rivalry was by all measures a historic one.
Unfortunately for Man United fans, this match on the 14th March 2009 was historic for all the wrong reasons.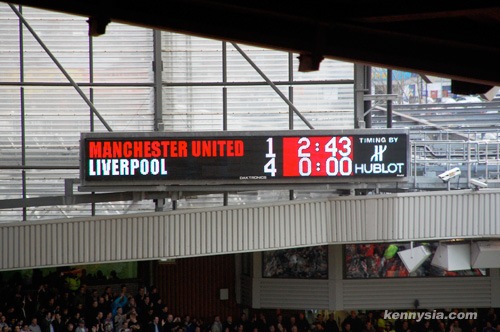 It was the first time in history Manchester United suffered a defeat this badly on their home ground to archrivals Liverpool.
But before we talked about how bad Man U got thrashed, let's go back to before the match started.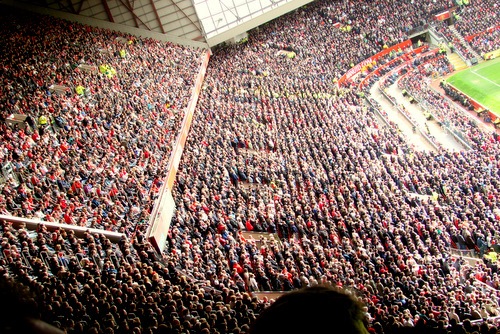 It was an experience that just cannot be translated onto TV. The atmosphere inside the jam-packed Old Trafford Stadium was nothing short of electrifying. This was the only place in the world where you can hear 70,000 grown men singing Glory Glory Man United together in unison.
The 35 of us who travelled with Mister Potato were obviously very excited going to watch this match. So much so that for the first time in my life, I bought a Red Devil jersey.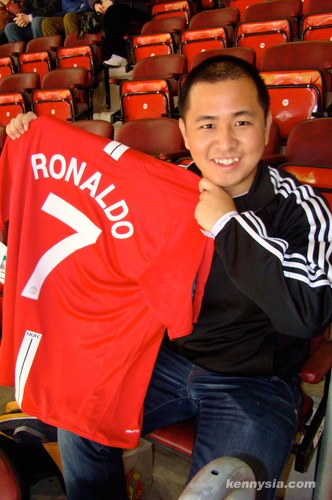 Now I know I got a lotta flak when I suggested my intention to switch support from Chelsea to Manchester United. Well, sorry to all hardcore footballs fans, but at least lemme try to explain.
Choosing which football club to support is like sleeping with a girl. When you are physically inside (the stadium), you say you better god damn say you love them. Otherwise all hell is gonna break loose.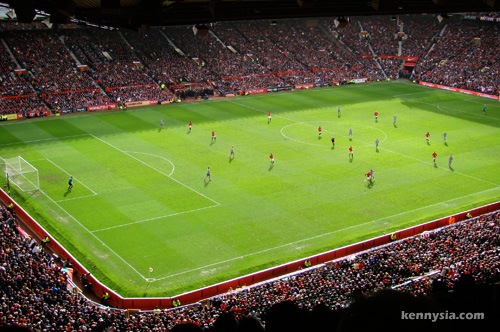 The Red Devils dominated early on during the match.
When Cristiano Ronaldo scored that first penalty, the whole entire stadium went absolutely nuts.
Manchester United 1 – 0 Liverpool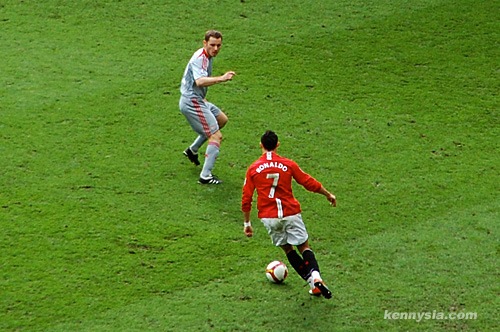 The excitement didn't last long. Liverpool's star striker Fernando Torres quickly lobbed an equalizer into the net five minutes later, prompting the home team supporters into a deafening silence.
Manchester United 1 – 1 Liverpool
That equaliser was the start of the Red Devil's nightmare.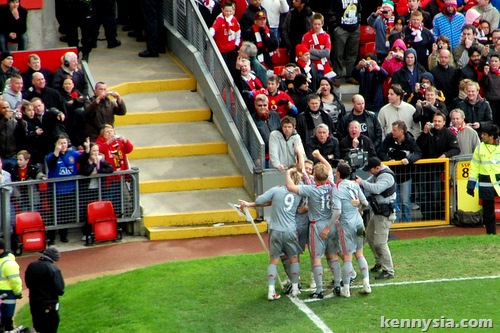 By the 44th minute, I was pretty certain that we were gonna go into half-time draw. But right before the referee had the chance to blow that whistle, Manchester United made another mistake.
Liverpool captain Steven Gerrard was charging full speed towards the goal, only to be tripped by defender Patrice Evra.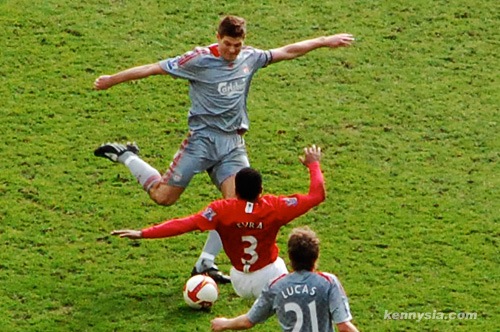 It's another penalty, this time in favour of Liverpool.
Man U's goalkeeper kept protesting against the referee by refusing to get into line.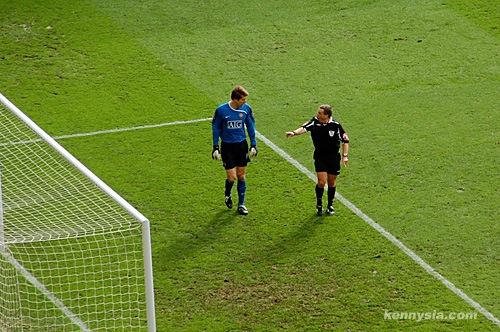 It didn't work. He instead got a yellow card for his theatrical efforts.
It was then all up to Steven Gerrard.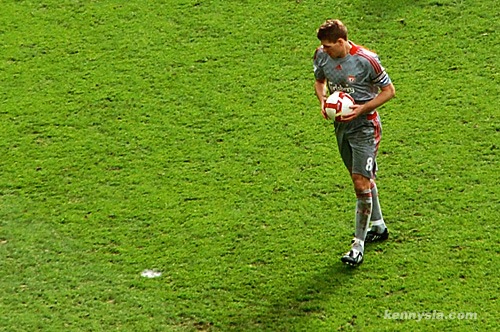 He kicked.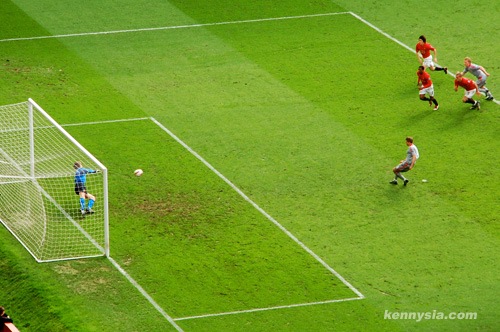 He scored!
Manchester United 1 – 2 Liverpool
Again, the small section of Liverpool supporters went bonkers. It's now 1 – 2 going into half-time. The Man United fans were fuming.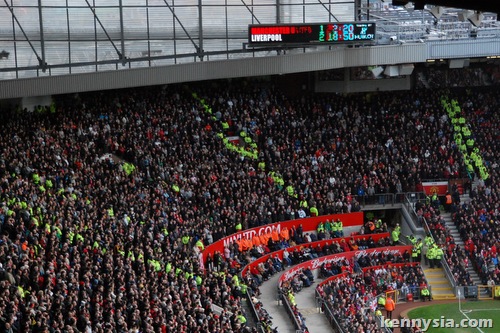 You can see how heavily guarded the Liverpool fans were. Their seating section was sandwiched between yellow-coated policemen wearing full riot gear. No other section in Old Trafford stadium were as well-protected as they were. Not even Sir Alex Ferguson's seats.
Such is the intensity of the Manchester United vs Liverpool rivalry that fights often broke up between hooligan fans of the two.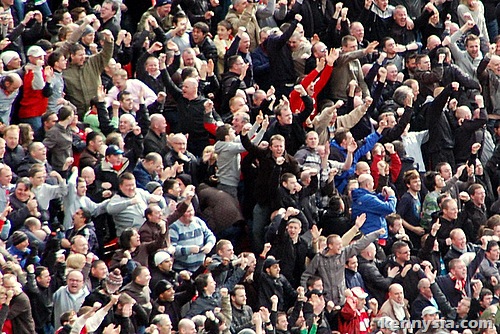 Sitting a row behind us, four Liverpool supporters were mistakenly assigned to sit in the Manchester United supporters area. Big mistake.
Their cover was blown when they accidently cheered the Liverpool goal, and this pissed of one hardcore Man U supporter sitting right beside them.
"Excuse me, are you guys Liverpool supporters? Why the f*ck are you sitting here!? You don't belong here! Get the f*ck out before I beat the shit out of you f*cking scousers!"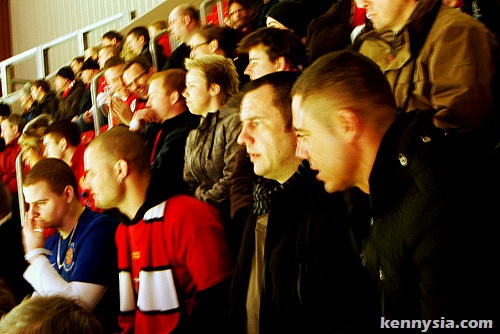 The man elbowed one of the Liverpool supporters in the face. Immediately security guards rushed to our area to avert a potential full-blown hooligan war.
The aggressive Man U fan was about to be escorted out, but the security thought it would be a better idea to bring those four Liverpool fans to a safer area instead.
< img title="DSC_9200" style="display: inline" height="331" alt="DSC_9200" src="http://www.kennysia.com/images/photos/2009/0497f0baf368_10DB1/DSC_9200.jpg" width="500" />
By the time second-half of the game resumes, it's pretty clear the Red Devils have lost much of their momentum.
The only persistent attacker was Ji-Sung Park.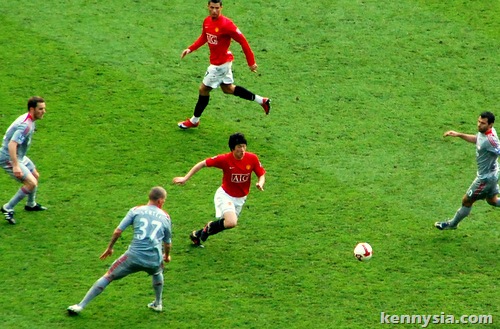 Everyone else was just dancing.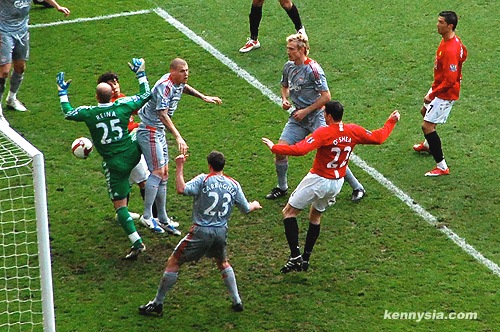 Even Wayne Rooney went looney.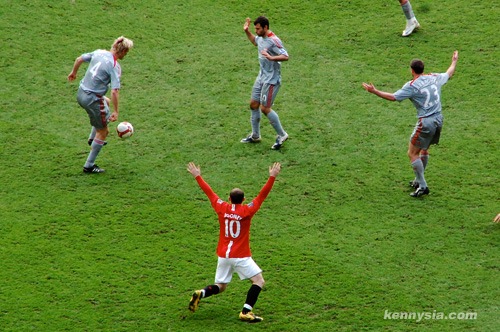 With 20 minutes left to the game, Alex Ferguson decided he must do something ast to turn around Manchester United's fate.
In a triple substitution, the manager brought in Berbatov, Giggs and Scholes to inject more offensive edge into Manchester United.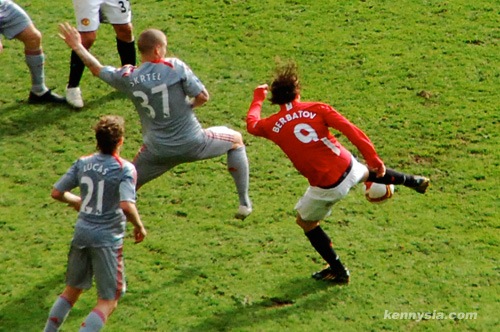 That was not enough, it seems.
The referee saw Manchester United defender Vidic grabbing a fistful of Steven Gerrard's shirt as he was going for goal.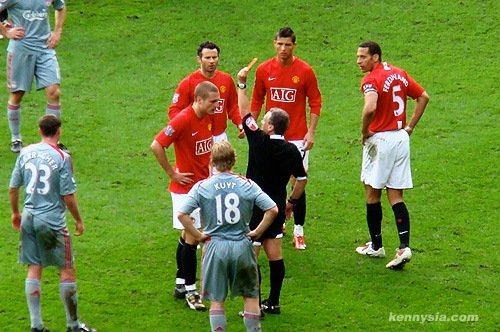 And promptly flashed him the red card.
Manchester United was down to ten men. If the Red Devils wanted to overturn this game, they better hope for some miracle. And by miracle, I mean magically transform Cristiano Ronaldo into the Brazilian Ronaldo and Steven Gerrard into Posh Spice.
But even that might not have worked in their favour.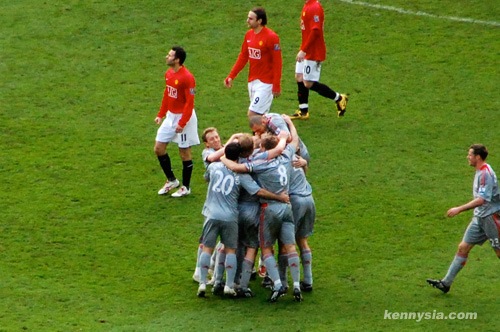 Liverpool's Aurelio free-kicked a beautiful curved ball right into Man United's goal, bringing the score to
Manchester United 1 – 3 Liverpool
That was pretty much the nail in the coffin for the home team.
The Red Devils must have given up on all hopes. Even the fans can no longer bear to watch the humiliating defeat and began leaving Old Trafford Stadium in droves.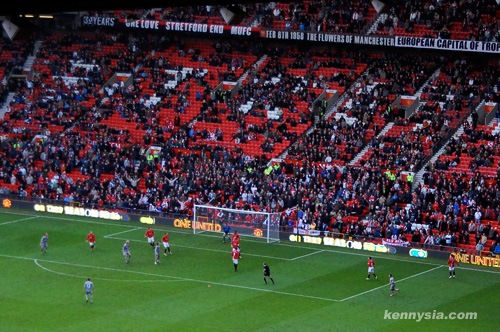 I say they made a good move.
Because by the 90th minute, even a Liverpool unknown managed to score a goal to make it
Manchester United 1 – 4 Liverpool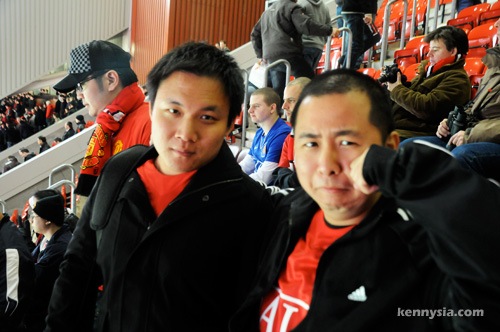 Ming and I were not smiling.
It was such a painful game to watch, made even more painful by the fact that the 35 of us actually travelled some 16 hours from Malaysia to England to watch Manchester United lost in the most humiliating fashion ever.
Here's a selection of videos we took during the match, including the two penalty goals.
Despite the disappointing results, it was actually a nice to travel with a bunch of blokes to catch something we share a common passion in and bond over football, beer and Mister Potato chips.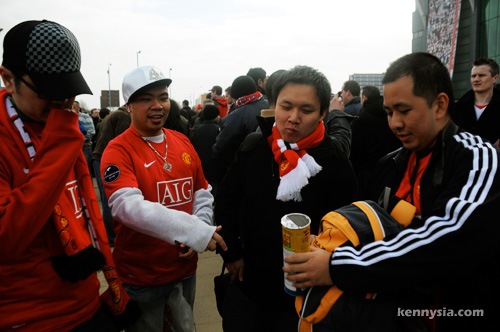 I must say also that I have a new found love for Manchester United, although I do find it ironic that whichever team I support always seem to lose in the most dramatic fashion.
I dunno.
Maybe what Manchester United needs is a new player.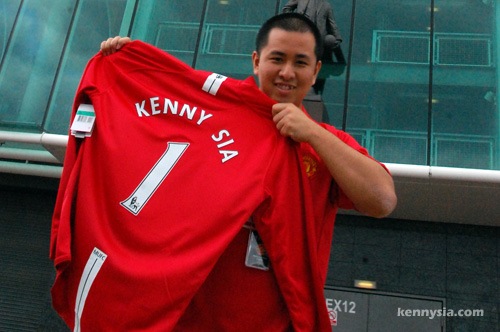 Or maybe not.
Finally, I'm back home in Kuching with my batteries fully recharged. But with the amount of work piling up in front of me, I think I need several spare batteries to get me through the week.
By the way, catch me on BFM 89.9 today (Wednesday) at 12 noon.