Rotorua was great for doing something different, like zorbing, but there really wasn't anything blog-worthy to mention.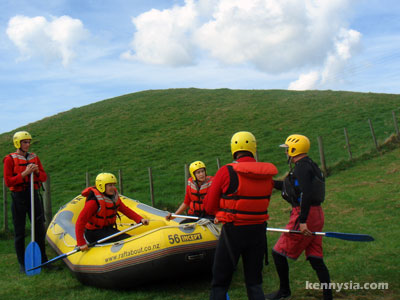 I could tell you that I went whitewater rafting, but nothing fantastic happened. The two most exciting coming out from that activity was:
1. Falling off a two-storey high waterfall in an inflatable boat with a bunch of Scottish guys.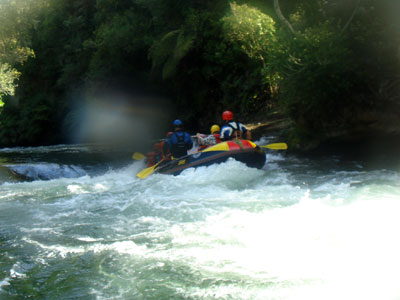 2. Me getting into the most ridiculous-looking wet suit EVER.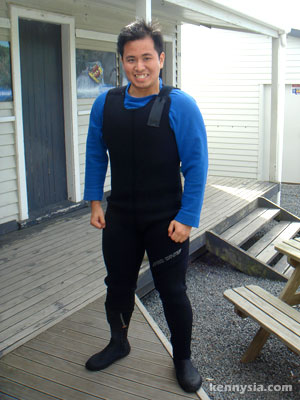 WTF. That thing is so bloody tight, my balls had trouble breathing. I had to secretly stick a straw into my suit in case the little fella died due to lack of oxygen.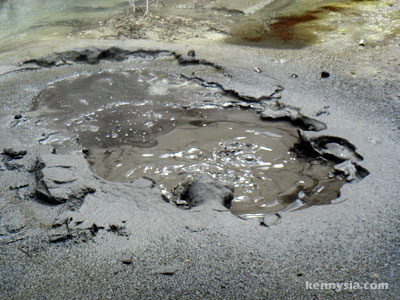 I could tell you that I visited some natural geothermal wonders, but honestly there wasn't anything much worth blogging about a place with a couple of mud pools and some funky-coloured ponds.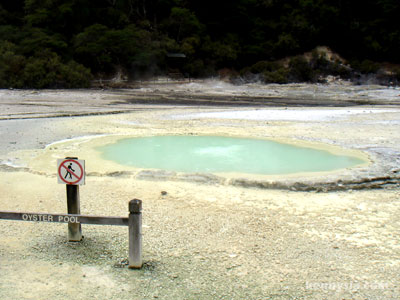 Aduh warning sign. What kinda idiot would walk into a pool anyway
Find a hole in the ground, give it some evil-sounding name and call it a tourist destination.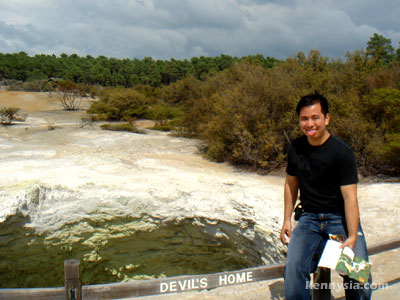 What lah, I can also do that.
From Rotorua, we drove down to the scenic town of Taupo. Along the way we stopped by for lunch at New Zealand's only freshwater prawn farm and paid NZD$29.50 / RM74 for 8 pieces of prawn of a species imported from Malaysia. Siao.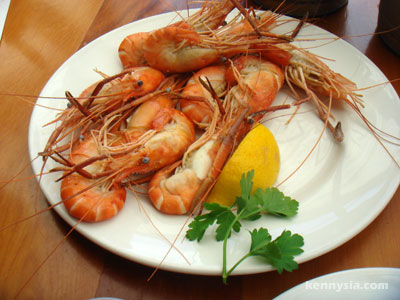 Prawns are so expensive here in New Zealand because the country does not have the warm climate necessary to breed prawns naturally. The Kiwis had to import heaps of them from Malaysia and other countries.
Not far away from the prawn farm is a place I totally recommend visiting if you're around the region.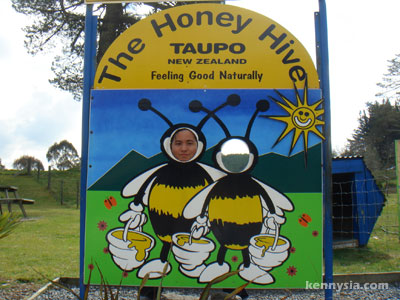 The honey toast here is absolutely heavenly. Thinking about their irish cream honey fudge still makes my mouth water till this day.
New Zealand has some of the world's best-tasting honey. So good that Amway has begun to import them and sell them for RM100 a jar. Ridiculous.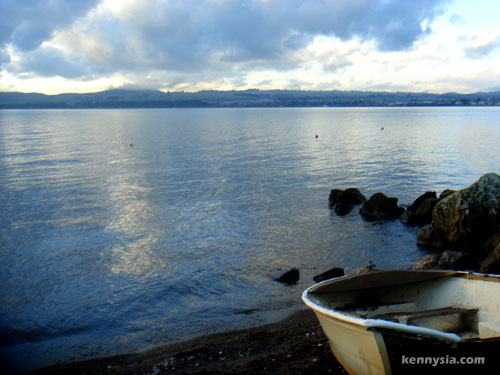 We finally reached the lovely town of Taupo in the evening. The views here are breathtakingly gorgeous.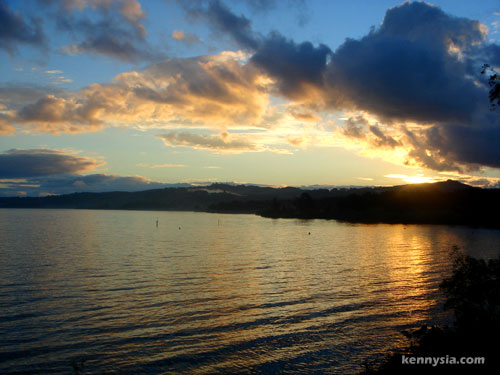 The centerpiece attraction here is Lake Taupo, a large freshwater lake approximately the size of Singapore that was created following the collapse of a super volcano thousands of years ago.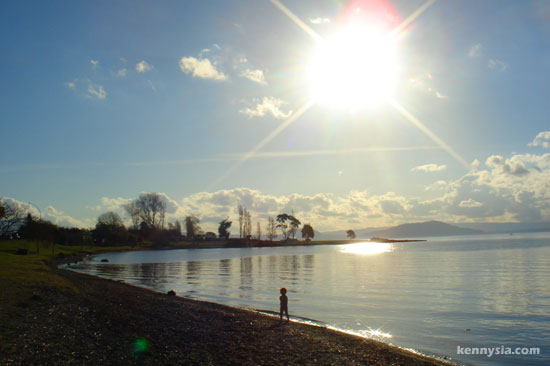 Every photo I took here is postcard quality, thanks to the panaromic views of the lake and mountains. It's no wonder this place is one of the most popular tourist destinations in New Zealand North Island.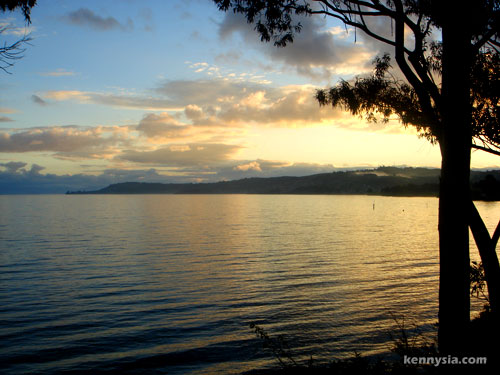 They say the further south you go from New Zealand, the better the views are. I certainly cannot argue with that.
For a change, we decided to do homestay while in Taupo. Our hosts are a 78-year-old couple who live alone with their two dogs and rent their spare rooms out to holidaymakers.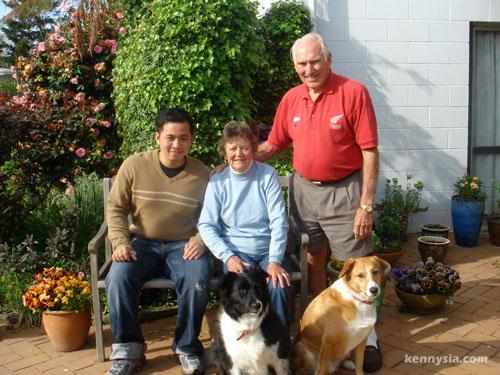 It's not everyday I share the same roof with someone also on Wikipedia with me, eventhough he probably doesn't even know he's in there.
The patriach of the family John Reid is a former captain of New Zealand's cricket team, and from what I heard, is quite a legend himself. Too bad the only cricket I know is the one that makes a lot of noise in my backyard at night.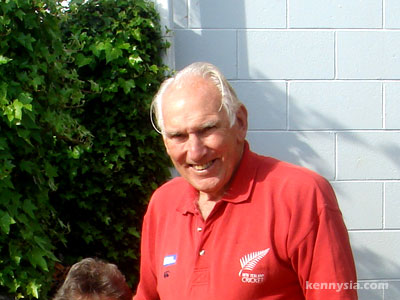 I could tell our presence was a welcome break from their loneliness.
Over breakfast I told the old couple that I'm working in IT. They didn't understand what "IT" means. I had to explain to them that it's "stuff to do with computers". John's eyes lit up immediately and he explained to me this nagging tech problem he's having.
"I have this mobile phone that used to ring, but now it doesn't ring when people call. Because of that I haven't used it for 6 months already."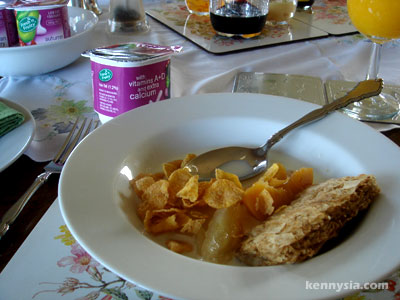 It took me 2 seconds to change the phone profile from silent back to normal. When his phone rang for the first time in 6 months, John was so happy he danced to the ringtone.
It's a great feeling when you can make old people laugh and dance.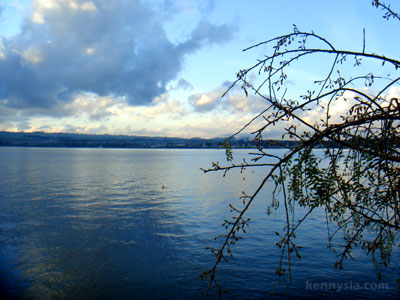 Staying with them was definitely one of the highlights of my trip. The old couple treated us with such warmth and hospitality. When we're about to leave, they almost forgot to ask for payment.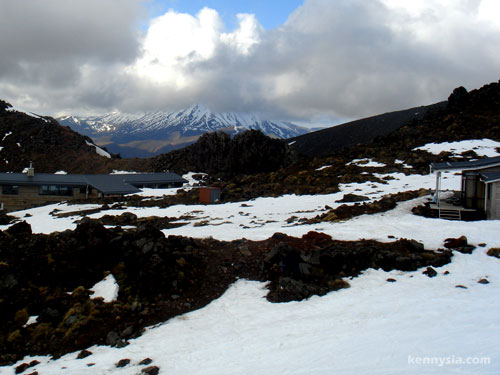 From the Reid household in Taupo, we drove a further 1.5 hours south up to the Whakapapa Snow Fields for some skiing action.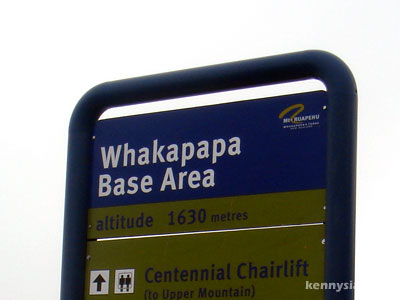 "Whakapapa" is a Maori word. In Maori, "WH-" is pronounced "F-". So "Whakapapa" is pronounced "Fucker Papa".
Serious.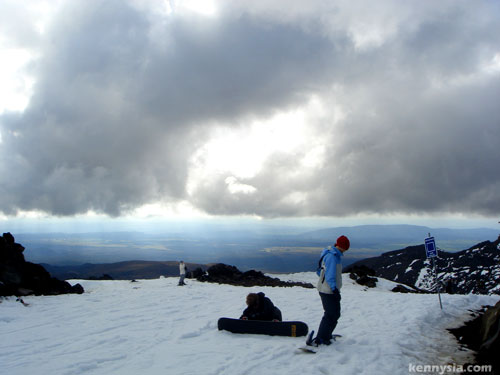 Unfortunately God wasn't on our side. Winter has already ended. The snow levels at the ski fields were kinda low and protuding rocks were everywhere. Very dangerous.
I skied around a bit, then decided I'd be too much of an idiot to risk breaking a bone for a moment of fun. So instead, I indulged in the safer sport of camwhoring.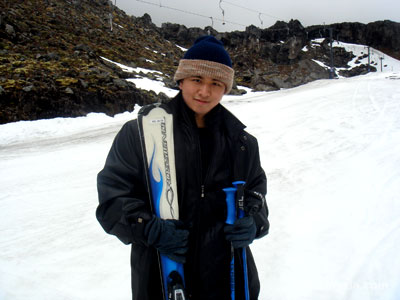 And some more.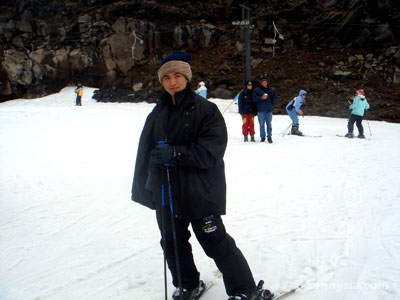 And a bit more.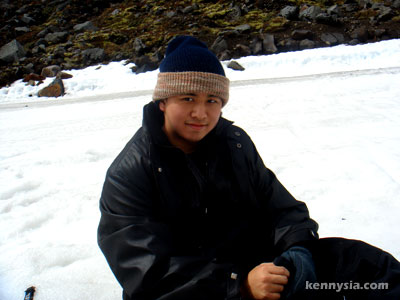 Then I realised I was looking damn gay. So I stopped what I was doing just drove all the way back to Hamilton, concluding our memorable, exhausting yet exhilirating NZ North Island trip.

The response to my birthday party was quite overwhelming – almost 250 people have confirmed that they're coming. I was expecting only 100! Because of this I'm forced to make some changes. In an effort to save some money promote responsible drinking, I'm gonna have to limit all invited guests to one alcoholic beverage per person on my tab.
Non-alcoholic drinks are still free flow though. And still, it is gonna be The Most Awesomest Birthday Party™ ever. 😉