A lot of flak has been given to our Science Ministry for sending a Malaysian astronaut into space to make teh tarik for the Russians.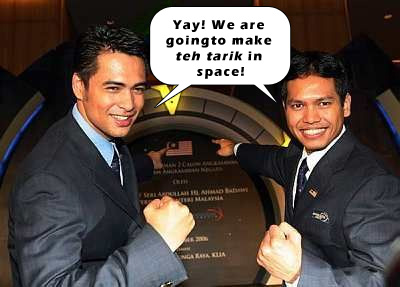 A lot of flak has also been given to me for poking fun at Malaysia. But sometimes, it's not that I wanna joke about my own home country. Sometimes, the jokes just write themselves.
In Malaysia's defence, we're not the only country with the dubious honour of being admitted into the 'Odd News' section of world newspapers. Recently, it was reported that a zoo in our neighbouring Thailand ran into some problems with the two pandas they're taking care.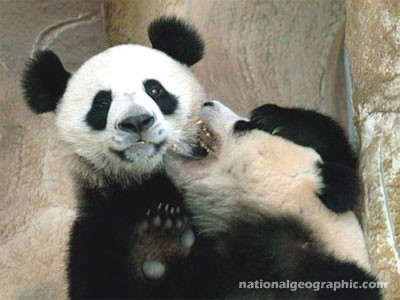 Apparently, the Thais have this two pandas, a male and a female, for four years. All these while, they are trying to push the two of them together, so they could produce some baby pandas and spur on the population of this endangered species. Alas, four years has passed, and nothing happened. Try as they may, the male panda simply cannot get horny enough to hump the female panda.
It then occurred to the Thais that it is very possible that the male panda does not even know the art of making love!
So what the Thais are gonna do – and I'm seriously not making this up – is to screen "PANDA PORN".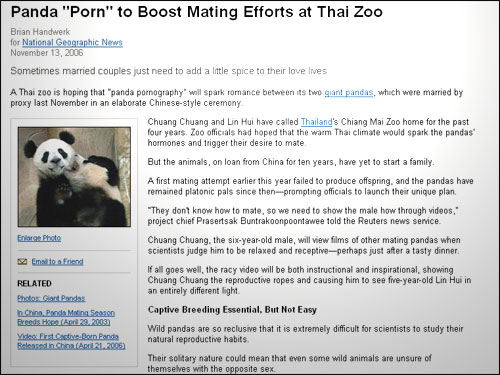 You don't get to say the words "panda porn" very often.
How it has come to this, I have no idea. I thought animals are naturally born to know how to have sex. Apparently that is not the case.
Heck, even as humans, some of us don't know how to have sex. Sex education in Form 3 has never been explicit, Malaysian film censors always cut out juicy parts of movies and sex still remains a taboo topic in today's society.
If it weren't for the occassional glimpse of underground porn videos on the Internet that everyone would have come across at some point in their lives, I bet Malaysians would end up as an endangered species, next to pandas.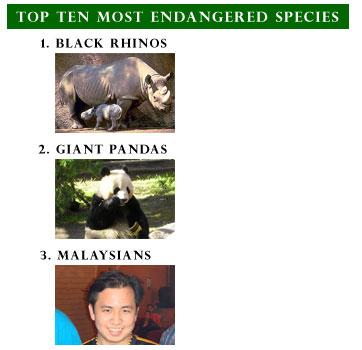 God knows why the two stupid pandas don't wanna have sex. Maybe the male panda just didn't wanna sleep with his housemate. Or maybe they just feel awkward together. Everyone knows that when you try to force your male friend and a female friend together, it never works out.
To their credit, the Thais had probably tried other things in their power to make the male panda horny.
The Thais made him listen to raunchy hip-hop music, but the clueless panda must've thought 50 Cents' "Candy Shop" meant sweets and lollies. They brought him to visit the topless bars in Bangkok, but the male panda is not interested – female pandas walk around with no clothes on all the time!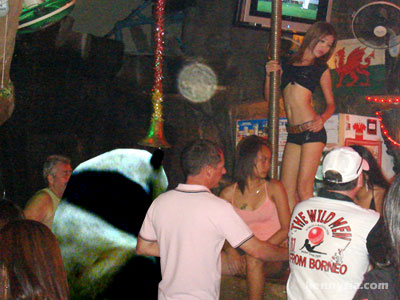 When push comes to shove, the zoo had no choice but to ring up Discovery Channel and say "give us your hottest panda sex making tapes, RIGHT NOW".
I can't even imagine how "panda porn" is gonna look like.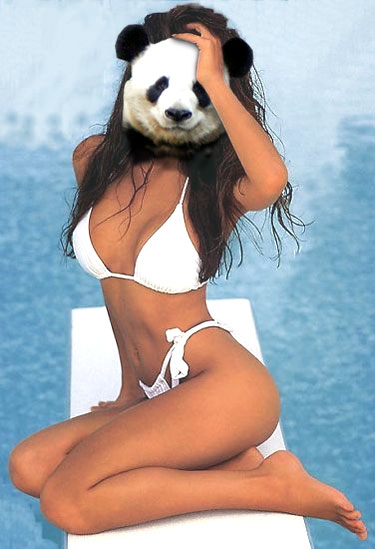 Oh my.

It is one of my favourite entries and the poll clearly shows that it is everyone else's favourite too. Congratulations iwilleatyourpetfrogalive, you have won yourself a brand new LG White Chocolate!