A few weeks ago I was in Bangkok, Thailand on the invitation of The 8 Unit and Pepsi Malaysia.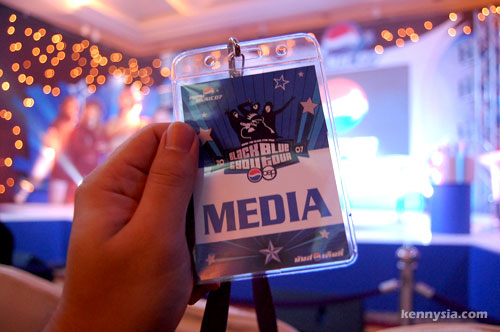 It was a media trip and I was tasked to cover the Black Eyed Peas in concert. For someone like me who's not even considered an entertainment reporter, obviously I was very excited. How often do I get the chance to watch such a huge international pop group perform live AND be allowed to take all the photos I want, right?
For Suki and Faizal, they got it even better.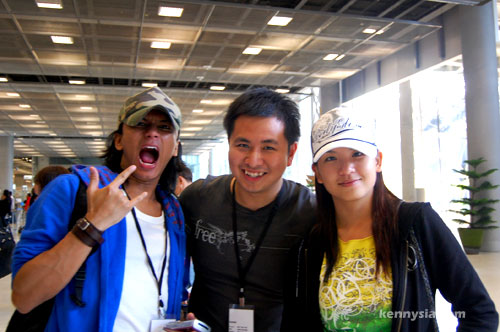 Suki and Faizal took out the first and second places on 8TV's One In A Million, and since then life hadn't been the same.
The two of them were only just getting used to their new-found fame, and already Pepsi has snapped them up to become their official brand ambassadors in Malaysia. That is good news for them, because The Black Eyed Peas are also Pepsi's ambassadors.
During this trip, not only would Suki and Faizal be meeting their idols up close and personal, they would be doing the one and only interview the Black Eyed Peas have agreed to for their Thailand tour.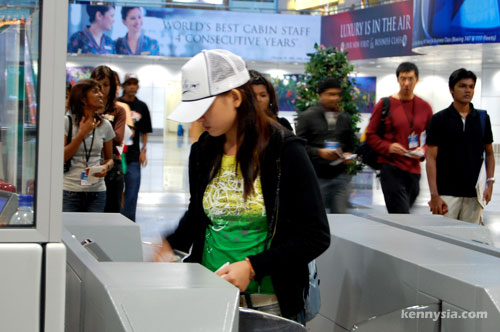 We knew this trip was gonna be a memorable one. But even before we left the gates of KLIA, we were already met with some dramas.
You see, Faizal said he was so excited he didn't sleep the night before. That's understandable. But apparently the guy was so over the top about the trip, he had completely forgotten about the "no liquids on international flights" security rule.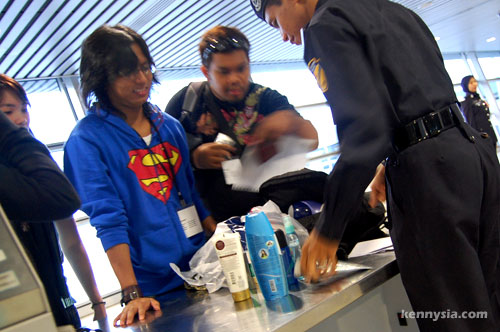 Inside his hand-carry luggage, the bugger packed: a water bottle, perfume, toothpaste, SHAMPOO, three different types of hair creams and (I'm not kidding) A FREAKING HAIR DRYER. With so many prohibited items on board, obviously he kena stopped by security lah!
I can understand the perfume and the water bottle. But what the heck was he thinking bringing a HAIR DRYER on board?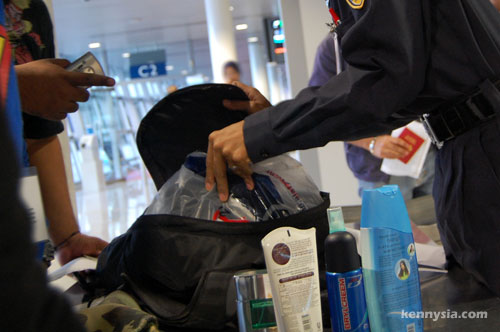 Needless to say, most of his stuff was confiscated. Fortunately though, Faizal's hair dryer managed to escape unharmed.
THE HAIR LIVES.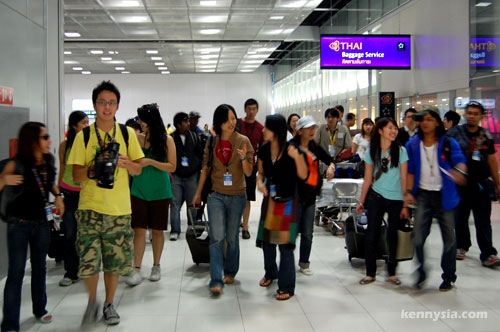 So anyway, after that silly incident at the airport, the group of us finally arrived at Bangkok Suvanarbhumi Airport together with the 8TV contest winners and corporate sponsors .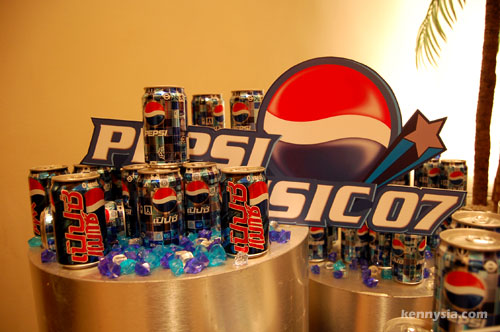 We were whisked away to the JW Marriot Hotel where the Black Eyed Peas was scheduled make their media appearance. Suki and Faizal went to the holding room to prepare for their exclusive interview.
Meanwhile, I was joined by other journalists in the press conference room.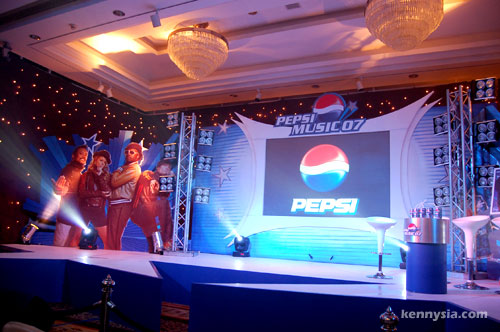 You could feel the electricity in the air as the anticipation mounted on the arrival of The Black Eyed Peas. I could feel I was literally shaking in my seat, and it ain't 'cos of the Tom Yam Goong I ate earlier.
It is 'cos this is the first time I'd be meeting a band of such amazing calibre.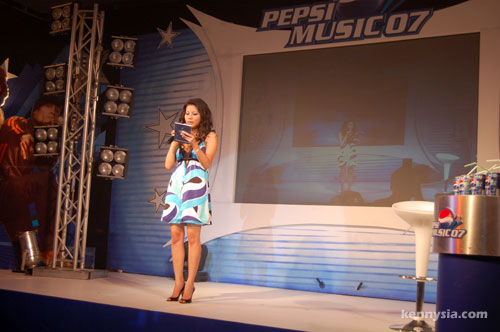 Before long, the beautiful Thai emcee walked up on stage and spurted out a series of kaps and kongs and a string of other Thai words I couldn't comprehend.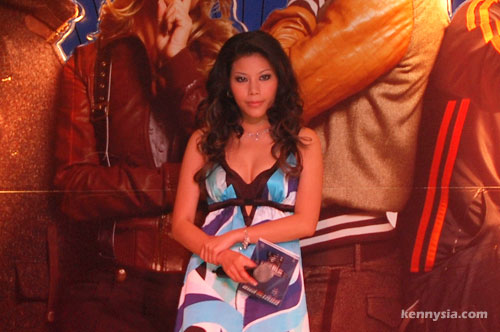 Whatever man. With a body so hot liddat, she can kong whatever she wants and I'd be happy to kap it anyway.
But sexy emcee aside, the highlight of the press conference was of course…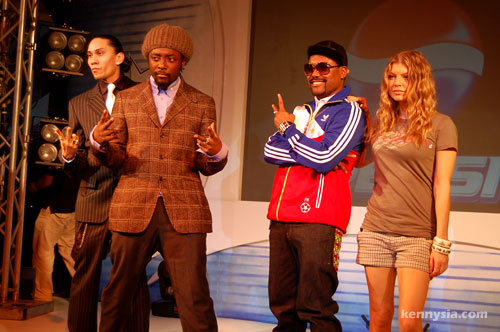 THE BLACK EYED PEAS.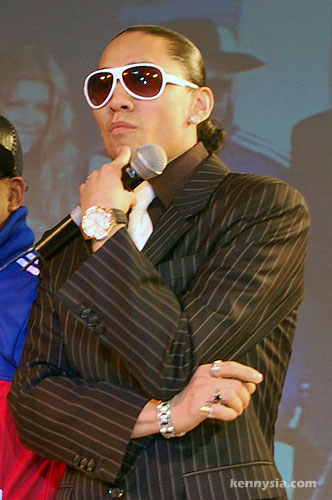 TABOO!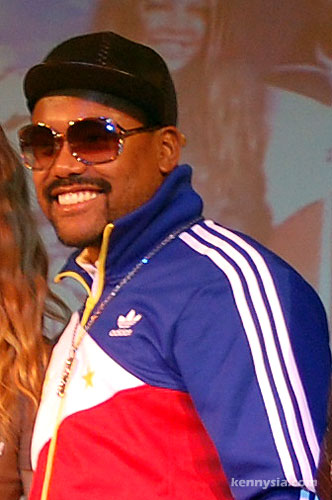 APL.DE.AP!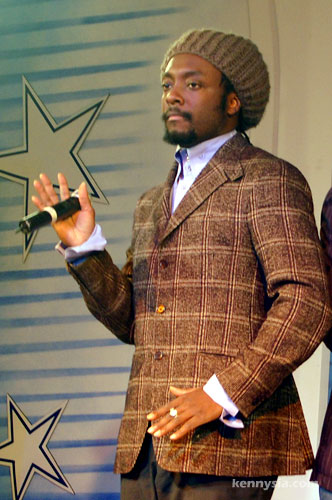 WILL.I.AM!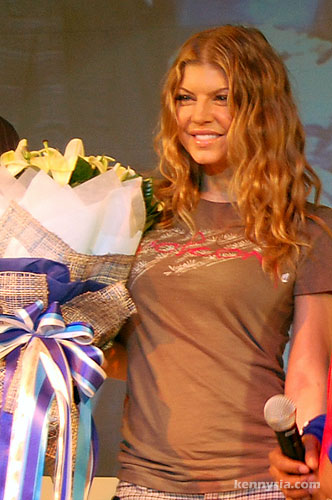 FERGIE FERG, what's up babyyyyy???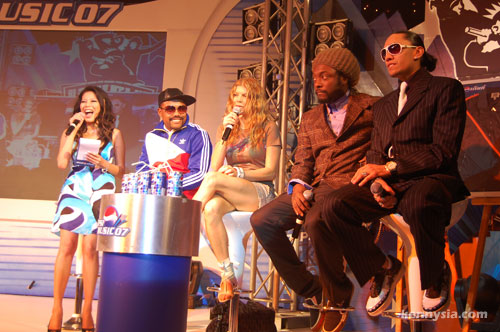 How many number one hits have they accomplished.
How many times have we danced to their music.
How many times we listened to their songs, from Let's Get It Started, to Where Is The Love, to MY HUMPS. OMG.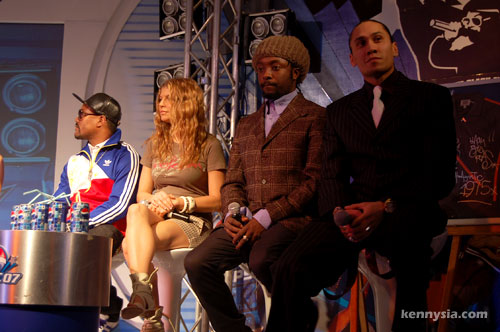 It was such surreal feeling to see them appear in front of me, in the flesh just like that.
When you talk about music artistes that have achieved international stardom, you think about Britney Spears, you think about Justin Timberlake, you think about the Black Eyed Peas. If I have never been starstruck before, I am now well and truly starstruck.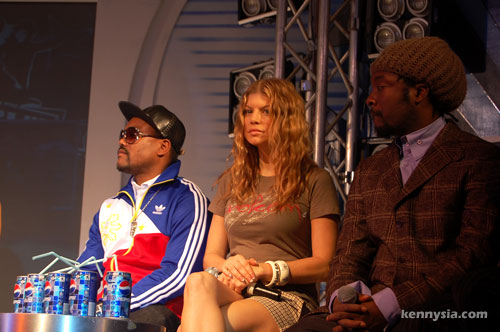 Fergie may appear to be the most successful out of the group, but will.i.am is definitely the brains behind the Peas.
The guy is just the epitome of coolness. If anyone knows cool, it's him.
will.i.am would hardly crack a smile, and when he does, it's a smirk. The entire time he's on stage, he was completely calm, collected and confident.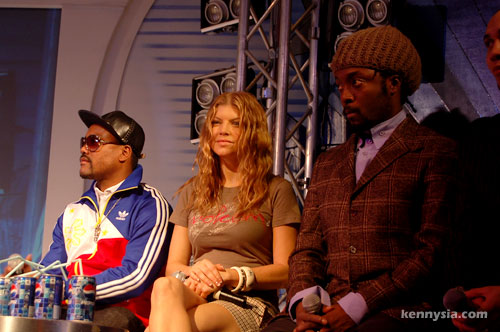 Still, the guy can be goofy without even trying.
Fergie, on the other hand, was everything I expected her to be, and more.
I've listened to her interviews before, and one thing that always struck me was how honest and down-to-earth she is despite her success. Normally, mega-stars would be deliberately try to avoid answering difficult questions.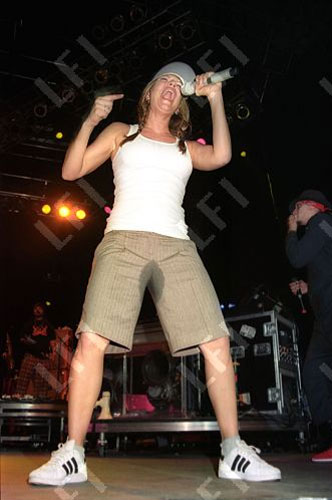 But not Fergie.
Ask her about anything. From her crystal meth addiction in the past, to this one time she peed in her pants on stage, Fergie would tackle all those questions with nothing to hide.
How not to admire her like that?!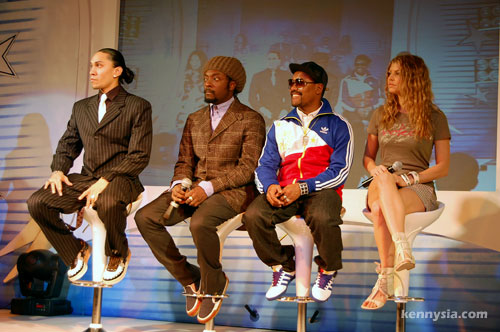 One thing I didn't quite understand though was the local Thai media.
Opportunities like these don't come easy, and normally you'd see tons of photographers stacked out on the front of the stage. But for some reason, the Thai photographers and reporters were all seen quietly sitting at the back of the room.
It was as if The Black Eyed Peas was their high school teacher who would ask difficult questions if they do not paying attention. The military junta sure has an effect on its people's obedience.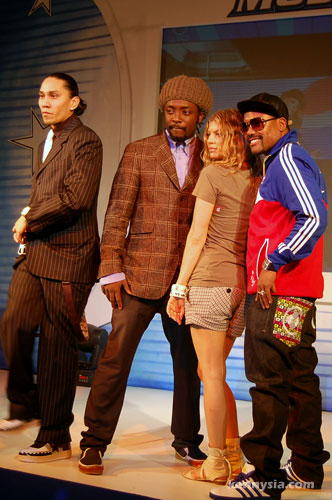 So while the rest of the media cowered at the back, I strutted up to the front and took an empty seat on the first row labelled "VIP". Not like there was any security to chase me away. 😉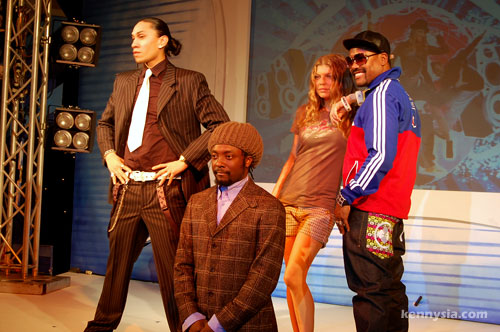 I ended up with some of the best photos from the press conference.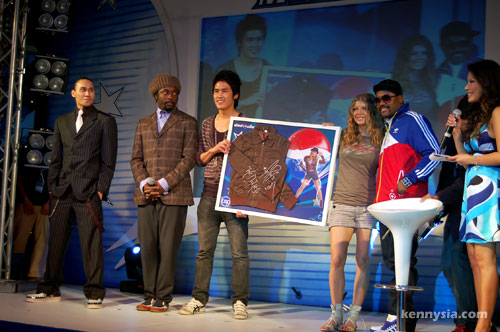 The Black Eyed Peas presenting an autographed memorabilia to a charity auction winner.
The money they raised go towards helping disadvantaged children and tsunami-affected villages.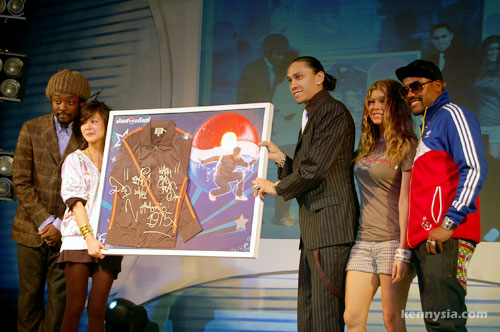 I caught up with the charity auction winners after the press conference, and they said they've paid 30,000 baht (RM3,000) each for a jacket from Fergie and Taboo!
That is just… incredible.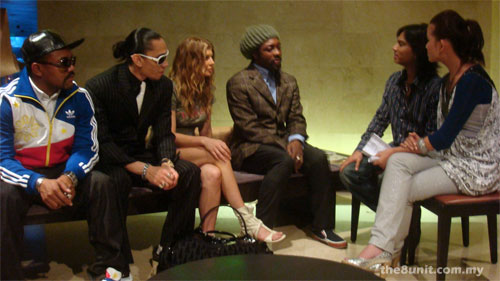 The best part of the evening gotta be when I returned to look for Suki and Faizal after their exclusive interview.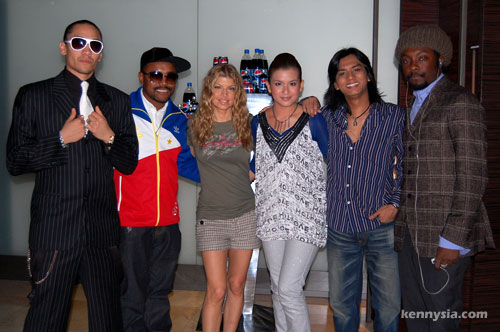 As it turned out, the Peas were still hanging around the room after they concluded the interview. I was lucky enough to catch them before they leave.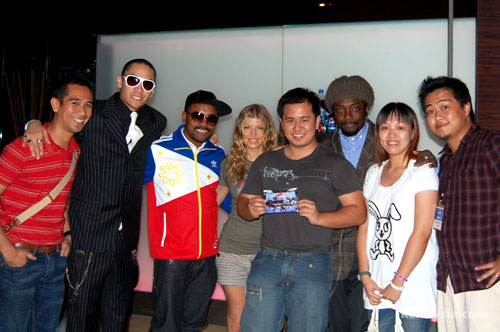 Knowing that this was probably my one and only chance to make an impression on Fergie, I seized the opportunity to hold her hand and say to her.
Kenny: Hey Fergie! I love your music!
Fergie: Thank you!
Kenny: …
Kenny: Umm… yay?
Ok fine, so it didn't work out quite as well as I hoped for.
But that's alright.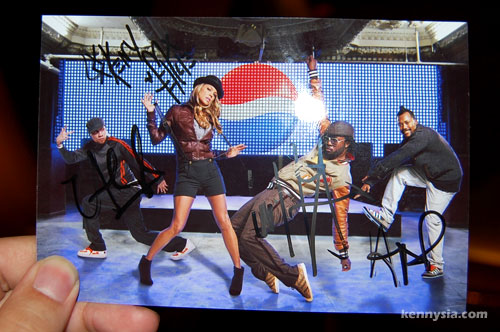 At least I got an autograph from all four of the Black Eyed Peas! 🙂

Eddie, the guy who challenged me to do my first marathon sent me a gift all the way from the US. With it is a note says "Either continue running marathons. Or wear this for life!"
When I saw what he actually gave me, I laughed my heart out. Thanks Eddie!