Gorgeous Mia Tan told me about a shop claiming to offer authentic Kuching Kolo Mee near her place in Orchard, so we made a date to pop in there one evening to have a look.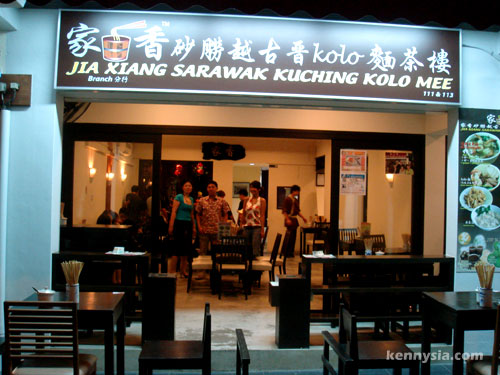 Kolo Mee is such an inseparable part of the whole Kuching culture. Ask any true Kuchingnite living overseas what they miss most about their hometown and they would all invariably say,
"Kolo Mee… Laksa… Tomato Kueh Teow…"
"How about Mommy and Daddy?"
"Oh ya, almost forgot! Mommy and Daddy too!"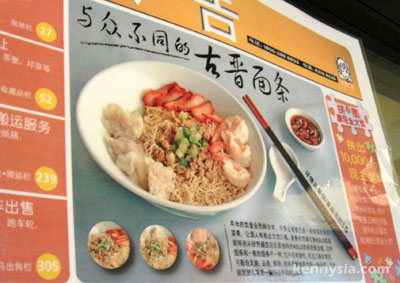 We Kuchingnites LOVE our Kolo Mee. No, it's not the same as Wanton Mee in the Peninsular or Char Siew Mee in Singapore.
Our noodles are firmer, curlier and tastier than our western counterparts. The noodles are quickly cooked in boiling water, drained then 'dry-tossed' (hence the name 'kolo') in a bowl containing a concoction of soy sauce, char siew oil and fried garlic oil for the extra oomph!
The result is a delicious, aromatic and addictive bowl of noodles that's good to savour anytime of the day.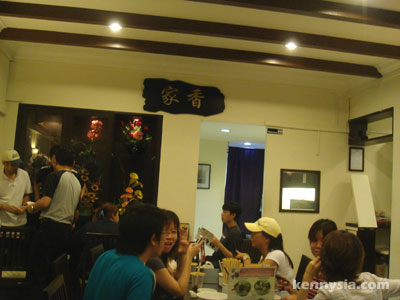 Jia Xiang Sarawak Kuching Kolo Mee is a fairly new chain of restaurants by a Kuchingnite living in Singapore. They pride themselves being the first in Singapore to offer the signature dish at their outlets, with the noodles specially air-flown in from Kuching to guarantee authenticity.
Their restaurants must be doing quite well from what I can see. We were there a bit past dinner time at 7:30pm and the tables were still about 80% full. Either there are lots of Kuchingnites in Singapore, or Singaporeans are starting to warm up to our yummy delicacy.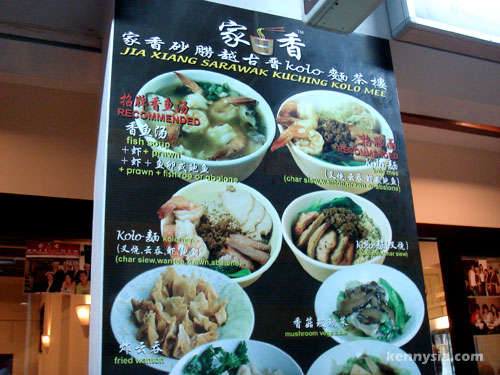 Jia Xiang seems to have gotten a bit creative with their menu. Their recommended dish is kolo mee in soup or topped with prawn and abalone.
I don't think there's anyone in Kuching who eats kolo mee with abalone. 😐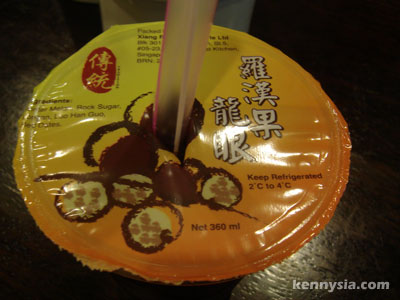 As far as I'm concerned the "default settings" for kolo mee is dry, topped with bak chor (pork mince), steamed vegie and char sio (BBQ pork). Anyway, that's what we ordered instead of their recommended dish.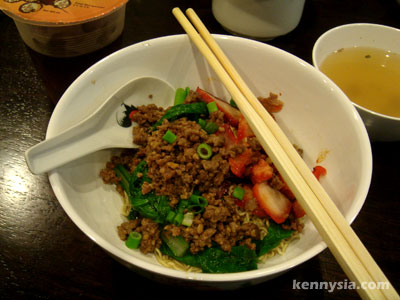 This is Singapore Jia Xiang's version of the Kuching Kolo Mee (SGD$ 3.90 / RM9)
Compare that to the RM2.20 Kolo Mee you can get anywhere in Kuching.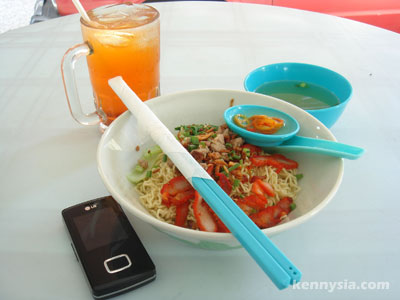 I say it's pretty good.
One bite on the noodles… once the taste engulfed my mouth and immediately I knew I've got authentic kolo mee right there. This is it! This is what I've been eating growing up, people! Of course, I know.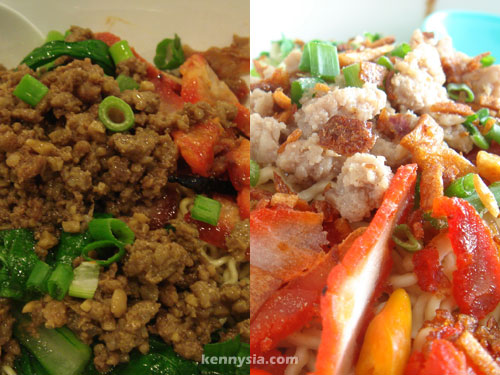 I do have some minor gripes like the amount of bak chor was a bit too much, a bit too dark and the vegies tasted a bit different for my liking, but overall it's pretty close to the real deal.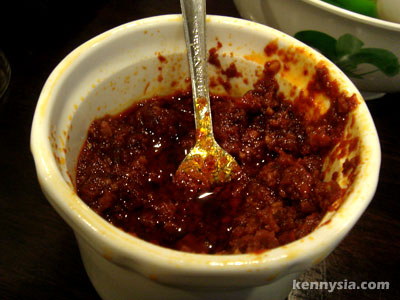 I cringed a bit when I saw Mia and Eugene mixing their Kolo Mee with sambal. I'm not sure why Jia Xiang done it that way, probably to cater to local tastes, but this is the first time I've seen sambal offered as the default condiment to kolo mee.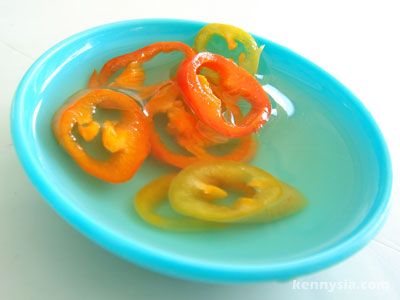 Over here, we eat it with seasoned cut chillis. I think they do offer cut chillis as options. It's just puzzling the sambal is there by default.
Another thing that came across as bizzare to me is the decor.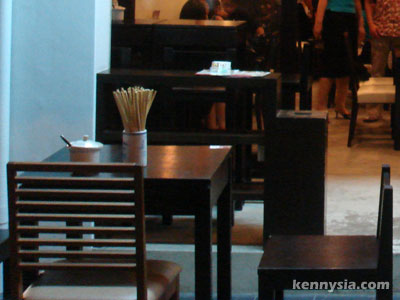 It's odd that for a restaurant serving Sarawakian food, the interior is furnished with ancient Chinese furniture. Most of the staff they employed are from mainland China (as evident from their distinctive accent) and they're even dressed up in traditional Chinese restaurant workers outfit.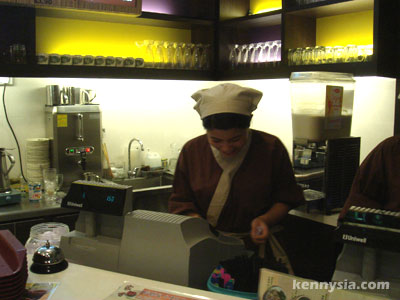 What's up with that? What if people think Kuching is not in Malaysia, but in China? Then how?
Will I still be asked to "drive down the causeway from Kuching to Singapore" by my less-informed friends?
I do have to give Jia Xiang full marks for one thing though.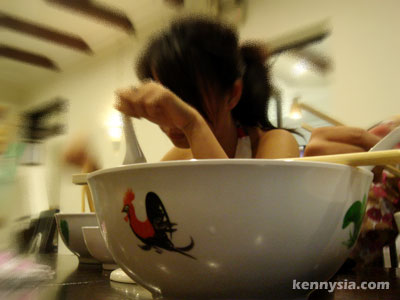 OMFG! It's the CHICKEN BOWL!
This is the definitive but often omitted ingredient to a good bowl of Kuching Kolo Mee. I don't care what you put inside, it is NOT Kolo Mee if it's not served inside the chicken bowl!
Everything tastes better in the chicken bowl.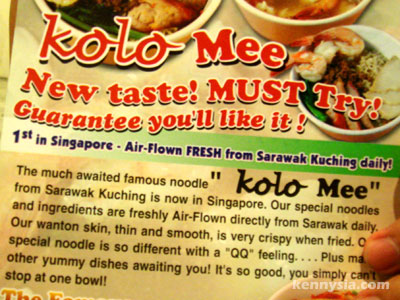 Apart from a few oddities I'd still call it a true blue Kolo Mee experience at Jia Xiang. The noodles itself is 100% authentic and a definite must try. The decor, toppings and condiments (sambal wtf?), I'm not too sure.
Overall, it passed the kennysia.com authenticity test and I'm giving it a generous 7.5 out of 10. Just remember not to take kolo mee with sambal.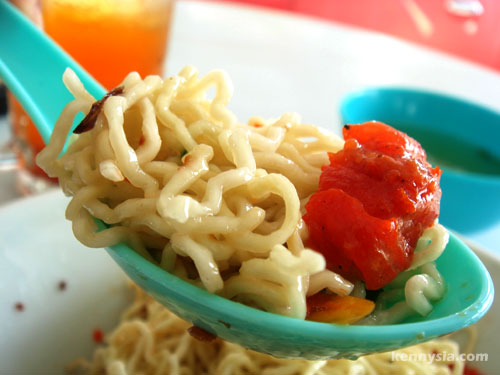 Want some?

This has been going around from inboxes to inboxes, but just in case you haven't seen it, here are some important rules for women during the FIFA World Cup 2006.