I fly to Singapore quite regularly.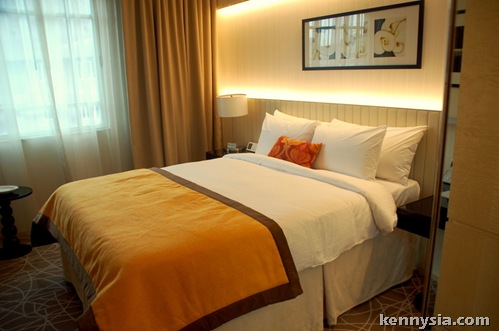 There are normally two types of places I stay at everytime I head down there.
If I'm lucky, then some benevolent company inviting me to attend their function in Singapore would pay for my stay in some spanking 5-star hotel so freaking expensive, it would've cost the equivalent of my left testicle.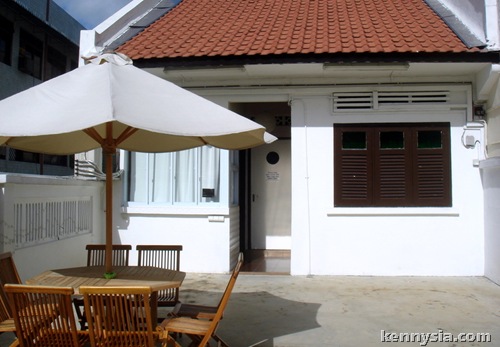 But if I'm not-so-lucky, then I would've to pay for my own accommodation in Singapore. And I usually stay at One Florence Close in Kovan where it's cheap and clean.
Right across from where I stay is a kopitiam with a red sign board called "Punggol Nasi Lemak Centre".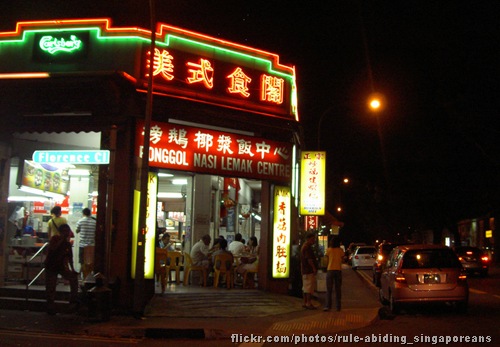 Don't be fooled  by the word "centre" in it's name though.
When I saw the name, I half-expected it to be something big, like a medical centre, shopping centre or a err… health centre. But really, Punggol Nasi Lemak Centre is just a glorified name for a nasi lemak stall from Punggol.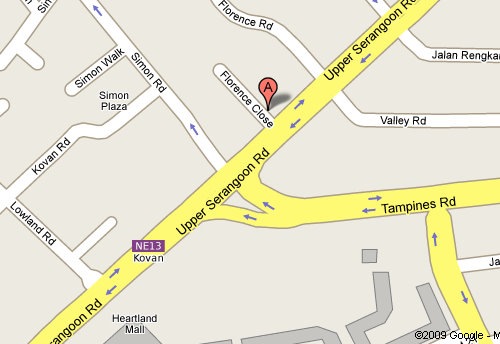 Despite passing by the place so often, I never really ate there because hey, I live in Malaysia, and nasi lemak is quintessentially a Malay dish. How could a stall operated by a Chinese selling nasi lemak in Singapore possibly taste any better, right?
That would be like going to Japan and saying Sushi King makes better sushi.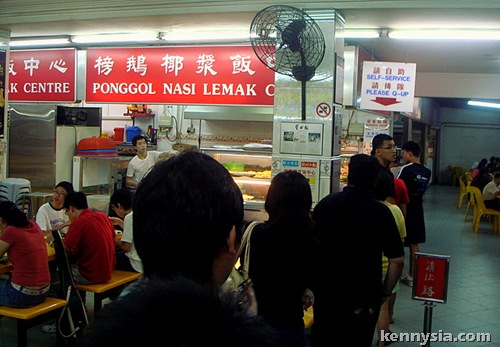 What eventually changed my mind was when I came back from clubbing one evening, and noticed this a huge stretch of queue extending from the stall all the way out to the road.
From my experience, I know that Singaporeans only queue for three things:
1. Louis Vuitton.
2. Hello Kitty.
3. Something really really good.
Given the absence of an overpriced monogram handbag or a cat with no mouth, I think it is safe to assume that Punggol Nasi Lemak falls under to Category 3. Something really really good.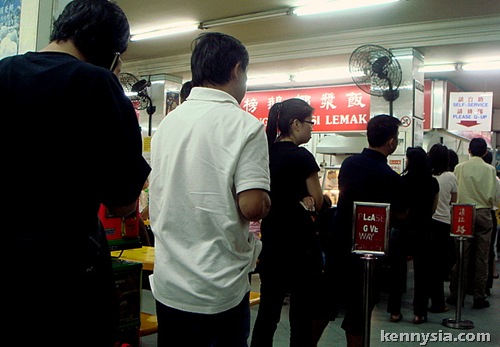 And it was damn good alright. In fact, it was possibly one of the best I've had.
Unlike in Malaysia where our nasi lemaks are pre-packaged at RM1 each wrapped in old newspaper, at Ponggol Nasi Lemak, they do it Nasi Kandar-style.
That means you have to go up to the counter and tell them which side-dishes you want to go along with your rice.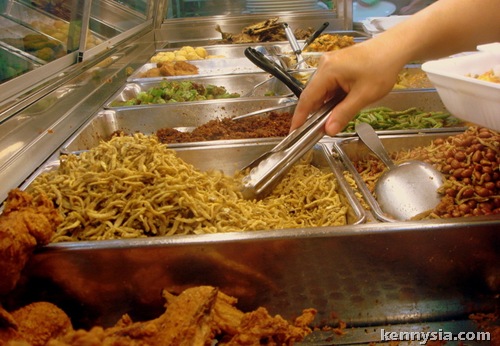 There's a wide variety of choices: ikan bilis, fried chicken, tempura prawns, sotong balls, long beans, otah, acar, peanuts, fried egg, curried vegies, etc just to name a few.
After you've made your selection, they'll then slather on a slab of sambal and put two slices of cucumber on your plate. But if they like you, then sometimes they'll put three slices of cucumber. Like me!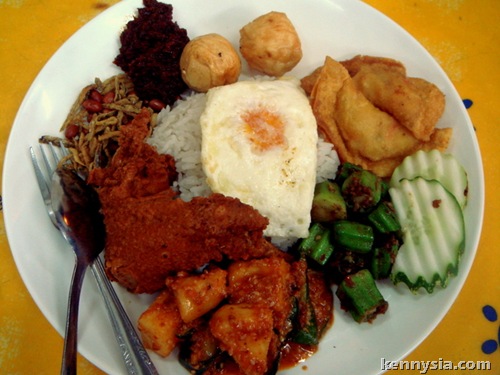 This is what I've chosen to go with my dish.
Clockwise from that delicious piece of fried chicken wing, there's the ikan bilis with peanuts, sambal, two sotong balls, fried wanton, cucumber, sambal lady's finger, acar and a beautiful piece of fried egg right in the middle. All together, they cost close to SGD$8 (RM20), which is freaking pricey for a nasi lemak. But damn, it was well worth it.
If you're not sure which to choose, you can't go wrong with the fried chicken wing and acar. Those two go exceptionally well with the fragrant rice and sambal.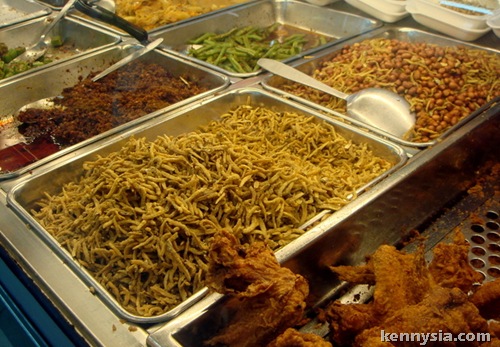 As a testament to how good Ponggol Nasi Lemak is, they even have to put up this notice in the newspapers.
Apparently, some competitors have been copying their namesake to fool customers into thinking that they're the same company.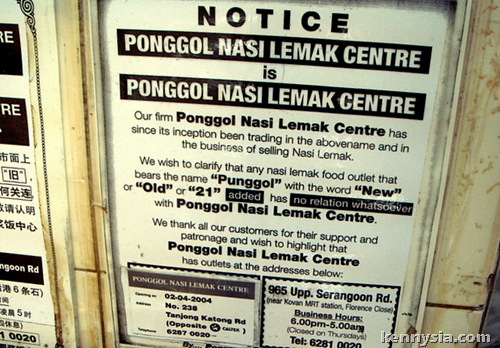 Nowadays, even nasi lemak also got pirated one.
"The Government is launching a Buy Malaysian Goods campaign to boost domestic economic growth in the face of the global economic meltdown."
Hello! Even your councillors are buying Mercedes instead of Proton, ok?