Kids these days.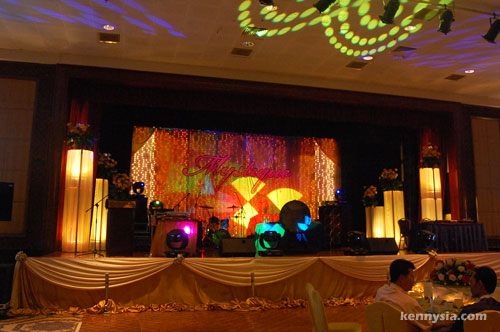 When I was in Uni, going to a prom means going to some boring overrated dinner at some boring 5-star hotel hosted by some boring emcees.
The old tired formula NEVER EVER changes.
Recently, when the organizers of the MMU Melaka Mystique prom night called me up inviting me to be a guest at their event, I was pretty much anticipating the same thing.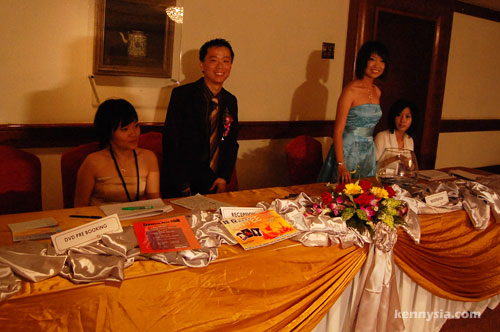 My expectations weren't high. To start with, the prom was organized collectively by three student societies, namely the Business & Law, Engineering and IT societies of Multimedia University.
I have been to many events organized by students before. I know what it's like.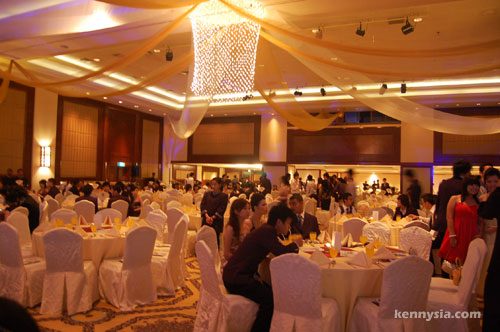 I wasn't expecting anything extraordinary like some stylo mylo VIP corporate event. Because let's face it lah – this event is organised by Uni students.
Students don't have much money to spare.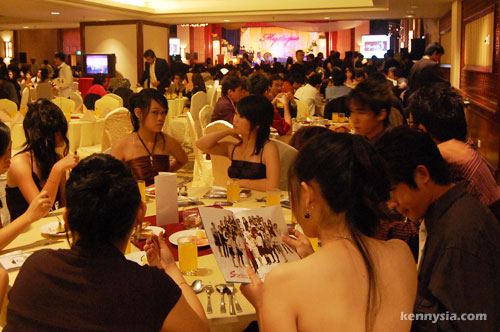 I know that because when I was in Curtin, I used to organize a lot of events myself.
One of the biggest problems we as students always run into is: NOT ENOUGH $$$$$. It's damn near impossible to extort… extract money out of our sponsors because they never see much benefit in doing so.
On top of that, it's difficult to get anyone to come to our events because we were so crap in our job.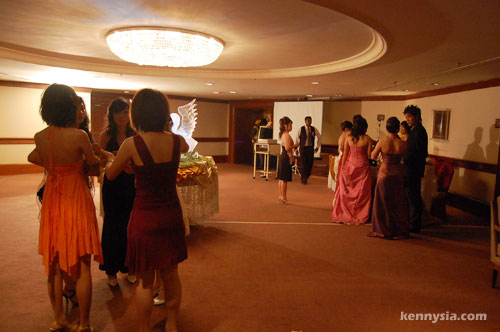 So imagine my surprise when I found out that not only was the prom fully sold out in two days, these kids have enough money to rent out the entire Grand Ballroom at the Equatorial Hotel Melaka, hire Soo Kui Jien, Stephanie Chai, Estraged, Pop Shuvit and myself to provide entertainment, and STILL have enough money left over to donate to World Vision for charity!
Kids these days are sooooo lucky ok.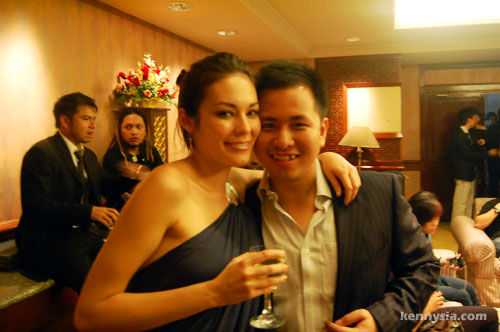 This is the vivacious Stephanie Chai.
She's one of the few Kuching girls who's doing exceptionally well in the KL entertainment circles.
Most people would recognize her from the countless magazine covers that she has graced, but lately I get to see her a lot because of that ad she did with Starhill Gallery which is always playing at the KLIA Express train.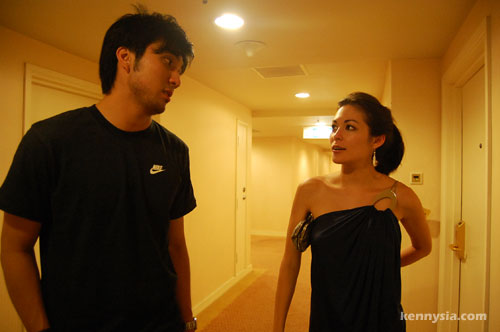 Steph and I shared a car from KL down to Melaka. Not only is she the most down-to-earth celeb I've met, she's a fantastic companion to travel with as well.
Throughout the trip, we swapped stories about Kuching, people we know, our jobs and our relationships. It made the two hour long journey seems a lot a shorter than it is.
Unfortunately, I was the one driving and we arrived late. It's all my fault because of my super l33t na\/iGati0n skillz that even saw us ending up in a police station compound after making a wrong turn.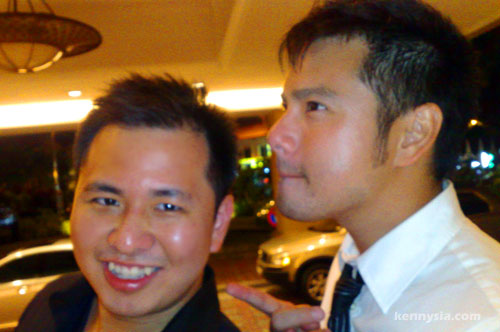 This is Jien, host of Malaysian Idol and most recently ESPN Star Sports.
I don't like him.
Many times during the prom, there would be some hot chicks standing in a corner, giggling and pointing towards my direction squealing "omg he's so cute!"
Then I would shyly wave back at them and smile, but they would not respond. Then I realised it was because Jien standing behind me.
That is why I hate that bugger.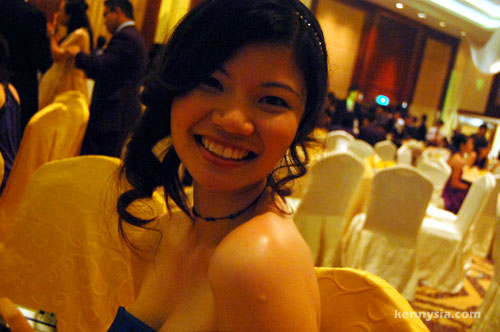 This is Renee. She is my prom date for the evening.
Coincidentally, Renee was also last year's prom queen. That's cool because it's not everyday you can get to date a prom queen, even if it's just for one evening. 😉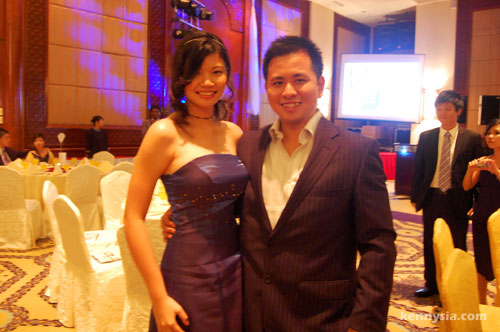 On the other hand, I was lousy as her prom date.
Not only did I arrive late, I forgot to give her the traditional corsage. And most of the time the prom date was left alone at the table while I was busy taking photos to use in this blog entry.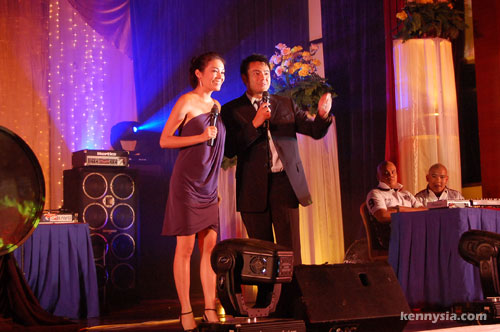 The organizers were right in inviting Steph and Jien to emcee the prom. They were both fantastic and entertaining throughout the evening.
Considering how little preparation time they had, they did such an amazing job. Stephanie especially was lamenting to me how unprepared she was. She was only told what to do when she arrived at the venue.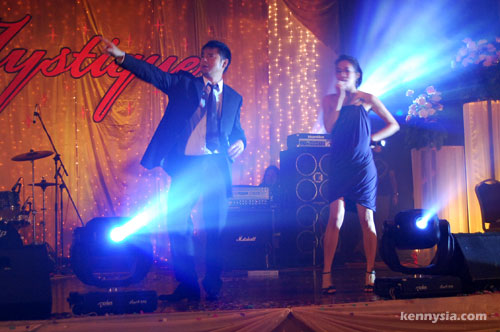 Those two joked, danced, made everyone laugh and injected life into the party. I wish I could do what they do. They were so natural on stage and not once did they stutter or skip a beat.
Except maybe for this one time when they asked the VIPs to go on stage for the gong-sounding, only to stop halfway because they don't know where the bloody gong was.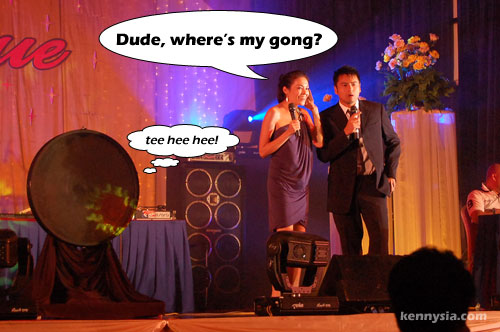 Ok lah, to be fair, that "thing" didn't actually look like a gong. It's not one of those heavy brass ones they use at Iban longhouses.
Still, it is a gong.
But it isn't just any gong.
It's a freakin' MULTIMEDIA SUPER DIGITAL GONG.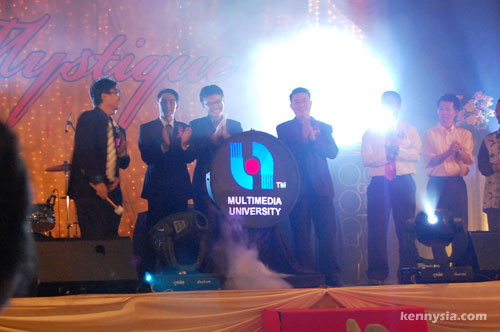 Dun pray pray ok. That thing is so CANGGIH it can project POWDERFUL laser out of its surface when they hit it with a stick.
Those crazy Malaccans. Always like to do things differently down there.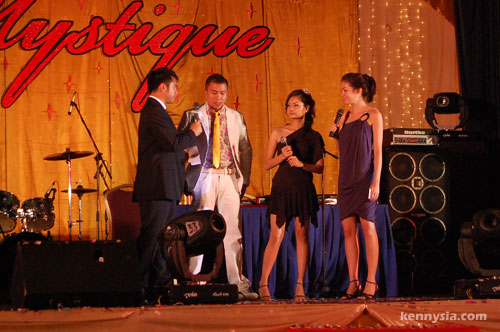 Soon, it was time to announce the nominees for Prom King and Prom Queen.
Now, here's the cracker. For Prom King and Queen, the nominees weren't judged by how they look or how well they're dressed. Instead, each nominee are required to go on stage and perform their "special talent".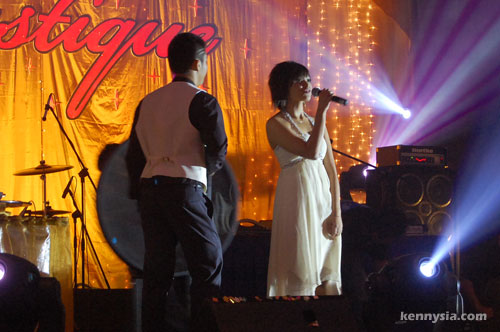 I gotta say, I was absolutely head over heels over how much effort each nominee put into their performances.
First up was Prom King nominee Q-bert.
Q-bert is a stereotypical engineering geek with a funny name and two botak lines on the side of his head (Jien described it as "No Parking" zone). For his act, he sung his lungs out like a reject on Malaysian Idol.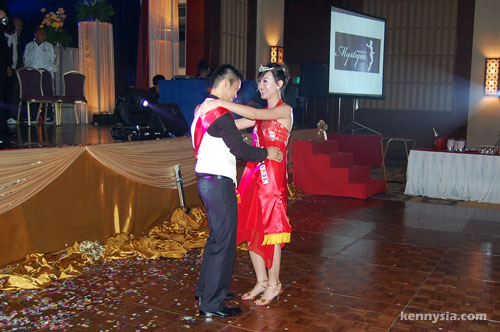 Next came Prom Queen nominee Joanne.
She came out and did what I thought was an extremely boring slow dance with Q-bert.
THEN SUDDENLY.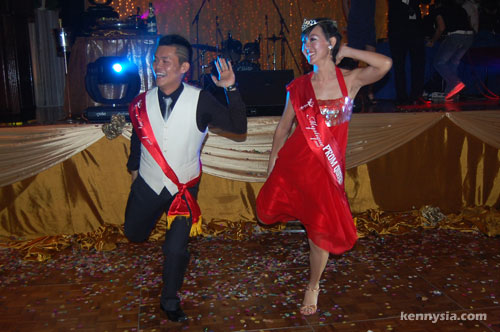 They broke off and abruptly changed into this energetic number to the catchy tune of "I like big butts and I cannot lie".
It was complete with dance moves so hilariously over-the-top I could not stop laughing the whole entire time. It was more "cheerleading" than "prom dance" and the crowd absolutely loved it.
Needless to say, those two won the titles of Prom King and Prom Queen respectively.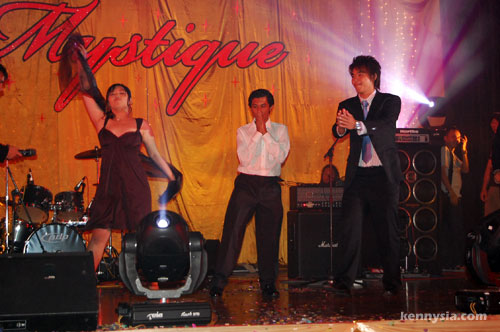 Q-bert and Joanne weren't the only notable dancers of the night.
For the award of the prom night's Best Couple, the crowd narrowed down the selections to two guys and one girl. Steph and Jien stipulated that there must be an impromptu "dance off" to determine which two should be crowned Best Couple.
Naturally, you'd think that the two guys would compete for female attention right?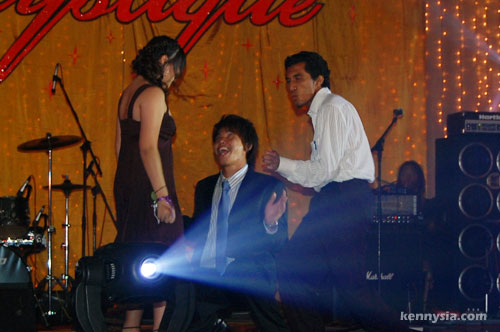 Wrong!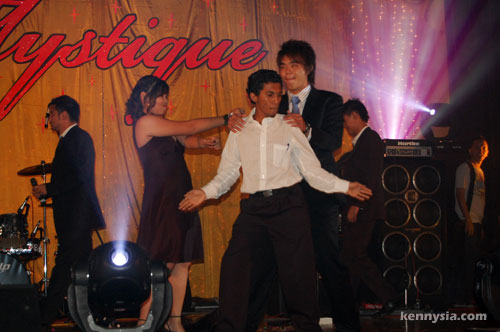 What happened instead was the poor girl being kicked to the side.
And the two guys danced with each other so passionately until their dance included THIS MOVE.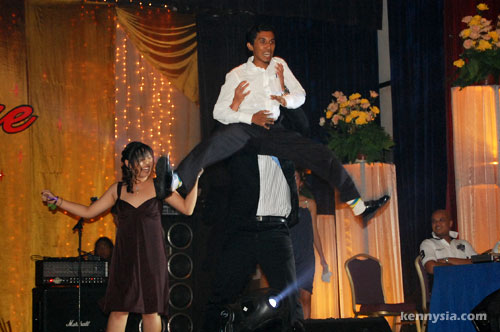 What the hell was THAT!
LOOK MA, IT'S THE PROM MONSTER WITH FOUR ARMS AND FOUR LEGS.
Ridiculous.
Everyone was so speechless they had no choice but to make those two winners for Best Couple.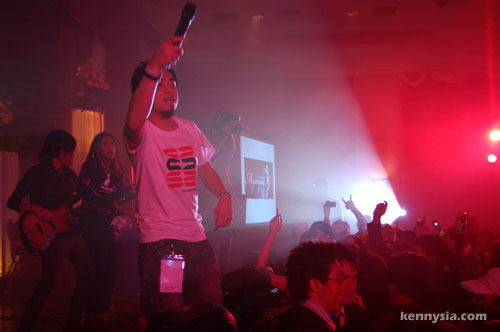 Good thing the night was saved by Pop Shuvit and Estraged.
If you don't know already, those two are among the best of the best live bands in Malaysia and they completely rocked those psychologically-traumatised students.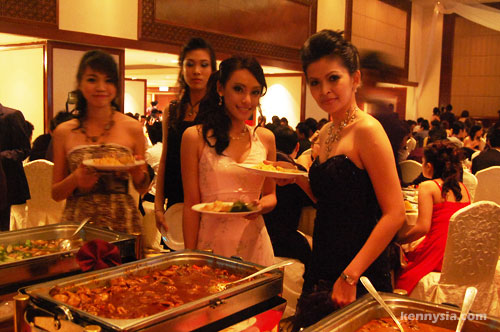 The prom started at 8pm and before long, it was already past midnight and time to wrap up the event. Time flies when you're having fun.
Now, this is when another corker of the night happened.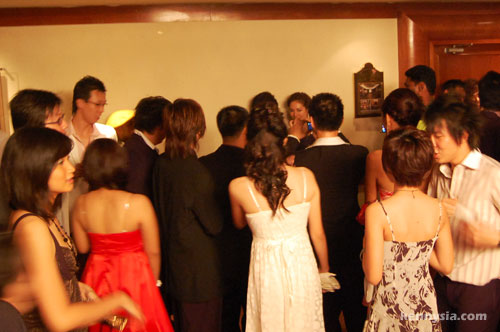 After the prom night ended, the organizers arranged to have Steph, Jien, Pop Shuvit, Estraged and myself escorted out to the foyer for a photoshoot session with the students.
That's fine, right? They hired us, the students paid for their tickets, so it's perfectly reasonable that we stay and mingle around with them.
But get this.
We were escorted out by RELA and HOTEL SECURITY.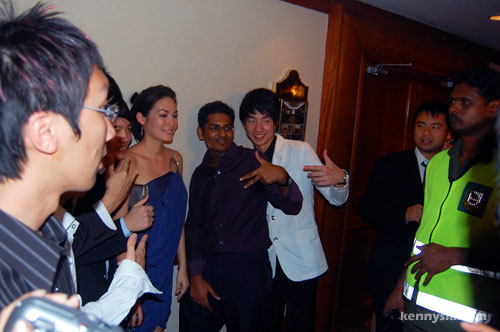 Outside the Grand Ballroom was the maddest reception I have ever personally witnessed.
Cameras were flashing non-stop as if we're surrounded by paparazzis and everyone was trying to get their pictures taken. It was a rare moment of photo frenzy.
But surely, we don't need RELA to give us protection. These are MMU students, not Hindraf protestors ok!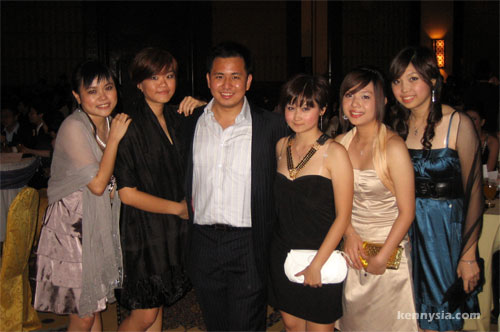 When we're done and wanted to go back to our hotel rooms, a staff approached us and asked if we wanted to escape using the back door.
I was stunned. Suddenly I have no idea whether to cry or laugh at that suggestion.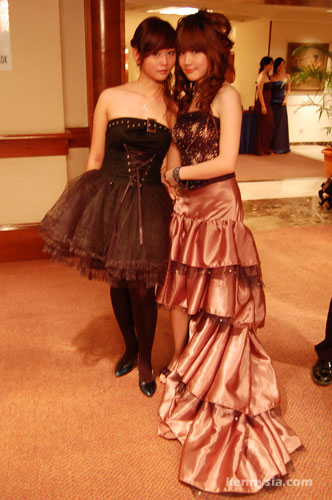 On one hand, I could feel my coconuts instantly grow one size bigger. On the other hand, they're talking to this guy who flies AirAsia, takes public transport and eats RM2.20 kolo mee by the roadside wearing just shorts and slippers.
Please lor. I am just Kenny Sia. Not Madonna.
So I reckon I could make my way to the hotel lobby without much problems thankyouverymuch.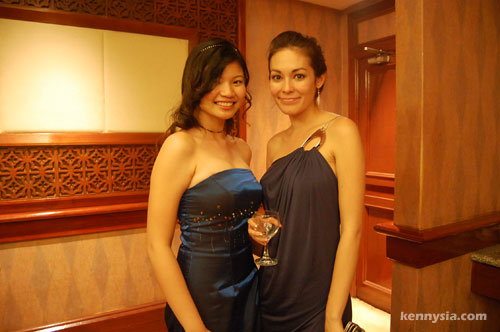 Kudos to the organizers for doing such an amazing job putting together this prom night.
The food was great, the show was entertaining and the people were fun. I know I had fun.
It's such a big difference comparing it to my University prom night. My Uni prom night was so bad, to make the comparison with theirs would be like comparing Princess Diana with Amy Winehouse.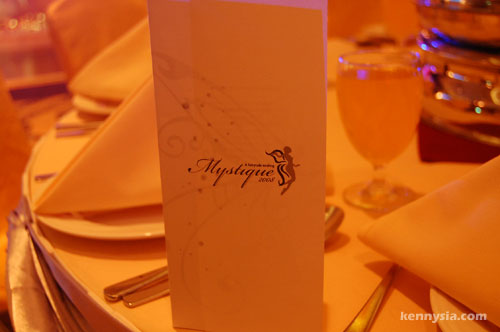 The tagline for the Mystique 2008 is "A Fairytale Ending".
I guess for everyone who attend the prom, their evening did have a fairytale ending.
Everyone. Well, except for me.
Because eventhough Renee my prom date was fantasticly patient, my night was completely ruined with the image of THIS forever burned into my head.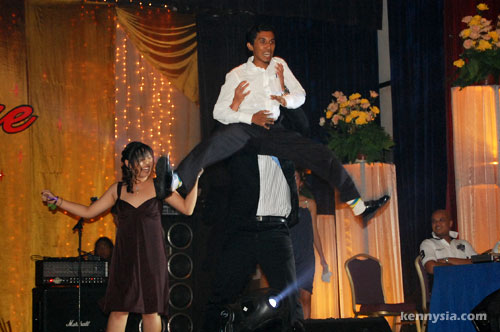 The horror.
Next time you see this creature, it'll be in a Spiderman movie. As the bad guy.
Spidey is gonna have his hands full with this one.

Blog Plug of the Day: This is honestly the most ridiculously hilarious review of Malaysian Dreamgirl I have ever read. Ho Swee Kim now has some serious competition for the bitchiest blog in Malaysia.
Whoever wrote that blog, you ROCK!