It was absolutely mindblowing.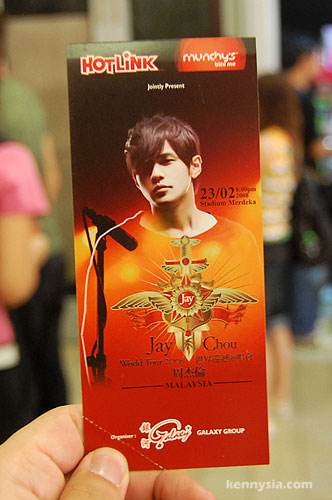 Say whatever you want about him.
Call him overrated, call him an untalented actor, call him a sell-out. At the end of the day, there is absolutely no doubt that Jay Chou is THE biggest star to come out from the Chinese music industry.
His sold out concert at the Stadium Merdeka proves just that.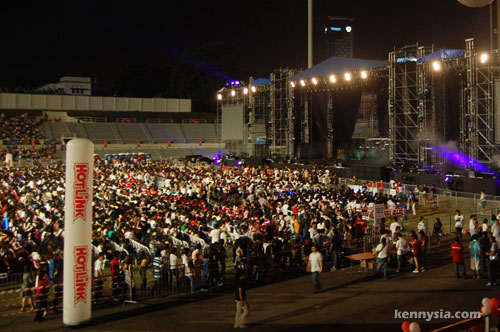 The funny thing is that I wasn't even supposed to be at the concert. I just happen to be in KL around that time when I found out about the event.
Hotlink, as one of the co-main sponsors of the event, was gracious enough to extend a media pass for me. In return, I'm to cover the event on kennysia.com – which I plan to do so anyway. 😉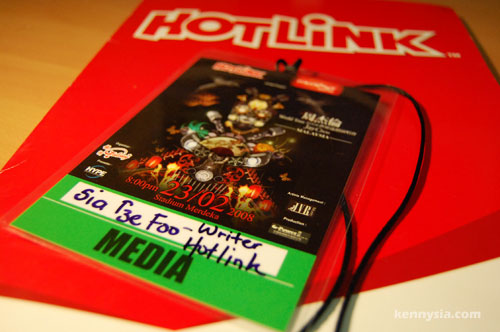 Thanks to Hotlink, I attended the Jay Chou World Tour concert in KL as part of the media contingent.
May I just say out of all honesty that the marketing comms people from Maxis are among the nicest I have dealt with. Not saying this just because they gave me free tix to the concert. I have dealt with hundreds of marketing people in my line of work, and the attentiveness of the two girls from Maxis, Catherine and Sham, are easily head and shoulders above the rest.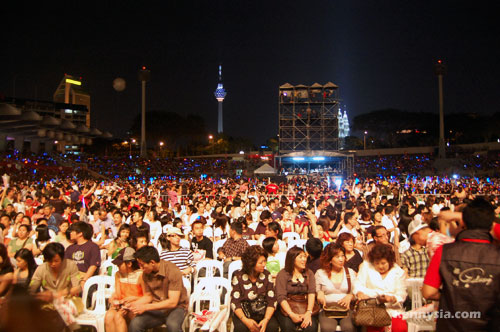 As if it wasn't good enough that I attended the concert of a music artiste I idolised for so a long time, I was allowed to be in the media pit located right in front of the stage.
By 8:30pm, the spotlights were dimmed one after another. I could literally feel the electricity in the air.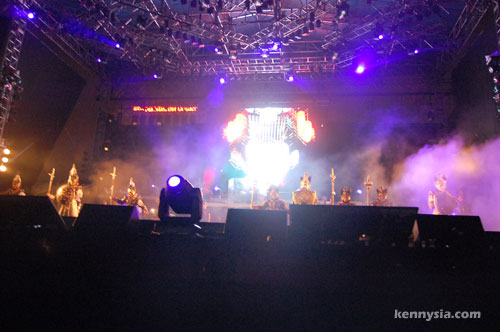 The ground beneath my feet was rumbling. The 26,000 strong crowd were screaming their lungs out in pitch black.
Before long, dancers dressed as terracotta warriors scuttled out on stage for a short opening sequence. A floating platform emerged from beneath the stage. On that platform is the headliner himself – Jay Chou.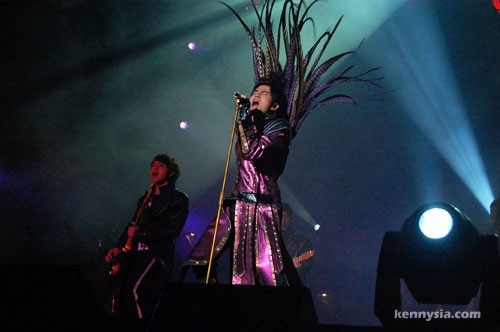 Just the mere sight of Jay live in person drove the entire Stadium Merdeka into a wild frenzy.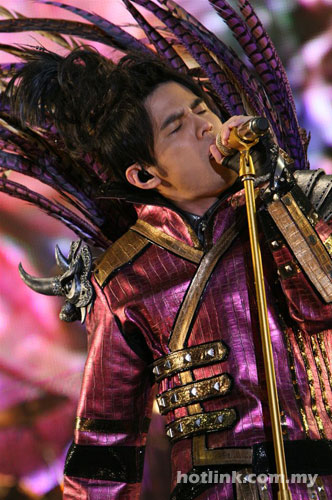 Dressed in what can only be described as an elaborate piece of purple ancient warrior costume, Jay opened with a fast-paced number Huang Jin Jia (Golden Armor) from the movie soundtrack Curse of the Golden Flower.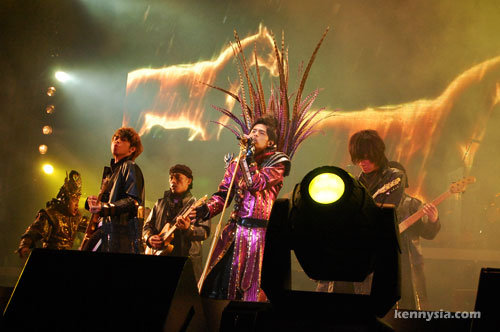 Rocking to the sounds of this energetic rock song, the Malaysian fans from the front to the back of the stadium screamed, jumped and danced to their heart's content.
Jay Chou responded by tearing off his coat…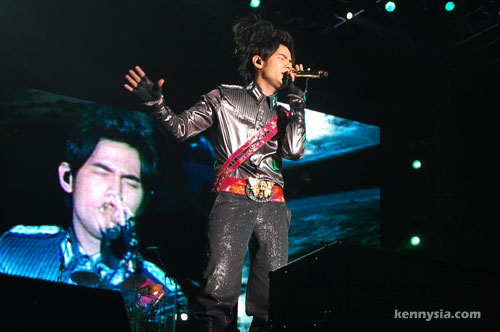 … into something a little lighter.
Some say this outfit makes him look like a Chinese Michael Jackson, and I couldn't agree more. 😛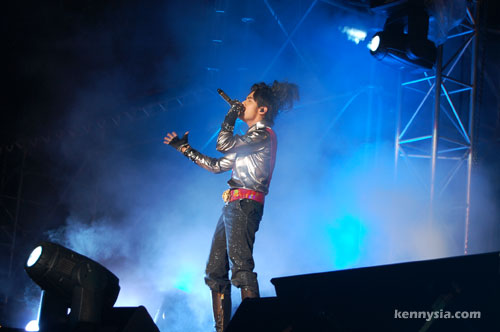 Sadly, we were only allowed to be in the media pit for the first three songs he performed. After my time was up, I was moved to the ticketed section on the other side of the stadium. But not before I caught this incriminating photo.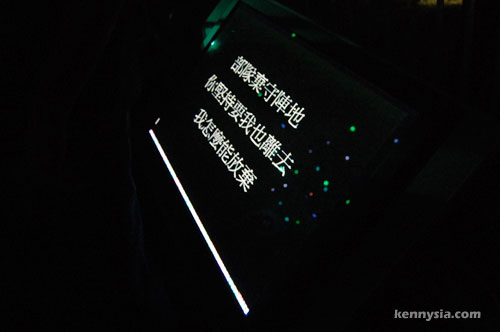 HOR! WHAT IS THIS?! Lyrics on the TV screen!?
Too bad got lyrics on the screen, he still didn't use it. Quite a few times during the concert, he forgot the lyrics to his own songs and impromised by muttering some nonsensical gibberish.
Blame his lyric writer Fang Wen Shan for writing such cheemology Chinese.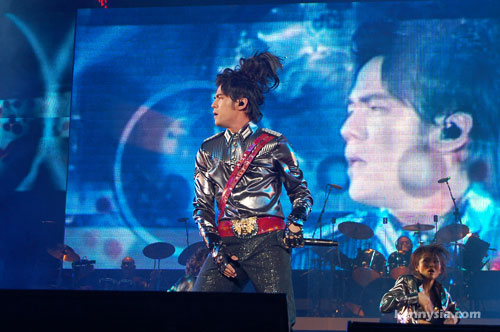 After the first few uptempo songs, Jay followed up with his more soulful melodies like Zhui Hou De Zhan Yi (The Final Battle), Bu Neng Shuo De Mi Mi (Secret) and Tui Hou (uhh… Go-stan?)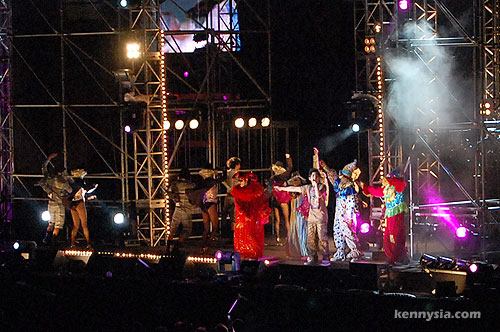 A lot of effort was put into the visual presentation of each set of his performance, and I love it.
For Niu Zai Hen Mang (Busy Cowboy), he got his posse to dressed as clowns and Vegas showgirls. They even did a line dance and Jay Chou wiggled his ass on stage.
I thought was damn gay, but the fan girls love it anyway. Jay Chou mah. Anything he does, they'll suck up to it one.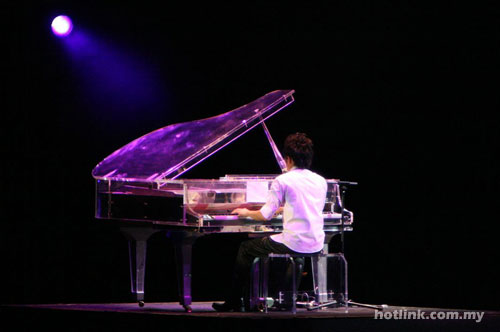 Jay Chou's musical career started because he loves to play the piano, and the audience was treated to see just how good he is at it.
His famed crystal piano made an appearance during his performance of Hei She You Mo (Black Humour). Here, Jay showcased his amazing piano skills, playing Chopin's many pieces before breaking into solos for songs like An Jing (Quiet) and Zui Chang De Dian Ying (The Longest Movie).
It was just him and the piano, and it was all really very romantic. It was so romantic that you could propose to any girl in attendance, and they would willingly accept your hand in marriage.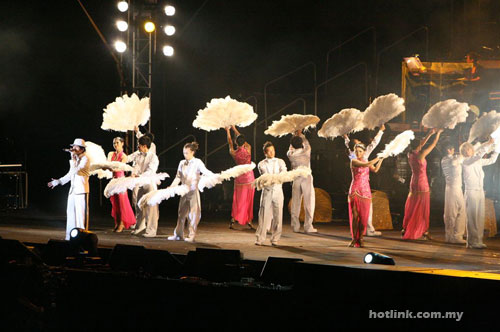 To watch Jay Chou perform these classics live on the crystal piano is already worth the price of admission itself, but he gave us more.
Chinese theatrics accompanied the performance for Qian Li Zhi Wai (Thousand Miles Away) and Qing Hua Ci (Porcelain Vase), which he sung beautifully like he was singing Chinese opera.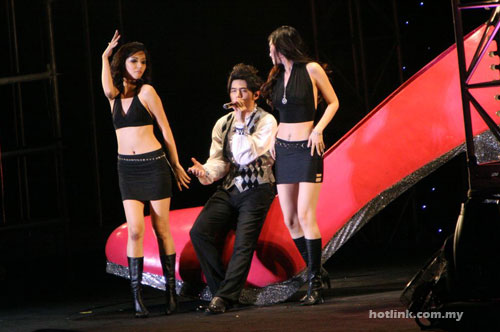 Another kick-ass moment was when a giant red shoe and two ah lian dancers appeared and danced around Jay Chou during his performance of Ye Qu (Evening Melody).
The outfit those two dancers wore reminded me of this one girl who auditioned for Malaysian Dreamgirl. Those who watched the first episode will know which one I'm talking about. 😉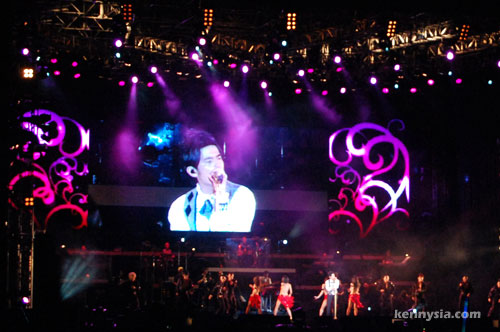 Sexy tango dancers in red for Mi Die Xiang, which is a jazzy lounge-y number.
One of the girls had a HUGE smile on her face when she got to do her tango one-on-one with Jay.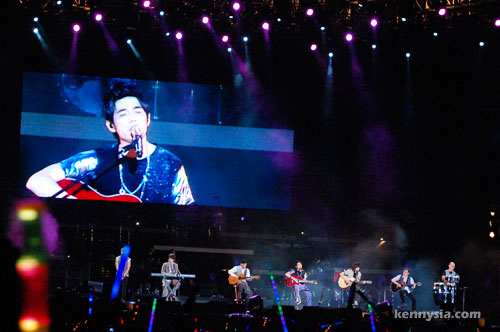 The highlight of the concert for me was when Jay Chou introduced his proteges Nan Quan Ma Ma onto stage. Armed with a musical instrument each, the group held a very cool unplugged session. They interacted with the crowd, talked about Malaysia and performed re-worked versions of some Jay Chou classics like Ren Zhe and Shuang Jie Gun.
This part of the evening was my favourite because it was as intimate as it could get. Definitely one of the rare times I see the singer-songwriter side of this often times very commercialised artiste. He even sang a brilliant Theresa Teng classic Ni Zhen Me Shuo (How Do You Say), dedicated to the older fans in attendance just so they don't feel left out.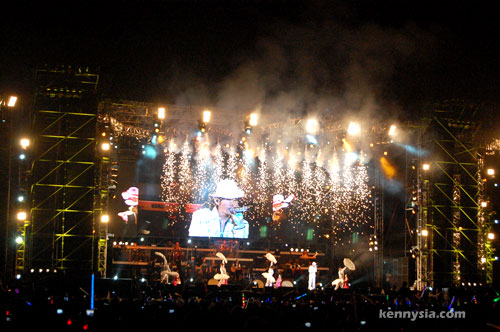 The concert lasted for about 2 full hours.
Twice, Jay Chou teased the crowd by exiting the stage and dimming the spotlights, prompting all 26,000 of his fans to yell "ENCORE! ENCORE!" Then suddenly he'll pop out and make everyone cheer like crazy again.
But eventually it was time to draw the concert to a close.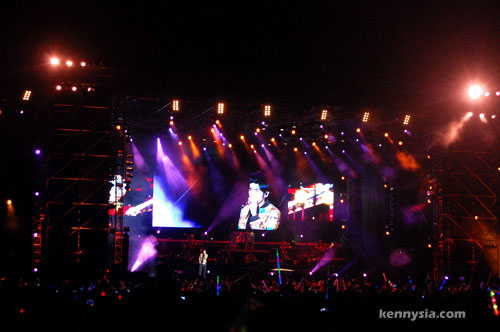 The finale was damn awesome. Jay rapped to Shuang Jie Gun, holding the microphone on one hand and playing with a nunchaku on the other.
For the final few lines of the songs, fireworks boomed and shot up to the skies everytime he sang "HUR!". It was so cool I can't even begin to describe it.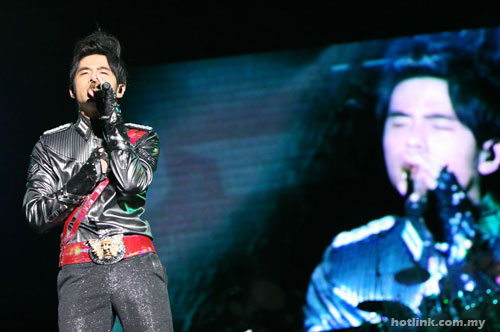 Personally, I thought the concert was exceptionally well done from top to bottom!
I totally enjoyed myself. Jay is always known for being shy and introverted, but at the conert he entertained us with such vigor and intensity. That just goes to show what a talented performer he is.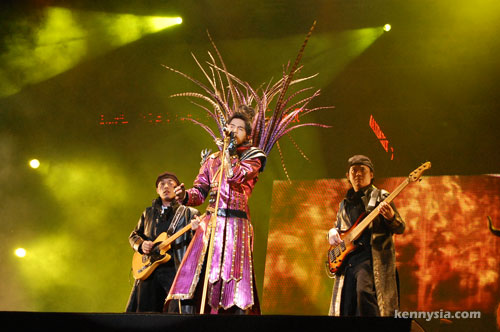 Some songs he sang at the concert also brought back some memories. During my student days, it was Jay Chou's songs that took me through many uni assignments, many friendships and heartbreaks.
It was surreal yet at the same time nostalgic for me to witness this same person performing live in the flesh right in front of me. It was like somehow he played a part of my life.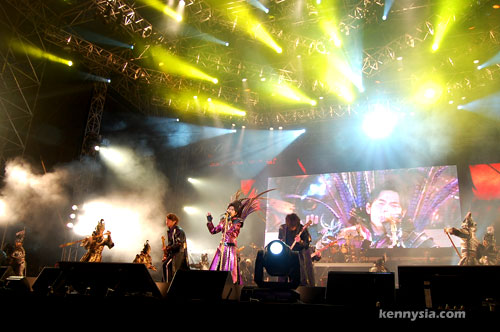 For that, I'm really appreciative being given an opportunity to witness Jay Chou live in concert. Never in my life would I expect to be given this chance. Thanks again, Hotlink. 😉
Here's a video I took on snippets of the Jay Chou World Tour concert in KL.

One thing I know for sure, this wouldn't be the last time I attend his concert.

Okay I need some honest opinion here. What do you think of this Chinese dude's singing?
A couple of readers sent it in to me saying like he's so good, but I reckon he's too emo to make it into the big times.