Every now and again, I get interviewed by newspapers or magazines.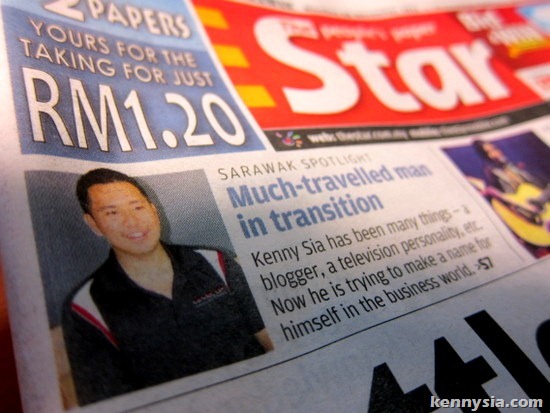 Interviews come and go, but very few of them I put aside for keepsake.
Having said that, I must say I particularly like the feature that the Sarawak edition of The Star did on me last Monday. I thought I can describe myself pretty well, but my interviewer Yu Ji articulated my thoughts in a much more eloquent way than I could ever do myself.
This is also the first time my face appeared on the front cover of a newspaper. Having just celebrated my 29th birthday, that came as a very timely gift. 🙂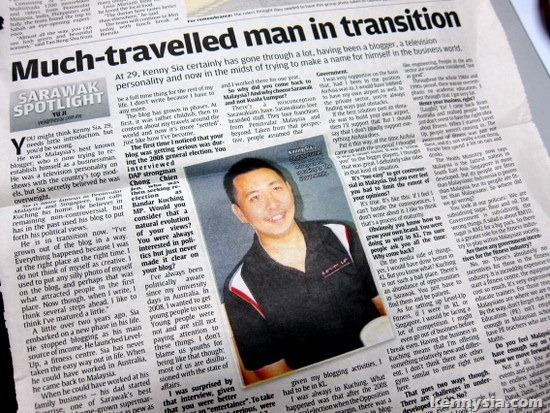 Much-travelled man in transition
SARAWAK SPOTLIGHT
By YU JI
At 29, Kenny Sia certainly has gone through a lot, having been a blogger, a television personality and now in the midst of trying to make a name for himself in the business world.
YOU might think Kenny Sia, 29, needs little introduction, but you'd be wrong.
He was Malaysia's best known blogger, who is now trying to re-establish himself as a businessman. He was a television personality on shows with the country's top models, but Sia secretly believed he was overweight.
Kenny Sia: Blogger turned fitness nut and entrepreneur, speaking to The Star recently.
(KS: Check out my 'Movember' mo)
Sia is more famous in Peninsular Malaysia and Singapore, but calls Kuching his home. He believes in remaining non-controversial, but has in the past used his blog to put forth his political views.
He is in transition now. "I've grown out of the blog in a way. Everything happened because I was at the right place at the right time. I do not think of myself as creative. I used to put any silly photo of myself on the blog, and perhaps that was what attracted people in the first place. Now though, when I write, I think several steps ahead. I like to think I've matured a little."
A little over two years ago, Sia embarked on a new phase in his life. He stopped blogging as his main source of income. He launched Level Up, a fitness centre. Sia has never taken the easy way out in life. When he could have worked in Australia, he came back to Malaysia.
When he could have worked at his family business — he made something as new as blogging a revenue earner.
Here, Sia talks frankly to The Star about ending his 20s with a new chapter.
Question: You speak of yourself as a businessman these days but most people would still probably think of you as a blogger first. Is that a label you are keen to change?
I'm spending more time on business. People knew me as a blogger first, but now I take blogging as a hobby, kind of like how I enjoy cycling. Hobbies have taken up a lot of my time. I'm not saying there's no future in blogging, but I've grown out of it. Saying that, I am glad that I made my name there. It's made business easier. Blogging is not going to be a full time thing for the rest of my life. I don't write because I have to any more.
The blog has grown in phases. At first, it was rather childish, then to content about my travels around the world and now it's more "settled", just like how I've become.
The first time I noticed that your blog was getting serious was during the 2008 general election. You interviewed DAP strongman Chong Chien Jen, who was then seeking re-election as Bandar Kuching MP. Would you consider that a natural evolution of your views? You were always interested in politics but just never made it clear on your blog?
I've always been politically aware since my university days in Australia. In 2008, I wanted to get young people to vote. Young people were not and are still not paying attention to these things. I don't blame us youths for being like that though; most of us are disillusioned with the state of affairs.
I was surprised by that interview, given that you were better known as an "entertainer". To take up something that serious, were you concerned about backlash?
I studied here until Form Three at a Chung Hua school, then I left for Australia. I was exposed to politics that was very much based on ideologies — rather than race based. History is history. How the country came together, I get it. But being a member of this generation, racial matters are not the way of the future.
All these racial groupings are so superficial. The way I run my business is absolutely based on merits.
Which part of Australia were you at?
Perth, Western Australia. I was there for eight years; two years at high school, five years at university and I worked there for one year.
So why did you come back to Malaysia? And why choose Sarawak and not Kuala Lumpur?
There's a misconception Sarawakians have. Sarawakians love branded stuff. They love franchises from Peninsular Malaysia and beyond. Taken from that perspective, people assumed that given my blogging activities, I had to be in KL.
I was always in Kuching. What happened was that after the 2008 general election when the Opposition won by a large margin, there was a sudden boom of interests in blogging.
They were looking for a non-controversial blogger. I think people at that time really didn't want another Jeff Ooi or Rocky Bru. Certainly, the companies I did work for wanted a "lifestyle" blogger. I just happen to fit the profile.
But you did take sides. I remember you were very much on AirAsia's side when the company wanted to build its own airport called Terminal Rakyat, much to the unhappiness of the Government.
I was very supportive on the basis that, had I been in the position AirAsia was in, I would have lobbied to have my own airport as well. In the private sector, you're always finding ways past obstacles.
If the best solution past an obstacle was to build your own airport, then I'll support that. But I should say that I don't blindly support everything AirAsia does.
Put it this way, at the time AirAsia came up with the proposal, I thought it was a smart move. It was a "screw you" to the bigger players. I thought that was great. I definitely take sides in that kind of situation.
It's "too easy" to get controversial in Malaysia. Did you ever feel you had to limit the extent of your opinions?
It's true. It's like this: If I feel I can't handle the consequences, I don't write about it. I like to think that's a process of maturity.
Obviously you know how to grow your own brand. You were doing so well in KL, I'm sure people ask you all the time: Why come back?
On the media side of things, yes, I would have done better in KL. But you know what? Kuching is not such a bad place. There's an abundance of opportunities in Sarawak. You just have to find them and be patient.
As for setting up Level Up Fitness, if I were in KL or Singapore, I would be facing a lot of competition. I might even go out of business before I break even. Having the business in Kuching means that I'm
offering something relatively new and different. I don't think there are other gyms similar to mine right now here.
That goes two ways though. There are challenges in under-developed societies. No?
For sure, even hiring people, for example, it's hard. Look at the people at Starbucks, they greet everyone with a smile. That's something, really! I mean that's great for any working environment. People need to be more exposed.
It's also true that people don't end up in the area of expertise they studied for in university. I'm hiring engineers as gym trainers! Unfortunately, say you are good in maths, society will expect you to study something like engineering. People in the arts sector are somehow considered "not as good".
Throughout the whole 1980s and 1990s period, there was an overemphasis on academic education. I went through that. I got very fat.
Hence your business, right?
[Laughs] Ya! I came back from Australia and realised people here just don't seem to have the right idea about fitness. When I started Level Up, people weren't coming in. The awareness of fitness was just not there, and it's not really a cost thing. People here spend a lot on cars and drinks.
The Health Ministry now says Malaysia is the fattest nation in South East Asia. Singapore is more developed, but its people are fitter than Malaysians; Indonesia is poorer than Malaysia, but its people are fitter than Malaysians: So where did we go wrong?
You look at our policies: We are subsidising sugar, flour and oil. The Government is subsidising the wrong things. A salad is about RM10; sugar is RM2 for a big pack. So there is a greater role for the fitness industry to play within Malaysian society.
Are there any government incentives for the fitness industry?
No, no. There's absolutely no incentives for those in the fitness industry. It is incredibly expensive to start a fitness centre, the equipment cost so much. It's very expensive to educate trainers. For those reasons, Malaysians are where we are today. By the way, don't forget that Physical Education (PE) isn't emphasised enough in Malaysian schools. You have PE teachers who are trained in Maths.
Do you feel Malaysian youths have enough say on things like how we move forward?
Not at all. You attend official events and you also end up listening to endless salutations — "Tan Sri, Puan Sri, Datuk Seri, Datin Seri, Datuk, Datin…" blah blah blah — and then the speakers are like in the 60s. At the risk of sounding selfish, you have older people making decisions, talking about things, planning things that will determine how things are for the next 20 years.
Youths need to play a greater role. We need people who are more aware of what youths of today want for the next 20 years.
That's a healthy democratic system, isn't it?