So, the CLEO 50 Most Eligible Bachelor Bash is happening this Friday night at Zouk KL.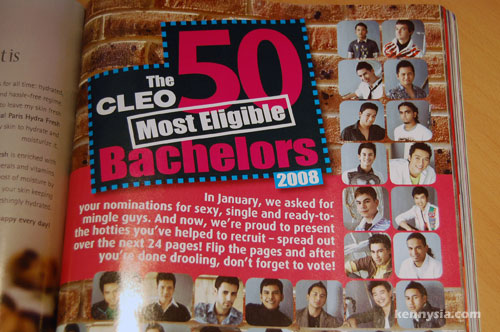 My mother is confused. She has been asking me what's this whole "CLEO 50 Most Eligible Bachelors" thing-a-ma-gettin-jiggy-wit-it is all about.
Well mom, the easiest way for me to explain is that it is exactly like a Miss Malaysia beauty pageant.
But for men.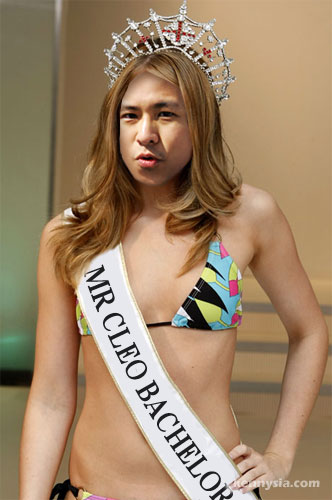 Yes mom, your youngest son is joining a beauty contest. He will be one of the 50 finalists fighting for the title of Malaysia's Most Beautiful Man. Not exactly what you picture your fattest son might be doing 10 years ago, but sometimes in life, we need to face some difficult questions.
Questions such as, "WHY IS MY SON JOINING A BEAUTY CONTEST?"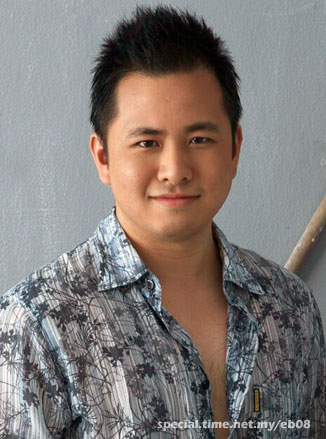 It's not like I expect to win anything, of course. I know what I look like. I look in the mirror every morning and I know I ain't pretty.
But in a way it's good, because the only chance I have taking part in a CLEO 50 Most Eligible Bachelors is in Malaysia. That's because our Malaysian CLEO is much tamer and toned-down compared to the other CLEO magazines around the world.
If I were to compete in CLEO Singapore, I know I could never get in anywhere near the Top 50.
That's because I'm gonna have to pose like this.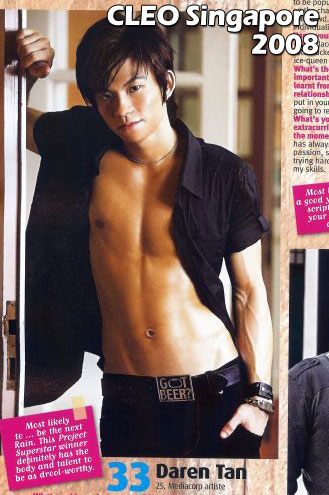 Or worse, in CLEO Australia, like this.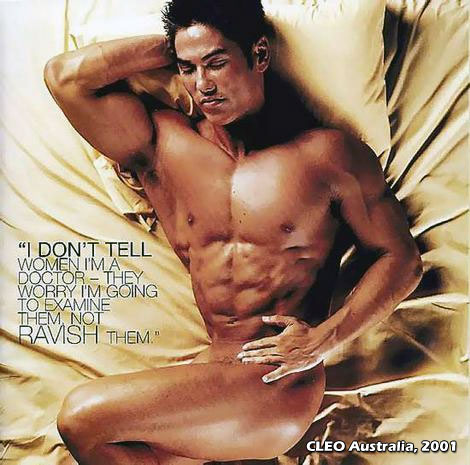 Holy cow.
Luckily this is CLEO Malaysia, and luckily I can still keep my clothes on. All of it.
Luckily.
Anyway, like I said, I have no chance in hell of winning the title of Malaysia's Most Beautiful Man this Friday.
This year's list is full of ACTORS and SINGERS and NEWSCASTERS and MALE MODELS.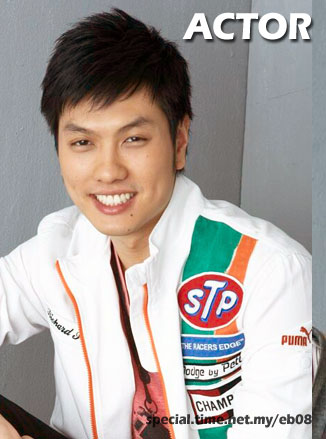 How is a BLOGGER gonna compete with all these people?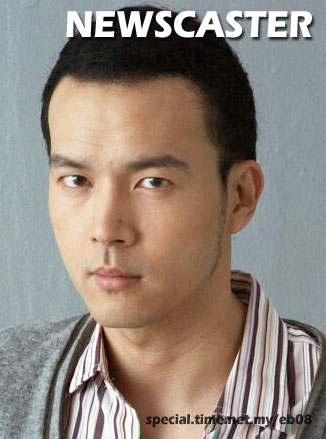 Those profession by default are already pretty high up on every girl's sexy list. Compare that with me who lists his profession as an "IT Director/Blogger".
Go ask any girl if she'd like to date a blogger, and I gerengtee you she'd laugh until her teeth fall off.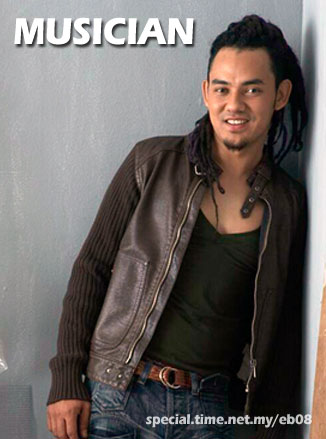 Fine, with competition like that, I'm not gonna win the CLEO Most Eligible Bachelor of the Year title. I had high hopes becoming Malaysia's first fat bachelor, but I know that's not gonna happen.
The only way I could win is if I talk shit about the other Bachelors, but the thought of 49 Bachelors going after me with their stick… a stick this Friday night is pretty scary.
So I tried winning people's votes over with witty answers during my Q&A, but I don't think that worked out either.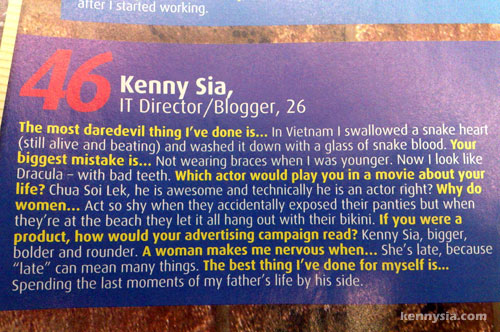 Since I can't win the big Miss Malaysia prize, the least I could aim for is some subsidiary title, correct?
There are five categories up for grabs: Bachelor You'd Have Coffee With, Best Groomed Bachelor, Most Adventerous Bachelor, Bachelor You'd Get Hot & Sweaty With and Bachelor With Sexiest Eyes.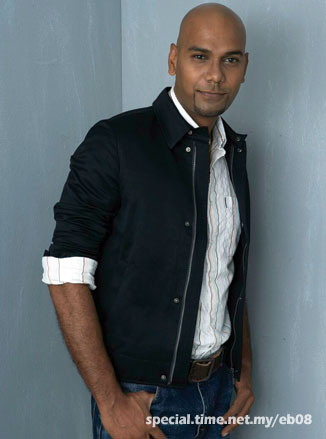 Out of those five, the only two subsidiary titles that don't require any physical beauty is "Most Adventurous Bachelor" and "Bachelor You'd Have Coffee With".
Obviously, knowing my uhhhh… physical shortfall, I thought those are the titles I'd at least have some chance of winning.
Besides, I reckon I'm pretty adventurous with coffee – I once drank hot coffee on the plane that was shaking like crazy. It was very adventerous.
Anyway, online voting is now closed and the results are out.
For the five subsidiary titles of CLEO Bachelor, the winners are: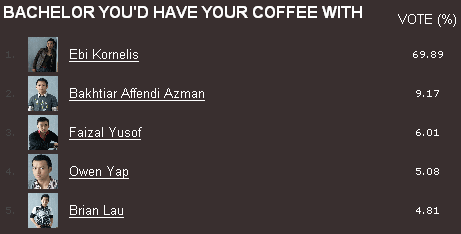 Bachelor You'd Have Coffee With: Ebi Kornelis.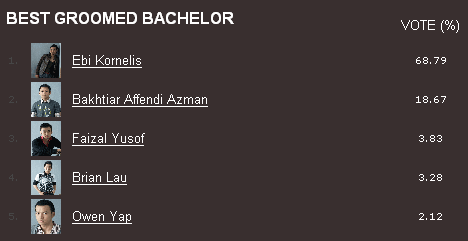 Best Groomed Bachelor: Ebi Kornelis.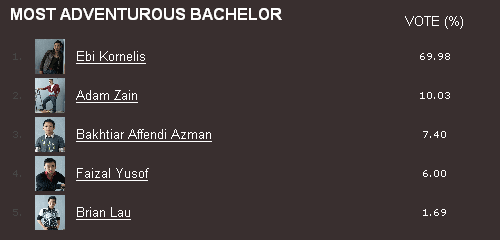 Most Adventurous Bachelor: Ebi Kornelis.
(The most daredevil thing he's done is parasailing in Sabah because "the wind is very strong")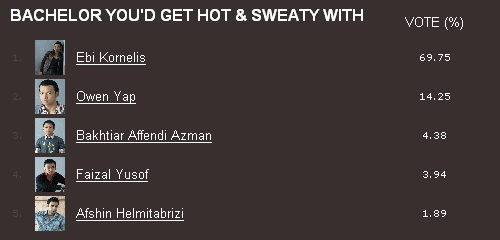 Bachelor You'd Get Hot & Sweaty With: Ebi Kornelis.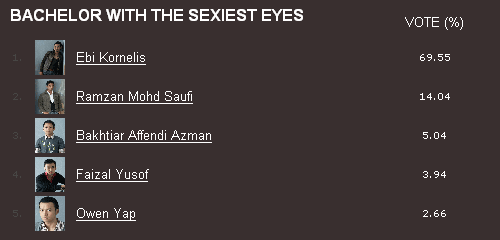 And Bachelor With Sexiest Eyes: Ebi Kornelis.
Look, I am not bitter about losing, but this is ridiculous.
Not only did Ebi Kornelis win all five subsidiary titles, he won with an amazing high margin of at least 40%. I won't be surprised if he takes out the CLEO Bachelor of the Year title this Friday.
But seriously, who the heck is this EBI KORNELIS guy?!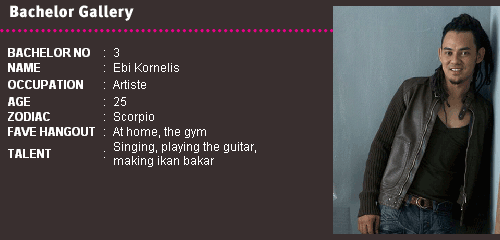 His talent is singing, playing guitar and MAKING IKAN BAKAR.
For someone like than to be able to win all these subsidiary titles, his ikan bakar must have tasted really really really good.
I don't wanna say it, but could there be some *cough*vote-rigging*cough* going on?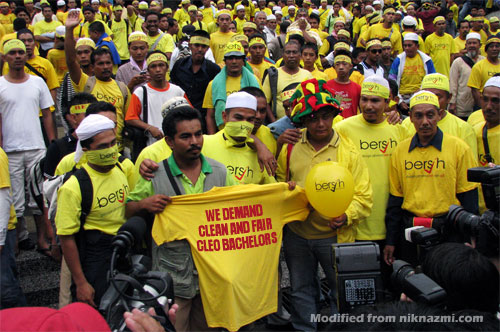 I dunno. All I know is that BERSIH should stop campaigning for "clean and fair elections", and concentrate on more important things like campaigning for "clean and fair CLEO Bachelors".
If not, then I think this year's competition is gonna require a new name.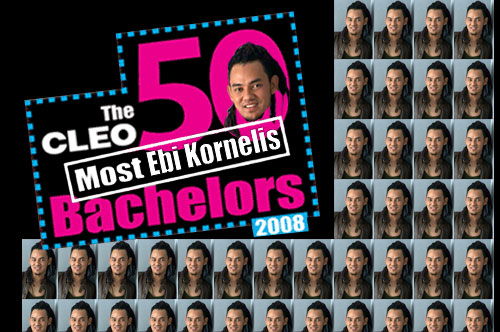 Ikan bakar, anyone?

Karma Point Collection: Science of Life 24/7 is a youth-run organization aimed at teaching life skills to disadvantaged and at-risk youths from poor communities, at home and abroad. I met the co-founder Raj Ridvan Singh when we were speakers at the Youth Enterpreneur Conference earlier this year, and you can't help but be impressed by his drive and determination.
If you know of youths who may need help getting their life back on track, or if you yourself are willing to contribute, then click here for more info.