When it comes to pubs & lounges, Kuching still lags a little behind the big cities.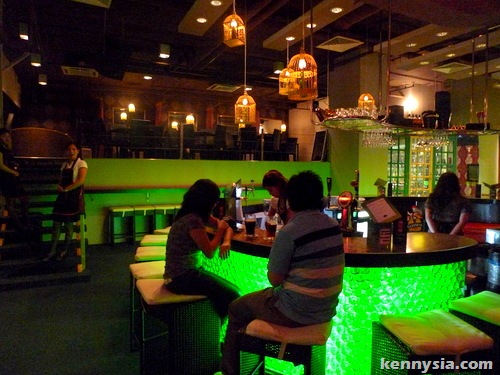 KL has great pubs like Sid's and Delaney's. But in Kuching, there's only a handful of pubs I'd feel comfortable hanging out at without being intimidated by rowdy hooligans.
Hey, I love a good beer as much as the next guy, but if a pub is filled with people who doesn't not know how to drink responsibly, I'm outta there. But the new Royal Oak at Hills is a little different.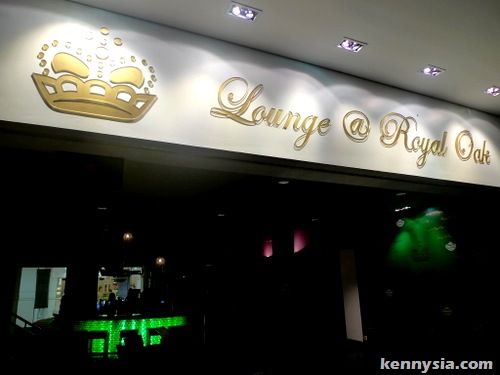 Lounge @ Royal Oak is a new pub/lounge/restaurant taking up prime location at the Hills Shopping Mall, next to Pullman Kuching. They've only opened for less than 2 months and already they've been getting rave reviews all over the place.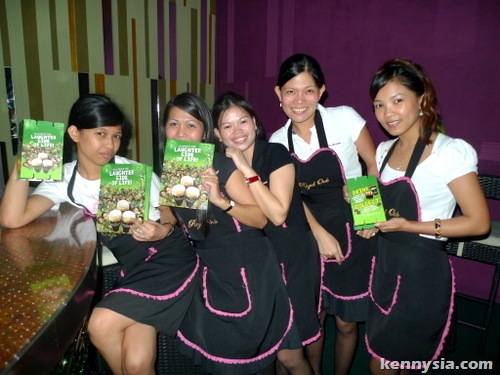 It's a great place because it's spacious, not cramped. Service is quick because they have a huge team of staff always running around. 
The owner of the place, Sperry Kong is a big fan of Irish pubs, circular bars and being environmentally-friendly. He made all these elements come together in his creation.
The centrepiece at Royal Oak is the bar made out of recycled bottles. Look closely at the bar top, and you'll realise that it's made out of 1 sen coins.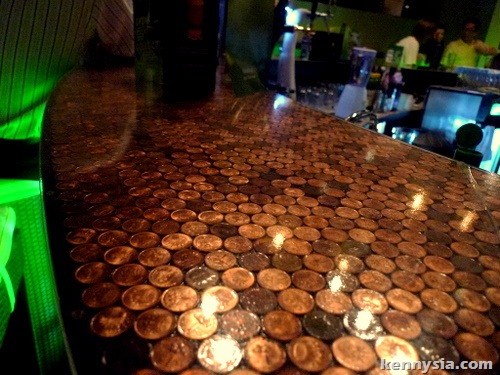 Up the stairs is a loft where the dining area is located.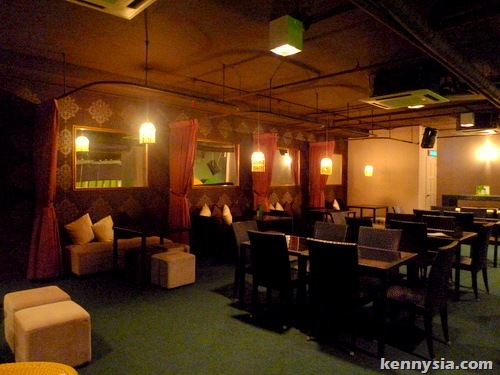 I came here, famished, on a Friday night at 8pm. It was just before the party crowd flocked the place, so it's still quite alright.
We asked the waitress for recommendations, and she suggested that we start with a plate of Royal Spring Rolls.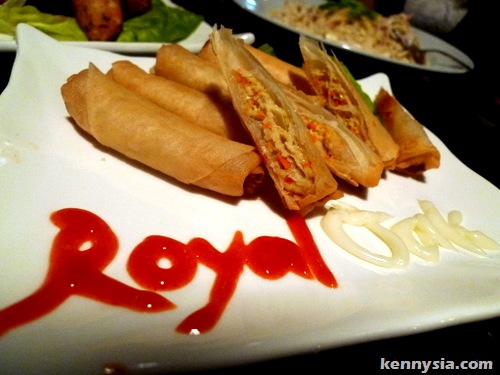 I thought the presentation was cute, but fried spring rolls aren't my favourite stuff to eat in a pub. Instead, I highly recommend the Royal Grilled Chicken Wings.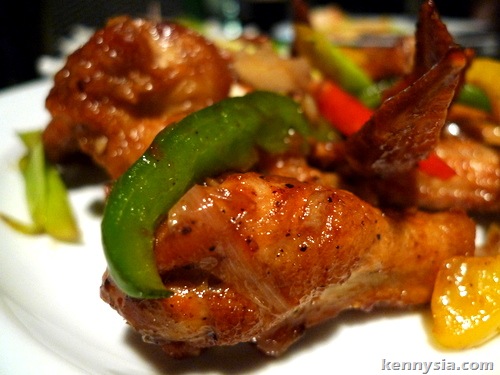 You get your hands dirty peeling meat off the bones, but as a pub grub, nothing beats a great plate of piping hot chicken wings, especially when it's grilled and dripping with hot marinade sauce. Mmm…!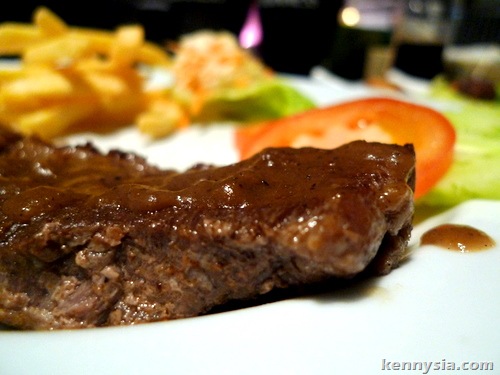 For mains, my dining partner ordered Sirloin Steak. It was a little too well-done for her liking and they skimped on the gravy sauce so she didn't quite enjoy it as much.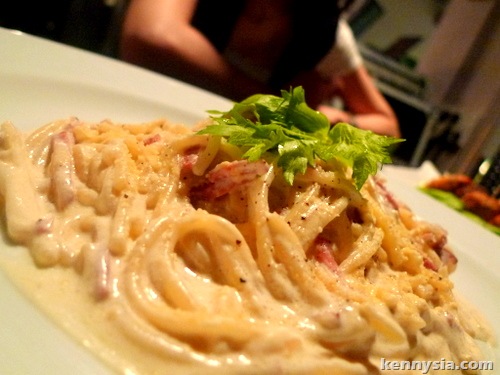 I ordered their Royal Alfredo Pasta for myself and totally loved it!
The prawns were fresh, the pasta was tender and the sauce were done just right. It smelt great when the waitress brought them in, and tasted even better when I put a spoonful in my mouth.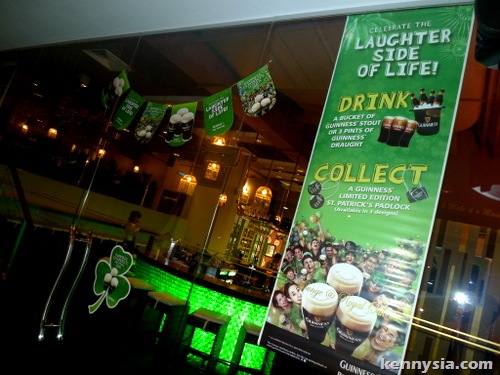 Royal Oak is a Guinness outlet and this St Patrick's Day Festival, like all good Guinness outlets, they are embracing the Irish spirit down to the core.
There are two food promotions concurrently running.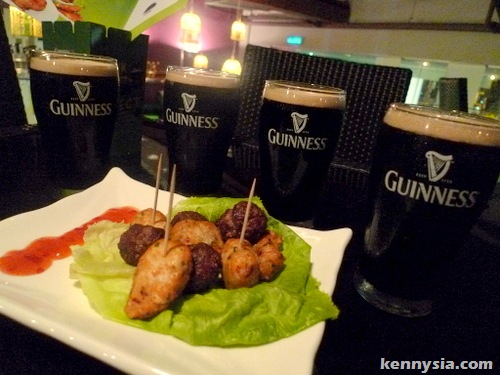 The first promo is a packaged deal. Buy4 half-pints of Guinness Draught together with a platter of finger food, and pay just RM60 nett!
At Royal Oak, they served us lamb meat balls and chicken patties. Don't be misled though, because these aren't your usual run-of-the-mill finger food at the pub.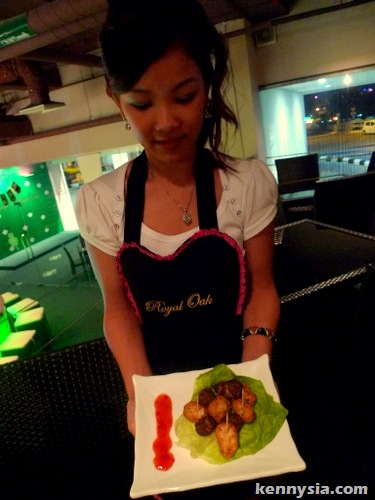 These are specially crafted finger food infused with the essence of Guinness.
The best thing is, different outlets throughout Malaysia are serving different Guinness-infused finger food from now till end of March, so there's always an opportunity to try something new.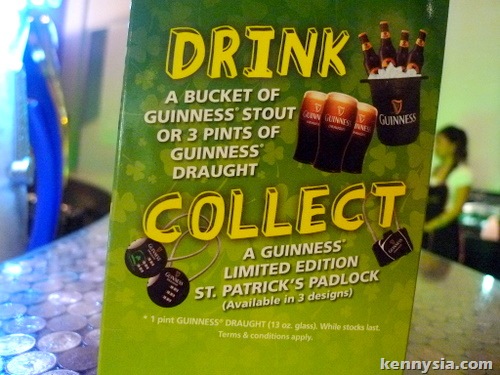 The other promo is to drink a bucket of Guinness Stout or 3 pints of Guinness Draught, and they'll throw in a luggage padlock for free.
Not quite sure what relevance padlocks have to Guinness, or St Patrick's Day.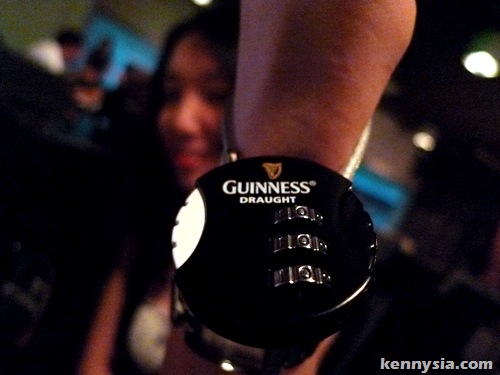 Maybe they are suggesting you padlock your partner up and do all sorts of kinky stuff. I DON'T KNOW LAH.
The important thing is this: the annual Guinness St Patrick's Day Festival is happening again! This time round it'll be held at 1Utama this Friday 19 March from 6pm onwards. The highlight of the night is the live stand-up by Malaysi
a's best comedians: Douglas Lim, Kuah Jenhan and others. More information can be found at . 
Too bad this year once again marks the third time in a row that I won't be in Malaysia for St Patrick's Day. 🙁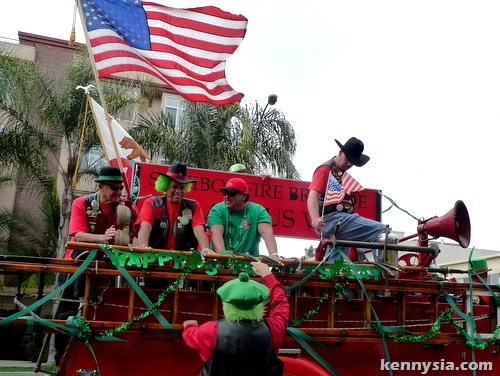 I'm not in Malaysia but in Los Angeles right now. Technically, I should be more excited 'cos St Patrick's Day is bigger in the US, right?
Well yes. But not when I have a 42km marathon race to run in a couple of days!
I won't be drinking. Instead, please Do me a favour and raise a glass to Arthur.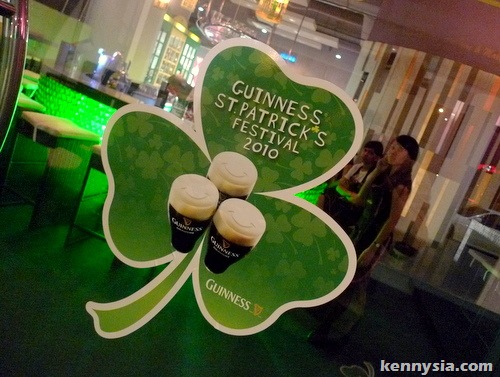 Happy St Patrick's Day!
AD: This is interesting! The Singapore government is leveraging on social media by inviting people from all over the world to ask them anything they'd like to know about Singapore at http://www.sg/live, while real-life everyday people are invited to answer the questions posted. To drive publicity, the Singapore government is even throwing in a pair of free tickets to Singapore for both question-askers and answerers.
I posted a question too: "I travel to Singapore a lot, and what I want to know is, "Where can I find best-value accommodation under SGD$100 a night in Singapore?"
Check out what others have to say about my question here.