Last Christmas, myself and 20 other Malaysian bloggers was invited to attend Nuffnang's Christmas party in Singapore.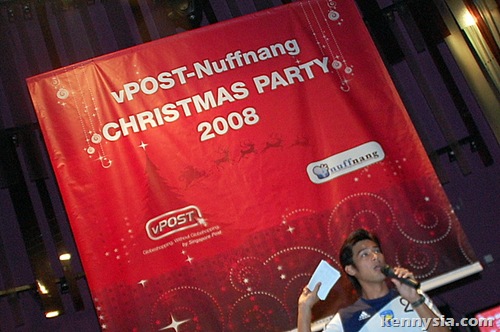 The event sponsor was vPOST, and true to Nuffnang's fondness of organising themed parties, everyone was required to dress up according to the letters V, P, O, S or T.
The thing is, we were only told of the dress code just four days before the event. That's hardly enough time for us to prepare our costumes.
But if there's one thing we're good at being a Malaysian or Singaporean, it's the fact that we are all experts in "last minute improvisation". Three days before the event, I asked everyone what they're gonna wear and no one knew. But when it comes to the actual event, virtually all of us ended up with some seriously crazy ass get-ups!
Like V for "Virgin Bride" Audrey.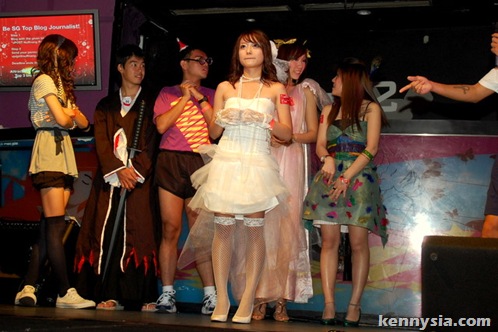 P for "Paranoid" Jared.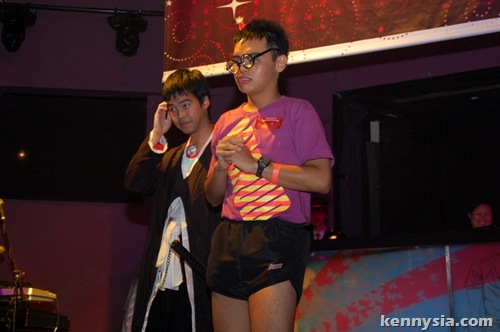 S for "Santarinas" Peggy.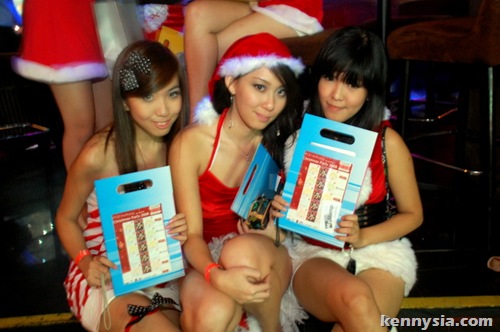 And T for "Transvestite" Ben!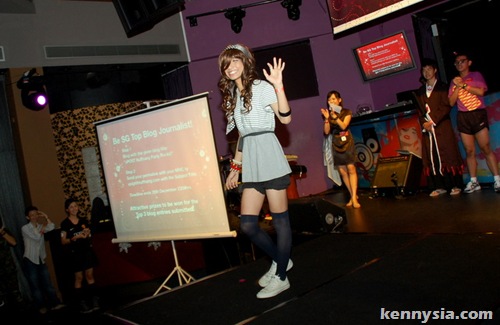 I was the one of the lucky few who was assigned the letter O, which is possibly the most difficult letter in 26 alphabets to dress up for. I asked many people what's the first thing that comes to mind when they think of the letter "O", and they all said "Orgasm".
Now how the hell do you dress up as "Orgasm"?
Wear a black shirt and put some white stains on it? And where could I possibly get the "white stains" from? Please don't say "the natural method" because I'd need a bukkake session to collect enough.
So in the end, I settled for a simpler O.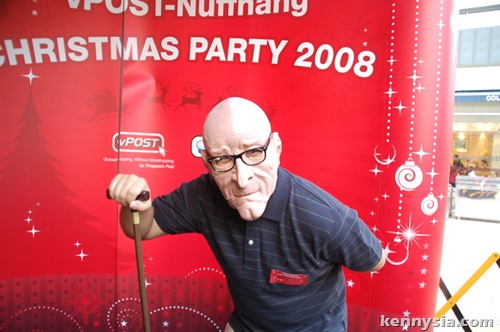 I came as an "Old Man"!
Don't play play.
This uncle may be old and wrinkly, but as soon as he saw Peggy and her red army of hotties in their sexy Christmas outfits, his tongkat responded by rising to the occasion.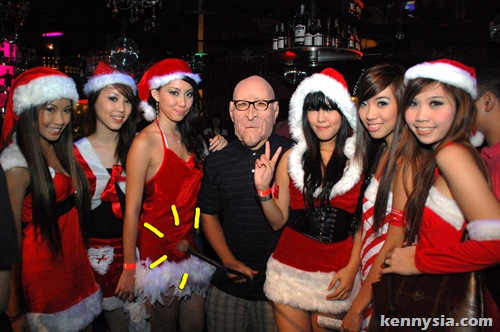 The best thing about the Christmas party of course is not just the food, the friends and the babes. When we left the club that night, each of us were given door gifts in the form of a set of personalized stamps (complete with our ugly mugshots on it) and a SGD$5 voucher to use on vPOST.
That's useful to 'cos I have been using vPOST a lot since I learnt of their existence.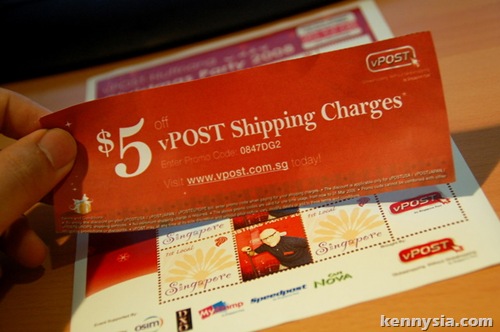 A lot of people in Malaysia may not even have heard of vPOST yet, let alone know what it is.
I think that's a real shame because it's a great service that allows even those of us in Malaysia to get our hands on items from the US that may previously be inaccessible.
Lemme paint a scenario here.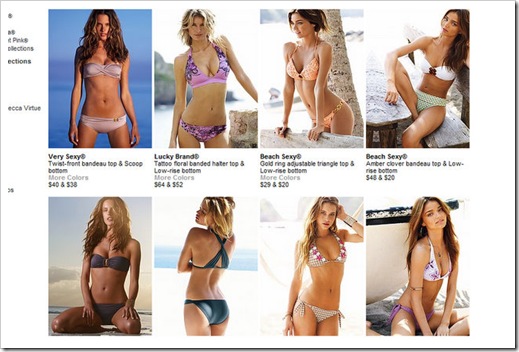 Let's say you're cruising through the Internet, browsing through some favourite online shopping sites like Amazon, eBay, Bodybuilding.com, Victoria's Secrets. Not that I shop at Victoria's Secrets. But just an example lah, y'know?
You saw several thing that you like, and the prices even after conversion to Ringgit are reasonable. So you select what you want and you click through to check out.
But alas, this error message came up!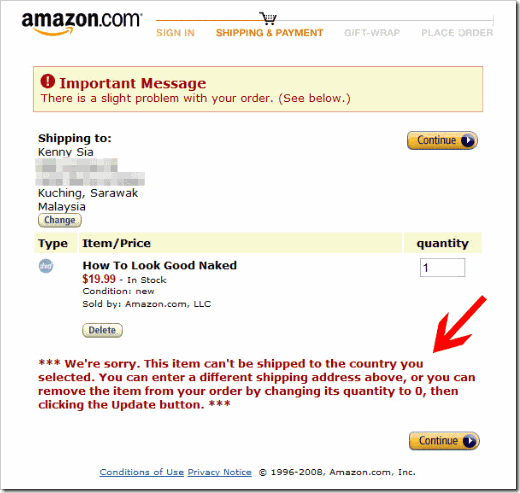 So what do you do?
If you have friends living in the US, one way to do it is to "lompang" their address so you can get the items shipped to them first then ask them to mail it out to you in Malaysia later.
But if you do that too often, don't be surprised if suddenly your friends all become "very busy" and started avoiding you at all cost.
See? Pinkpau is boycotting me now.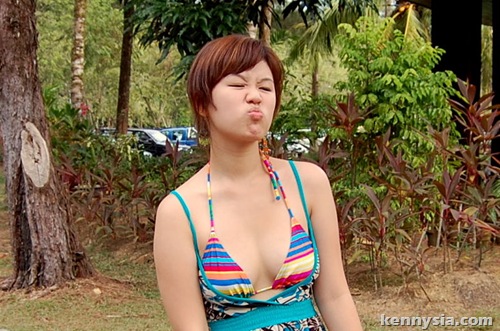 Here's where vPOST comes in handy.
I don't have to bug my friends living in the US anymore. As soon as I signed up with vPOST, I was given a postal address located in the USA.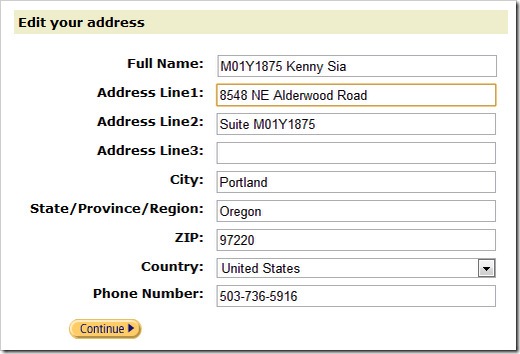 Using this address as a intermediary, I can purchase almost anything I want online from the US and have it delivered to my "fake" American address.
When the items arrived (usually after 2 to 3 days), those minions workin
g for vPOST will send me an e-mail informing me of the shipping charges.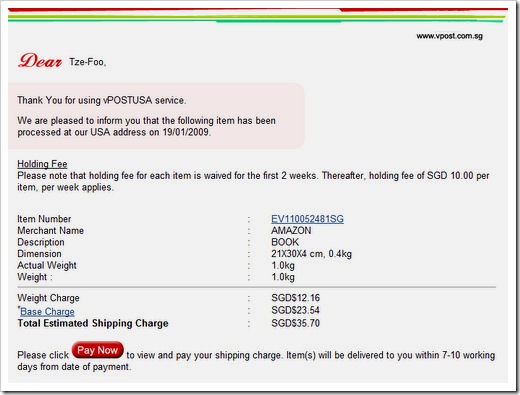 I pay them using credit card or Paypal, and vPOST will then courier the stuff over directly to my Malaysian address.
Like this!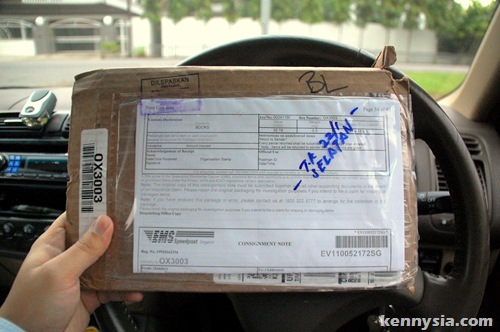 The entire process takes only about two weeks, which is insanely fast given my previous horrible experience buying things online from the States.
In the past when I used to purchase my protein powders from Bodybuilding.com, it took 2 to 3 MONTHS just waiting for it to arrive. Once, my package didn't even arrive at all. No kidding. Ground shipping was so damn slow and unreliable I suspect that they used illegal immigrants to carry the stuff over by swimming across the Atlantic Ocean.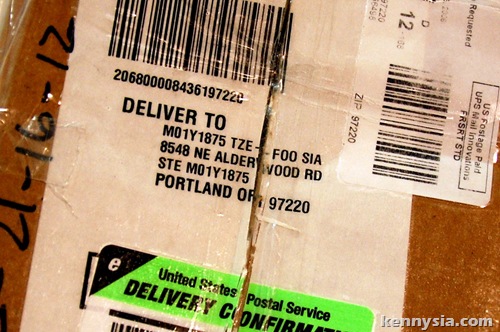 But vPOST is quick and reliable. As far as I know, no other postal or courier services in Malaysia have offered a similar service to purchase stuff from the US.
Suddenly this opens up a lot of doors of opportunities for us considering the biggest obstacle we have with buying things online is how exactly to ship it over. There's a gold mine of stuff just waiting to be explored on eBay USA alone.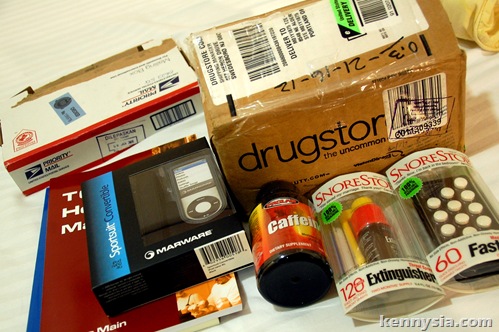 Already I've bought an iPod nano case from Marware, several books from Amazon.com (that I cannot find in MPH or Borders bookstores) and some anti-snoring tablets from drugstore.com to cure my snoring problem.
Yes, unfortunately I have been told my snoring sometimes resembled the Malaysian Philharmonic Orchestra on crack. Since none of the stuff sold in local pharmacies worked for me, I decided to try a stronger medication from the US.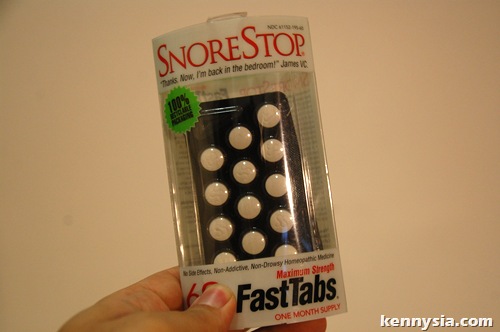 Apart from Malaysia, vPOST is also available in Singapore, Australia, India and Thailand. Singaporeans can get stuff not just from the USA, but also from Europe or Japan shipped over.
I'll be waiting for the day when vPOST starts delivery from Japan to Malaysia. When that happens, I'm gonna be the first to get my hands on one of these "Oppai Pillows" I saw on the Internet.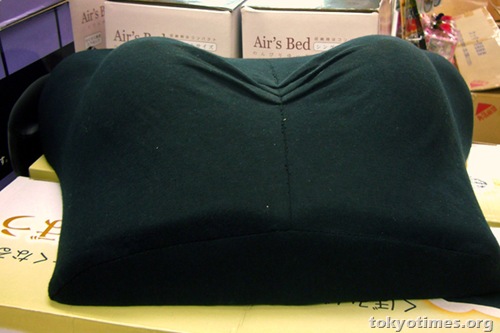 This is an "Oppai Pillow".
Otherwise known as "Breast Pillow".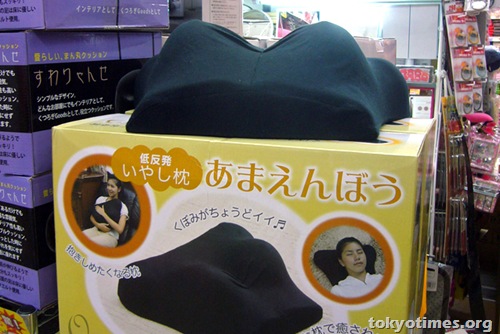 Hey, don't blame me! I have been single for WAY too long.
A couple of people e-mailed in asking me to apply for "The Best Job In The World", aka the island caretaker job in Queensland, Australia.
I thought of giving it a shot. That is, until I found out even "Osama bin Laden" has applied for the job.