You know what I find utterly annoying?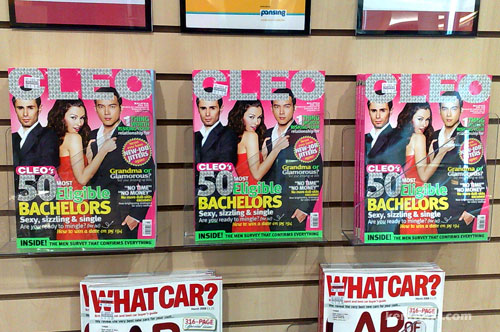 CLEO Magazine's 50 Most Eligible Bachelors.
EVERY YEAR, CLEO magazine runs a list of who they think are the 50 most eligible bachelors in Malaysia.
EVERY YEAR, they attempt to destroy the self-esteem of ordinary men of the streets by spreading glossy photos after glossy photos of impossibly good-looking men flashing their million-ringgit smiles across their magazine pages.
EVERY YEAR, we have to put up with all those college girls, DROOLING and FANTASISING and GIGGLING among themselves silly as they go through the list of CLEO Bachelors like it's some sorta Male Meat Sex Menu to order from.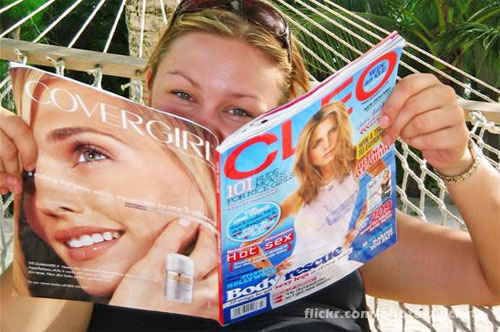 This is how a typical conversation between two college school girls is like when they go through CLEO magazine's 50 Eligible Bachelors.
Paris Tan: OMG. Like, do you have, like, the latest issue of, like, CLEO Magazine?
Giselle Chia: Yeah! Like OMG. It has, like, the 50 most eligible, like, bachelors in it!
Paris Tan: OMG can I have a look, like, please please please?
Giselle Chia: Yeah, come see see! *pulls out a copy of CLEO Magazine*
Paris Tan: OMG! Look at this one! He's so cuteeeeeeeeeee.
Giselle Chia: Him? He's ok only lah. Come I show you which one I like best. *flips pages* Nah, this one!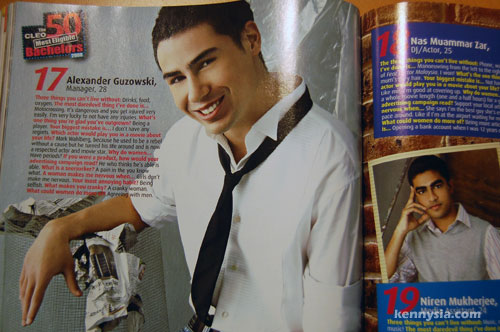 Paris Tan: OMG! You're right! He's damn hot. I want this one already!
Giselle Chia: Cannot! He's mine! Choose your own one lah, come on!
Paris Tan: Haha ok lah. You can have him. Then I'll choose this guy instead.
Giselle Chia: Cannot! He's mine too!
Paris Tan: WTF? But I thought you already chose that one?
Giselle Chia: Ya lah. But this one for marrying, and that one is for shagging. *giggle* *giggle* *giggle*
Paris Tan: Bitch! Ok lah since you're my bestie I'll share him with you ok?
Giselle Chia: Ya sure sure! So I'll have him Monday, Tuesday, Wednesday, and you can have him Thursday, Friday, Saturday ok?
Paris Tan: Ok deal!
*giggle* *giggle* *giggle*
Oi! What do you think us guys are? Toys for you girls to share and compare and pass around one is it!
Goodness!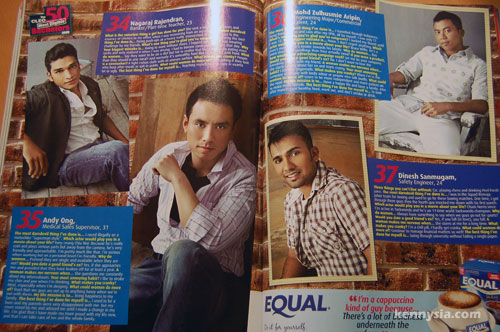 I remember speaking to Mia last year about how this CLEO is objectifying men with their 50 Eligible Bachelors list.
She could only roll her eyes at me and go, "Well, but you guys have been doing the same thing with FHM for so many years. I'm sure you guys also compare among your guy friends which one of those FHM models you wanna shag and all that."

But… it's different!
"You're just jealous of the guys lah, is it? ;)"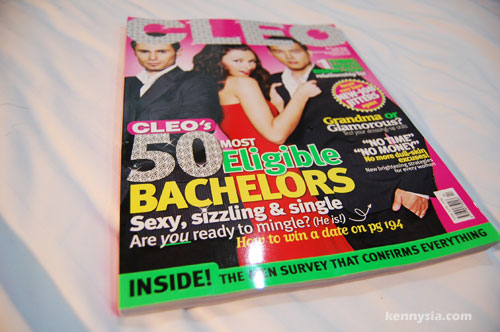 Jealous? No. I'm not jealous.
I mean like, sure, all those CLEO Bachelors are good-looking lah. Model type lah. Handsome lah. Eligible lah. That's why girls like them lah.
And maybe I secretly think that guys being treated as eye candies and sex objects isn't such a bad thing. I mean, which guy wouldn't wanna be the object of desire of girls right? Shallow, but it's true.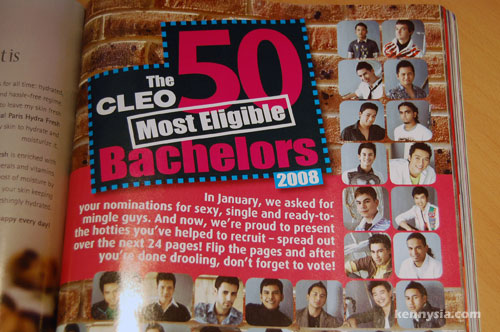 I know lah I'm too chubby to be considered "eligible". Whatever man. I'm not jealous.
Really.
Ok lah, maybe I'm just a littleeeee wee bit jealous of all the attention they're getting from the girls.
Just a little.
But please. How sissy it is for MEN to compete in a MALE beauty contest?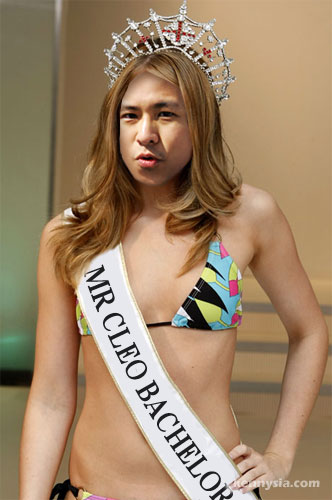 It's like if any of they win, they're gonna have to wear a tiara and sash saying "MR CLEO BACHELOR OF THE YEAR."
Then go parade around in their underwear.
Seriously. Which self-respecting male would join a competition like that? I don't know, man.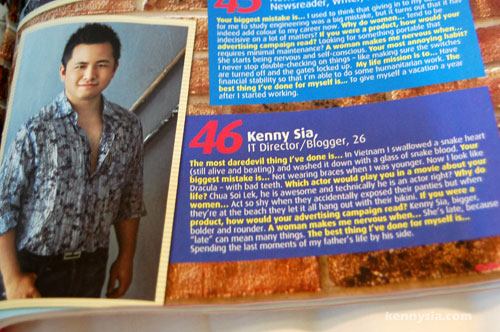 Hey look, WHO IS THAT!