The words on the pamphlet challenge me, "Could this be your big break?"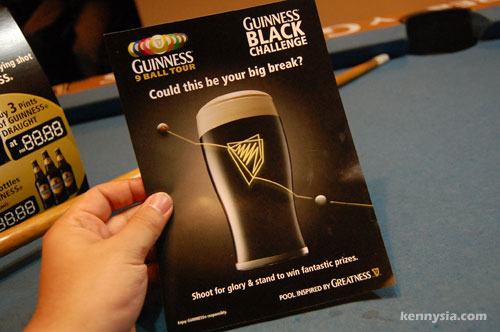 This isn't a game of ordinary pool. They called it the 9-ball speed pool.
The rules of the game sounded simple.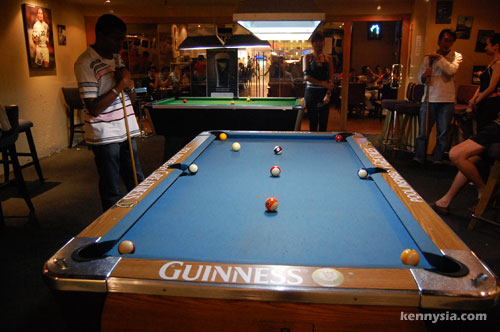 This is a game of speed and accuracy. Nine balls are placed on the pool table like that: six close to the pocket, and the other three evenly spreaded out across the centre.
To start, you can place the white cue ball anywhere you want.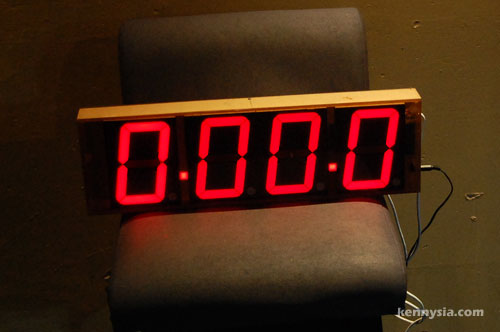 The clock starts as soon as you strike the cue ball. The clock stops when you pocket your last ball.
The person who pockets all 9 ball in the fastest time wins.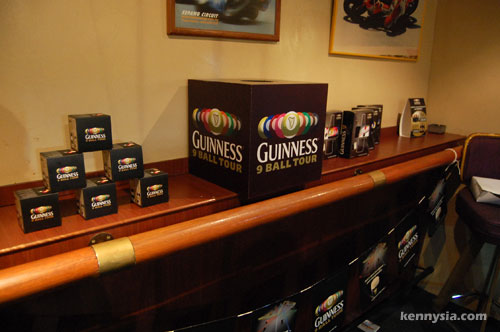 This competition is put together by GUINNESS® in search for the best amateur 9-ball speed pool player in Asia.
GUINNESS® Black Challenge team right now are touring the whole of Malaysia, running speed pool challenges across 112 nights in 56 outlets in search for Malaysia's fastest speed pool player.
The fastest in each outlet advances to the regional playoffs. The winner in the regional playoffs advances to the national finals held in Genting Highlands this 31st May.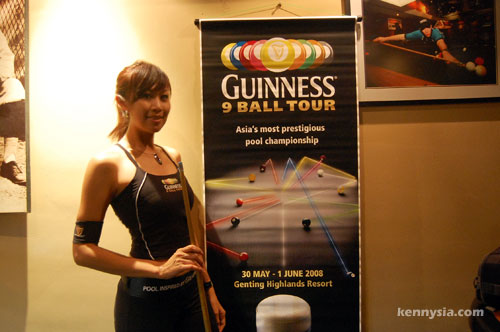 The winner of the national finals will then go on to represent Malaysia in the International GUINNESS® Black Challenge to be held in Jakarta this October in conjunction with GUINNESS® 9-Ball Tour Grand Final, Asia's most prestigious pool championship. All expenses paid, of course!
Anyone can join the challenge. The only condition being that you purchase a pint of GUINNESS® Draught or Foreign Extra Stout bottle at their participating outlets during contest days.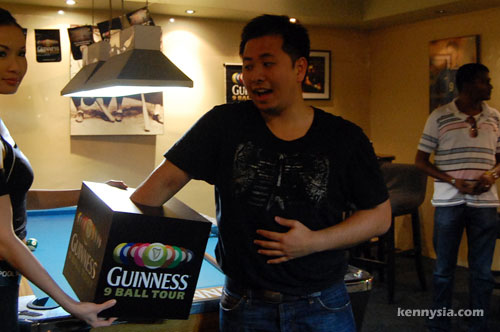 Even if you don't feel like playing speed pool, you could still dip your hand in the hole to win RM100 cash or other exclusive limited edition GUINNESS® 9-Ball Tour merchandise.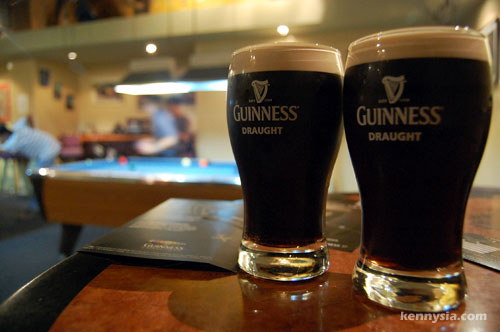 Me being me, I couldn't resist the opportunity to take a shot at Greatness.
Besides, how difficult could speed pool be anyway? I mean, 6 of the 9 balls are already close to the pocket so all I gotta worry is the other 3.
It's been a while since I practised playing pool, but I think I can still aim with my stick.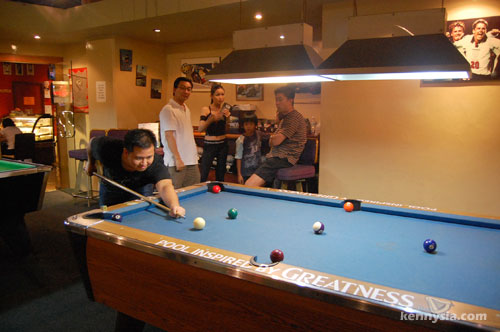 I chalked my cue stick and took it to the table. Time to put my pool skills to a test.
By "pool skills", I meant "poor skills".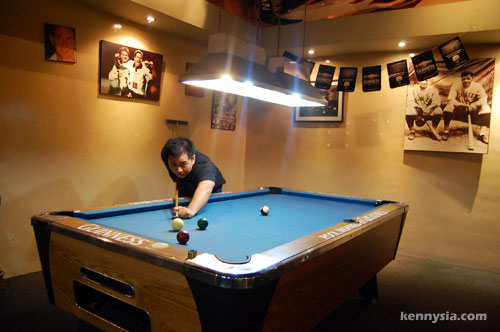 Speed pool isn't as easy as it looks. Time is critical so I can't spent too much time pondering my next move.
The worst thing is, I panicked.
And because I panicked, I had trouble holding my stick still.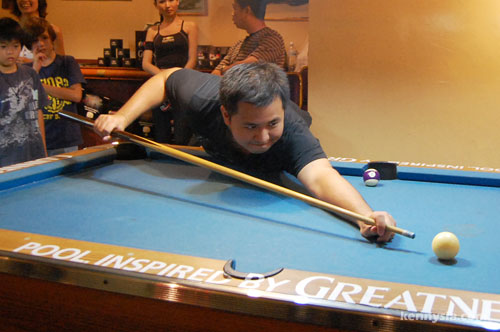 My balls kept bouncing all over the place.
In the end, I only managed to pocket all my balls in 2 minutes 33 seconds.
Surprisingly, the official told me that I had made a new GUINNESS® record!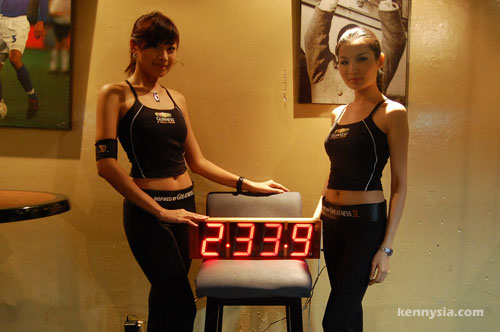 Record for LONGEST time taken to complete a game of speed pool.
Another participant that night fared slightly better than me. He completed the game in 1 minute 2 seconds.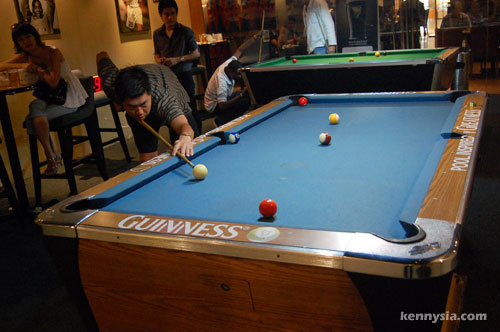 The guy ended up becoming the fastest player of that night. As a reward for his efforts, he won 10 pints of GUINNESS® Draughts, limited edition GUINNESS® 9-Ball Tour merchandise and on top of that, he will be advancing to the regional finals.
This guy has gotta buck up if he wanna go any further though. The fastest time achieved thus far in the Malaysian leg of the tour is just under 40 seconds.
Whoever that guy is, he must be really good with his stick and balls.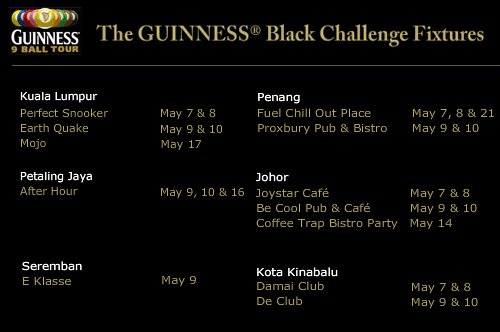 The preliminary rounds of the GUINNESS® Black Challenge is gonna continue on from now until the end of May at the official outlets above.
It will be tough to beat the current top marks of 40 seconds in a game of 9-ball speed pool. Whatever it is, take comfort in knowing that no matter what you do, you're gonna easily beat my pathetic time of 2 minutes 33 seconds.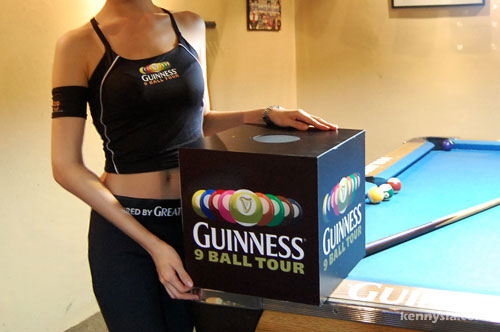 Just remember to hold your stick steady.