Before I left for Egypt, I was in KL for Cheesie's 23rd birthday.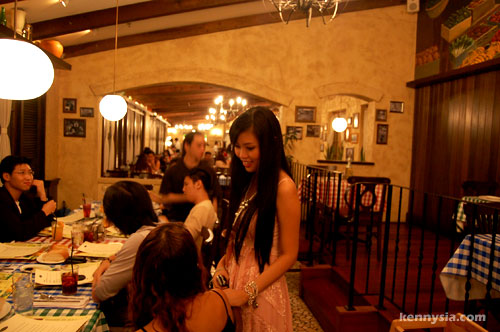 Cheesie has been a close friend of mine for quite some time. I only got to know her after I wrote that infamous entry about 'The Stellars' about a year ago. What most people don't know is that a lot of drama has happened as a result of that entry. I was partly to blame.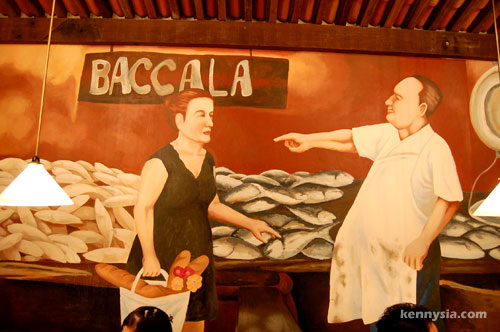 Anyway, what happened is a long story but suffice to say, she didn't quite enjoy her birthday at all last year. In fact when I talked to her, she was still upset about what had happened that she planned on spending her birthday holed up at home watching some DVDs.
I reckon that's no way to spend a 23rd birthday, so this 1st April, I came up with a plan to make up to it. ;)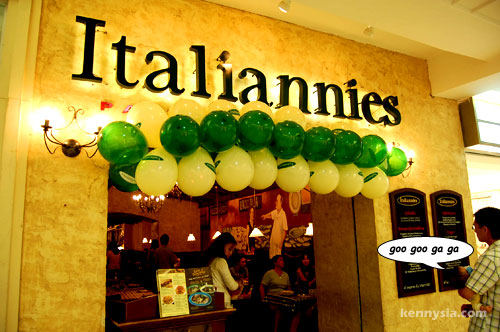 Those who follow Cheesie's blog would know that this girl loves good food and she loves the food at Italiannies, having blogged about them many times. After talking to the good people at Italiannies, they generously agreed to host her party!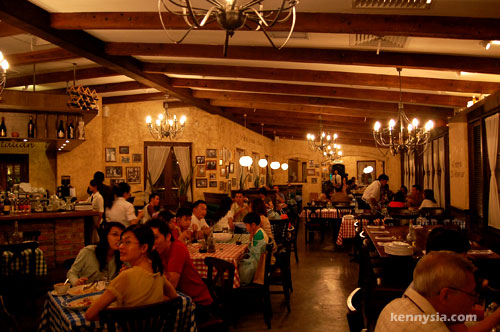 Being a fan of Italian food myself and after hearing many good comments from Cheesie herself, I was looking forward to visit this fine restaurant. And I must say, I am mighty impressed.
Upon walking into their restaurant at One Utama, it is easy to forget that I am actually inside a busy shopping centre in Kuala Lumpur. The environment is warm and cosy, and the inside is so tastefully decorated that it feels more like Tuscany than anywhere in Malaysia.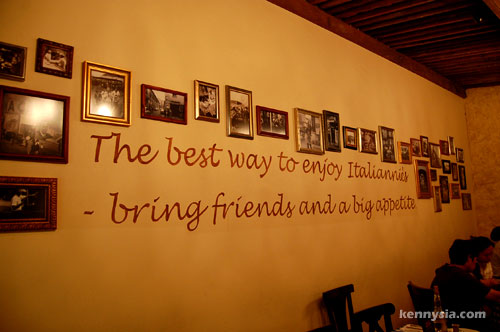 I love it how they encourage their diners to share their food. How many restaurants ask you to share?
You might as well share, since portions at Italiannies are famous for being HUUUGGGEEE. It's almost impossible to finish them on your own.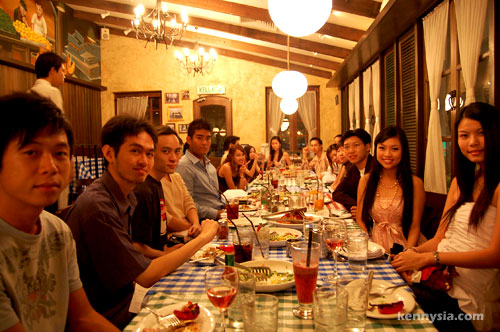 By my estimation, one standard meal portion at Italiannies can feed one fat Italian mafia don.
Or two average-sized Malaysians.
Or five Sanjayas from American Idol.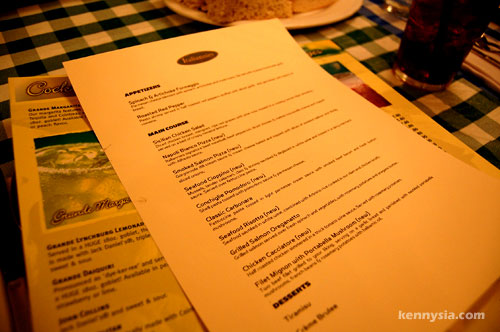 The guys at Italiannies took care of us well. Service was top-notch and the staff are very attentive. As a special treat, they even gave us a preview of some of their new menu items that has yet to come out on the market!
Among the all of us, we must've gorged down around 20 different dishes that night. I couldn't possibly list them all here, but here are some of the highlights along with my honest comments.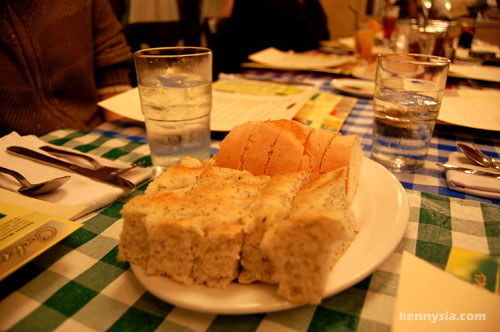 While waiting for our meal, we were served complimentary fresh bread with olive oil and vinegar.
This type of bread is called Ciabatta, which sounds kinda crude in Hokkien but really, it's just Italian bread.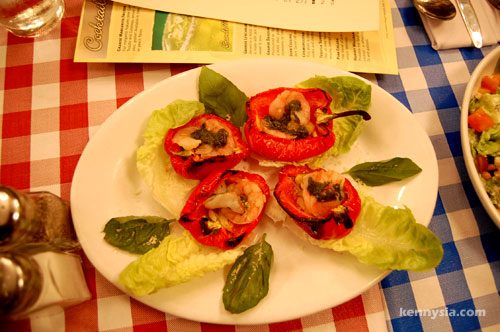 To start with, we have Roasted Red Pepper stuffed with garlic shrimp. I'm not big on eating capsicum that way, but I must admit their presentation is kinda cute.
As an appetiser, this is alright. Tasty and not too filling.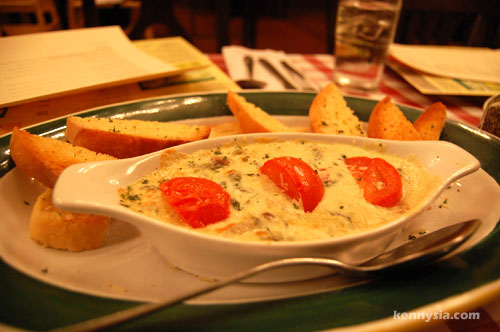 This is Spinach and Artichoke Formaggio, served with garlic bread on the side. The flavour is a bit bland for my liking, but Cheesie finds it yummy since it's, well, cheesy. :P
For vegetarians, this is probably a good choice.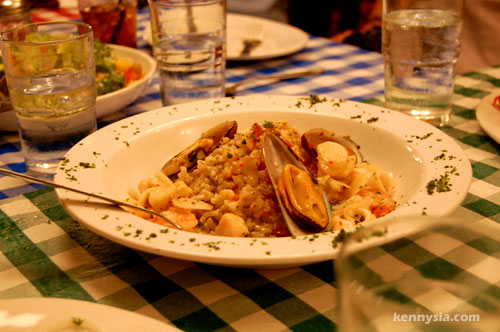 Of the new menu items they served that night, their Seafood Risotto hands-down tops my list as my personal favourite.
The risotto they use is wonderfully fragant and the texture feels fantastic on the tongue. Tastes best when eaten hot. One spoonful into the mouth and the combined flavour of scallops, sotong and prawns spreaded out on my tastebuds.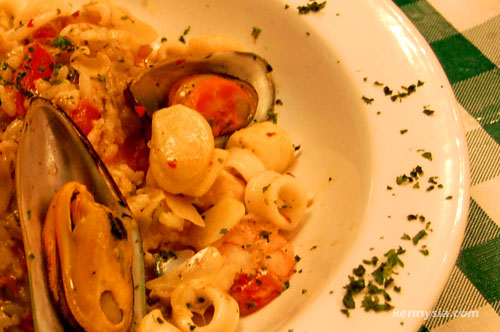 Very, very nice.
If you've never tried risotto here before, give this one a shot. This dish is new on the menu and comes with a golden kennysia.com stamp of approval!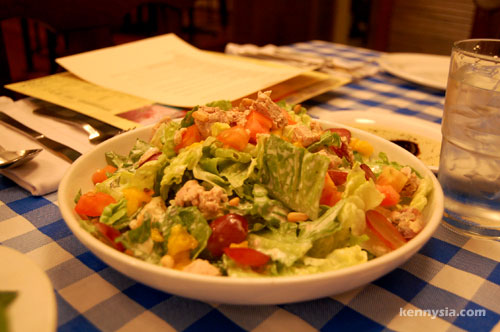 For the health conscious, there's the Sicilian Chicken Salad.
Not my favourite although naeboo wolfed it down like no tomorrow.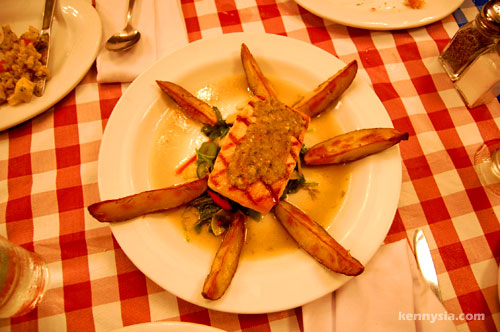 Then there's the Grilled Salmon Oreganatto. Yes, it tastes as good as it looks. The salmon is deliciously juicy and the aroma blends in perfectly with the spinach.
Again, another must-try.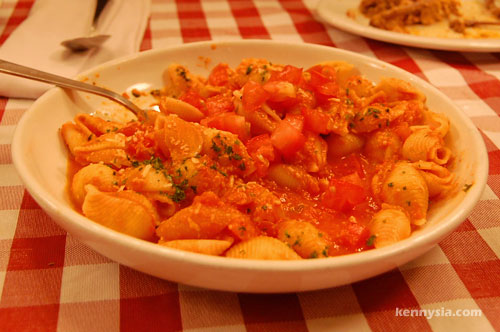 I don't know how to pronounce "Conchiglie Pomodoro", but it is shell pasta served with a kinda slightly sourish sauce.
If you like your pasta cute and tangy, then this is one is made for you.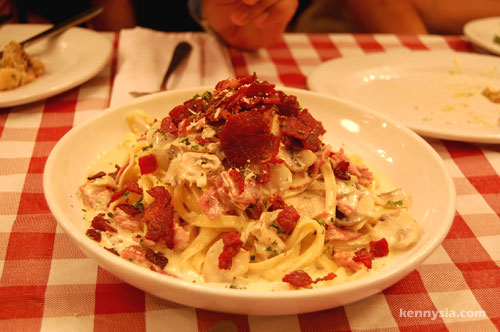 For me, I prefer my pasta in all its creamy and savoury glory, which is why I can't get enough of Italiannies' Classic Cabonara. Topping it with smoked bacon is an excellent touch.
They said it's their best-seller and it's not difficult to see why.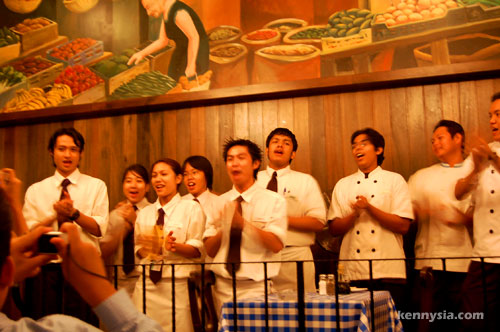 Soon after we finished our dinner, I gave the Italiannies crew the cue and out they come in full force to present the birthday girl their LOUDEST rendition of happy birthday.
Cheesie got a Strawberry Cheesecake, which was quickly gorged down despite everyone feeling so full after eating so much.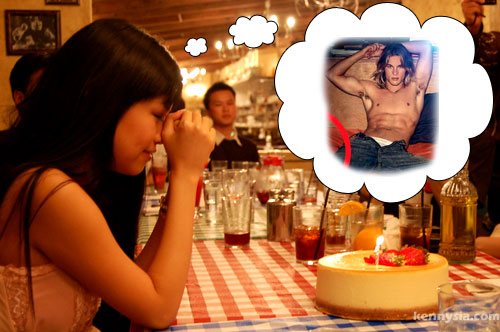 Heh heh.
You gotta hand it to them. This is seriously one damn good piece of orgasmic delight.
The cake, not the male model.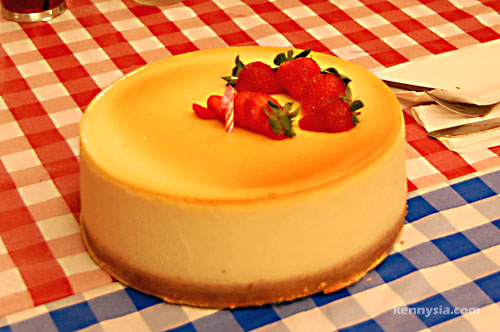 It is yummy. One of the best I have indulged in a very long time.
I've always heard good stuff about their tiramisu, but by that time I was already too bloated to gorge myself further. I had to be carried out of the restaurant in a wheelbarrow.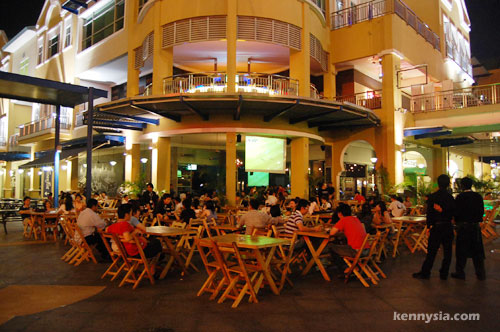 After dinner, we headed over to Laundry Bar at The Curve for some drinkies.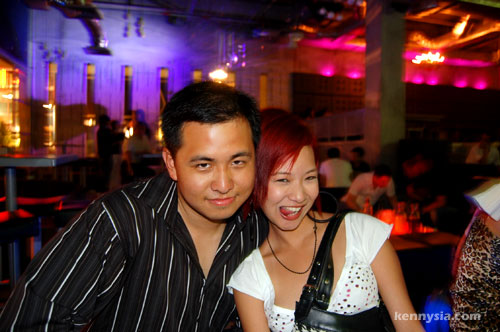 Laundry is normally packed to the brim on Thursdays and Saturdays with fans coming to watch their favourite live bands perform. Lucky we're there on a Sunday so it's quiet enough to just sit back and chill out over a few drinks.
We had an awesome-looking Blue Margarita Tower, which is an excellent party drink to share.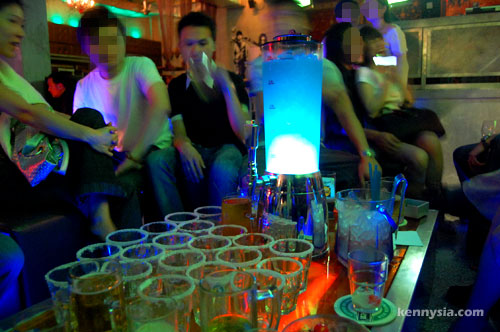 As soon as the clock struck midnight, Cheesie officially turned 23 and she received a gift from the bar in the form of a Flaming Lamborghini - a concoction of Sambuca, Kahlua, Curacao and Bailey's poured over a tower of wine glasses and then set on FIRE!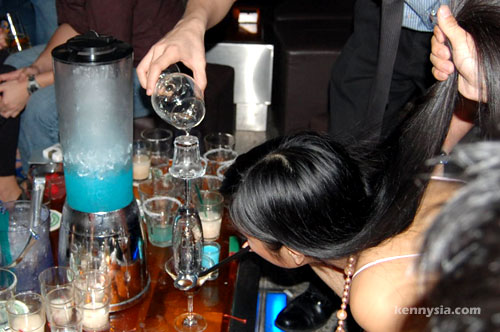 All in all, everyone had an enjoyable birthday party. Many thanks to Italiannies and Laundry Bar!
To finish off this entry, let me show you one (belated) April's Fool prank that you can easily pull off on your friends. Next time you are asked to take a photo for your friends, wait for them to pose but instead of taking their photos, secretly switch to video mode and hit 'Record'.
Watching their reaction = priceless.