See, what happened was this.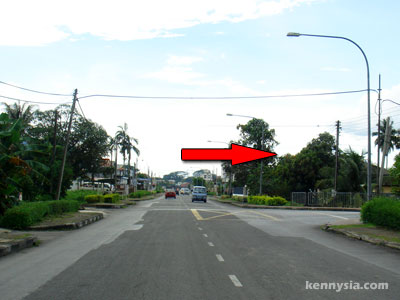 I was driving to work as usual on a Saturday morning. There I was on Ellis Road, turning into Jalan Lumba Kuda, and BAM! Big mistake.
Kuching traffic police was working hard that day, and when they saw me without my seatbelts on, boy they sure welcome me with open arms. "SHIT!" I thought to myself as I scrambled to fasten my seatbelt.
Too late. They saw me. Car stopped. Windows wound down. Awkward smile. You know, the whole yalah-I-know-I-did-something-wrong-lah-so-quit-torturing-me-and-get-it-over-with-dammit routine.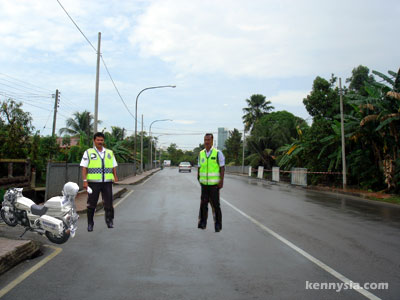 The traffic police who stopped me was a 30-something year old man who spoke in a strange hybrid of Malay, English and Hokkien. I'll attempt to recreate them as accurate as possible here.
Police: Lu tau lu buat apa salah ke? [You realised what you did wrong?]
Kenny: Ya.
Police: IC and lesen! [Your identity card and driver's license!]
I took out the IC from my wallet and handed it over to the police. SHIT! Forgot to bring the driver's license together with me! Double whammy. Damn suay today.
Police: Mana lesen?! [Where's your driver's license?!]
Kenny: Lesen tidur di rumah lah boss. [It's sleeping at home, sir.]
Police: *gleefully* AH! Dua sudah. [Ah! That's two offences already.]
Kenny: *sigh*
Police: Tingki!
Kenny: Apa? [What?]
Police: Tingki lah!
Kenny: Apa tu 'tingki'? [What's a 'tingki'?]
Police: Tingki lah! IC lah!
Kenny: Ohhhh! 'Teng ki' lah! (Bloody hell, don't speak Hokkien if you can't lah you idiot.)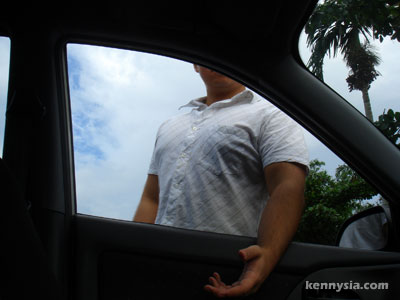 I handed him my IC (aka 'tingki') for the second time and the policeman proceeded to jot down my details. I knew I was screwed. RM300 fine for not wearing a seatbelt, and another RM300 for not bringing my driver's license together with me. RM600 gone just like that.
Police: Lu begitu mesti saman loh. [You, like that, will have to be fined.]
Kenny: ......
Or is it? I could attempt to bribe the policeman with some cash. I'm just not sure if he's a corruptible cop or a good one. After all, when Badawi become PM one of his objectives was to cut down on corruption, even to the extent of making them wear one of those cute little 'anti-corruption' badges.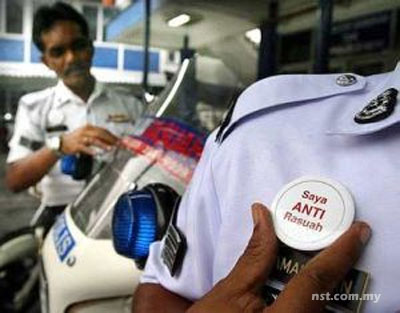 That is, until it was deemed a fashion faux pas and the police stopped wearing them en masse.
Well, my cop wasn't wearing an anti-corruption badge so that's a good sign. But I had to be sure.
The way I look at it, asking a policeman if he accepts bribes is like asking a girl to become your fuck buddy. The result could go either way. You could either get a smashing good deal on your end, or wound up utterly embarrassing yourself in the process.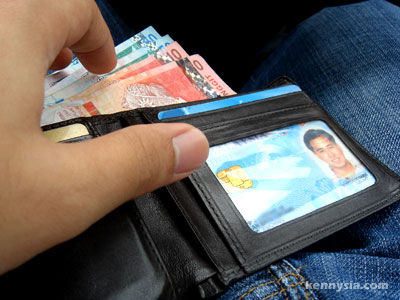 I didn't want to make the first move, lest I be prosecuted for attempting to bribe the police. Then I know I'll be in deep shit. So when he handed me my IC back and I took out my wallet once again, I deliberately flashed the greens and reds. The intention was clear, but nothing too obvious. ;)
Then, the moment of truth happened.
Police: Lu mau kena saman ke? [Do you want to get fined?]
What da heck? You mean I HAVE A CHOICE whether or not I want to get fined?! Hell, of course I don't wanna pay RM600 in fine.
Kenny: Tak tau! You mau saman saya ke? [I don't know. Do you wanna fine me?]
Police: I tak minta! [I didn't ask for it!]
Kenny: Oh, jadi tak apa loh. [Oh, too bad then.] *look away, pretend nothing happens*
Police: !!!
Kenny: :)
Police: ... lu mau 'chia' me kah? [You wanna give me a treat?]
HA! That's my cue!
Kenny: 'Chia' lah. [I'll treat you.]
Police: Lu 'chia' me berapa? [How much you wanna treat me?]
I pulled out three reds from my wallet (RM30) and showed it to him. I think the market rate was RM20, but the policeman was the one who made the first move so I reckon he deserves more.
He saw the RM30 and immediately his face lit up. Coincidentally his friends were all looking the other direction when I passed the notes to him. So smart!
And that is how I contributed to the Policeman Retirement Fund.
He's happy. I'm happy. Everybody goes home happy. Ahhh... the joys of living in a third world country. :)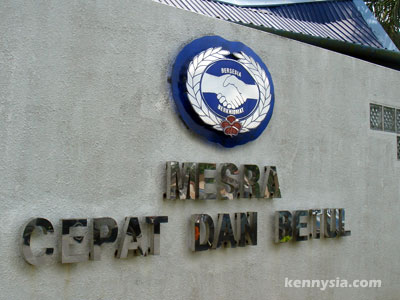 Mesra, cepat dan betul. 'Mesra' when they see you. 'Cepat' pay them, don't hold up the line 'cos they have other customers to serve. And don't argue with them 'cos no matter how hard you try they're always 'betul'.
Do you want to get fined?