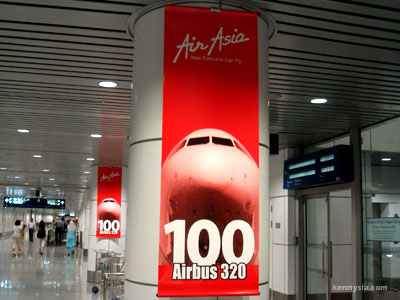 So while MAS Airlines is still debating whether to sell their building or their RM1.5 million paintings to cover their losses, AirAsia is making a proverbial killing in the Malaysian domestic flight market right now. Look at them, they'd just given out 2 million free tickets and they're still sitting there twiddling their thumbs grinning happily.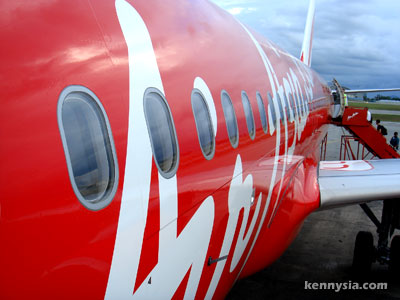 AirAsia is doing so well in fact, that Tony Fernandes just ordered 100 of those sweet new Airbus A320s, the first of which arrived early last month. I was one of the lucky few who managed to test-ride this month-old baby during my trip from Kuching to KL last week. And I can tell ya, low-cost airlines never looked so good.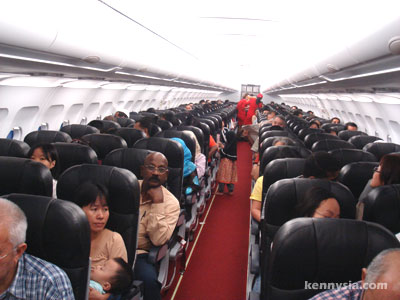 Walking into the A320 is like getting into your dad's brand new car. The interior of the aircraft was wide and bright and the scent of leather still lingered fresh in the air. If not for the signature black leather seats and the bright red uniforms of the aircrew, you'd be forgiven for thinking that you'd just walked into a luxurious MAS flight.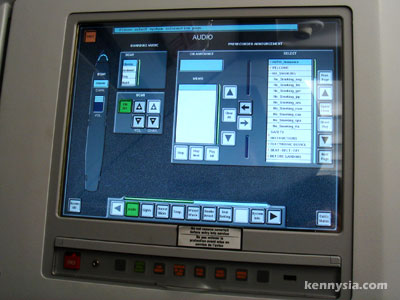 The first thing that caught my attention during my entrance was this cool sophisticated-looking touchscreen LCD control panel. I don't know what it does. I'm really tempted to try but I don't think I'm ready to insert myself into my own episode of Lost. Yet.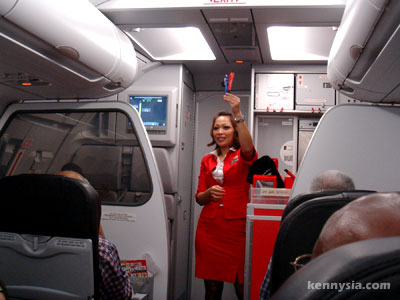 Midway through the journey, the flight attendants did a sales pitch for AirAsia merchandise. Among the few of them, there's the usual toy aircrafts, keychains, oversized pens, and - get this - AirAsia red and black t-shirts!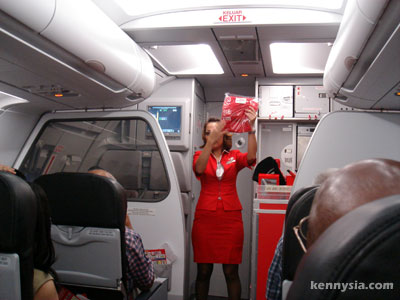 I don't get it. I can understand if people wanna get Manchester United jerseys, or even Hard Rock Cafe T-shirts. But why would anyone wanna buy AirAsia T-shirts? To dress up as flight attendants? Wear them to the next Halloween party? What next? T-shirts from Ah Suan Chicken Rice?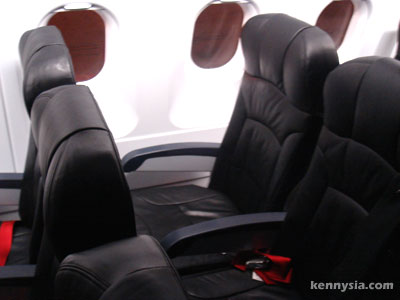 The best thing about the A320s is obviously the seats. It's even better than the seats on Malaysia Airlines. With the old Boeing 737, there's not a lot of room to manoeuvre your legs once plonked your ass on the crappy seats. But the seats in the new Airbus A320 are so darn spacious, even the most materialistic girlfriend in the world won't realise her stingy bastard of a boyfriend were taking her on some cheap budget airline trip.
The seats really are THAT good.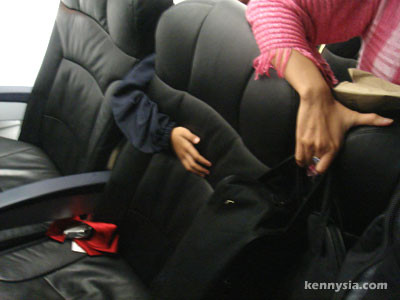 One caveat though.
I didn't sleep too well the night before, so a few minutes later in the air I was dying for some quiet shut-eye. I looked to the left, I looked to my right. Something's not quite right...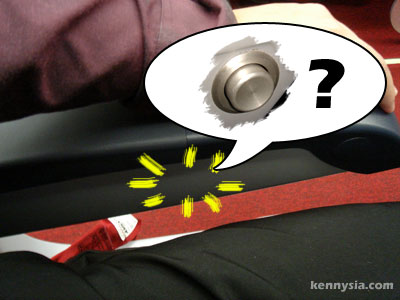 WHAT THE HECK HAPPENED TO THAT BUTTON YOU PRESS TO PUT THE SEAT INTO RECLINING POSITION!?
It's gone! They've removed it! How could they?!
I ended up sleeping on the flight in tight upright position. Trust me, it's NOT the most comfortable position to sleep in. I woke up 2 hours later with a grumpy mood and a royal pain in the neck.
The new planes are real sexy, but dammit AirAsia. Why didn't you at least build a basic reclining feature onto your seats? :(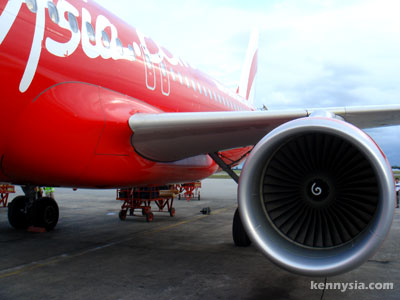 AirAsia. Now Everyone Can Fly™, But No One Can Recline.