Nicole has been in Kuching since last Wednesday. I brought her here after our new year celebrations in KL. We caught up with some old friends and spent some time together before she flies back to Perth tomorrow night. It'll be another 11 months before we see each other again.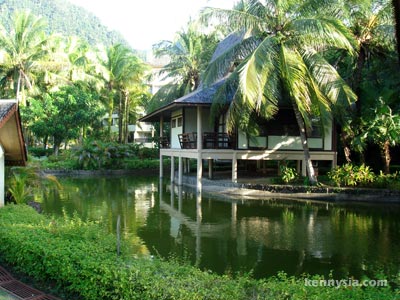 Just yesterday we drove down to the idylic resort of Damai Lagoon at Santubong, about 45 minutes away from Kuching city for a bit of beachside R&R.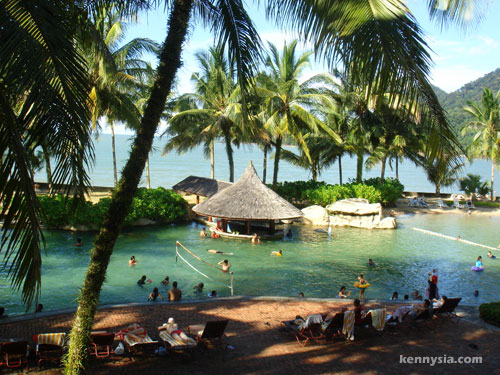 The resort is set amid acres of landscaped garden and there's a huge beautifully-decorated pool situated just next to the beach. The hotel's brochure said this is the largest lagoon-shaped pool in Sarawak (as opposed to those boring rectangularly-shaped Olympic pools).


Then again, this is probably the only lagoon-shaped pool in the whole of Sarawak. Compared to Sunway Lagoon in KL, it's actually kinda sad.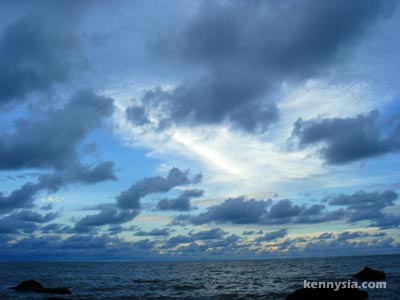 There's actually not much else to do at Damai Lagoon apart from swimming, walking by the beach and admiring the sunset. It's just a calm, quiet and peaceful place to get away from the city to wind down and relax. Even the seabreeze itself is strangely hypnotising.
I was looking to try some water sports, but the waves were a little strong this Monsoon season.
Then I spotted these massage beds lying by the poolside.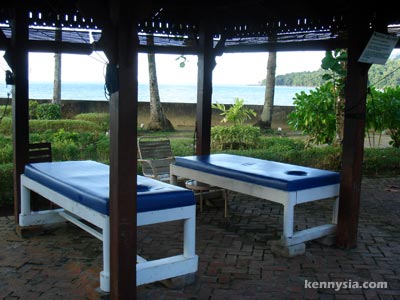 Nothing like a good massage to round up the holiday. I was about to call Nicole over, until I read the fine print.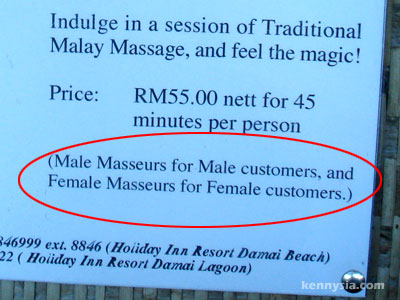 Eww… Why would I pay to let some other men touch me?
I'm not homophobic but I'm damn scared of letting other men touch me ok. Handshakes and buddy-buddy hugs are perfeclty fine, but I freak out big time if a guy is about to massage me or touch whichever one of my body parts sensually.
I mean, what if he got a hard-on while doing it? What am I gonna do?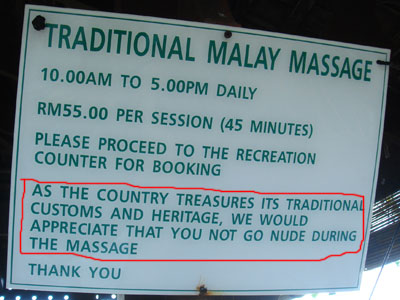 Mannn… wouldn't go nude even if you pay me.
Then again, what does going nude during a massage have anything to do with preserving a country's customs and heritage? Odd.