I hate disclaimers, but since people insist...
Disclaimer: This entry was initially written under the assumption that Furong Jiejie had a part in the writing those entries on her English blog that attacked XiaXue and insinuated that I sent her those photos. This entry was written in response to those actions.
There is no concrete proof to conclude either she has or doesn't have a part in her English blog. There is a possibility her English blog is a work of an impersonator. Her original Chinese entries on Tsinghua and Beijing Universities' BBS are still not available. From newspaper reports, it is clear that her new blog on BlogChina.com is NOTHING like her old entries on BBS.
I repeat, this entry was originally written under the assumption Furong Jiejie had a part in the writing those entries. An assumption valid at the time of writing.
kennysia.com is not responsible for ANY comments not made by him on his entries or on his tag-board.
*~*~*~*~*~*~*~*~*
If you don't know who Furong Jiejie is, apparently she is mainland China's biggest internet celebrity. Biggest ego, that is.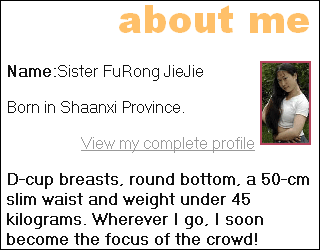 This delusional 28-year-old peasant from the Shaanxi province gained notoriety on the internet after posting so-called "provocative" photos of herself on Tsinghua and Beijing universities' bulletin boards almost daily. Accompanying those vomit-inducing photos are descriptions like "To men, I am the sweetest flower. They love to drink my nectars." *read in chinky PRC accent*.
Furong Jiejie claims she's under 45kg. I think that's probably just the skin on her face.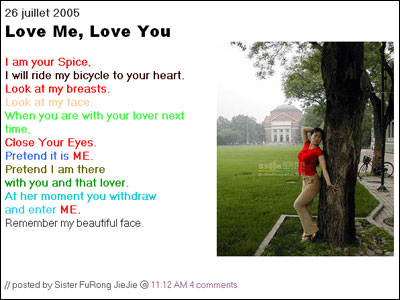 Nobody, not even sociology experts, can explain why she is so popular. At first glance I thought she's somewhat of a lame joke. How could someone like HER turned into China's most talked about internet persona? She is a little bit like me. Not only is her writing a piece of shit, her face is a piece of shit too.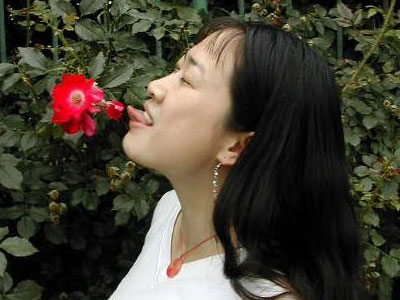 Yet, each day hundreds and thousands of people from the second largest internet-using nation in the world log on to those sites to see Furong Jiejie make a complete and utter fool out of herself. Rampant opium use in China the last millenia must have fucked up their brains worse than I thought.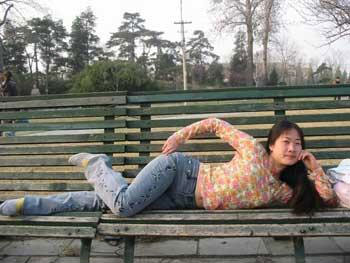 Furong Jiejie's vanity and narcissistic streak earned her constant comparison to XiaXue. To me, the difference between them is just too obvious.
- XiaXue makes it clear she's joking. Furong Jiejie shows no signs of that.
- XiaXue is at least sometimes funny. Furong Jiejie is just... sad.
- XiaXue looks above average. Furong Jiejie is an insult to the word 'ugly'.
But make no mistake about it, Furong Jiejie IS indeed the most talked about Chinese blogger on the Internet.
I searched "Kenny Sia" on Google and I got 26,900 hits.
I searched "XiaXue" on Google and I got 87,800 hits.
I searched "芙蓉姐姐" (Furong Jiejie's Chinese name) on Google.
685,000 freakin' hits.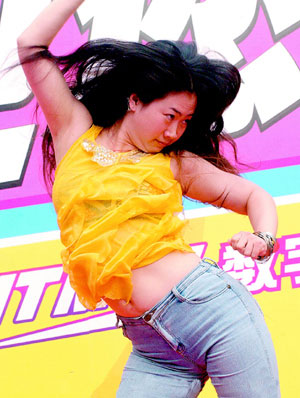 What's more? Movie studios are seeking after her. The Chinese government wants to ban her. Fan/hate sites continue to mushroom all over the internet. Furong Jiejie's ascension to fame is as staggering as it is mind-boggling.
Just last month, Furong Jiejie started her English ENGRISH blog site. It isn't doing as well as her Chinese-language sites. Lately, she's been seen trolling around the Singaporean blogosphere in an obvious loserish attempt to gain hits from outside China. She made her first move by challenging XiaXue on her blog.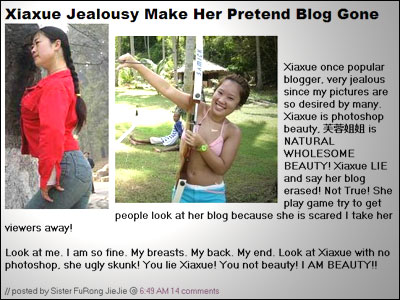 XiaXue, of course, didn't budge an inch. Why should she waste her precious blogging time on someone like her?
Then out of the sudden for some obscure reason, I came into the picture. Original link here.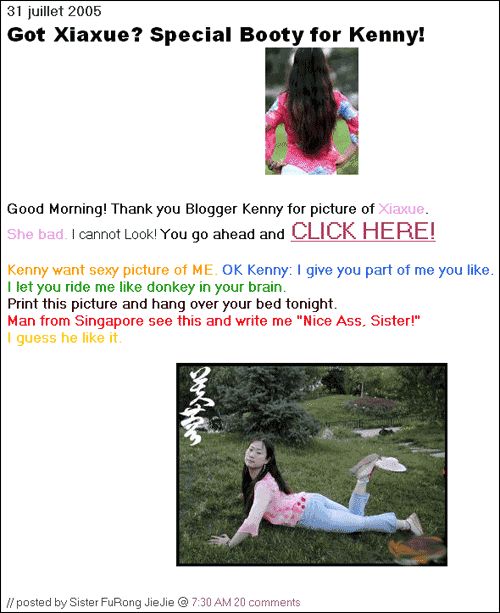 THAT BITCH HAD THE AUDACITY TO CLAIM THAT I SENT TOPLESS PHOTOS OF XIAXUE TO HER!
I don't even have topless photos of XiaXue lah! Even if I have, what makes you think I'll simply send them out to you? Must pay money one you know?
GAN that Furong cheebye! THE NERVES!
So, I happily angrily clicked on the link because I wanna see XiaXue topless to see if what she said is true. To my absolute disappointment amusement, this picture popped up instead.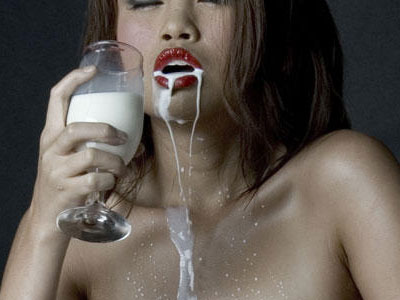 I laughed so hard my left coconut fell. That's SarongPartyGirl, not XiaXue lah!
As soon as I saw that pic, two thoughts crossed my mind simultaneously.
1. Poor SarongPartyGirl. She can't even drink a glass of milk properly without spilling it all over herself.
2. Poor Wendy Cheng. This is the SECOND TIME people mistaken SarongPartyGirl for her.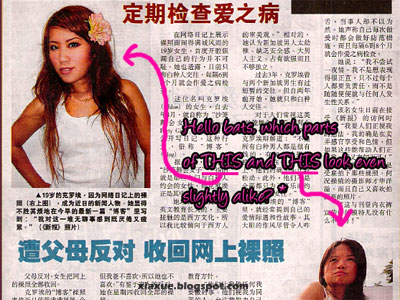 There's only one clear thing coming out of that post: Furong Jiejie is riding on Xiaxue's popularity like she wants me to ride her "like donkey in my brain".
The worst thing is, Furong Jiejie wants ME to print out this picture and hang it over my bed tonight.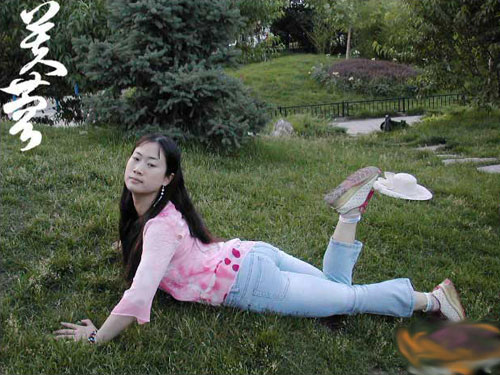 ...
Excuse me while I vomit my dinner out.
Ugh.
I don't know what to say.
Thank you Furong Jiejie for your "sexy picture".
But I'd rather hang this picture over my bed tonight instead.