There seems to be a lot of blogging-related activities coming up over the next few months. I'll be attending the Kuching Bloggers Meet-up which is happening soon, as well as the (unconfirmed) nationwide bloggers meet-up in KL organised by Project Petaling Street (PPS) on or around 23rd June.
But one event I'm definitely looking forward to is the ambitious Singapore Bloggers Convention organised by editors of Tomorrow.sg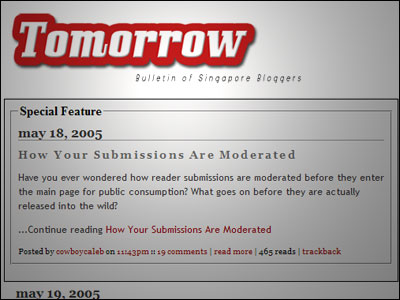 For the benefit of those who don't know, Tomorrow is Singapore's Project-Petaling-Street-equivalent-but-not-quite blog portal. The main differences lie in the fact that Tomorrow is moderated by editors and that they do feature non-Singaporean blogs every now and then.
No offence intended and I may be a little biased... but I seriously think Project Petaling Street sounds heck a lot better than Tomorrow. ;) Honestly, I have no idea what the editors were thinking coming up with such a "creative" name like Tomorrow. This is probably what happened.
Location: Some Starbucks Cafe along Orchard Road
Cowboy Caleb: "Eh, so what are we gonna call this new blog-tal thing har?"
Calm One: "How about Project Orchard Road?"
Everyone: "EEEYYYERRR!"
Mr Miyagi: "Sounded so not 'oleejina' lah!"
Daryl Sng: "Aiya Mr Brown, you come up with something lah! We'll use it one."
Mr Brown: "Huh? Me? Now ah? I can't think leh. Gimme some time. Tomorrow lah, tomorrow lah!"





And hence, Tomorrow.sg is born.
Anyway, back to the Bloggers Convention.
The event is projected to be held in July but the organizers have been keeping hush about the whole thing. The only news we heard from them is a call for suggestions of the convention's name. Once again the Singaporeans exercised their right-brain and came up with some "creative" names like:
- The Fellowship of The Blogs
- Revenge of the Bloggers
- Kingdom of Bloggers
- The Bloggers' Guide To The Galaxy
or my favourite,
- The Blog Job
Personally, I like it short and simple (the name, not the 'blog job'). I took the first syllabi out of "Singapore Bloggers Convention" and came up with Sing Blog Con, which I reckon is pretty cool. Besides, Sing Blog Con sounds like some Chinese guy's name. So if my mother (who doesn't like the idea of me blogging) ever ask me "Why are you flying off to Singapore?", I can just reply her "Nehh... I'm going there to meet my friend loh, Mr Sing Blog Con."
There's a lot of speculation going on about what's going to be happening at the blogger's convention. One would expect a Showcase-like set up: invite some popular blogger goes up the stage, say some words, then goes down to a booth where he/she sign autographs for his/her readers.
I don't know how well that is gonna work. Just because some blogger shows a lot of flair and charisma in his/her writing doesn't necessarily mean that that charisma will be translated seamlessly into real life. My coconut jokes, for example, is kinda lame if it were to be uttered out in real life. Whilst its true that some bloggers have indeed achieved celebrity status, the status is comparable to that of D-list celebrities like radio DJs and TV commercial actors, NOT A-listers like Brad Pig and Orlando Broom.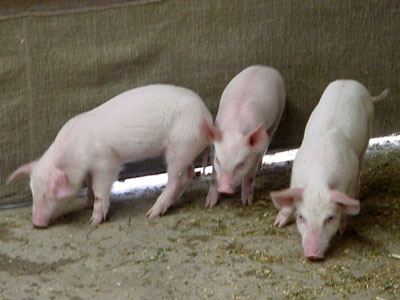 But of course that concept is nothing but mere speculation.
A little bird flew into my house one day and told me secret plans the organizers have for the first ever Singapore Bloggers Convention. Remember, you read it first on kennysia.com! I had barbequed bird meat for dinner that night. :)
Singapore Bloggers Convention 2005 - Program Listing
With a program like that, HOW CAN YOU NOT ATTEND?!
So naturally, the next mystery is WHERE is this convention thing gonna be held? Singapore Expo? At the Singapore Esplanade? Well, you wish.
Seeing as how bloggers live in a world where friends and strangers alike look at them everyday, it is only appropriate that the first ever bloggers convention be held at the Singapore Zoo.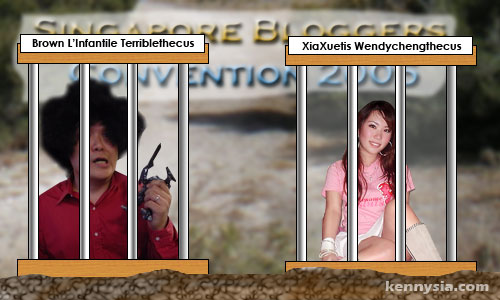 Remember, don't feed the Bloggers.