Osim is a company founded in Singapore that specialises in "health" products. By "health" products, I meant products like massage chairs and 'weight loss belts'. Initially I thought that the company is Japanese because "OSIM" is "MISO" spelt backwards. Miso being my favourite Japanese soup. Anyway, the success of the company is incredible, transforming from an obscure company a few years ago, to a multi-million dollar corporation that expanded rapidly in Singapore, to Malaysia and in fact, the world.

src="http://pagead2.googlesyndication.com/pagead/show_ads.js">

Those Singaporeans sure are damn serious about their health.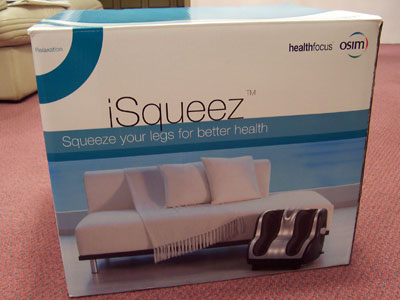 Osim iSqueez is yet another item in the list of many products that popularizes the use of small letter 'i' in the name, after Apple's iPod, Helwett-Packard's iPaq and George W Bush's iRaq. The iSqueez (yes, that's the correct spelling - no 'e' at the end) is a foot massage gizmo that, according to them, is "specially created to relief the negative effects of everyday stress on your feet and restore your overall sense of well-being".
Whatever.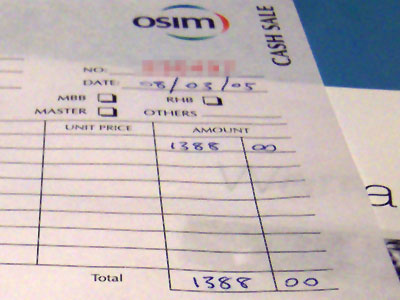 Someone bought one of these baby as a gift to my father, which costs RM1,388 from the Osim outlet in Tun Jugah Shopping Mall. Unfortunately my father prefers a real foot reflexologist than some thousand dollar gadget. There are other types of foot massagers available, but I reckon most of them should be marketed under "Foot Tickler" label instead.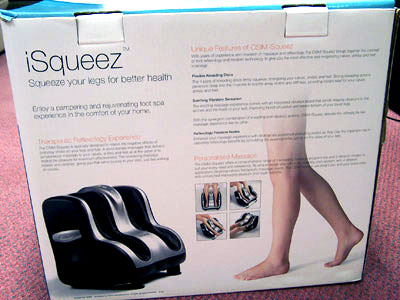 The back of the box brags about the foot massager even further. "The revitalizing massage relaxes and restores, giving you that extra bounce in your steps, just like walking on clouds!" Heh. Man! Walking on clouds? The last time I heard someone THAT boastful is when I told people I wear XL size condoms.
Well, I like the overall design of the packaging. Props to the designer to come up with such a nice colour scheme. Oh, did I mention that it has a similar colour scheme to kennysia.com? Heh, it is a good colour scheme I tell you, white and light blue.
Anyway, the box itself already look pretty very inviting to the wallet. Of course, a few pictures of some nice smooth pair of legs wouldn't hurt either. :)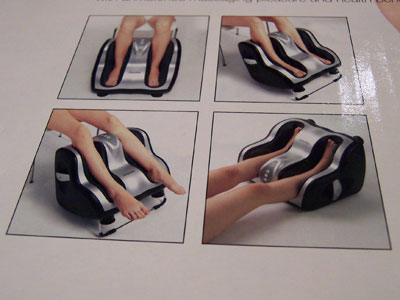 There's many different ways of using the foot massager. I would think that the most common way to use it is with you sitting down on a chair or sofa. Considering how heavy it is, I don't think its something you would want to use lying down. After all if you happen to doze while using it, you might very well kick that lug of a thing down to the floor and break it.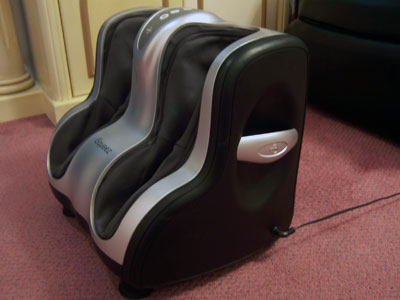 And here's the actual photo of the Osim iSqueez. You are forgiven if you mistaken it for a toaster.
There are handles on two sides of the unit. Too bad there's not much use of them considering the iSqueez is about as heavy as a PC, and you won't be carrying it around much. Unless you wanna show it off to people, Singaporean style.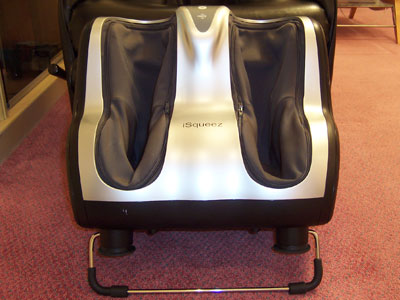 The product is sturdy and well constructed. There's two slots where you insert your feet and that's where the action begins. These slots are covered with removable pieces of cloth, which you can (and should) wash regularly.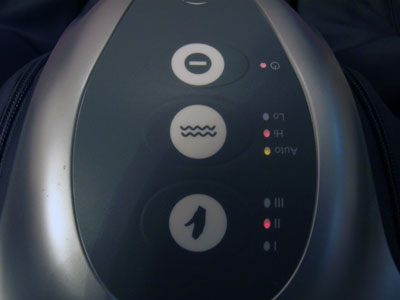 All the buttons you need are located at the top part of the unit, one each for power, vibration and kneading (squeezing). You can set the strength of vibration to high or low (auto will alternate between the two), and the strength of kneading action (1 for strongest).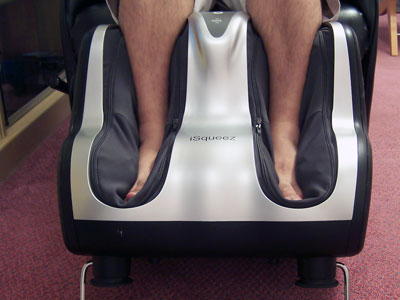 So let's see how the Osim iSqueez fare in action.
With the power off, I put my feet down into the slots (Pardon the hairy legs). The base and sides of the slots are uneven, but comfortable. The best way to describe the sensation is if you imagine yourself barefoot standing on a riverbank full of rounded rocks and pebbles.
Then, I set to vibration level to high. :)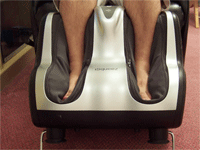 ...
Sorry, that was a bit of an exaggeration. How did it go? I felt like I'm wearing a vibrating condom of each of my feet. Nothing to shout about. I get exactly the same effect by rapidly shaking my legs whilst sitting down.
So I enabled the kneading action and set it to the second most powerful setting available.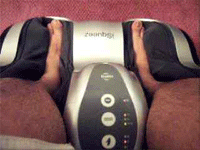 .
..
...
Excuse me while I return from heaven.
I doubted it initially, but I have to say... OH MY GOD, IT FELT SO FOOKING GOOD IT WAS ORGASMIC!!!
No, I did not wet my chair.
The first thing that happened as soon as I activated the kneading option, was the walls of the slots pressing in towards my lower legs. It felt very tight. At this point I felt as if I was wearing Nicole's boots, comfy but darn tight.
Then the action began. Balls of silicone rolled onto my feet, my ankles and my calves. All of them focussing on the right pressure points. Within seconds, I was already lying back on the chair with my eyes closed, snoozing. Without looking, it really felt like two giant hands squeezing my feet, ankles and calves simultaneously. At this point, I started to wonder if I'm still straight, gay or machine-lover. It felt so painful, so sore, yet so pleasurable. (What the foot am I talking about here?)
There's only one issue when something so magical works on you - you keep screaming "more! More! MORE!". Although the iSqueez was touching me at all the right spots on my lower-legs, I was hoping it could do something about my toes and the base and roof of my feet. Those are the areas that need massages as well, and they seem left out from all the action.
After 5 minutes of massaging on the same spot, I started to feel rather sore and uncomfortable. I turned the power off, tried to get up and walk, but I floated instead because my feet felt so light. Seems like Osim wasn't lying when they said you would feel like you're walking on clouds.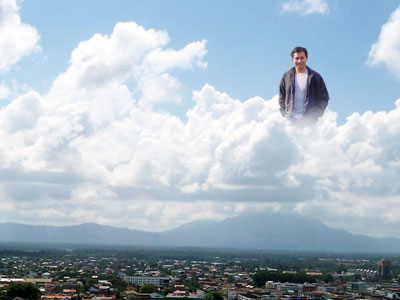 Stupid iSqueez. Damn you for being so fucking comfortable!
Anyway, is this thing worth RM1,388? I don't know. I think its quite expensive for something that's good for one thing. It feels good initially, yes, but you do get sore after a while so its not particularly relaxing or addictive.
Then again, that's just my personal opinion. Honestly, its not something I would want to buy for myself because I know its probably just gonna sit there and gather dust after a while. I won't be surprised if Osim follows Apple's foodsteps and perhaps come up with Osim iSqueez photo (lets you take pictures of yourself in heaven) or Osim iSqueez mini (portable lightweight version of the iSqueeze). Then again, I wouldn't hold my breath. :)
That said, I so totally love the idea of a foot massager that squeezes your legs. I'm not kidding when I said that it feels really good and it really relaxes you. Shoppers who frequent enormous shopping malls like those in KL and Perth would really appreciate this nifty gadget. If you have some spare RM1,388 lying around, then get it.
Now.... if only Osim can come up with something similar for my manhood......