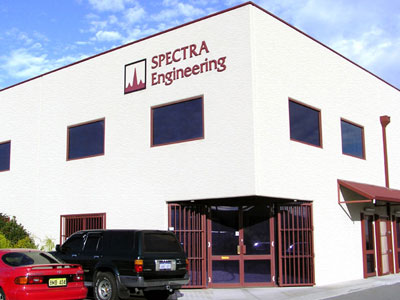 I work at Spectra. It is a small company of about 20+ employees that is based in Malaga, 20 minutes north of Perth city. From my place in Waterford, that's about 30 minutes of driving each way to and from work for 5 days a week. Spectra manufactures analogue radio base stations and repeaters. These are then used in, say, a police headquarters so that they can communicate to their units on the road.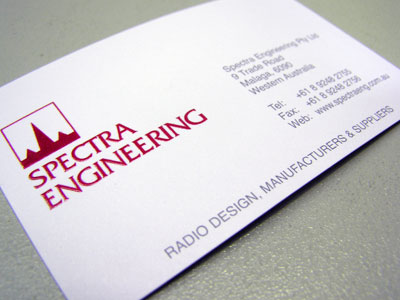 I am a Software Engineer. My job is to program and maintain the various software that the company uses, a large part that is the in-house testing software. All the base stations here need to pass through rigorous testing before it is sold. Recently though, I've been asked to do many graphic design related work, including designing the company website at spectreng.com.au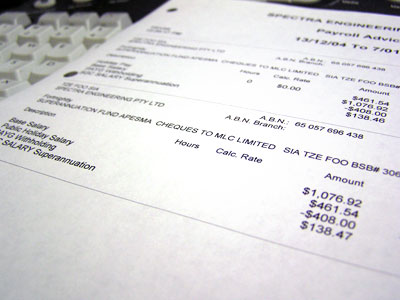 I started working for Spectra about a week after I finished my final University exams. I was doing my work experience initially for AUD100 a week. 3 months later I was officially employed with a starting annual salary of AUD2x,xxx. By April, I was up to AUD3x,xxx per annum. Just before last Christmas, I received yet another payrise - this time to AUD4x,xxx. In Australia, our dough is paid fortnightly. So this translates to AUD1,xxx.xx a fortnight, of which AUD408 is taken away by the taxman, leaving me AUD1,xxx to spend. By law, my company also have to pay an additional 9% of my income (AUD138.47) into my superannuation fund (or EPF). I am happy!
Whilst this is probably 3 times more than what an average Malaysian earns, bear in mind that Australia is the place where outside food costs on average AUD10 per meal, movie tickets are AUD15 per adult, petrol is AUD1 a litre and many other living expenses are 3 times as much as well. Add the cost of feeding a girlfriend's penchant for good food, good shoes and good handbags - I've got very very very little left for myself. Unfortunately. *sigh...*