Yesterday, Mei Ling called me out to have lunch.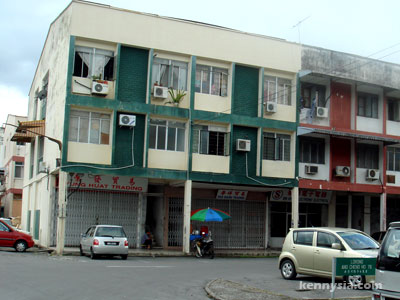 I thought "Wah! Very rare!" The guy never go out during lunch time one. I asked him where we're going but he wouldn't tell. Must be bringing me to some place nice.
Great. So he picked me up from my workplace and off we drove me to this old row of shophouses a short distance away from my office.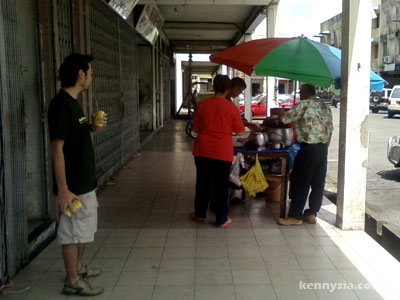 When we got there I saw nothing resembling a coffee shop.
All there is, is a lone table set up by the five-foot-way with a gay-looking umbrella and a few guys surrounding it.
I was like OMG. Mei Ling was laughing like mad.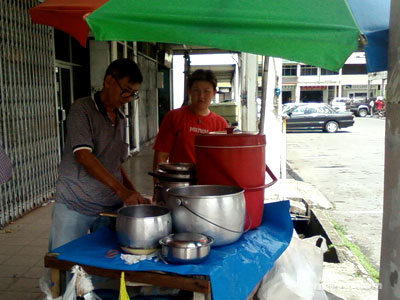 We placed our order to the stall owner in Hokkien. "Hor wa nor ua, cham cham. Tehng pang zhay tham pok" (Give me two plates, mixed. Put more soup.)
I watched in disbelief as the bespectacled owner of the lonely stall casually scooped up some rice and placed them onto a turquoise plate.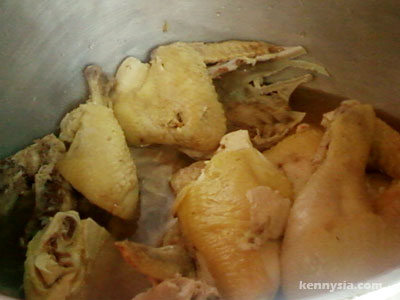 "Ai ha mik bak" (What type of meat you want?), he asked.
We made our choice then he hand picked portions of chicken or pork from one of his large pots nearby and proceed to cut them up real time. He poured some chilli sauce over the meat and some savoury soup over the rice.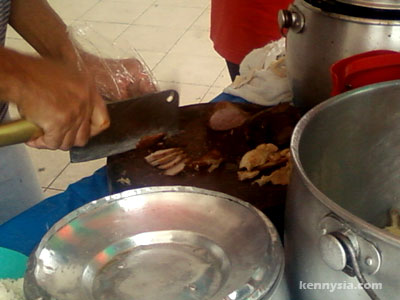 He handed Mei Ling a plate and he handed me a plate.
"Now what?" I asked Mei Ling. "There aren't tables or chairs around, so where are we supposed to sit?"
"Sit here lah!" he walked into a narrow staircase and sit down on the dirty tiles, right next to a BROOM.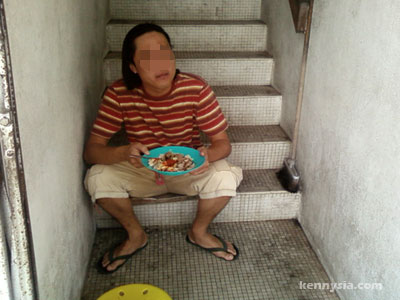 Damn, I was mortified.
No freaking way am I gonna sit there and eat my lunch on a dirty staircase! This is ridiculous.
If they are selling Ramly burgers by the roadside I can still understand, but never have I seen anyone selling chicken rice on the five-foot-way like that.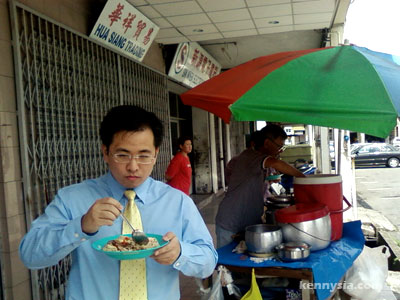 So there I was, miserable in my suit and tie, trying my best doing the unglam thing of eating chicken rice standing up.
Unsurpisingly, I was the only one having lunch there in my office attire.
Surprisingly, business appears to be brisk for this lonely chicken rice stall hidden away in an empty lorong. I guess to him, it's a normal thing for people to eat their meal whilst sitting on the dirty staircase by the shophouse.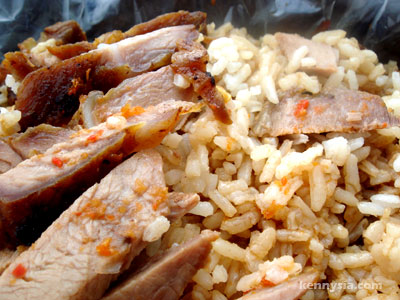 While we were there the stall has sold a few plates continuously.
At RM3.50 a plate, it's not any cheaper compared to a normal plate of chicken rice you'd get at a coffee shop. But for this stall owner, the customers just keep coming in non-stop. Most of them foreign workers and delivery drivers who just wanna stop by and have a quick meal.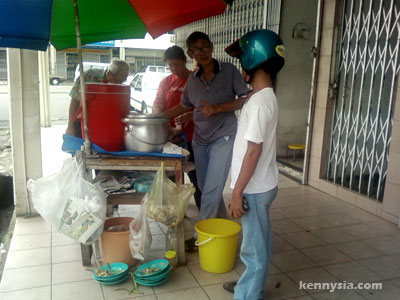 You can even order drinks here if you wanna. The wife would just walk up the dirty narrow staircase and get some from the fridge.
The unfazed customers sitting on the staircase would just siam one side when she's walking past, like it's a very normal thing for people to walk past you when you're sitting on the staircase having lunch.
When you're finished, the plates are piled up on the floor just like that.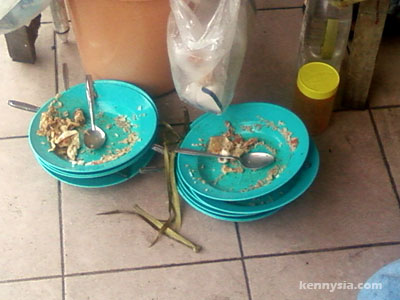 I wonder why the uncle didn't just rent a space at a food court to serve his meals. At least it's more comfortable there, right?
I understand everyone wants to maximise their profit margin, but surely this is not the way to do it!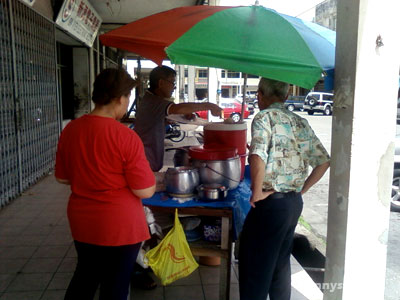 According to Mei Ling, the soft-spoken owner used to ride around Kuching in his rusty little bicycle selling chicken rice to office folks. Alas, some immoral scum burglar made away with his bicycle. With that, his only means of making a living was stolen from him.
Undetered, the old uncle set up a simple wooden table by the five foot way below his shophouse. Despite his very strange way of serving food, his business has been doing pretty ok.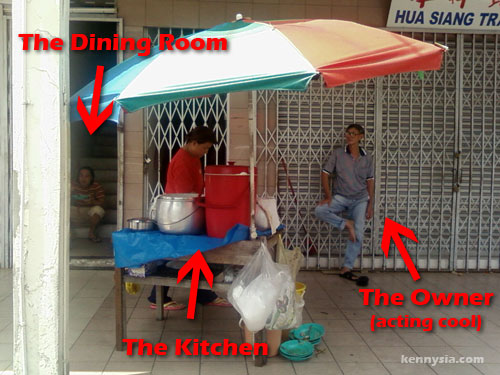 The Strangest Place To Have Chicken Rice In Kuching™ is at Lorong Ang Cheng Ho 7B, close to where the old Twenty Cent Supermarket used to be located. If you are not perturbed by the look of his simple stall, maybe you should drop by during your lunch hour and check it out.
I won't say it is the best place for chicken rice, nor the most hygenic, but I say it certainly provides the most unique and old-school chicken rice experience in Kuching.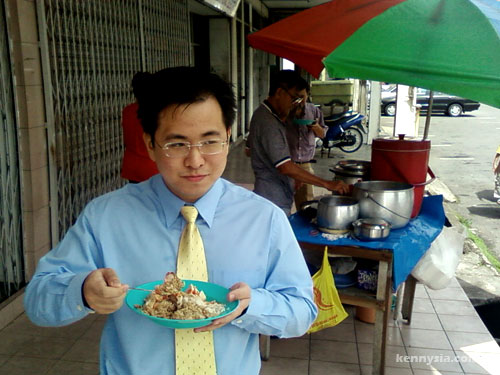 If you're gonna order food from him, go ahead and ask him to keep the change. The guy is not earning as much as John Lee anyway.
Perhaps with the extra income, the aging uncle would finally be able to afford a new bike by then.

Travelling, travelling again. I'll be in KL again this weekend.